Girlfriend Collective Review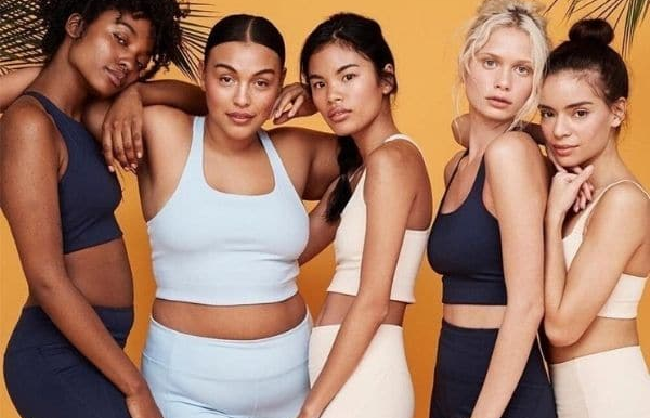 About Girlfriend Collective
The mission of Girlfriend Collective is to create "sustainable active-wear for people who care about other people, care about how their clothes are made, and care about making an impact through their purchasing power." The brand is committed to ethically sourced and environmentally conscious manufacturing.
Girlfriend Collective is well-known for bridging a gap in the active-wear market by offering high-quality, size-inclusive gear that is produced using environmentally friendly practices.
In addition to being featured in significant media such as Business Insider, Vice, Bustle, and Refinery29, the active-wear brand is also receiving acclaim from customers for its ability to increase women's self-confidence and body positivity.
This Girlfriend Collective review will provide you with an in-depth look at the brand, including some of their best-selling pieces, customer comments, promos, and more, to help you decide whether or not this gear is worth the investment in time and money.
PROS
Comfy material
Produced from recycled materials making it environmentally conscious
A large range of socks, bottoms, tops, outwear, and accessories
The apparel is hand-dyed, resulting in an appealing and distinct color variance.
CONS
A $7 restocking fee for mail-in returns unless you are a sage or jade rewards member
Shipping is only offered to the United States and Australia from the Girlfriend Collective website
Slightly Pricier than other regular leggings
BOTTOMLINE
Girlfriend Collective is your ultimate go-to when it comes to matters of activewear! With Girlfriend Collective, you can be sure to get a product of your size, fit and preference. You get to enjoy free shipping in addition to tons of discounts that you can save on.

iReviews Shopping Assistant
Find the best prices for this and many other products with our chrome extension
Product Features
Price: $35 and above
Shipping: Approximately 2 to 6 business days
Returns: 30 days, unwashed and unworn items with tag still attached
New Shopper Discount: 15% off on orders on +$100
Eco-friendly: Yes
Girlfriend Collective Overview
Girlfriend Collective was established in Seattle in 2016 by Guang and Ellie Dinh, a husband-and-wife team who met while working at a coffee shop. The need for high-quality, reasonably priced activewear that was created in an environmentally conscious and ethical manner revealed itself as an industry need that this couple was determined to address. Most mainstream sportswear is constructed of plastic-derived materials such as nylon, polyester, and Lycra, with the exception of a few exceptions. However, while the brand continues to use plastic, Girlfriend Collective repurposes items that might otherwise end up in landfills or contaminate the environment. The firm truly believes that "one man's (or woman's) garbage is another man's treasure," and they produce active-wear out of recycled materials such as fishing nets and water bottles, among other things. So far, they've recycled 4,482,878 bottles and avoided 3,811,445 tons of CO2 emissions, which are both impressive numbers to boast about.
Particularly environmentally friendly are the Girlfriend Collective Compressive High-Rise Leggings, which are made from "up to 25 plastic water bottles" every pair. They expect to divert more than 9 million bottles from landfills and the oceans by 2020. More than 21 million gallons of water were saved as a result of this environmentally friendly strategy. With such outstanding statistics, it appears that Girlfriend Collective is the eco-conscious and energetic lady's dream come true. To get the vibrant hues of the leggings, they also employ environmentally friendly dip dyeing techniques. It's worth noting that Girlfriend Collective does not use American manufacturers, instead opting for an "approved factory" in the Vietnamese capital of Hanoi. According to the manufacturer, the factory promises fair salaries, safe and healthy working conditions, and the absence of forced or child labor.
Girlfriend Collective items will be evaluated in terms of their style, quality, and adaptability in this in-depth Girlfriend Collective review.
In What Ways Does Girlfriend Collective Set Itself Apart from the Rest?
Highly size-Inclusive
The majority of Girlfriend's competitors do not offer their tops, shorts, bottoms, leggings, or anything else in every size, but Girlfriend does. It's not like the slim folks get to shop the stable collection while the overweight women are forced to choose between a few uninteresting styles from a "plus-size line," as some would have you believe.
A diverse modeling approach
Count how many times you've become weary of watching size four blonde women showcase your compressive biking shorts. Girlfriend Collective is setting the standard for diverse models in the fashion industry. There are overweight ladies, black women, women with body hair, and women with shaved heads to be found. My best bet is that you can find a model who looks similar to you someplace on the Girlfriend Collective website if you do a little searching. The ability to view how pocket leggings and sports bras (or any other product for that matter) appear on a body that is comparable in size and shape to your own is quite beneficial while shopping for these things.
Sustainability Efforts
Girlfriend, in addition to providing accessible sizes and models, has solid environmental efforts incorporated into the foundation of their brand. Girlfriend uses recycled materials in the production of their outfits, and the company is considered a slow fashion brand, so they come quite close to qualifying. Polyester, spandex, and recycled post-consumer water bottle fibers are used in the production of the fabrics. The mailers are made entirely of recycled paper and are completely recyclable as well. When it is possible, they use zero-waste, zero-emission facilities, and these factories also provide fair salaries, safe and healthy working conditions, and do not employ forced or child labor. So you can feel good about your purchase from Girlfriend Collective, knowing that your leggings were not created on the backs of children or by polluting our Mother Earth to an alarming degree.
Girlfriend Collective Size and Fit
The Compressive High-Rise is now available in six basic colors, ranging from midnight navy to moss green, to complement your wardrobe. It comes in a wide range of sizes, including extra small to extra-large, and you can customize the leg length to ensure an optimal fit (from a 19.5″ to 28.5″ inseam). Despite the fact that the brand encourages you to wear them for athleisure or exercise, their ability to shift from athleisure to streetwear so seamlessly has made them my go-to athleisure staple. As someone who prefers to run on a treadmill in a temperature-controlled gym and who is prone to overheating, I don't recommend them for cardio or hot yoga because of their thicker structure (you could, but there are too many better options). I don't mind the limited adaptability because of pairs like 2XU's Run Tights, which act as a porous second skin and allow me to move freely.
The devil is in the details when it comes to their exceptionally flattering, Spanx-like fit: The core fabric used for them provides the maximum level of compression available from Girlfriend Collective for muscle recovery after medium- to high-impact exercises while also providing enough softness to be comfortable. According to my personal experience, the leggings fit according to size, and the material will break in like your favorite pair of jeans the more you wear them. If you're concerned about your fit, you can consult their Fit Guide here.
For one thing, it would be great if Girlfriend Collective simply produced my favorite pair of flattering leggings, but at $68 for a pair of compressive high-rises, they do it at a far lower cost than my other favorite pairs. They're also created in an ethical manner and sourced from environmentally friendly sources.
Girlfriend Collective Style
Girlfriend Collective is well-aware of their target audience. The American brand, with its vibrant logo and youthful models, is marketed at millennial women in their 20s and 30s, which may be off-putting to some groups due to their youthful appearance. I admire the fact that Girlfriend Collective is not afraid of color. The Compressive High-Rise Leggings are available in nine different colors, and I went with the plum option.
Girlfriend Collective Performance
While sprinting, there's nothing more uncomfortable than leggings that sag around the waist or roll down when you're moving at a high rate. When worn for the first time, Girlfriend Collective's Compressive High-Rise Leggings give the impression that they are capable of withstanding an intense training regimen. They are constructed from a "recycled high-stretch fabrication" that has a "4-way stretch" and is ideal for people who lead an active lifestyle. In addition, the leggings have thick seams around the crotch and sides, which are frequently ripped when squatting, which is a source of embarrassment.
Girlfriend Collective Maintenance
When it comes to maintaining an ethical wardrobe, purchasing sustainable clothing is only one part of the tale; washing day also presents its own set of responsibilities to keep in mind. One of the most serious problems with clothes made of plastic is that when it is washed, it can leave tiny pieces of plastic in our oceans, which can have a negative impact on marine life. Sea turtles, seals, dolphins, and whales are among the millions of marine animals that are harmed each year as a result of plastic pollution in the ocean. Wash the leggings in cold water and hang them to dry, according to the Girlfriend Collective's instructions for caring for them. Their argument is that this method is better for the environment and minimizes the consumption of electricity.
Girlfriend Collective High-Rise Pocket Legging Review
In addition to being a terrific exercise garment, the Girlfriend Collective High-Rise Pocket Legging is also an excellent piece for everyday wear. Multiple advantages of the pants include compression that encourages healthy blood flow as well as sweat-wicking characteristics. They'll hold up under even the most rigorous squat sessions, thanks to a fabric that's pill-resistant and sheer-proof on the inside. The High Rise Pocket Legging is available in two different inseam lengths, five different essential colors, and four different limited color options. It costs $78 to purchase the Girlfriend Collective High-Rise Pocket Legging, which is a beautiful pair of leggings that have utilitarian pockets as well as a high rise.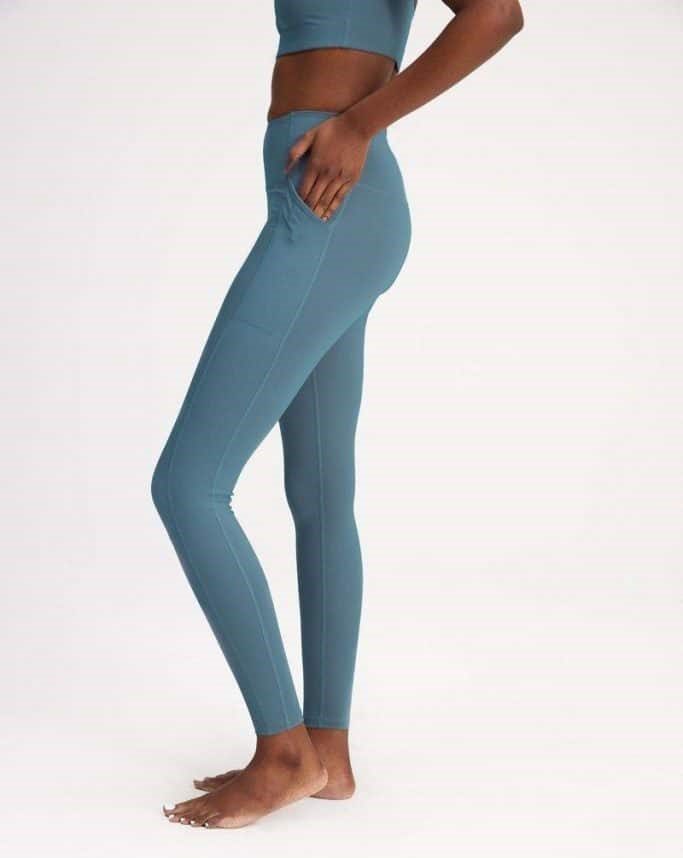 Classy leggings that accentuate your curves and compliment your body all the way.
Girlfriend Collective Maternity Legging Review
The Girlfriend Collective Maternity Legging is made to stretch and expand with you throughout your pregnancy. Its lightweight, stretchy and versatile design will keep you comfy and supported throughout your entire pregnancy—and even beyond it. With the option to keep them high-waisted or roll the waistband down for a mid-rise shape, they'll fit nicely around your growing belly and hips. The Girlfriend Collective Maternity Legging is available in two different inseam lengths and five different colors, and it costs $88.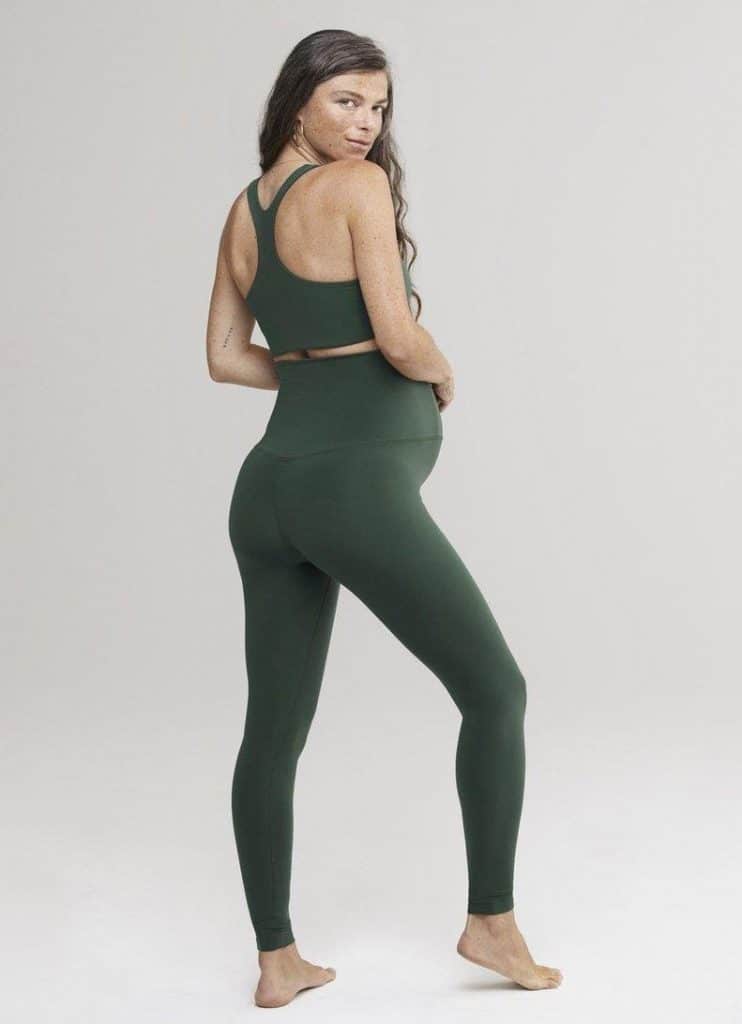 Rock these amazing leggings through your journey and unlock your sense of fashion!
Girlfriend Collective High-Rise Bike Short Review
The Girlfriend Collective High-Rise Bike Short is a must-have for any riding girl's wardrobe. It features a high-rise waistband and side pockets. These shorts, which are available with or without pockets and are squat proof and compressive, will take you from lounging to the gym to running errands with ease, thanks to their effortlessly flattering shape. It doesn't matter if you're not a cyclist; this short length is really fashionable right now. It costs $48 (or $58 if you prefer pockets) for the Girlfriend Collective High-Rise Bike Short, which is available in six essential and four limited colors.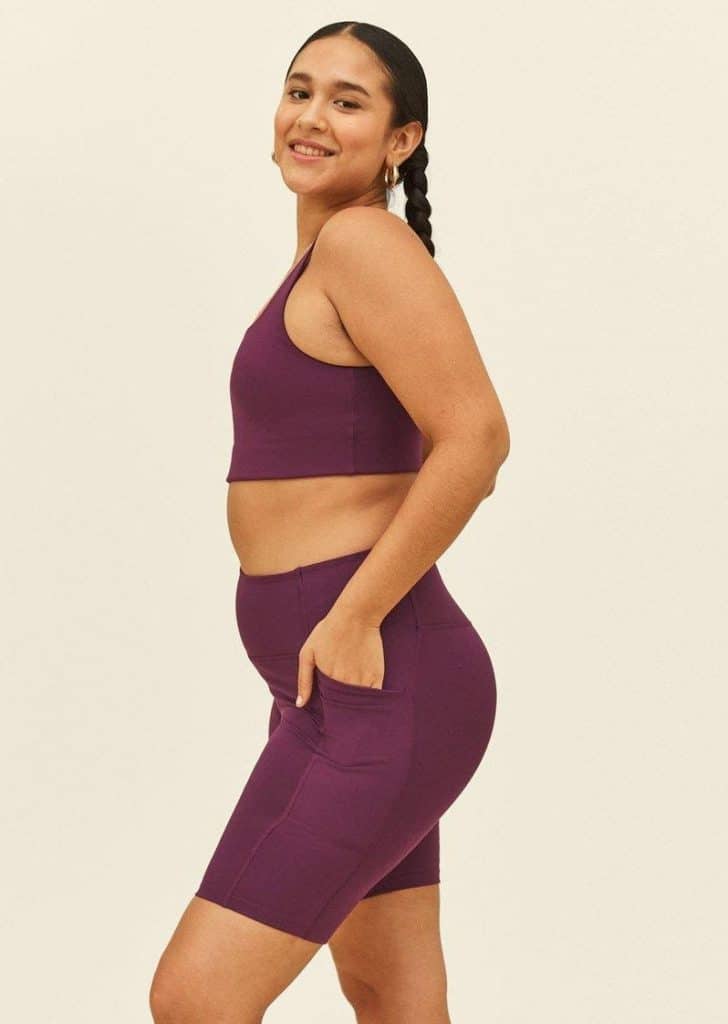 Bike in style as you pull off these super comfy high-rise pocket bike shorts.
Girlfriend Collective Bike Unitard Review
The Bike Unitard from the Girlfriend Collective is a mix of a bike short and a sports bra. This unitard with a low back is the epitome of fashion and practicality combined. This product is easy to wear without causing discomfort because it is both compressive and comfy. According to this Girlfriend Collective review, some consumers have stated that while the compressive unitard Bike is quite comfortable, it may not be made to flatter everyone. It will not fit if your body is not perfectly proportioned to the garment. As a result, if the top and bottom of your body are different sizes, the $78 Girlfriend Collective Bike Unitard might not be the best choice for you. We still believe it's fashionable!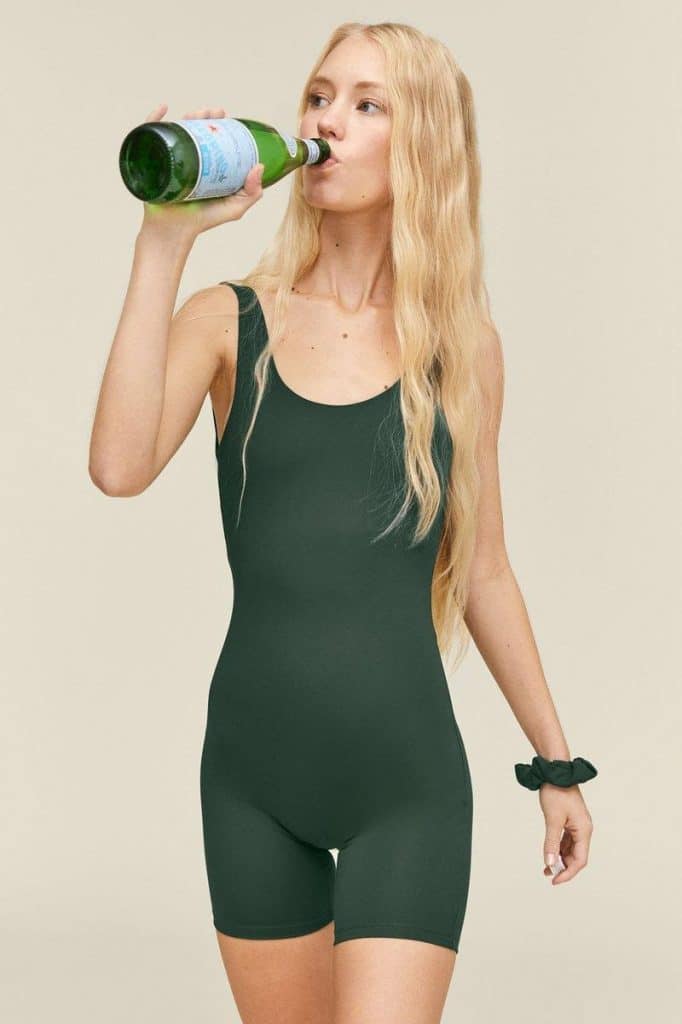 Amazingly comfortable, this unitard will bring out the diva in you like none other.
Girlfriend Collective R&R Hoodie Review
Introducing the R&R Hoodie from Girlfriend Collective, the cropped hoodie of your dreams. This lightweight hoodie is elastic but not sagging, and it's perfect for a weekend escape or just lounging around the house. It's another winner from Girlfriend Collective, this time for being moisture-wicking, quick-drying, and buttery soft. Crop length, it would look great with high-rise Girlfriend Collective leggings or a pair of skinny jeans. Designed by Girlfriend Collective, the R&R Hoodie is available in five different color options and costs $68. The hoodie is "a steal given the versatility that this hoodie has," according to one customer.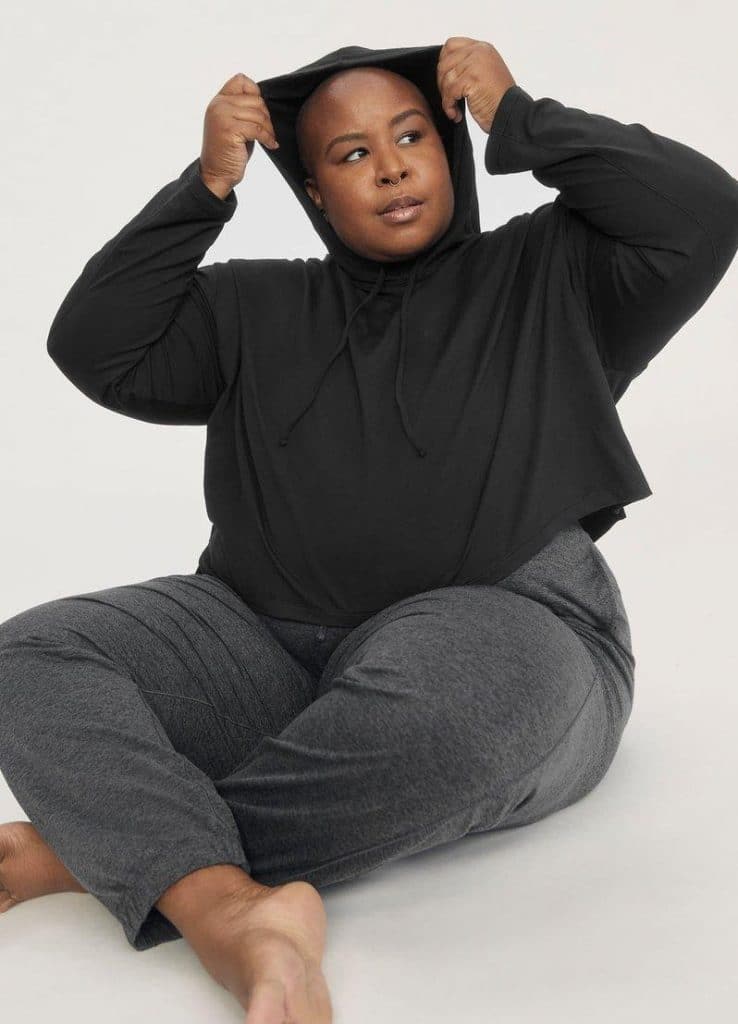 Rock this cropped hoodie and elevate your active-wear comfort game. Ideal for everyday wear, this is truly a great add-on to your wardrobe.
Girlfriend Collective Paloma Bra Review
The Girlfriend Collective Paloma Bra is the best-selling bra in the company's history, according to sales. This racerback sports bra provides excellent support for the female figure while remaining soft and easy to wear. If you go to the product page for the Paloma Bra, you'll notice that the long-line silhouette of the bra complements the High-Rise Bike Short really nicely. This Girlfriend Collective bra is available in seven fundamental hues and four limited-edition colors, and it costs $38.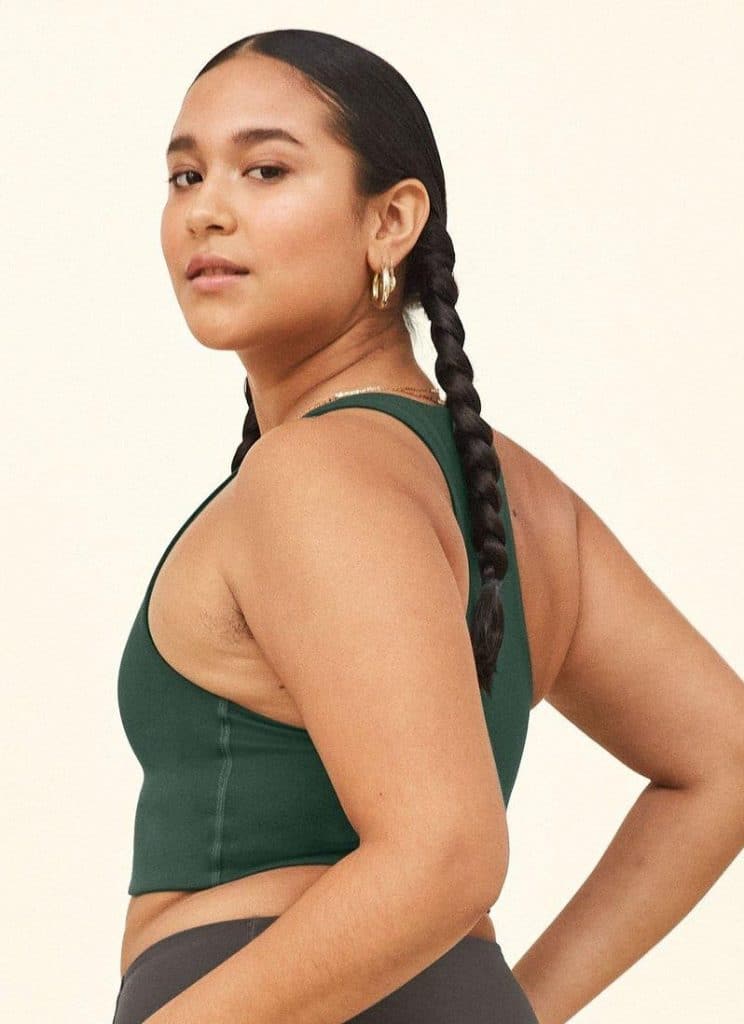 Ditch all those uncomfortable and irritating sports bras you have had before and welcome a new phase of sheer perfection in your activewear.
Girlfriend Collective Dylan Bra Review
The Dylan Bra by Girlfriend Collective is a cross between a cropped tank and a sports bra. Racerback style, long-line fit, and a high collar make this bra the ideal friend of any conservative young lady. The Dylan Bra was created with medium-impact workouts in mind, and it includes a built-in support band as well as a durable 4-way stretch. Customers have described the soft, flexible material as a crop top as being comfy to wear all evening on a warm night out with the girls. It costs $38 for the Girlfriend Collective Dylan Bra, which comes in seven fundamental hues and three limited-edition colors.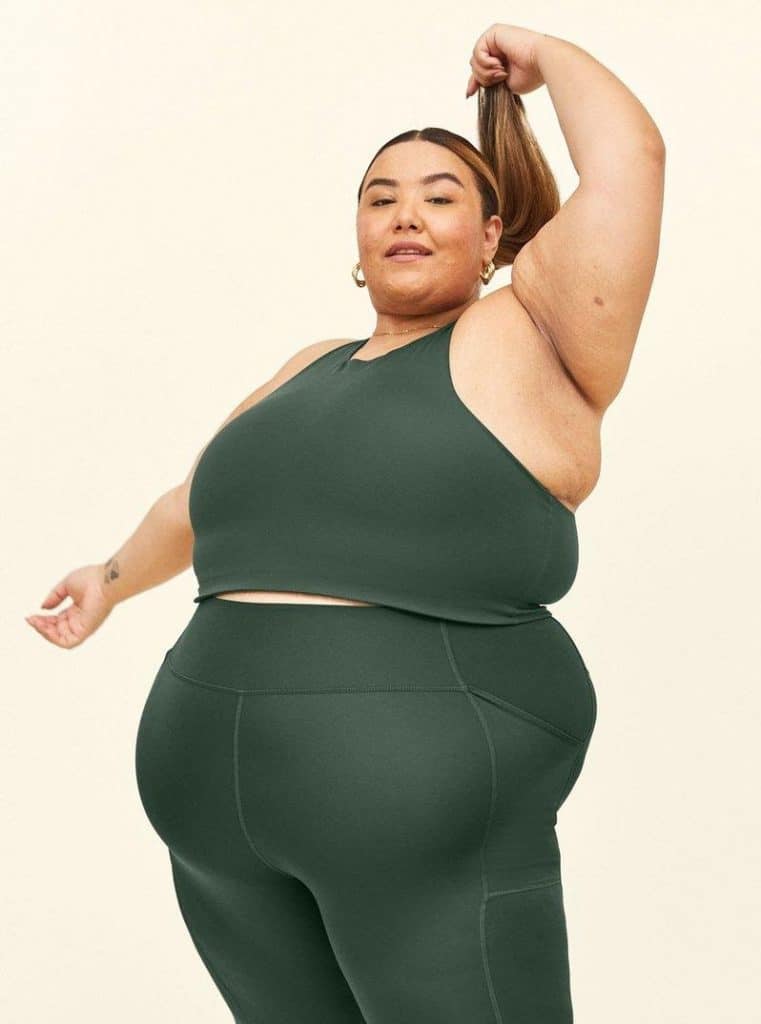 Available in all sizes, the amazing Dylan bra from Girlfriend Collective is your lifetime partner when it comes to matters comfort and support.
Girlfriend Collective Thong Review
The Girlfriend Collective Thong is a traditional piece of underwear that molds to your body. Both the High-Rise Thong and the Mid-Rise Thong have a raw-cut waist and leg opening, which are intended to disguise vaginal prolapse (visible panty lines). In these Girlfriend Collective underwears, a moisture-wicking liner helps you stay dry and fresh throughout the day. The High-Rise Thong is designed with a bonded tape waistband to keep your underwear in place all day long. This basic yet attractive thong is available in three essential hues for $14 and is made of soft and stretchy fabric that is light and breathable.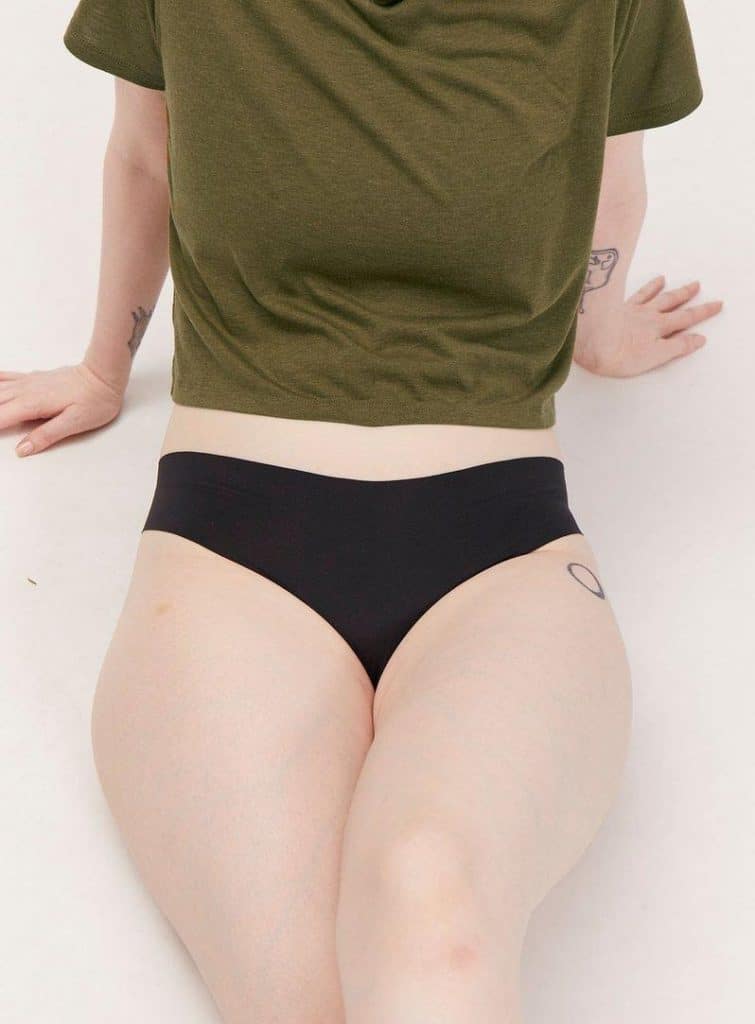 Talk about perfect underwear for everyday use! This stylish thong will keep you feeling like the diva you are all day long!
Girlfriend Collective Reviews: What Clients Think
This Girlfriend Collective review went to the official website to find out what real customers had to say about the company. The site has a 5-star rating system for all of its products, and it is clear that they are held in high regard by their customers.
For example, one Girlfriend Collective customer wrote, "The Paloma Bra is my new favorite!
Customers also rave about the Compressive Leggings, with one saying, "GF collective has done it again! They have created a supportive and comfy piece of clothing that is excellent for any variety of physical activities." The High Rise Bike Short received positive feedback from customers. One customer stated, "I wear these bike shorts practically every day now!" Another customer stated, "I'm on my third pair and adore the color of these midnight blue ones…The quality of the cloth and general feel is wonderful." When I exercise, I wear them, and when I relax, I wear them. They are totally ideal for both situations! … They are quite comfortable." One of the most often received customer comments echoes the sentiments expressed by Business Insider in their assessment of the Girlfriend Collective. In this Girlfriend Collective review, we discovered that Girlfriend Collective customer service is always swift and helpful with their responses, no matter if you're leaving a message on their official website, reaching out via email, or commenting on Instagram.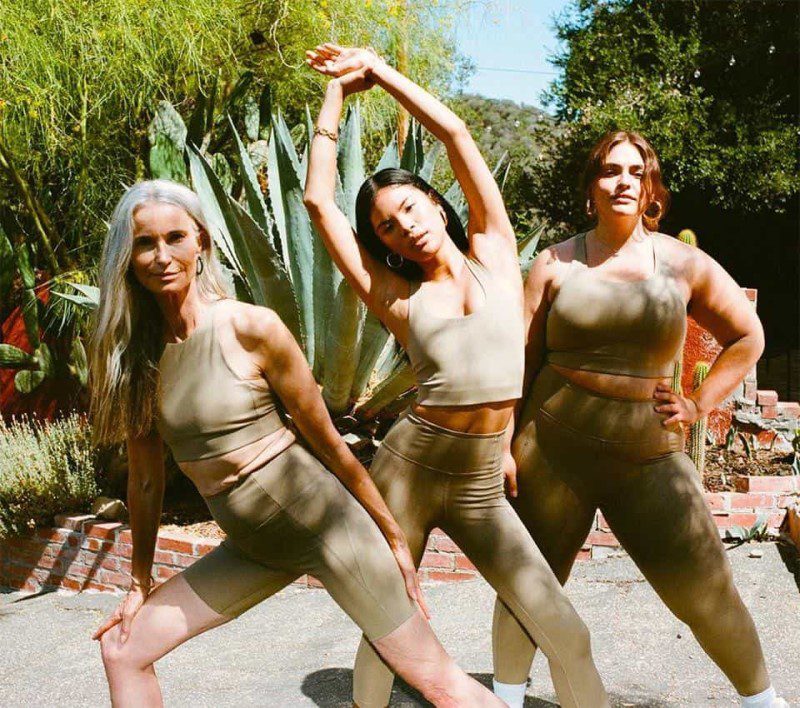 Whatever your style, size, fit or personal preference, Girlfriend Collective has got your back, taking the place of your newly found girlfriend!
Is Girlfriend Collective Worth It?
Despite the fact that the Girlfriend Collective leggings are among the most popular sustainable sportswear goods available, one cannot help but wonder if they are really worth all of the hype.
I tend to put my best workout clothes to the test in a variety of situations, especially my performance leggings, which I use for everything from hard activities to random moments of clumsiness. Regarding the fabric's overall quality and strength, I have high expectations for the material. However, in recent years, it has become equally crucial to consider how ethical my clothing choices are as well as which fitness brands are the most environmentally conscious on the market today.
Girlfriend Collective wasn't initially on my radar because I tended to gravitate towards the large gym giants, which aren't exactly the most environmentally friendly options when it comes to sustainable gear. The greatest sustainable fashion brands, particularly those that are focused on activewear, are frequently associated with the notion that they are not long-lasting or fit for purpose.
Girlfriend Collective, on the other hand, was a welcome change from my regular purchasing habits, thanks to its stylish millennial branding and openness in detailing its manufacturing procedures. Ellie Dinh, an entrepreneur from the United States, launched the company in 2016 after seeing a lack of ethically produced women's leggings. Dinh decided to fill a void in the market by starting her own.
Is it worth it to spend money on Girlfriend Collective leggings? Should you purchase this item of clothing? Our Girlfriend Collective review has covered a lot of information, including the company's history, an explanation of its products, as well as the advantages and disadvantages of using them. This Girlfriend Collective review has come to the conclusion that the clothing is well worth the investment. In addition to the ethical and ecological practices that entice you, the reasonably priced athletic wear and the comfortable designs are also reasons to consider Girlfriend Collective. The reviews provided by thousands of Girlfriend Collective customers speak for themselves.
In spite of the fact that there are certain challenges, Girlfriend Collective is a size-inclusive business that is striving to include everyone in the collection.
Girlfriend Collective Promotions & Discounts
Signing up for emails on the Girlfriend Collective official website is the quickest and most convenient method to be informed about upcoming sales. You can also obtain access to exclusive promotions by becoming a member of The Collective, where customers can earn points that can be used toward future purchases, as well as receive exclusive gifts and early access to new collections.
If you refer a friend and they make a purchase, you will receive a discount of $10 off orders of $95 or more (not including shipping or taxes). In exchange, you will receive a complimentary pair of leggings! An additional method to save money while also benefiting the environment is by participating in their ReGirfriend initiative. However, if you send in your old, worn-out items to be recycled, you will earn a $15 credit against your next purchase from Girlfriend Collective.
A Top Drawer Discount is also available, which is a mix-and-match bargain for up to seven pairs of socks or underwear that can be combined. The deal will save you up to $30 on a purchase of seven pairs of shoes!
Where to Buy Girlfriend Collective
Purchasing Girlfriend Collective products can be done directly through their website. On their official website, they also provide a very complete list of all of the retailers who carry their products. While their website presently only ships to Australia and the United States, the brand is available in a large number of retail locations. Girlfriend Collective is available online through Nordstrom, as well as Net-A-Porter, MEC, and Holt Renfrew, to mention a few brands. Also available are brick-and-mortar locations in Austria, Canada, Denmark, France, Germany, Italy, the Netherlands, Spain, Sweden, the United Kingdom and the United States where their products can be purchased in person.
FAQ
Who is the founder of Girlfriend Collective?
The Girlfriend Collective was created by Quang and Ellie Dinh, a husband and wife team from California. In response to Ellie noticing a niche in the sportswear market for ethical and inexpensive leggings, the two of them founded Girlfriend Collective in 2012.
Is Girlfriend Collective an ethical brand?
According to the findings of our Girlfriend Collective review, the easy answer is yes! Girlfriend Collective's apparel is manufactured at a factory that is SA8000 accredited, which is an internationally recognized standard that ensures fair work hours and pay, safe working conditions, and the absence of forced or child labor in their manufacturing facilities. Throughout the About Us section of their website, the firm is incredibly open and transparent — including links to their SA8000 certification and a breakdown of how environmentally friendly the products created by the brand are in reality. On their website, they've even gone so far as to list every bylaw that SA8000 has put forth in order to obtain certification for their products.
How do I clean Girlfriend Collective active-wear?
Items from the Girlfriend Collection, ranging from bras to leggings, may be hand washed in cold water and dried on a clothesline. According to their website, "It is better for the environment, reduces energy consumption, and is the most effective way to care for your clothes."
In what sizes are Girlfriend Collective Active-wear available?
Girlfriend Collective is an all size-inclusive brand that offers every item in a range of sizes from XXS to 6XL, including plus sizes.
How long does the shipping process at Girlfriend Collective take?
It is generally agreed that orders placed through their official website will arrive between 2 weeks and a month after placing the order. According to some commenters, purchasing through a retailer affiliated with the company results in speedier shipment and more dependable tracking.
What is the return policy at Girlfriend Collective?
Girlfriend Collective welcomes returns for items that have not been worn or washed and have the tags still attached within 30 days of the date of shipment. For mail-in refunds, there is a $7 postage and restocking fee, but exchanges are completely free of charge.
How to Contact Girlfriend Collective
You can reach out to Girlfriend Collective by email at [email protected] if you have any general questions or would like to provide customer service. Refunds and returns can be requested by contacting them through your Collective account or by sending an email to the address provided in your order confirmation email.
Final Verdict
The compression leggings and other goods outperform a wide range of other garments, including tried-and-true pairs of jeans. Leggings made of a sturdy material are great for those who tend to wear theirs out quickly. While the price of these leggings is more in line with premium pricing, it appears that customers are also paying for the assurance that comes with purchasing them. Using Girlfriend Collective, you can eliminate all of the hassle associated with sustainable purchasing by having them conduct much of the essential research for you. The organization is open and honest about the materials it uses, as well as the steps it is taking to further improve its environmentally friendly products and services.
Resources and Further Reading