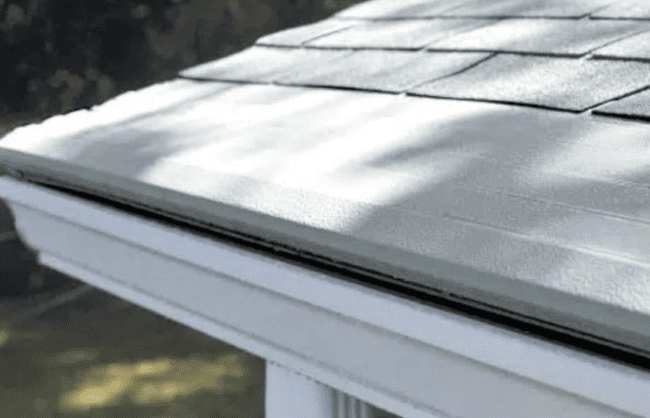 The gutters that surround your roof are easily one of the most important parts of your home. Usually made from a type of plastic or metal, they collect the water that falls off your roof and keeps the moisture from soaking into the ground. An excess buildup of water in the ground can cause foundation damage. Gutters also collect the waste and debris that might otherwise damage your roof, including trash from a neighbor's yard and sticks or leaves that fall from nearby trees. Keeping those gutters cleaned and maintained is important, but you might not want to deal with the hassle of finding a ladder and getting onto the roof. If you want an easier way to maintain your roof and gutters, try Gutter Helmet.
In our Gutter Helmet review, we'll take an in-depth look at this product to make sure that you understand what it does and how it works. We'll also look at some of the similar products that you might try and go over the reasons to choose this product instead. No matter what you heard about the Gutter Helmet before, you can see the bottom line and decide whether this is the best guard for your home in our review.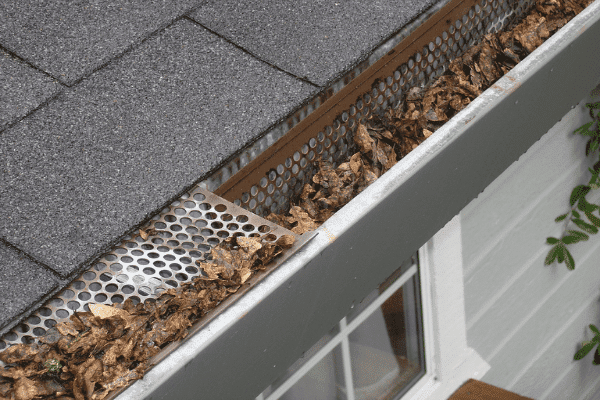 PROS
Designed to work on a wide range of materials and debris
Comes in multiple colors to match your home
Installed by certified professionals to ensure safety
Keeps you safe and helps you save money
CONS
Lots of complaints about the contractors who installed the systems
Only available from authorized dealers
Doesn't collect all types of debris
Future service calls cost extra and are expensive
BOTTOMLINE
The Gutter Helmet system keeps you off ladders and helps you save safe. It serves as the ultimate protection that your roof needs because it keeps rain moving and stops any clogs from forming. This system works in both warmer and cooler climates too.

iReviews Shopping Assistant
Find the best prices for this and many other products with our chrome extension
Product Features
Cost: Based on square footage of your home and slope of your roof
Material: Reinforced aluminum
Opening: 3/8-inch wide
Home Compatibility: Most hangers
Installation: Professional contractors
Estimate: Free
What is the Gutter Helmet?
Before you check out the benefits of the Gutter Helmet, you'll want to take a look at the product and what it does. The Gutter Helmet is a patented system that you can use on top of your current gutters or when you install new gutters. You do not need to hire an expensive professional to do the job for you because most users found that they could install the guards in less than an hour. It depends on the size of your home though as larger homes have more gutters and will require more time to set up the guards.
With the Gutter Helmet, you don't need to worry about debris clogging the gutters and stopping water from flowing. Rainwater can easily build up in blocked or clogged gutters and cause the water to spill over the sides. That moisture can cause serious damage and let mold and mildew develop on your home. Gutter Helmet uses a special design that lets rainwater reach the gutters as it blocks over debris. It works on pine needles and leaves from other trees and can keep animals from building nests or living in your gutters too. You can get as many guards as your home needs.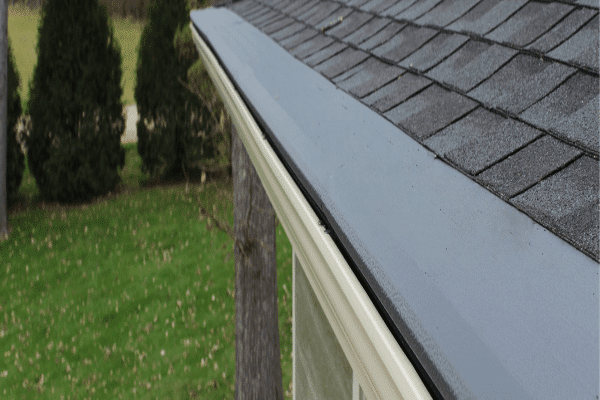 The Gutter Helmet is almost invisible to the naked eye but does a great job of blocking debris.
How Often Should You Clean Your Gutters?
Checking your gutters for signs of debris takes a lot of time and puts your body on the line. Every time that you pull out a ladder and set it up, you risk the ladder tipping over and you breaking a bone. You do not need to inspect your gutters every month or every couple of weeks though. Most experts recommend that you clean your gutters at least twice a year. You'll want to clean them around the beginning of the spring. This gives you time to clear out any birds or squirrels that built nests and look for trash that accumulated over the winter.
You'll also want to clean the gutters again in the fall. Most people aim for the beginning of the season because they want to get the difficult job out of the way. If you wait until the middle or end of the season, you can look for falling leaves that fell in the gutters and make sure that the gutters can handle the long winter. Depending on where you live, you may need to clean your gutters more often. Those in warmer climates often need to clean their gutters at least three times a year as do those who live in areas with a lot of wind.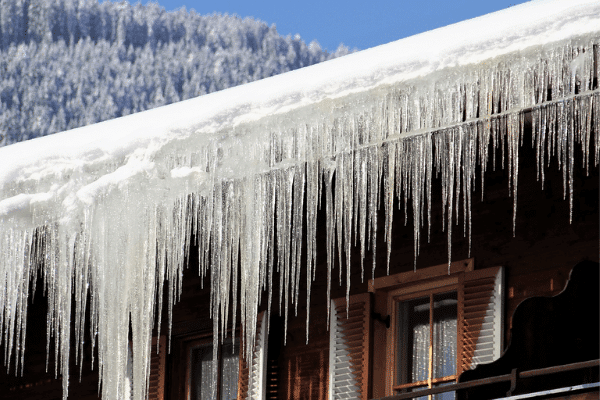 Cleaning and maintaining your gutters can prevent ice dams from forming in winter.
How Can You Use the Gutter Helmet?
While there are many gutter guards on the market, the Gutter Helmet has a patented design that you won't find anywhere else. This guard uses both gravity and surface tension to ensure that your gutters stay clean and free from debris. Ordinary gutters consist of small channels that sit near the edge of your roof. Anything that lands in the gutter will stay there. While you might get lucky and get enough rainfall that the water carries away the debris, larger pieces can clog the channel. This allows more debris to build up and prevents the water from moving to the pieces that carry it away from your home.
Gutter Helmet functions as a standard guard but has an extra 3/8-wide lip along the edge. When rain hits your home, it falls onto this lip, which uses surface tension to break through and push it into the lip. Any debris that lands on top of the guard will remain there, but the rain moves through the lip and into the right pieces. Gutter Helmet also does a good job of pushing the debris off your home because of a slight angle on its surface. Once you install the Gutter Helmet, you can save time cleaning your gutters.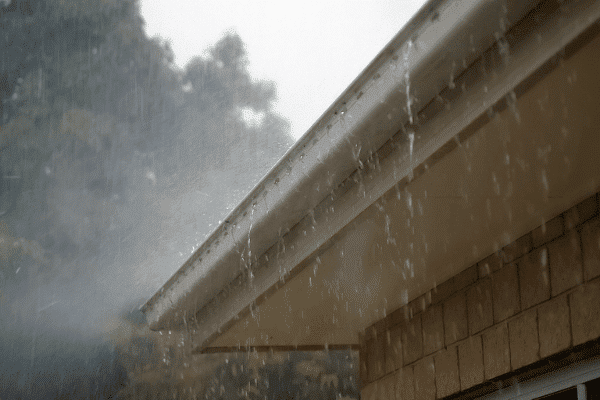 The patented design of the Gutter Helmet ensures that rain gets through while debris stays out.
Why Do You Need to Clean Your Gutters?
You probably have a few questions about why you need to clean your gutters. Some even think that it's not a big deal if they leave their gutters clogged and dirty. The short answer is that clean gutters can save you quite a bit of money. Any type of debris can form clogs in the gutters, including:
Plastic bags
Fast food wrappers
Leaves and twigs
Animal nests
Plastic bottles
When you stand on your front lawn and try to peek into the gutters, you'll usually find that you cannot see any debris or clogs until you get close. That debris blocks the rainwater as it builds in the gutters. As the water has nowhere to go, it will spill over the sides and fall along the walls. Not only will you discover that the water attracts mold, but you may find that it causes foundation damage too. Replacing or repairing your foundation can easily cost $10,000 or more, which is the same price that it would take to repair a roof. If you want to keep your home safe and don't want to deal with ladders and complicated cleaning products, the Gutter Helmet is a good alternative that can keep the gutters clear.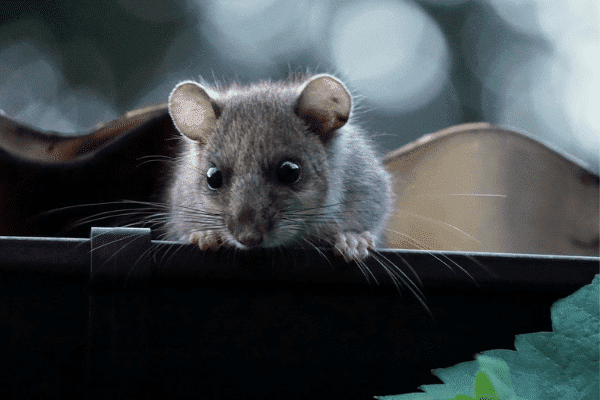 Depending on where you live, you might find that wild animals live in your gutters.
Where Can You Use the Gutter Helmet?
The best place to use the Gutter Helmet is on your home's roof. As the guards can handle both heavy snow and rain, you don't need to worry about them not working on your home. Let's say that you live in the Midwest where the winters often bring long and harsh weather. The Gutter Helmet will prevent the clogs that form ice dams and make sure that the gutters are clean the following spring. An ice dam occurs when the freeze and thaw cycle happens multiple times. Warm weather causes snow and ice to melt and drip down your home. When the cold weather returns, that moisture freezes and creates ice dams that can pull down the gutters and even rip them off your roof.
You can also use the Gutter Helmet if you live in a warmer climate that gets lots of rain. These guards ensure that the rain moves freely through your gutters and that no clogs will form. We also recommend the Gutter Helmet for those with a vacation home that they only visit a few times a year and landlords with rental properties. You can even use the guards in your garage. The Gutter Helmet works on both older and newer homes too.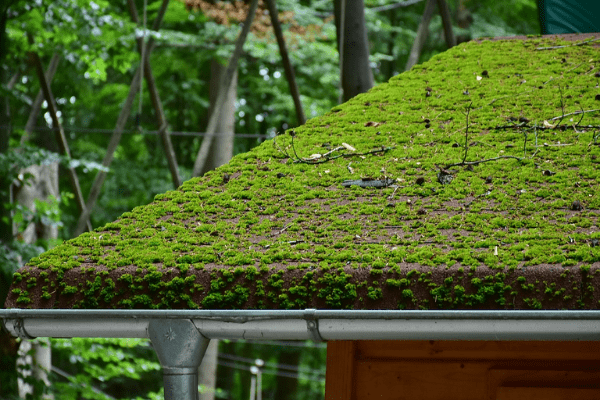 The Gutter Helmet can prevent mildew and algae from growing on your roof and gutters.
What are the Top Reasons to Use the Gutter Helmet?
The top reason to use the Gutter Helmet is as protection for your roof and gutters. It works on pine needles and other small pieces of debris that you might think will flow through the gutters but often become stuck. As it keeps the gutters free of debris, it prevents the clogs that usually form. You'll also find that it acts as a deterrent against wild animals. As the gap between the gutter and lip is so small, animals have a hard time finding a place to build a nest and will usually move to another house. Some of the other top reasons to use the Gutter Helmet include:
It keeps rainwater and other types of moisture from pooling around your home and causing damage
You can keep your eaves and fascia free and clear
Gutter Helmet can prevent all types of water and moisture damage, including algae and mildew
It can stop wood surfaces on and around your roof from rotting
Another reason to use the Gutter Helmet is that it can keep you safe from injuries. You no longer need to climb on a rickety ladder to clean your gutters or spend money hiring someone to do the job for you.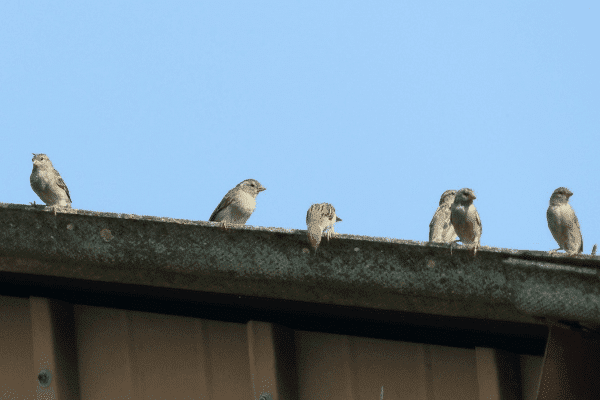 The Gutter Helmet deters all types of birds and other wild animals that nest in gutters.
Who's This For?
The Gutter Helmet is a product designed for anyone who hates cleaning their gutters or wants to prevent damage to their roofs. Many people suffer injuries from routine cleaning every year. They lose their balance while standing on a ladder or don't secure the ladder and fall when it tips over. Even if you wear thick gloves, you risk coming into contact with sharp pieces of metal that might cut your hands. Gutters are also full of general gunk that no one wants to touch such as animal urine and feces. There's also a risk that one or two small animals might die in the gutters and begin decomposing before you notice.
We also recommend the Gutter Helmet for those who own rental properties. As a landlord, you are responsible for the upkeep and maintenance of the home. While you can ask tenants to keep the home clean and let you know of any problems they have, you can't expect them to repair a hole in a roof or clean the gutters. If a clog forms in the gutter and significant damage occurs, you might be responsible for paying for the tenants to stay in a hotel room as well as the cost of the repair. Using the Gutter Helmet on each rental home can save you a bundle in the long run.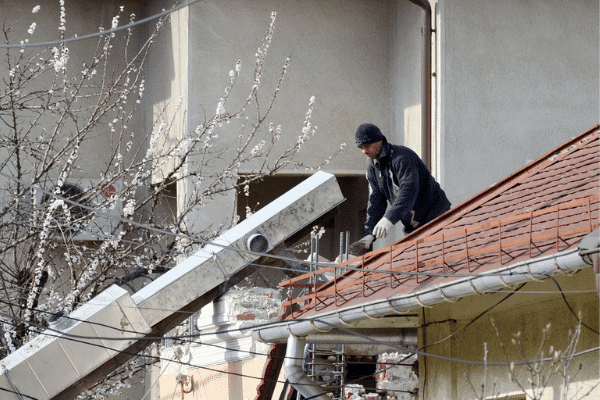 Expensive home repairs can significantly reduce the profits that you make from your rental homes.
How Long Will the Gutter Helmet Last?
When you buy ordinary gutter guards from a hardware or home improvement store, you might get a guarantee that lasts for one year or a few years. The makers of the Gutter Helmet want you to feel confident that this is a lasting product, which is why they back it up. They call it a permanent solution to your roof and gutter problems and guarantee that it will last for the lifetime of your home. When you buy from this link, you get a Triple Lifetime Warranty. No matter what problems you have with the Gutter Helmet system, it takes just one phone call to get the help that you need.
Another nice feature of this system is that you can transfer the warranty. Other types of gutter guards offer a temporary solution and only last for a few seasons or less. If you move, you can either leave the guards for the next owner or take them with you. The markers of the Gutter Helmet permanently install the system and made the product work with the size of the house. If you ever decide to sell the home to a new person, you can contact the company and have the warranty transferred to that owner.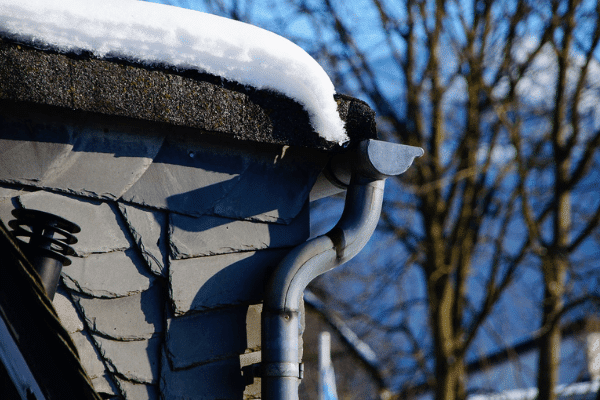 The Gutter Helmet ensures that rainwater will always move into the downspouts on your home.
Should You Buy It?
We want you to love the Gutter Helmet system and feel confident that it's the solution to any gutter problems that you have. That is why we'll use this section to go over the system's benefits and the reasons why the company has so many satisfied customers.
Installation Process
Unlike similar products that you can install on your own, the Gutter Helmet system requires professional installation. When you visit the official website, you're only one click away from checking out the full list of authorized dealers in your area. Even if there isn't one in your city, the chances are good that you'll find one in your region or state. Contacting the dealer allows you to get a free estimate and find out how much it will cost to install the system on your home. You also have the chance to have a contractor come out and measure your home to ensure that you get an accurate quote.
Gutter Helmet Cost
One thing that we didn't address in our Gutter Helmet review is the installation cost because this depends on so many factors. Even if you and a neighbor have homes of a similar size, there's no guarantee that you'll pay the same price for the system. Some of the factors that can determine the cost include:
How many stories your home has
If your roof has any unusual angles or slopes
Whether the contractors need special tools to access your roof
The size and number of gutters on your roof
Your price can also vary depending on the number of corners your home has and the length of your gutters. Getting an estimate helps you avoid any hidden surprises in the cost later.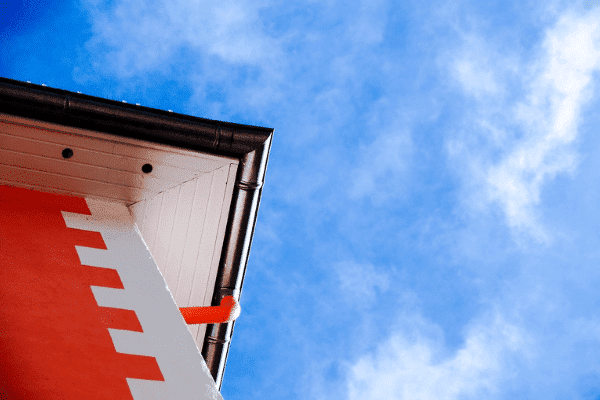 Color Selection
The Gutter Guard system is available in many different colors. Most customers match the guards to their roof shingles, but others match them to their exterior paint or hardware colors. Charcoal, musket brown, dove gray, bronze, green and black are just a few of the available colors. The makers of the system recommend that you choose a color that matches or works with the exterior of your home. They also suggest checking on neighbors' homes to get an idea of the colors that they used. If you live in an HOA area, make sure that you choose an authorized color. Choosing the wrong color can cost you a lot of money if you need to replace the system later.
Helmet Heat Ice Reduction System
Another reason why we like the Gutter Guard system is that it works with the Helmet Heat Ice Reduction System available from the same company. Those who live in the Midwest know that winter brings tons of problems, most notably ice and snow. Simply adjusting the temperature in your home when you leave can help you avoid ice dams and burst pipes. Ice dams commonly form on your roof, but you can eliminate that problem with this system. It increases the temperature of your roof to make sure that ice and snow melts and falls away from the roof before it can refreeze.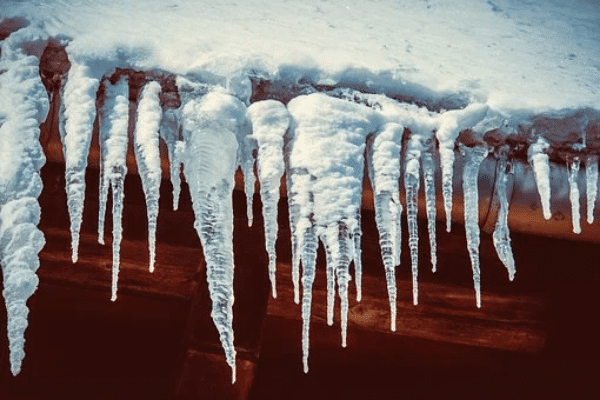 The makers of the Gutter Helmet system offer a similar system designed to prevent ice dams and similar problems.
Rainfall Protection
According to the United States Weather Bureau, the highest recorded amount of rainfall in the country brought 11 inches of rain to a region in an hour. The Gutter Helmet system can handle twice that amount of rain. It went through various stages of testing to verify that it could handle more than 20 inches of rain every hour. As the rain falls, it moves harmlessly down your roof and into the gutters. While the guards block hail and anything else that falls during the storm, all the water enters the gutters and exits through your downspouts.
Triple Lifetime Warranty
Whether you live in an older home built during the 18th or 19th century or bought a newly constructed home, you can use the Gutter Helmet system. It works with both your existing roof and any brackets or supplies used to secure the gutters to the roof. Thanks to the Triple Lifetime Warranty, the makers of the system guarantee that you get both the support and help that you need anytime in the future. That warranty allows you to contact the company if the gutters leak or the guards suffer damage during a storm. Your warranty may last even longer than your house does.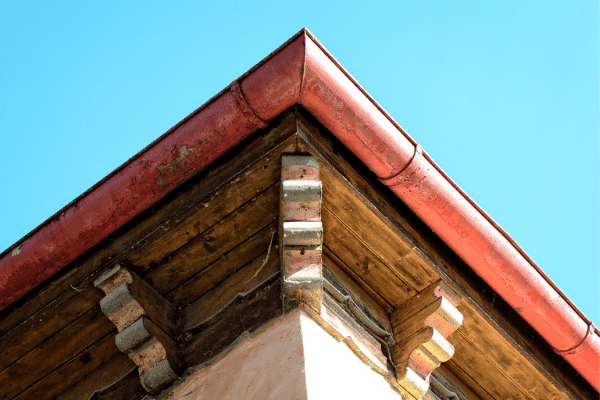 The Gutter Helmet system works with older metal gutters and modern PVC gutters.
Some of the other things that we think make the Gutter Helmet system worth the price include:
Small opening: Thanks to the small opening on the system, you don't need to worry about clogs forming. That opening keeps the debris out and forces it to stay on the roof until wind pushes it to the ground. You can clean up that debris as you mow and take care of your lawn.
No more animals: A common problem that can affect your home are small animals. Birds commonly build nests high off the ground and often choose gutters because the spaces feel safe. When you leave your gutters open and exposed, other types of animals can either live or play there, including squirrels and cats. The Gutter Helmet system blocks your gutters off from those animals.
Transferable warranty: Selling your home can come with a lot of complications, but you don't need to worry about your gutter guard system when you sell. The warranty that you get with this system is transferable to the next owner. Putting that into your listing may help you appeal to more buyers and get the price that you want.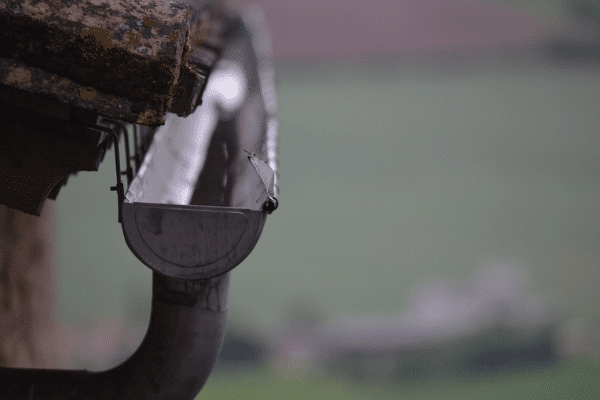 Keep your gutters from clogging with the addition of this guard system.
Complaints About Gutter Helmet
Gutter Helmet received some complaints from previous customers that we wanted to address to give you a well-rounded look at the product. Some had issues with the contractors who installed their systems. They claimed that they didn't install the guards properly and either caused damage to their homes or that the guards leaked during the next storm. When you go through an authorized dealer, you should read reviews of those dealers and any contractors that they hire to avoid this issue. Others said that the guards started pulling away from their roofs and that they received high estimates to fix the damage, despite having the Gutter Helmet warranty.
There were also a few issues with county or city inspectors claiming that the contractors placed the guards too close or too far away from the roof. Some received mailings from Gutter Helmet that told them they would beat any lower advertised price and give the shoppers a $100 gift card. When they tried to take advantage of the offer, the company made excuses as to why it could not give them a lower price and/or the gift card. Most of the problems we saw came from the installers though and not the Gutter Helmet.
Where to Buy
While you can wander into any home improvement store and find a selection of gutter guards, you won't see the Gutter Helmet on those shelves. This is more of a gutter guard system than a simple guard. Once you finish our Gutter Helmet review, you can head over to the official website to see the dealers listed in your area. We found authorized dealers in 40 states. Though some states had only one dealer, some had as many as four or five dealers. That makes it easy for you to find someone who operates in your state. We also recommend checking nearby states if you live on a border between two states. You may find a dealer in a different state that works in yours. Some of the benefits of going with an authorized dealer include:
Ensuring that you get the Triple Lifetime Warranty on your purchase
Giving you the freedom to relax as you let a professional install the system
Making sure that the installation goes as smoothly as possible
Helping you choose the right color of gutter guards for your home/li>
Letting you find answers to any questions that you might have about the system before you buy
Insider Tip
Always check the Gutter Helmet official website before you buy to see any available special offers. You might save $250 off the total cost when you visit.
Competition
THERMWELL PRODUCTS 6×20 Plastic Gutter Guard
If you're looking for a DIY solution to your gutter problems, consider the THERMWELL PRODUCTS 6×20 Plastic Gutter Guard. Made in the United States, it comes in a large roll that measures six-inches by 20-inches. You simply unroll the plastic and cut it to the length that you need. All you need is a pair of scissors to cut through the plastic, but it's strong enough to block wild animals and prevent clogs. While the makers claim that the plastic will never rust, you may find that it's not very strong. This type of gutter guard usually only lasts for one reason before you need to replace it.
A-M Aluminum Gutter Guard
A slightly more expensive gutter guard is this aluminum guard from A-M Aluminum. The heavy-gauge aluminum guard can stand up to frequent rain and snow without rusting and comes with a lifetime warranty. That warranty covers any rusting or corrosion as well as deterioration. Compatible with K-style hangers and hidden hangers, the guard works on most homes. With 380 holes in every square foot, the guard can handle any type of storm. You may need to purchase quite a few to cover your whole home though. It does come in different finishes for those who want to match the gutters to their hardware.
E-Z GUTTER GUARD EZ-Shield
DIY enthusiasts who don't mind spending a little extra on gutter guards might prefer the made from aluminum. Compatible with the five-inch gutters found on most standard homes, it has an overlapping design that makes it easy to install. You don't need any special tools or even screws to use these guards. That is one of the product's downsides. It can stick out several inches from your roof and detract from the design of your home. Another thing to consider is the number of guards that you need and the size of your roof. You may need to cut some of the guards to fit around the entire roof.
Raptor Stainless Steel Micro-Mesh Gutter Guard
Another option you might go for is this Raptor Stainless Steel Micro-Mesh Gutter Guard, which uses a stainless steel base with a micro-mesh layer over the metal. That mesh is fine enough that it can block grit and debris that falls off your shingles as well as pine needles and large pieces of trash. Made from heavy-duty materials, the guard will not rust and can last for years on your home. It comes with all the supplies you need to install it and a 25-year warranty. We found that the price was quite high especially if you need a lot of the guards.
How Does the Gutter Helmet Stack Up to the Competition?
After taking a look at the competition, you might wonder how Gutter Helmet compares to those other products. One thing to keep in mind is that this isn't a product designed with the DIY enthusiast in mind. While you have the option of buying the system from the company and installing it yourself, doing so may void your warranty. When you order the system, you can meet with an installer and find out how much it costs and how long the installation will take. The upside is that this gives you the long warranty that you want to cover any type of damage you might see. Some of the other ways in which the Gutter Helmet system beats the competition include:
You don't need to worry about measuring your house and figuring out how many guards or panels you need
The system serves as a permanent solution that will work on all types of debris
It uses strong materials that can withstand the roughest rainstorms and snowstorms
The warranty is transferable if you ever decide to sell your home
If you want a break from cleaning your gutters and don't want to deal with ladders and equipment, the Gutter Helmet system is a great choice.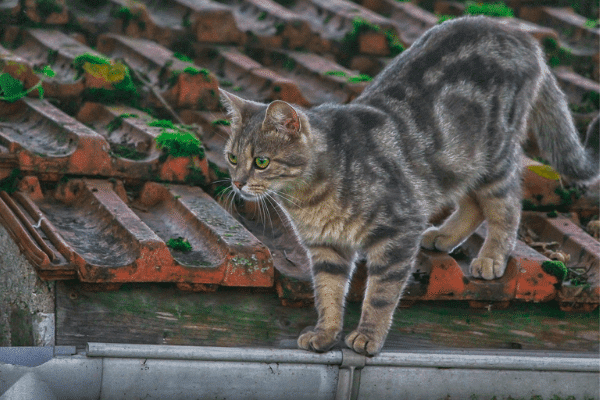 The Gutter Helmet can even protect your home from domesticated and stray cats that climb or walk across the roof.
Final Verdict
No matter how careful you are when working outside, all it takes is one accident for you to wind up in the hospital unable to work or spend time with your loved ones. Falling from a ladder while cleaning the gutters is one of the more common accidents that happen every year. The makers of the Gutter Helmet system created a product that lets you keep your gutters as clean as possible while keeping your ladder safely tucked away in your garage. You don't even need to worry about measuring your roof or finding the right tools to install the system either. Once you find an authorized dealer nearby, you can arrange for the professional installation of the system.
Designed to work on all the common hazards that plague homeowners, this system features a guard that covers the top of the gutters with a thin lip that runs along the edge. The guards prevent animals from wiggling inside and force trash and debris to fall off the roof and into your yard. Any rain or snow that falls gets through the holes in the guards and moves safely into the downspouts. Use our Gutter Helmet system review to see how this system works and our link to order today.