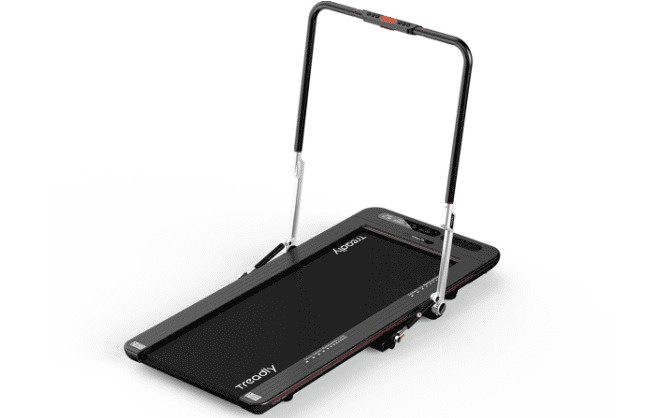 The Treadly Treadmill is a relatively small piece of exercise equipment designed to be small enough to fit anywhere and portable enough to go anywhere. Both of these features make up the main selling point of it, and I think it's enough to make the product an interesting one as long as too much isn't sacrificed for it.

I think this treadmill has its place in the market, but there is more to talk about. Its small size doesn't come without cost after all, and while I believe some people will find this is the best option for them others will not be able to get by the concessions it makes. There is a lot more to get into, so let's get right into the review.
PROS
Takes up less space than other treadmills
Compact and easy to transport
Simple to use and set up
Sturdy for its size
CONS
Offers limited speed
Might get worn quickly by serious runners
Lacks an incline option
The motor isn't powerful
BOTTOMLINE
The Treadly Treadmill is a product that offers to give a treadmill for anyone to use. The main selling points are its size and portability, but these aspects do have tradeoffs.
Product Features:
Portability
Able to be used anywhere with enough space
Quick and simple set-up
Lightweight
Comes with a compatible app
What is Treadly Treadmill?
The Treadly Treadmill is a compact version of the classic treadmill that makes its size and mobility key selling points. The treadmill itself does exactly what you would want out of a basic piece of exercise equipment, allowing users to get a brisk workout wherever they take it.

Treadly, the company behind this product, wants to make sure that this is a minimalist treadmill. That's not to say it's without other perks, but there aren't any massive bells or whistles that clunk up the design.
Treadly Treadmill Features
The Treadly Treadmill doesn't come with a lot of big grand features, but I don't think it needs it. The compact nature is smaller than I would ever expect a functional treadmill to be at only 3.7 inches thick. It's also only a little over 70 pounds, making it three times lighter than even the lightest motor treadmills I've seen before.

According to their website, Treadly puts a lot of focus on the app experience their treadmill offers. This comes in the form of two main apps the company offers to customers, the Treadly Lite App and the Treadly Community App.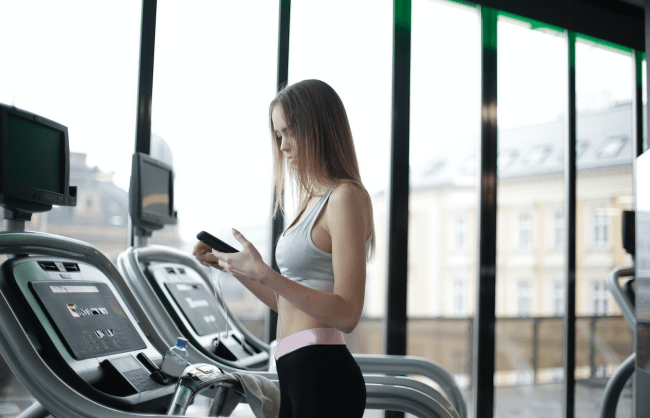 The Treadly Lite App is a basic tracking app that lets users keep notes of their progress. It's a handy little tool that can let people keep track of how much work they've put in and how much more they need to meet their goals.

The Treadly Community App I think is more unique and not for everyone. The app is essentially a virtual workout group finder with video chats that can be taken part in during a walk. I'm not the most social during my workouts, but I can see how it would be a big plus for people who love to talk while they're on their walk.

The last feature I wanted to bring up is the full Bluetooth compatibility. In Treadly's own words this allows users to toggle between watch, app, and treadmill seamlessly. It's another nice addition that doesn't get in the way of the main function of the treadmill, so I have no problem with its inclusion.
Who's Treadly Treadmill For
I see the Treadly Treadmill as a product made for those who range from casual to semi-serious about their walking workouts. Its simple easy-to-move size and weight offer the chance for people with little space in their homes to get a personal workout in with little trouble.

For people looking for a treadmill that does more than just take up minimal space, the Treadly Treadmill has its pros. While the motor may not get as much seed as runners might like, its mobility means that they can bring it along to places they wouldn't have a treadmill on hand otherwise.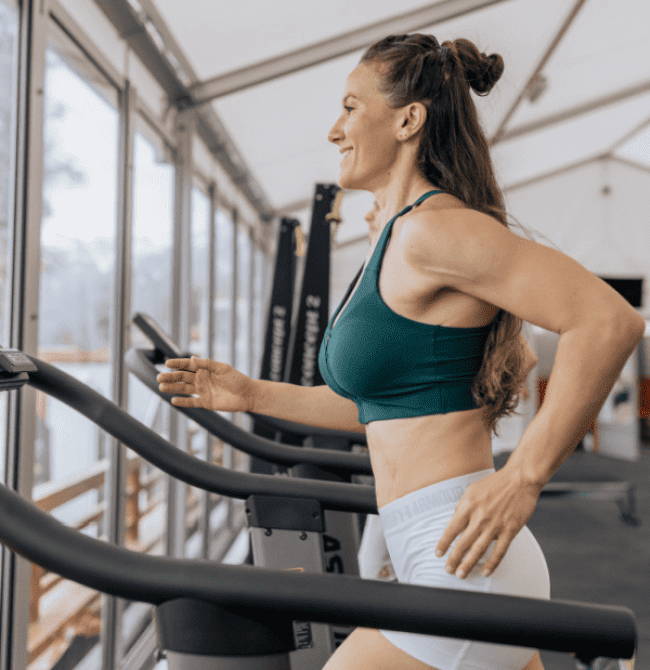 This isn't to say that you can take the Treadly Treadmill anywhere, it's still a 73-pound workout machine after all. Still, 73 is a lot easier to take on the move than the more typical weight of over 200 that tends to come with these treadmills.
Who the Treadly Treadmill Isn't For
There is one group of people I felt it was important to bring up when it comes to those who probably won't enjoy the Treadly Treadmill. It's also the group of people who would be most interested in a product like this. Anyone serious about having a high-quality treadmill that can meet their highest demands should look elsewhere.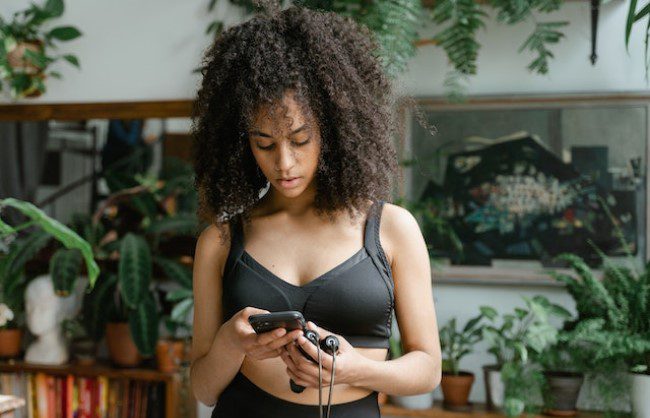 While the Treadly Treadmill works for most people, the fact it has a top speed of around 5 mph may be its biggest turn-off. That speed is fine for most people who are looking to work out, but if you're someone who regularly breaks well beyond that mark then this isn't a product that will fit you no matter how I look at it.
Should You Buy It?
With everything I've said I think it's obvious that I think certain groups should give the Treadly Treadmill a try. If you put a lot of stock in mobility and a product that takes up little space and aren't put off by the speed limitation of the Treadly Treadmill then it gets my full recommendation for you.

If you have plenty of space and don't plan on ever needing to move your treadmill then this might not be the best option for you. You also might want to look at other potential options out there if you want a treadmill that gives you a lot more motorized speed.
How to Buy Treadly Treadmill
All the products made by Treadly can be found on their website here. The new Treadly Treadmill Model 2, along with other products from the company are on offer and sometimes even go on sale. It's a sight worth bookmarking to see if you can catch the occasional deal on a product you would want anyways.
How Does Treadly Treadmill Compare to the Alternatives
One thing that a lot of customer feedback about the Treadly Treadmill tends to bring up is its ease of storage. A lot of customers are happy and surprised with how easy it is to just store the treadmill under their bed when they're not using it. Then when they do want to use it again they slide it back out and pop it up without a problem.

While there is competition for the Treadly Treadmill, most of it tends to be outperformed in the niche the Treadly offers. While options like the WalkingPad exist, they tend to be a bit thicker and a bit heavier than the Treadly. While they may offer a bit more power, I don't think this is a concern for anyone outside of the more hardcore crowds.
Final Verdict
Overall, I have a positive outlook on the Treadly Treadmill. It offers a reliable yet simple method of getting one's walking in without taking up nearly as much space as the competition.

The lightweight build of the frame might seem like it would be flimsy at first. However, as long as it's handled with basic care few seem to say they've had bad experiences with their treadmills getting damaged.

With all those positives, I can't say it's a perfect machine. A treadmill of this size can't offer the power that comes with the bigger models out there. While this is a compromise that any smaller treadmill will have to make, the amount the motor speed is compromised in this model may be too much for consumers looking for a lot of speed in their step.

I would still recommend the Treadly Treadmill to most people looking for a simple treadmill. It will work wonderfully for most people needing an in-home treadmill. The amount of power it has is minimal, but enough to meet the demands that most people out there will have.

It's certainly not the Treadly Treadmill's fault that it doesn't have power comparable to bigger treadmills out there. It was never designed to have this power.

The size and weight were made with a specific market in mind, and for that market, it's a perfect choice. Having any treadmill in the home is a good way to encourage exercise anyways, and that alone is worth more than I can put into words.