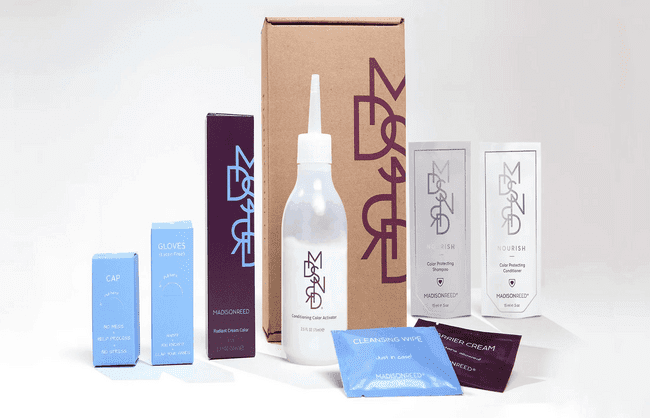 What Is Madison Reed Hair Dye?
Madison Reed was founded with the purpose to "provide the best, most luxurious hair color made with ingredients you can feel good about". The company is named after the founder's daughter, to signify how much faith she has in her company.
Madison Reed's product categories include:

Madison Reed makes dyes that are suitable for your roots to your tips.
PROS
A lot of color options
Has physical locations for professionals to do the dye job
Offers video chat appointments to help pick the perfect color for you
Cruelty-free
CONS
Complaints of hair loss
Dye doesn't last long for some
Several class action lawsuits against them this year
BOTTOMLINE
Madison Reed is an alternative for those who don't want to opt for typical drugstore dyes and even has the backings of color specialist salons in several locations throughout the U.S. However, there are some caveats that come with this brand.

iReviews Shopping Assistant
Find the best prices for this and many other products with our chrome extension
Product Features
Free of harmful chemicals like ammonia, parabens, resorcinol, phthalates, PPD, gluten, SLS, and titanium dioxide.
Contains beneficial ingredients of keratin, argan oil, and ginseng root extract
Dermatologist tested products
The Difference Between Box Dye and Professional Dye
What sets Madison Reed apart is that they claim to be better than traditional box dye options.
So, first, it's important to understand the difference between box dyes and professional dyes. Box dyes contain pre-made formulas that contain chemicals that can be too abrasive for many hair types, especially if applied incorrectly.
Professional hair color formulas are mixed by a colorist just for the client. Colorists also have the knowledge to help prevent any unnecessary damage and additional needs for color corrections.
If you do want to go the professional route, you can also book an appointment at one of Madison Reed's Color Bars, where there are locations in 20 U.S metropolitan areas.
How to Use Madison Reed Hair Dye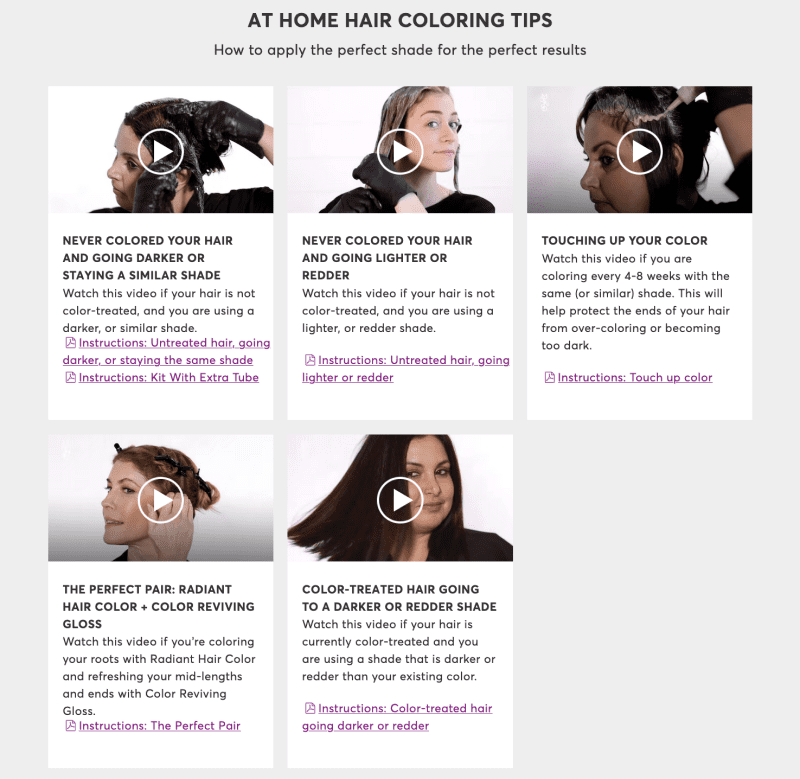 Madison Reed provides thorough how-to guides for all of its hair-dying products. The videos are straightforward and easy to understand, making the at-home application less intimidating even for beginners.
Depending on the results you are going for, the processing time will vary. However, the general steps advise you to start with a spot/patch test 48 hours before the dye job. If you have no irritation or flare-ups, you're good to go!
Madison Reed's video instructs the user to begin with clean hair (washed the day prior is best). Then, you will section your hair and protect your hairline from dye using the barrier cream included in their dye kits. Then you mix the provided formula and begin the application. Wait for the advised processing time mentioned in the instructions for the specific dye and rinse your hair until the water runs clear (this can take a while). Then you can wash your hair as normal!
Should You Try Madison Reed Hair Dye?
Although Madison Reed is supposed to be easy enough to use at home, they offer some color solutions that should still 100% be taken to a professional, like their Balayage Highlights Kit.

Another red flag is that the Madison Reed website claims that this is safe to use on already color-treated hair.
This could lead to an array of problems, especially if you're doing this at home yourself. It is always recommended to do a strand test just to watch out for bad reactions, but even with the precaution of a strand test, mistakes can still happen.
Remember, hair colorists will ask if you have applied anything to your hair prior to your visit with them for a reason. Hair dye is essentially a science!
There are also a substantial amount of negative and average reviews for their products as shown below: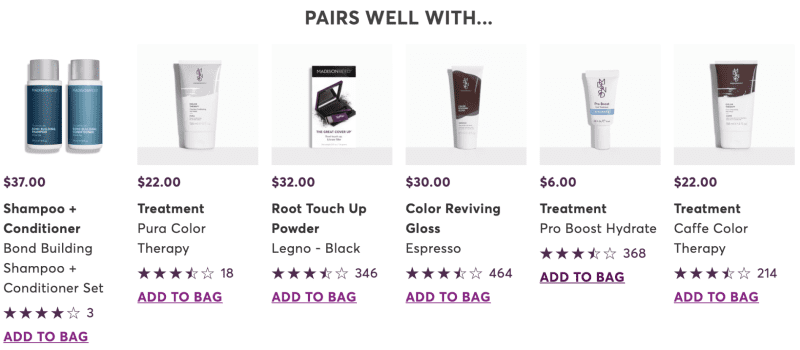 Most of the complaints pertain to color only lasting for a week or not providing enough coverage.
If that wasn't enough to deter you, they also have several class action lawsuits out against them, with the first one regarding issues of hair loss and scalp irritation in some clients. The second lawsuit in regard to sending unsolicited text messages.
For this one, it's going to be a resounding no, I wouldn't recommend trying out this hair dye!
Where to Buy
You don't need to spend a lot of time looking for Madison Reed online or trying to find a salon in your area. Simply click here to load the homepage and look for the right hair dye and any other products that you might need. You can get a shampoo and conditioner combo for as little as $37 to make your hair dye last longer. The page also features the hair dye quiz and Pro Boosts along with other treatments that you can use at home. We also recommend using our link to find out the benefits of Madison Reed membership, which include:
If you sign up for auto-delivery, you'll get an automatic 15% discount on each future box you buy.
You get a free gift every year on your birthday such as treatments you bought in the past or a new product to try.
Members get a free kit when they sign up that lets them try some of the top Madison Reed products.
You get the chance to chat with professional colorists on the phone, through email or via live chat for free.
Madison Reed lets you sign up for free and doesn't charge an annual membership fee.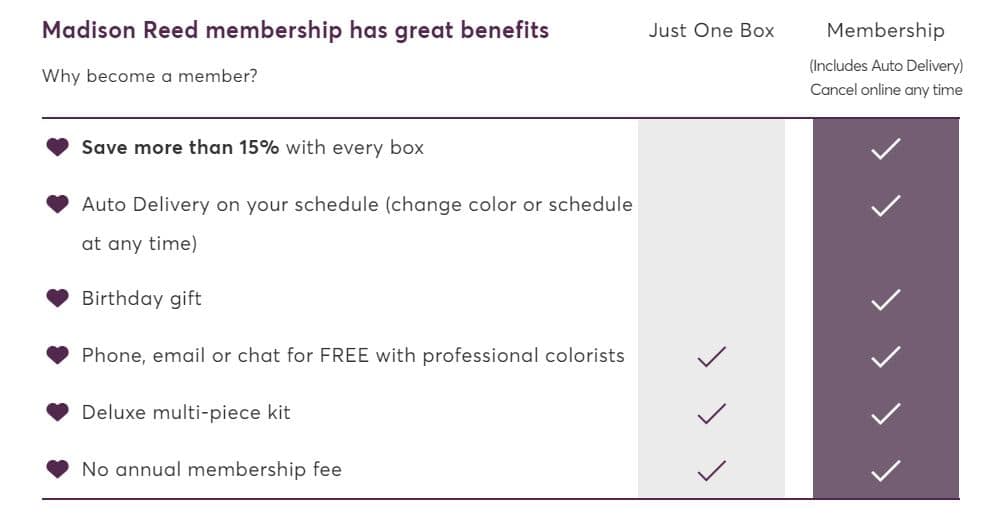 Competition & Alternatives
You can choose from a wide range of hair dyes online and have them shipped to any address you choose. We'll look at some of the other dyes that compete with Madison Reed.
Garnier
Garnier is one of the most prevalent and accessible brands of hair dye, with all of their lines being found in practically every drugstore and beauty supply store. Their lines include Nutrisse, Olia, and Color Sensation.

These are all well-known and used by millions of people, with great reviews. I've used the dye too and didn't notice any excessive dryness, shedding, or any other complications that can be a result of bad hair dye.
Sebastian Cellophane
If you're looking to revamp your hair with a tint of color and shine, then cellophane is a great option. Some stylists even use cellophane as a way to "seal in" the color of your hair as it coats your hair like a gloss.

Cellophanes are ammonia-free just like Madison Reed dyes are and are a lot safer to apply. These treatments also protect against UV light, but only last for 8-12 weeks.
Clairol & Clairol Professionals
Clairol is a well-known brand that's been around for almost 100 years its products can be found in almost any drugstore and even professional salons. Clairol products offer many solutions for any hair color goal. They have products catered to covering gray hairs, lightening hair without bleach, and even amnia-free options as well.
Il Salone Milano Permanent Hair Color Cream
A popular option for those who want salon results at home is Il Salone Milano Permanent Hair Color Cream. This formula is paraben-free and uses natural oils that moisturize your hair. Some of the colors do not work well on darker hair as they do on lighter hair, but the company adds a color chart to help you select a good shade. You'll also find that the dyes lack the alcohols and chemicals that can strip your hair of its natural luster. When using one of these dyes, you only need to follow three simple steps to change your hair color.
Revlon Root Erase Permanent Hair Color
You might know Revlon for its makeup products, but the company also makes many hair dyes such as the Root Erase Permanent Hair Color. Designed for those with gray roots or gray patches that are resistant to dye, the box includes everything you need to eliminate gray hair at home. Though Revlon offers this dye in more than 10 shades, you may have a hard time finding one that matches your hair color. Another thing to keep in mind is that this dye does not provide as many highlights as other dyes do and can look a little artificial.
Final Verdict
At-home dye is something almost any professional hairstylist would reluctantly green-light their clients to do (if at all), and Madison Reed is no different. Any chemical being put in your hair runs some risk of damage, and each product affects others differently. However, with the class action lawsuits against Madison Reed dyes, this dye is riskier than others in the market.
Despite being ammonia-free, and free of other harmful chemicals found in box dye, there are more affordable options with similar properties.