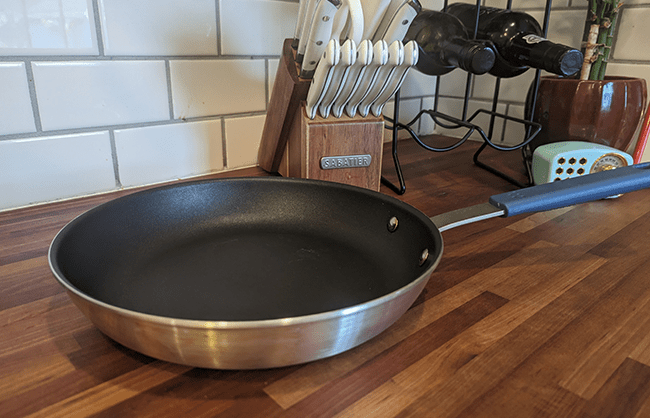 I think we all would like to have a restaurant quality meal cooked right in our own homes, but that can be easier said than done. One big hurdle to overcome is that professional quality kitchen equipment can be hard to come by, and when it is available to the consumer, usually comes with a high price tag.
Luckily, the brand Misen is here to provide just about anyone with high quality and affordable kitchen tools. By selling directly, Misen is able to cut the costs of high end pots and pans so that you can stock up your kitchen even if you're on a budget.
In this review I will go over the basics of Misen, as well as their products, policies, online presence, competition, and my own personal experiences with the brand. In addition to this written review, there will also be an unstructured unboxing video as well as a full video review.
PROS
High quality
Easy to grip handles
Price
Bundles available
Lifetime guarantee
CONS
Only available directly through Misen
BOTTOMLINE
Misen is a fantastic way to bring professional grade kitchen equipment into your home. Products are relatively inexpensive and are sure to last longer than other budget brands or your money back.
Features
Knives
Pans
Skillets
Dutch ovens
Free returns
60 day test drive
What Is Misen?
Misen is a company and band that produces and sells restaurant quality kitchenware at prices that almost anyone can afford. The company produces pans, dutch ovens, skillets, and roasting pants, and a wide assortment of knives, along with many other products.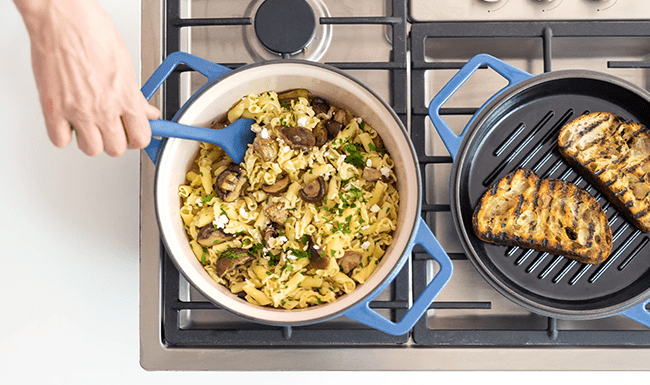 Misen aims to provide the average home cook with high quality instruments so that they can cook and prepare delicious meals right from their own home. By not having physical stores or any sort of middleman, Misen is able to pass the savings onto the customer.
Misen Nonstick Pan Unboxing
For the purposes of this review, I received Misen's 10 inch non stick pan. The pan arrived on my doorstep in a standard brown cardboard package, nothing too spectacular, but it did the job.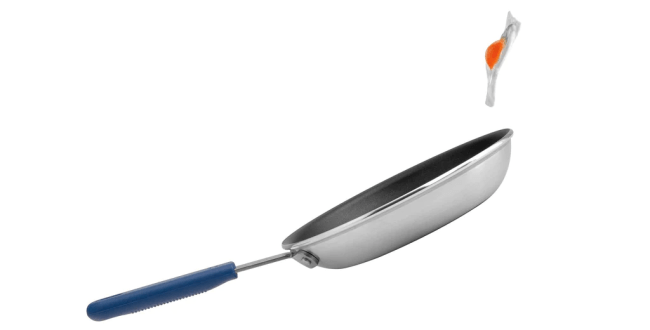 A detail I didn't like however, was how the pan itself came in a regular looking cardboard box inside of this shipping box. Not a deal breaker or anything, but this just made for more garbage I had to recycle when I believe Misen could've got the job done with just 1 box.
The pan itself was wrapped nicely in bubble wrap, which protected it as it traveled to my house. There were no dings or scratches of any kind on the pan that could've occurred during shipping. It looked just like I picked it off a store shelf.
We have a lot of different cooking pans in our house, with my dad being a professional chef and all, but none of them feel quite as nice as this one from Misen. The rubber coated handle in particular impressed me, as it was very easy to keep a steady hold on and felt nice in the hand.
The construction of the pan was also excellent. It felt extremely solid, with lots of textured bits to add to the experience and improve the quality. Needless to say, I was very impressed with the product after unboxing it. Some parts of the packaging did leave a bit to be desired, but overall, I felt ready and excited to use my new pan.
Features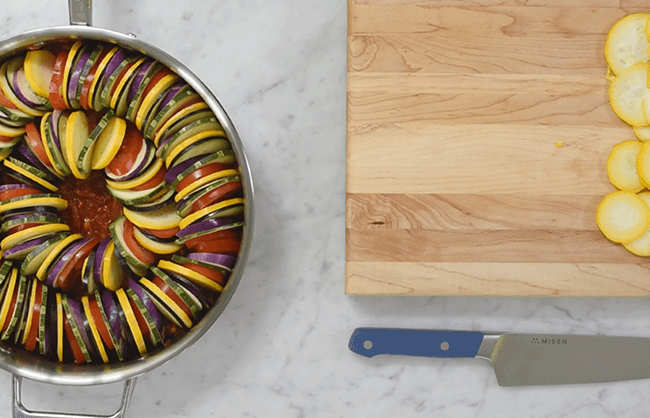 While I focus a lot on Misens 10 inch nonstick pan for this review, the brand produces enough products to keep your home kitchen well stocked for years to come. Additionally all products are restaurant quality and built to last.
With Misen, you can not only get any specific knife you may need to perform a job, but you can even get entire sets, usually at a discount, to do just about any kind of cutting in the kitchen. These knives are also made from a super sharp metal, sure to last much longer than other brands, and feature an easier to grip rubberized handle.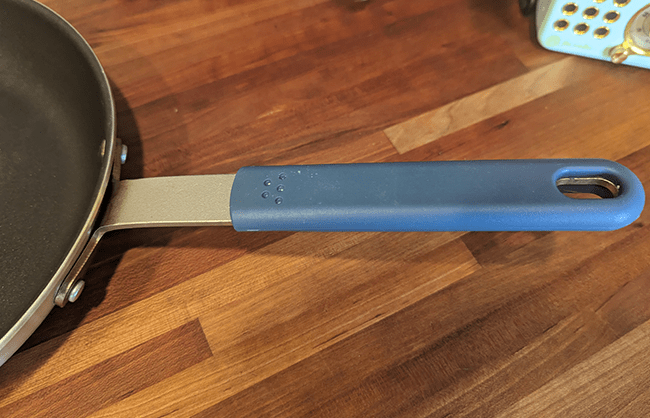 Pans from Misen are similarly easier to grip and made to last much longer than traditional home kitchen pans. With 4 layers of PFOA free coating, these pans will be easier to cook with and to clean than most other products on the market.
So many other kitchen gadgets are available from Misen like skillets, dutch ovens, saucers, stock pots, and much much more. These products are also built to last, many of them coming with a lifetime guarantee and a 60 day test drive, so you can get a feel for the product before you want to commit. Free returns are also offered if you're unsatisfied with your products.
Misen Nonstick Pan Test
My family actually ended up making part of our Christmas dinner in the Misen nonstick pan and the pork tenderloin that we cooked out of it was delicious. My dad, the chef chef, had a lot of good things to say about this pan.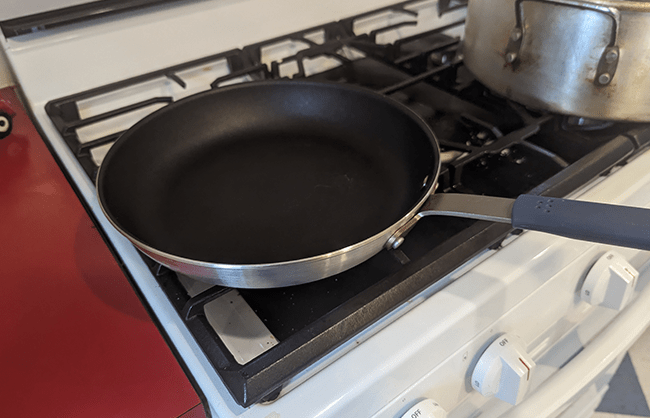 He's worked in several different restaurants and knows a high quality pan when he sees one, and he did not doubt for a second that this pan was of the utmost quality. He also really appreciated the rubberized handle, saying that it made it much easier to grip and to handle.
After hearing my dad's praises for this pan, I wanted to test it out myself, so I filmed myself using it to make a grilled cheese. I'm definitely not the cook that my dad is, but I still found this pan to be very easy to use and understand.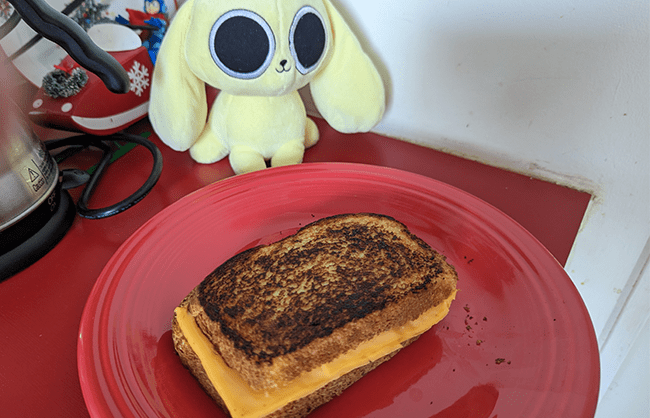 I had no issues making a delicious grilled cheese sandwich. Just as my dad had said, the handle made it super easy to hold and keep a grip of when I flipped my sandwich and the pan was left with little residue to clean up after everything was done.
Overall,I was extremely impressed with both the quality of this pan and just how easy it was to use. I may even have to learn how to use it to cook more dishes than just grilled cheese.
How Can You Use Misen Products? / Who Is This For?
If you've used any similar kitchen products as the ones Misen produces, then you should know how to use these ones. Though, Misen products are often easier to handle than most budget friendly kitchenware.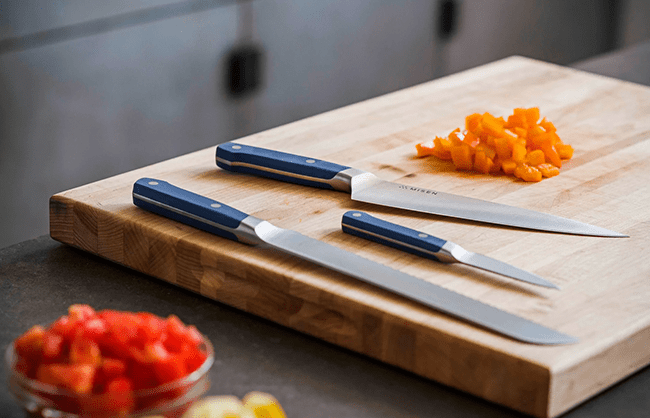 Misen's goal is to give anyone access to long lasting and restaurant quality kitchen products that they can use at home. Professional chefs who want to cook good meals for their own families should get a lot out of these as they are more affordable than the stock they would keep in their workplace.
Novice chefs, like myself, should also enjoy Misen products, since they are easy to use and long lasting. I would highly recommend this brand to younger folks living on their own for the first time who want kitchenware they can use for years.
Web Infrastructure / Branding
The Misen website is a little bland to look at, but it does the job nonetheless. Here you can look at all the products from Misen as well as all the different bundles of gadgets you can get.
Thankfully, there were no annoying promotional pop ups that appeared upon entering the site to interrupt or ruin the browsing experience. All links I tested also directed to where they were supposed to go and at no point did anything slow down my computer or take too long to load.
Branding and marketing materials are similarly a little bland, like the website. Though I do appreciate how all the products have blue handles to give them some sense of uniqueness and identity. While the marketing for Misen is admittedly a little boring, I feel that it gets the job done.
Should You Buy It
I'll admit, I'm not much of a cook myself, but my dad is a professional and had nothing but good things to say about the 10" non stick pan we received. He told me that it felt even better than some commercial grade pans he used.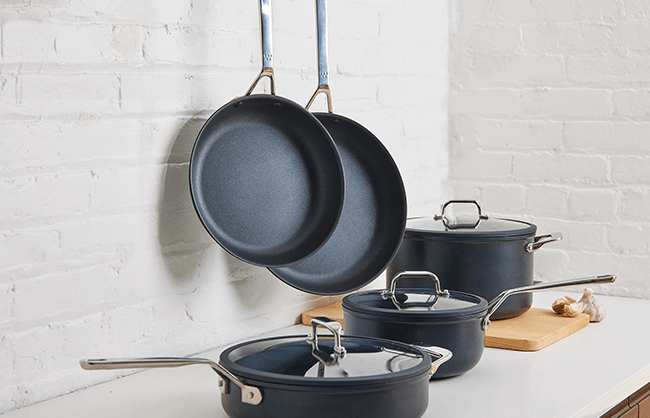 Prices are also super fair, the pan in particular was only about $55. I feel that this is extremely worth it for a pan that's going to last for as long as you can use it, with a lifetime guarantee.
Where to Buy
As of now, Misen kitchen products are available for purchase exclusively through the official website. Sort of a shame that you can't buy these on Amazon or find them on store shelves, but cutting out middlemen is how Misen is able to keep their prices so low.
Competition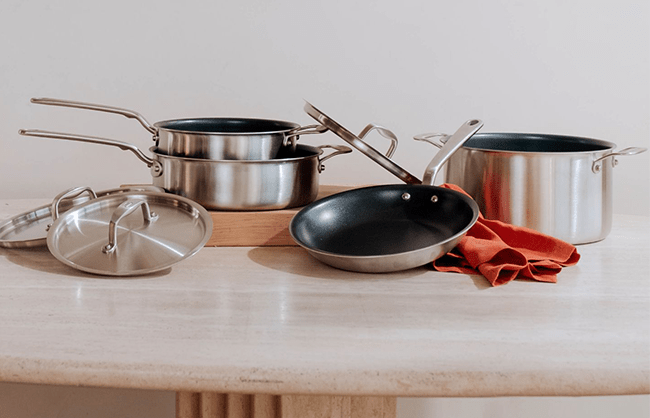 Made In is a brand I've actually talked about before which produces restaurant quality kitchen equipment made available to anyone with a kitchen. The brand produces super high quality tools and equipment that come with a lifetime warranty, much like those from Misen.
While Made In makes kitchen equipment that is of top quality, I still believe that Misen comes out on top in terms of design and in price. The 10 inch non stick pan from Made in costs about $120, more than double the $55 you would pay with Misen. Made In pans also don't have the same easy to use rubberized handles, something I think is a huge advantage to Misen.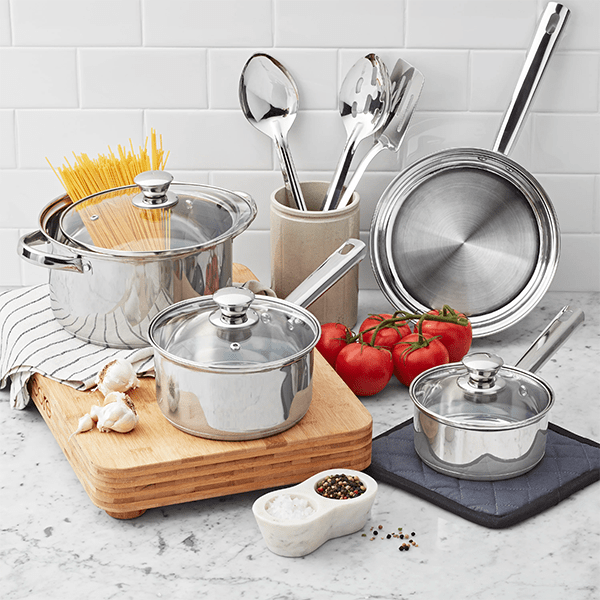 If you care more about getting a deal than the quality of your cookware, you could always go with one of the many budget friendly brands available through Walmart stores, like their in-house brand Mainstays. With Mainstays, you can get an entire kitchen set of 10 pieces for just $25.
However, many reviews say that you get what you pay for, as these instruments are not of the best quality and can become damaged very easily. Additionally, you won't get the lifetime guarantee that you would by choosing Misen or Made In. While going with Mainstays is cheaper in the short term, I believe that it's smarter to spend the extra money to get kitchen equipment that will last you a long time.
Final Thoughts
As I've made very clear in this review, I'm not much of a chef. However, I found the 10" non stick pan very easy to use and was impressed with the amount of quality the brand put into everything else they make.
I believe though that my dad's opinion on this is more valuable than mine could ever be, since he is a professional chef. He had only positive things to say about Misen and told me that the pan we received was of even higher quality than the ones he's used in restaurants.
For these reasons, I would highly recommend Misen for any kitchen needs and I will likely be using their products when I get a place of my own, which should be very soon.
Resources and Further Reading