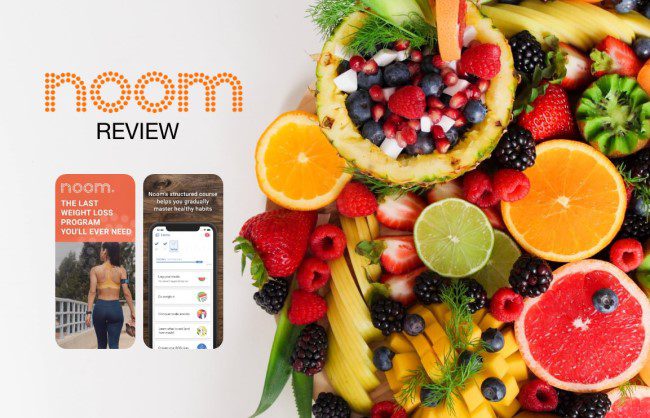 Most diets are designed to fail, which is why the diet industry makes billions of dollars a year. If you've tried other diets in the past, you have likely found yourself swigging chalky drinks that claimed they taste like milkshakes or eating so-called candy bars that taste cardboard. Noom uses a psychological approach to eating and dieting to help you lose weight and get in shape.
PROS
Creates a custom plan designed around your weight loss goals
Includes support from coaches who guide you along your journey
Gives you to-do lists every day to keep you focused
Lets you try the features for a low price
Holds you accountable for your decisions
CONS
Does not offer a refund or guarantee
No option for editing meals or recipes that you add
Often hard to cancel once you sign up
BOTTOMLINE
Noom is more than just another weight loss company. It holds you accountable for your actions and decisions. It provides you with an app to keep track of the food that you eat and any exercise that you get. Many love that they can work with coaches and other members once they receive a customized plan.

iReviews Shopping Assistant
Find the best prices for this and many other products with our chrome extension
Product Features
Trial: $10 for seven to 14 days
Cost: $159 every six months
Device Compatibility: Android and Apple devices
Types: Customized plans for adult men and women
One-on-One Guidance: Only after the trial period ends
What is Noom?
Noom is not a traditional diet program, you can still eat all of your favorite foods and even have some drinks when you're out with friends. Noom asks that you download an app, which you then use to track your diet over two weeks. Not only does the app help you keep track of your food, but it helps you connect with others who are on similar journeys and monitor your consumption.

In our ultimate Noom review, you'll find out how to sign up and use this program to meet your goals.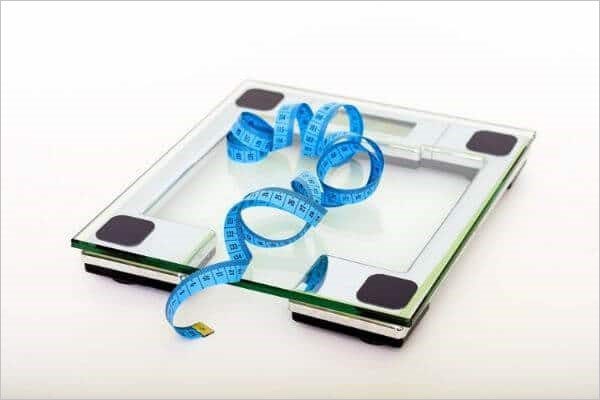 How to Start with Noom
Our link directs you to the Noom website where you can get started and sign up for an account. You must first create a demographic profile that asks whether you want to lose weight or get fit, with a third option if you want to do both. It then asks for your height in inches and total weight. You then need to state your ideal weight. This tells the site how much weight you want to lose.

Noom then takes an extra step which asks if you have a special event or occasion coming up that motivated you to lose weight such as a high school reunion or anniversary. Once you finish answering these questions, Noom puts together your profile and tells you how long it will take to reach your goal.

Though it takes quite a while to complete your profile, it helps Noom determine how much time it will take to reach your goal weight. When I went through the process, I found that the initial estimate to hit our goal weight was near the end of January. By the time I finished creating a profile, the date dropped by several weeks. The more truthful that you are with Noom, the more it can help you.
How Can You Use Noom?
The name "Noom" comes from the word moon but simply spelled in reserve. Its creator claimed that the moon is always in the sky in the same way that Noom is always there for those in need. Once you answer the questions to complete your profile, Noom asks you to sign up and shows the available plans.

It should only take 10 to 20 minutes to complete this step. You can then enter your payment details and take advantage of the two-week trial. After you sign up and pay, Noom will send a link to the email address you entered which lets you download the app and begin using it.

You then receive help from a coach who will assist you with your goals. The coach will then pair you with other users who have the same goals and check in regularly to see how you're doing. As soon as you download the Noom app, you can start using all of the top features.

We'll take a detailed look at those features to show you what you get with Noom and how the app can help you achieve your goals.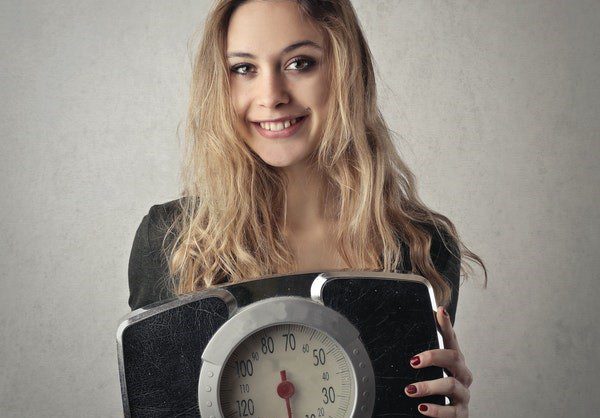 Noom helps you make healthy decisions every day of the week.
Top Features of Noom
Food Logs
One of the top features of Noom is that it allows you to create food logs. Many users found that simply seeing what they ate over several days helped them develop healthy habits. Noom encourages you to log each meal after you eat and track your calories through food logs.
Exercise Logs
Do you often find excuses for why you don't exercise? You might blame those long hours you put in at the office or family obligations. Noom recommends that you keep an exercise log that shows how much time you've spent working out and when you exercised. You don't need to visit the gym daily, but you should try to exercise a little bit a few times a week. The app makes it easy to keep track of your workouts.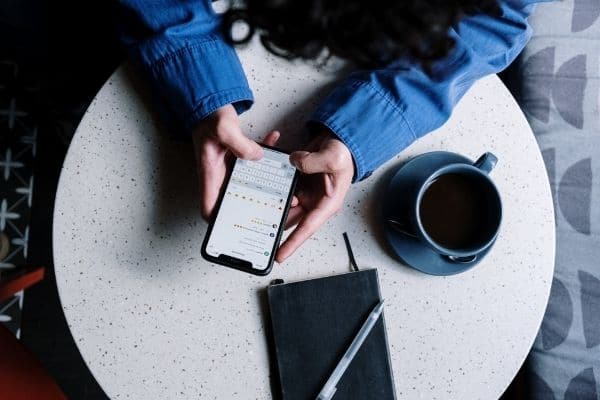 You can update your food and exercise logs in the Noom app while in the gym or restaurant.
Weight Logs
Noom understands that you may have good days followed by bad days. While you might lose two pounds in one week, you might lose nothing the following week or even gain one back. Noom gives you the chance to keep track of your weight and go over your numbers with an expert. Many find that simply writing down their weight and keeping track of it can help them progress towards their goals.
Expert Advice and Support
One of the top features that many Noom users love is the ability to get advice and support from an expert. Your goals coach will be there to assist you every step of the way. They will go over your goals at the beginning and make sure that you make progress in the coming weeks and months. You'll also have regular check-ins that allow the expert to discuss issues that you have and go over possible solutions.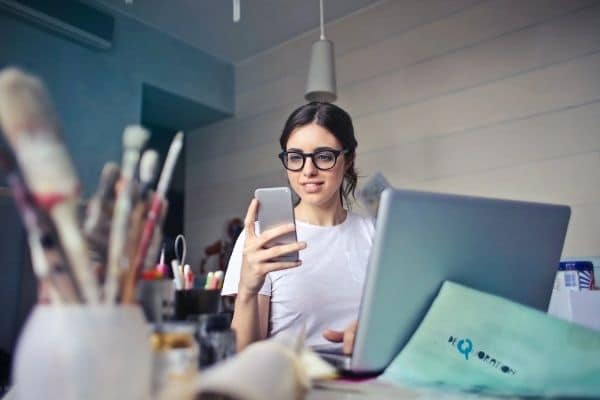 Noom helps you get expert advice when you're on the go.
Group Chats
When you sign up with Noom, your coaches will put you in small groups with people who have similar goals. These chats help you talk about your experiences and thoughts over the last few days. Noom assigns a group moderator to oversee your chat. The moderator can help you stay on track and bring up new topics as needed.
Recipe Database
Finding recipes that can help you lose weight while still tasting delicious isn't always as easy. Noom gives you access to a large recipe database that features both full meals and snacks as well as side dishes and desserts. Though some recipes come from experts, others come from users like you. You'll even find recipes that you can share with your loved ones.
Behavior Modification
As Noom takes a psychological approach to weight loss, the app can also help with behavior modification. The app shows you what triggers you to eat more and gives you advice on how to change the ways that you act.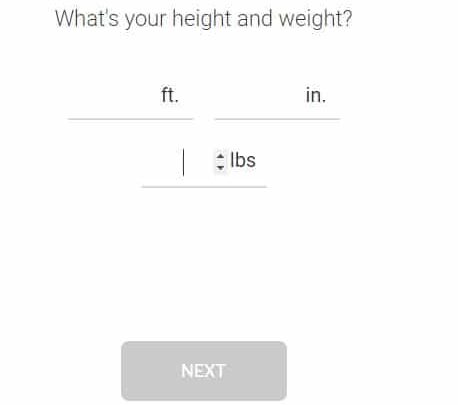 As a Noom member, you get full access to thousands of healthy and yummy recipes.
How the Noom Color Wheel Works
When you use Noom as a diet plan, you will see a traffic light system that uses red, green and yellow. As you might expect, red foods are the ones that have the greatest impact on your diet. These foods include those that are high in fat and sugar along with other factors that cause weight gain. Green foods are the ones that are the best for you and those that are safe to eat and may even help you lose weight. You will also see yellow foods, which are right on the line.

Most diet plans tell you what you can and cannot eat, but Noom allows you to consume all of your favorite foods. Noom shows you how many items of each food group you should eat daily. As you enter your meals, Noom will keep track of how much you have left in each group. At the end of each day and week, the app shows whether you went over or under the calorie count it suggested and when you were on track.

Noom knows that it takes some time to change your behavior around food. The app will never judge you for eating too much the way that other weight loss groups do. It will simply recommend that you take it easy the next day and encourage you to keep up the progress that you made. Many also find it helpful to have a reminder around about what they should or should not eat.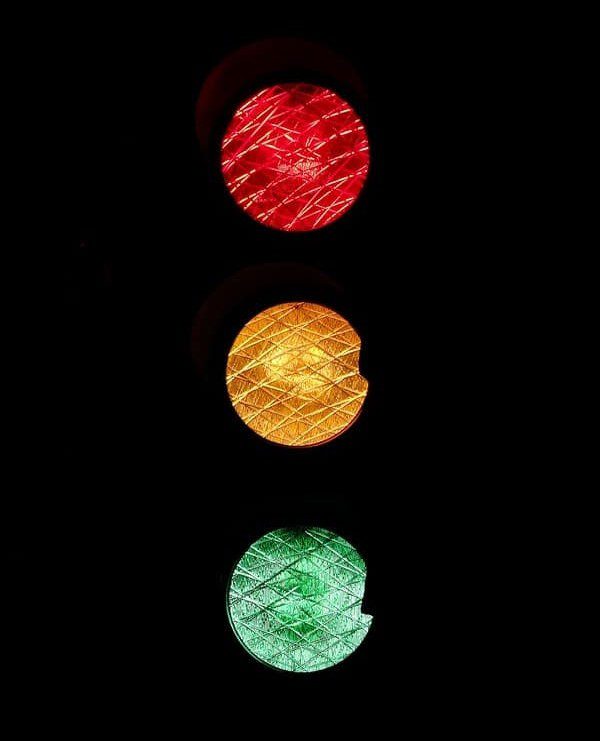 The color wheel matches the colors on a traffic light that are easy to understand.
Where Can You Use Noom?
Anyone who has tried another weight loss program knows that these programs have many cons. One downfall is that you need to follow strict rules. For example, Weight Watchers gives you a set number of points that you can use per day and assigns different types of foods different points. Other plans ask you to spend a lot of money on meal plans that they deliver to your home.

With Noom you will see colors assigned to food groups, but you can still indulge every now and then and eat things you enjoy. It's easy to pull out your phone and enter your food after dinner with friends in a restaurant or on your way home from a dinner party. As long as you have access to your phone, you can use the app.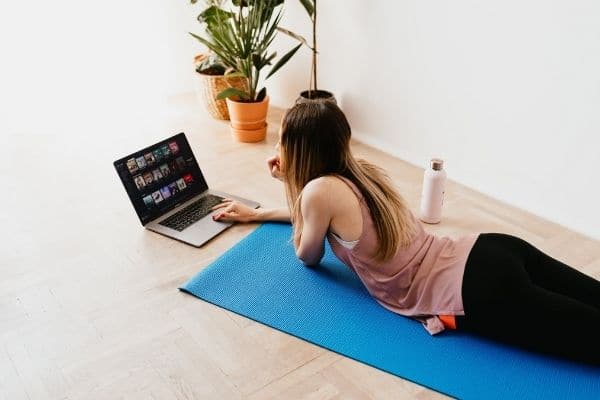 Noom is suitable for use at home or when you're on the go.
Our Experience
Upon opening the Noom app, you will see your daily calorie intake at the very top of the screen, followed by a list of activities included in the daily course. With the neutral color scheme and small font, it can appear to be on the professional side. The app appearance is very simple and minimalistic, yet also a tad bland. Although you can see your calorie intake at the top of the homepage, there is not a responsive button to actually add food intake. Users must scroll down and look for the "Log your meals" button further down the page.

While the app design is minimalist, it is not entirely straight forward. It took me a few days of use to remember where different buttons were for logging exercise and weight. In terms of usability, the app is pretty straightforward, but you may have to search for some things when just starting out.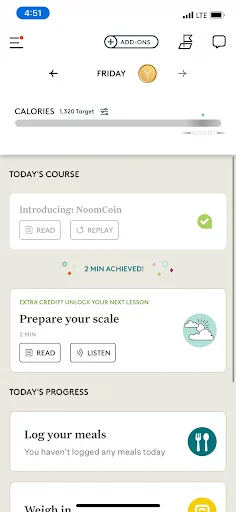 One feature I did not like was that the daily to-do list felt a little like homework. The tasks are designed to include a lot of reading, reflection, and quizzes. While some of the quizzes were common sense questions, it felt a lot like doing a middle schoolers homework. Personally, I felt as though I did not have the time to sit on our phones and read material and then take quizzes in our free time.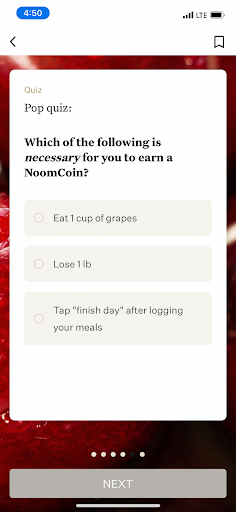 Ultimately, the Noom app would work very well for traditional learners. Users who did well in school and like being held accountable through structure would thrive using this app. Being able to pass quizzes and check off to-do list items is a huge part of this program. Furthermore, you really have to hold yourself accountable for logging food, weight, exercise, and completing tasks.

While the app does lack fun colors and exciting features, it does get the job done. The simplistic design allows users to skip the fluff and get straight to the point. Features such as the food logging section are as simple as selecting which meal you ate, typing a food in, and selecting an amount. There are no pictures or exciting fonts or colors.
In order to test this app, I created a profile and mimicked the experience of being a first time app user. While downloading the app and getting started was simple, it did take us some time to find where all of the features are. I continued mimicking usability by logging food, exercise, and weight for a few days. This process got easier and faster as time went on, but it was incredibly repetitive. I felt as though using Noom was more like a homework assignment and less like self care.
Who's This For?
Noom is an app that anyone can use. It only requires that you have an email address and a debit or credit card to sign up. You need to spend a few minutes going over questions about your general health and what you want to get out of the program. You can then check your email for the link that lets you download the Noom app. As long as you have a smartphone and access to the internet, it's easy to download the app.

This is an app designed for those who want to lose weight but need some extra help. You can purchase Noom and get help for six months and have it cost less than one month from another weight loss program. Have you tried strict plans in the past but found that you couldn't stick to the rules? Noom can help.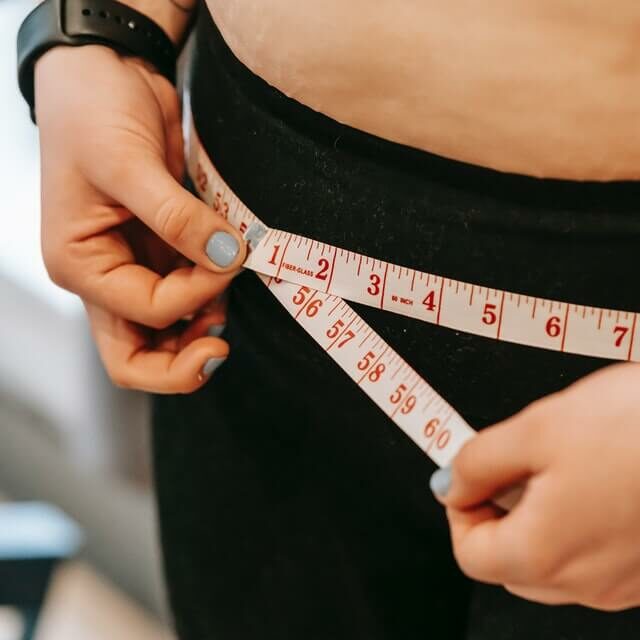 You can lose several inches or more while using the app.
Who Would Benefit from Noom?
There are thousands of people who could benefit from using the Noom app. Among those are people who live a busy life. Between work and home, you may not have as much time to focus on your health and weight loss goals as you would like. Noom offers practical advice that you can easily use.

Some of those I think would benefit include:
People who tried other diet plans and had difficulty following the rules.
Customers who have weight loss plans but can never seem to come up with enough time to lose weight.
Users who want to get in shape and lead a healthier lifestyle.
Anyone who wants an easy and convenient way to lose weight while still enjoying their favorite meals.
Noom doesn't give you dozens of rules that you need to follow and it can help whether you spend most of the day behind a computer or on your feet. Thanks to the trial, you can see how it works before becoming a Noom user.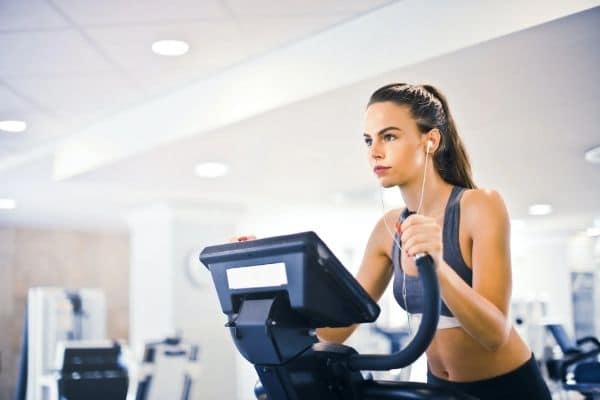 Whether you want to workout in the gym or at home, the app can help.
Noom To-Do Lists
Other diet apps record your daily intake but don't help you stick to your goals. Noom takes a different approach. A feature that many enjoy is the daily to-do list. As soon as you open the app in the morning, you can view your tasks for the day. Noom will issue a checkmark when you finish to let you know that you completed each one to help you stay on track. Noom may ask you to spend time with a buddy one day and take a walk the next day.

Your to-do list may include a weigh-in, which lets you enter your current weight. This gives the app an idea of how much progress you've made and whether you need any extra help to reach your goal weight by a specific date. Your list may also include short quizzes to take to determine your thoughts on food and if you think you can stick to your plan.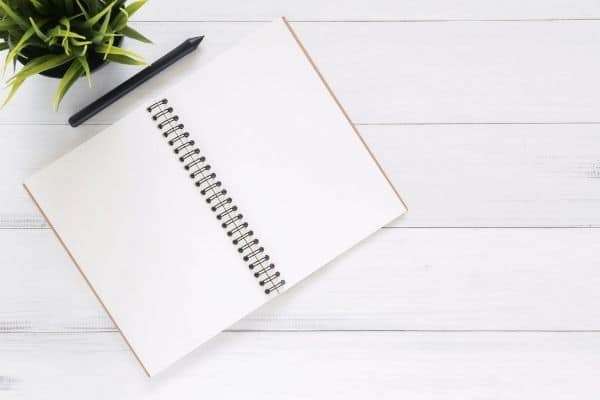 You no longer need to keep track of your daily to-do list because Noom creates one for you.
Noom Optional Services
Though Noom has a strong reputation for its weight loss services, it offers other options that you can add to your plan. One of those is a custom meal plan, which is helpful for those who have problems sticking to a diet. If you have a tendency to overeat when it comes to snacks or you have a weakness for sweets, the meal plan option can help.

Similar to the custom meal plan is a custom exercise plan. Do you work from home and hate the idea of spending a lot of time in the gym? Noom offers this option for anyone who needs help finding time to exercise and those who need feedback on what will work for them. The app identifies the best exercises for you and tells you how often to workout each week.

The third option that Noom offers is a new system called weight loss DNA testing. You submit a small DNA sample that the company sends to a lab. If you have immediate family members who are obese or overweight, the DNA test can show you what changes you can to make now to avoid long-term complications. These range in price from $80 to $100 but are often on sale for as little as $60.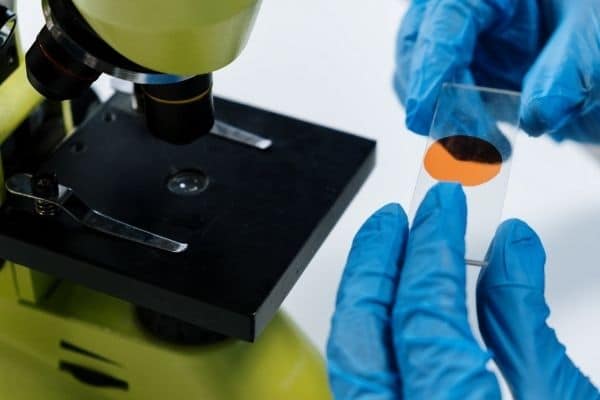 One of the optional services can help you understand how your DNA affects your weight.
Using the Two-Week Trial
As Noom is a unique dieting experience, I highly recommend that you sign up for the trial before you become a customer. The trial is available for any new user and lasts for two weeks. During the trial period, you gain access to most of the common features. You can use the food log to keep track of what you eat and the weight log to see how much weight you lose or gain.

The two-week trial also comes with tips that can help you stay on track and work towards your goals. As long as you cancel before the final day, you only need to pay $10 to try the app. Noom charges you on the first day after the period ends for the next six months. You do not get to talk with any of the coaches during your trial period.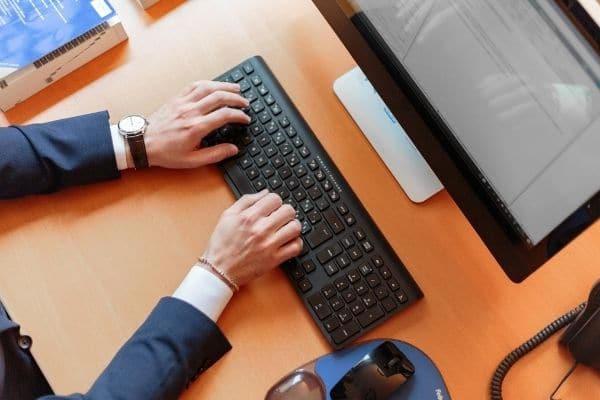 You can sign up for the Noom trial on any computer.
Should You Buy It?
The easiest way to decide if you should buy Noom is with a look at some of the top benefits of using and features of the app.
Food Logging
One of the features that I enjoyed most with Noom was the food logging option. No matter what you eat, you can add it to the app. Let's say that you had a small bag of chips as a snack in the middle of the day. Noom lets you search for the brand name and select the bag size to add it to your log. When you make food from scratch, you can use the database to find the ingredients that you used and add them in seconds. If you use recipes from the database, Noom can automatically determine the ingredients. You even have the opportunity to add new foods and recipes into the database.
Compatible with Fitness Trackers
There are so many fitness trackers on the market today that the odds are good you have already tried one before. Noom is compatible with most of the popular trackers and mobile apps that track your fitness during the day.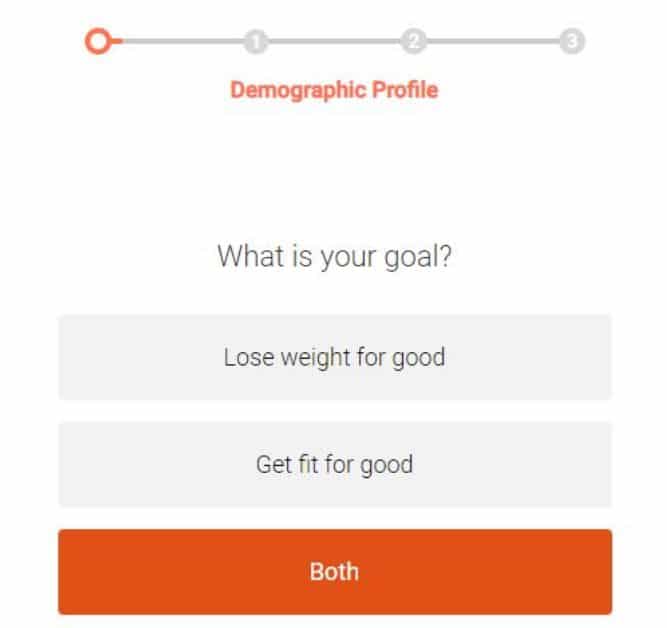 One of the first questions that Noom asks is whether you want to get fit or lose weight for good or do both.
Exercise Reminders
Noom is unique in that it determines how much exercise you need based on your normal activity level and the amount of weight you want to lose. The app will tell you when and how often you should work out and send reminders ahead of time.
Behavior Modification
Learning how to modify and change your behaviors relating to food is a big part of the weight loss process. This tends to be a step that many traditional plans skip. They focus more on getting you up and active and cutting back on calories. Noom posts articles every day on behavior modification, including what causes overeating and tips on how to handle your emotions.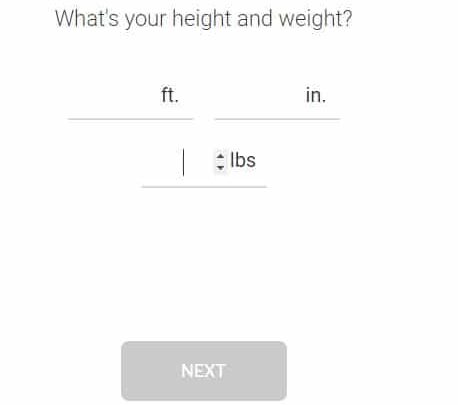 Noom uses your current weight and height to determine how much help and support you need.
Smart Scale Connections
One of the hottest trends in the weight loss market today is a smart scale. These scales use the internet and connect to an app that you can use on your phone. This makes it easy to keep track of any weight fluctuations. Noom is compatible with smart scales, which makes it even easier to log your weight loss.
Weekly Check-Ins
When you choose Noom, you can expect weekly check-ins with the professionals who work with the app. They include both dietitians who look at the food that you eat, psychologists who develop quizzes, licensed coaches, and personal trainers. You'll talk to your coach at the beginning of the week to set up one or more goals for the next seven days. The coach will offer feedback during the week and connect you to other experts who will help along the way.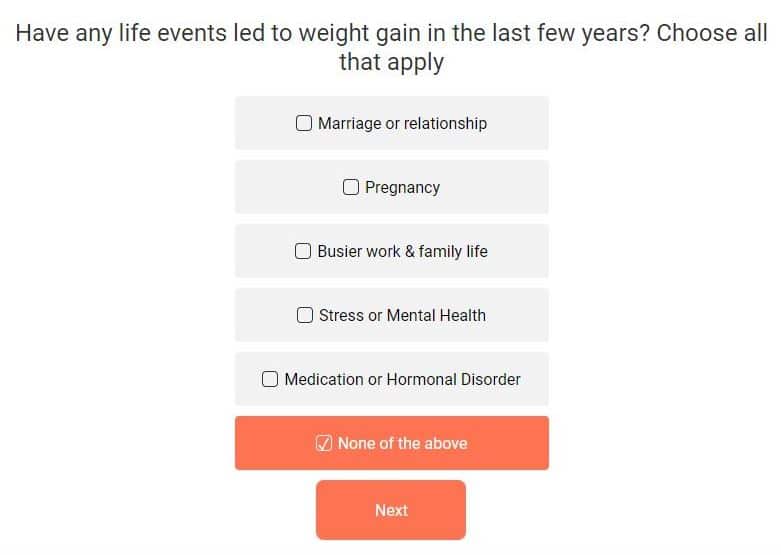 The psychologists who work with Noom can help you understand how big changes in your life can lead to weight gain.
Access After You Cancel
Unlike most apps that erase all of your progress when you cancel, Noom saves your information. You can use your account to log new information, keep track of your exercises, and monitor meals. Many former users find that this helps them maintain the changes that they made with Noom. Noom also allows you to view your old logs and check the color wheel when entering foods.

Cons to Consider
When choosing a weight loss plan or product, especially one with a high price tag, you need to compare the pros with the cons. We'll go over some of the more common cons of Noom that might help you decide whether to sign up and download the app.
Recipe and Meal Support
There are some issues with using Noom such as entering your recipe. If you love cooking at home and using recipes that you find online, you might hate that you need to manually enter each ingredient. Noom has no option for automatically uploading a recipe from the internet. Let's say that you have two eggs and a piece of toast every morning for breakfast. Though you might think that you can automatically add that meal, it requires that you enter the same foods and ingredients every time.
Hard to Cancel
If you forget to cancel your plan, the company will charge you for the full amount and will not offer a refund. Let's say that you get an email on the 15th day and quickly cancel. Noom will keep your purchase price and deny you a refund. The same thing will happen at the end of six months. Some users found it hard to cancel with Noom or get in touch with customer service.
Group Chat is Lacking
Though Noom puts a lot of emphasis on group chats and claims that other members offer support and help, it doesn't always work as well as it should. Noom assigns you to a group based on when you become a member and looks for members who have common goals with you. Some found that these groups don't have a lot of activity and that there aren't many people chatting on most days.
Quizzes and Articles
Not everyone loves the quizzes and articles that Noom offers as much as others. The quizzes may occasionally talk down to you or use simple language that seems more appropriate for kids than adults. You do not need to complete each quiz that you get, though some like crossing them off their to-do lists.
No Meal Editing
With the Noom app, you can add custom meals that you create. This lets you share them with other users and add them to your food log. One problem that some users had is that Noom does not allow recipe editing. If you make a small mistake such as adding the wrong ingredient or listing the wrong amount, you cannot go back and change it.
Where to Buy
The best place to purchase Noom is right here. You can either pay with a credit or debit card or use PayPal. Noom only charges you $10 when you sign up, which is the cost of the two-week trial. When you use other links to sign up for Noom, you may only get a trial that lasts for seven days. At the end of the trial period, Noom will charge you $159 for the next six months and continue charging your card twice a year unless you cancel.
Competition
Noom has quite a lot of competition on the market, including apps that help you track your fitness goals, as well as programs that focus more on helping you lose weight.
We'll take a look at some of those competitors to give you an idea of what you can expect.
Weight Watchers
Weight Watchers is one of the oldest and most established weight loss companies in the world. They have partnered with famous faces such as James Corden and Kirstie Alley over the years. With Weight Watchers, you get a specific number of points that you can use per day on food. Every food that you eat contains a certain number of points. You can get free recipes from the website and use an app to keep track of your points. Weight Watchers does not focus much on fitness and can cost much more than Noom, but you may find deals that let you try the program for as long as six months for free.
Nutrisystem
Nutrisystem is different from other programs because it delivers meals and snacks right to your door. When you sign up, you enter your current weight and goal weight. Nutrisystem will design a meal plan that contains proteins and fats along with carbs to keep you full. There are special plans available for those who do not eat meat and customers who have diabetes. You can choose from more than 150 options every day with the Uniquely Yours Plan, which costs $12.50 per day. Nutrisystem may offer some fitness advice but does not give you exercise guidelines. It can also be very expensive and not offer any help if you want to eat out or cook at home.
Jenny Craig
Another popular option is Jenny Craig, which one woman started as a way to help others get support and lose weight. Members choose meals designed by chefs that the company then delivers to them. Pepperoni pizza and bourbon steak are some of the dishes on the menu. You'll also find tons of snacks, including cheese curls and chocolate lava cake. Jenny Craig lets you work with a coach and attend virtual meetings or meetings in your area. The downside is that the plans are quite expensive, but you can offset the cost with some dishes that you make at home.
Daily Workout Fitness Trainer
One of the top fitness apps on the market is Daily Workout Fitness Trainer, which is available for Apple and Android devices. This free app gives you access to 10 exercises that target different areas of your body and last for five to 10 minutes. It includes videos of trainers doing those exercises to make sure that you have the right form. You can also download workouts of up to 30 minutes long that work your entire body. This app does not offer any one-on-one help and can feel a bit repetitive once you go through the exercises a few times.
Daily Burn
Another app that can help you get in shape and burn calories is Daily Burn. You can sign up for free and get full access to all of its features for the next 30 days. Daily Burn has videos that are suitable for beginners as well as those who just need some extra help. You can choose between yoga and running videos or pick those that target specific muscle groups or help you tone up. Daily Burn is available on most smartphones but also works on tablets and streaming devices such as Roku. Rotating through the videos will help you avoid feeling burnt out.
My Fitness Pal
My Fitness Pal is a good choice for those who need help with both their weight loss and fitness goals. It offers a seven-day free trial and lets you set your fitness goals. Once you answer a few questions, the app determines how likely you are to reach those goals. It puts you in touch with a community of users who can offer advice and feedback as well as a food library that helps you find and log your meals. My Fitness Pal also works with other apps to keep you motivated and working, including Garmin Connect and Run Keeper.
What We Like About Noom
No limits: Unlike other plans and programs that restrict your consumption of calories, Noom doesn't limit what you can eat. You can go ahead and have that slice of pizza on movie night or grab a few glasses of wine with your gal pals.
Trial period: Many of the similar services Isaw require upfront payment, Noom on the other hand, lets you try most of its features for two weeks. If you aren't happy or don't think that Noom is right for you, you can cancel before becoming a user.
Changes your behavior: Noom is unique because it works on changing your behavior, which can have long-term effects. As the app holds you accountable for each decision you make, you can see how those decisions will cause you to lose or gain weight. Those changes will last long after you stop using the app.
Regular feedback: You're never alone on your weight loss adventure thanks to Noom matching you to a personal coach who provides regular feedback. The coach views all of the data and uses the messaging system to reach out. Few things feel better than a "you got this" or "great job" message after a hard week.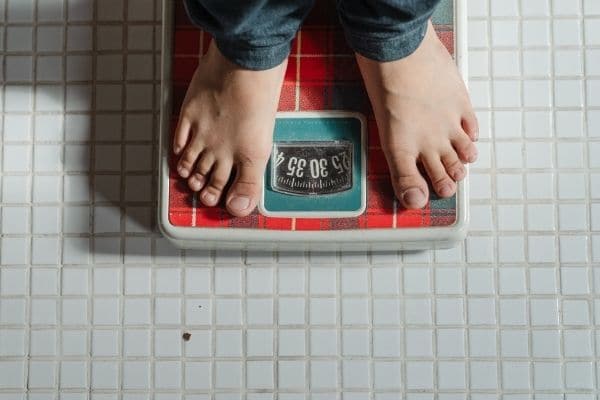 Noom can help you lose 10 pounds or more and reach your goal weight.
Final Verdict
Noom is different from other weight loss programs that focus solely on helping you cut calories. This app helps you both lose weight and build muscle to tone up. Not only do you gain access features that help you reach your goals, but you also receive support from a coach who is by your side, as well as other people on your private team. Noom asks you multiple questions about your age and fitness levels along with how much weight you want to lose and your daily activities. This information helps the app create a unique plan for you. Once you read our Noom review, use the link in our "Where to Buy" section to take advantage of the trial plan.