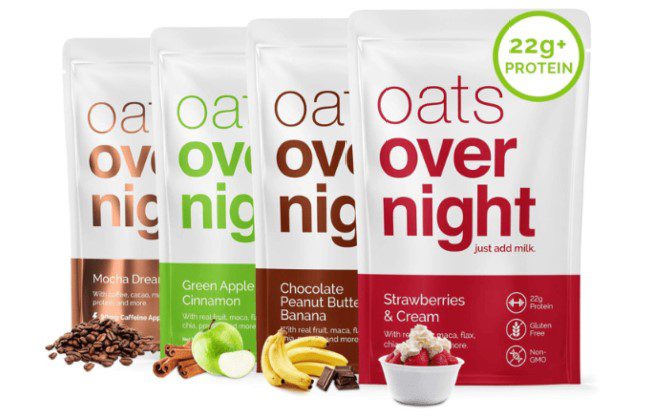 The founder of Oats Overnight saw oats as a great fuel for demanding days. Unfortunately, making overnight oats was too time consuming for most. He created Oats Overnight to offer a simple, fast solution for those who want to enjoy healthy, energy packed oats without the hassle.
The brand has grown through trial and error to include over 20 flavors that customers love. The subscription overnight oats company let consumers weigh in on which products they were looking for, and then used plant-based products to make customer dreams come true. By allowing consumers to build their own box and set up delivery options that work for them, Oats Overnight has eased the process of creating a fueling breakfast.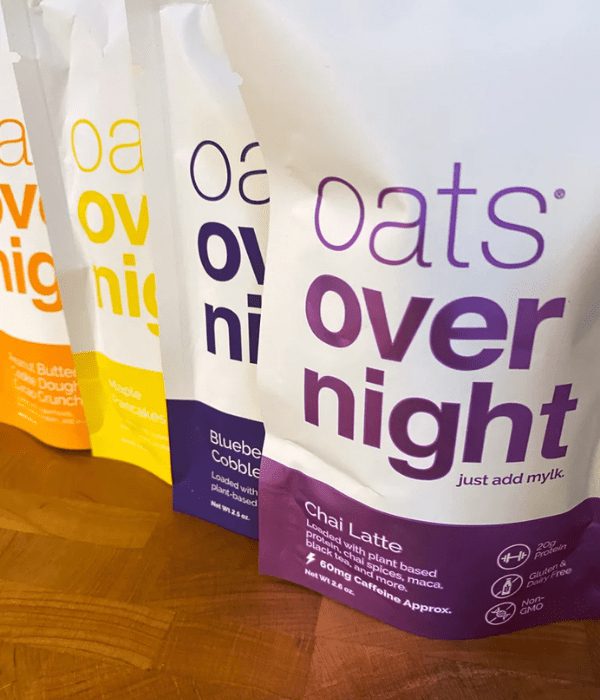 PROS
High in protein and low in calories
Wide variety of flavors
Easy on-the-go breakfast option
Options for different consistencies
CONS
Only available in 8, 16, or 24 packet options
Uses artificial sweeteners
Rather expensive for oats
Drinkable oats may be an odd consistency for some customers
BOTTOMLINE
Overnight oats have been a growing trend amongst health conscious individuals looking for an easy, on-the-go breakfast option. Oats Overnight has created a simple option for customers where you can simply pour a packet of oats into milk and leave it in the fridge overnight!
What is Oats Overnight?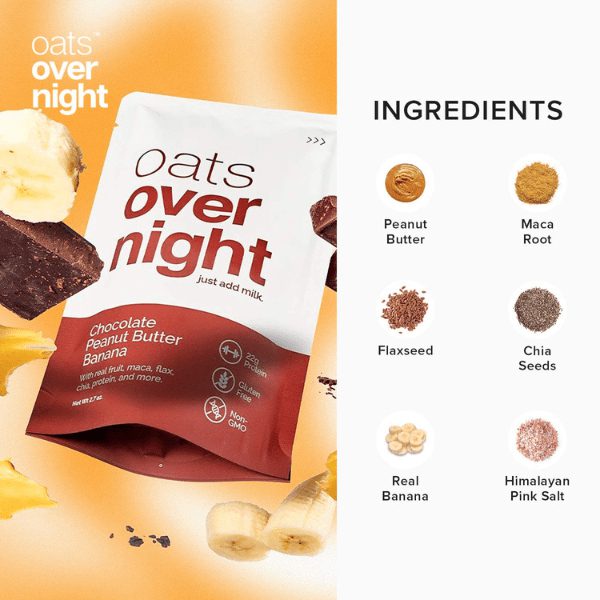 Oats Overnight is a subscription based overnight oats program that supplies customers with prepackaged and flavored packets of oats that can simply be mixed with your choice of milk, and left in the fridge overnight. When you come back in the morning (depending on the amount of milk you chose to add), you will have a drinkable, or oatmeal-like breakfast option that is low in calories and packed with proteins and nutrients. Between over 20 flavors ranging from blueberry cobbler, to peach upside down cake, to peanut butter, and more, customers are able to design their dream box and receive flavors they love.
Oats Overnight Unboxing
Upon receiving my package from Oats Overnight, I was extremely impressed with the packaging. The subscription box came in a clearly labeled, high quality cardboard box and was lined on the interior with a bright green shade. Once I opened the box up, I immediately saw a one-pager listing opportunities to test new flavors and subscribe to give your opinion and try exclusive offers.
After reading over this, the next one-pager in the box was a direction sheet. This short and sweet instruction page listed exactly how to make Oats Overnight, without having to read much information. It clearly stated to use milk instead of water, to add the desired amount of milk, mix in the blender bottle with an oats packet, and leave it in the fridge overnight.
After reading the instructional materials, I was excited to dive into the different brightly colored oats packages in my box. I had ordered a wide variety of flavors to try which you can hear more about in the attached video! I loved that the packets were all the same white shade which would look organized in my cupboard, but that they featured different colors of text which coincided with the flavors.
While I received many flavors, including blueberry cobbler, mocha, peach upside down cake, peanut butter, strawberries and cream, and more, I was most excited to try the blueberry. Using the included blender bottle, I immediately opened the blueberry packet and poured the contents into the blender bottle. I was happy to see that I did not have to measure the milk, as the bottle came printed with a fill line.
The oats themselves smelled just like blueberry cobbler and even included dehydrated blueberries that would become more hydrated overnight when mixed with the oats. I simply poured the milk to the fill line, shook the blender bottle, and popped the bottle in the fridge overnight to chill. I was very excited to see how they would turn out and I was impressed with the packaging and simplicity of the process.
Oats Overnight Features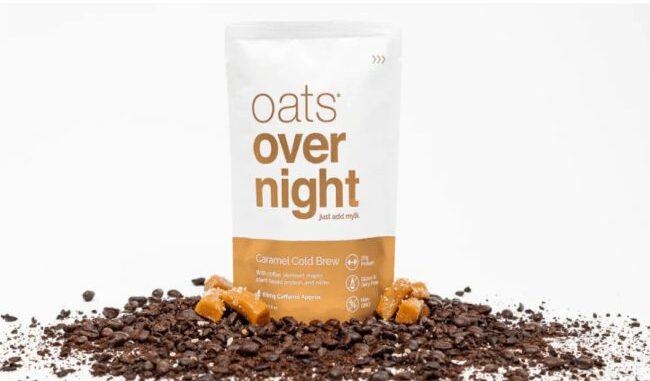 Oats Overnight prides itself on being a simple solution to finding a healthy, fueling breakfast option. Some of the features I loved about this subscription box included:
The wide variety of delicious flavors
The included blender bottle with a fill line
The bright colored text on the packets
The cute packaging with simple instructions
The simplicity of adding milk to oats and leaving in the fridge to chill
Not having to go to the store to find overnight oats
Oats Overnight Test
I could not wait to try out the Oats Overnight and decided to start making the blueberry crumble flavor right away. I opened the blender bottle and quickly glanced over the details on the package. I loved that it showed little icons and that the instructions were so simple.
After reading the instructions, I dumped the entire packet of oats into the blender bottle and then added milk to the fill line. After this, I tightly closed the lid and gave the bottle a good shake. I really enjoyed that I did not need a measuring cup or any special ingredients.
After this, I simply placed the oats in the fridge overnight to chill. When I woke up the next morning, I opened the oats and saw that the mixture was a drinkable, rather thin consistency. Although next time I would add less milk for a more solid consistency that I could eat with a spoon, I enjoyed this thin mixture for an on-the-go breakfast.
I love that the oats are so simple to make, the flavor was delicious and even had actual blueberry chunks in it. I also enjoyed that it came with a blender bottle and only requires you to have milk. I do want to play around with different consistencies, but overall I was very excited with this purchase!
Who Are Oats Overnight For?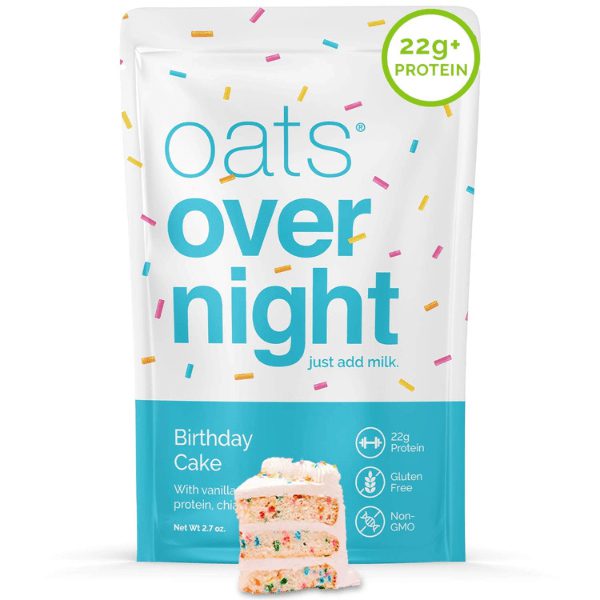 Oats overnight would be a great breakfast option for anyone with a busy lifestyle, who also cares about health and wellness. This high protein breakfast can fuel your body with energy throughout the day and also takes minimal time to prepare.
I personally do not eat breakfast as much as I should because I am always in a rush and do not have the time to cook something before work. With Oats Overnight, I can simply take 5 seconds to add milk to oats, leave it in the fridge, and have a ready to go breakfast in the morning.
It can be so hard to take the time to think about and plan healthy meals. By using a subscription service like Oats Overnight, customers are guaranteed healthy, quick, easy meals that fuel them with energy and save them time.
What Are the Benefits of Oats Overnight?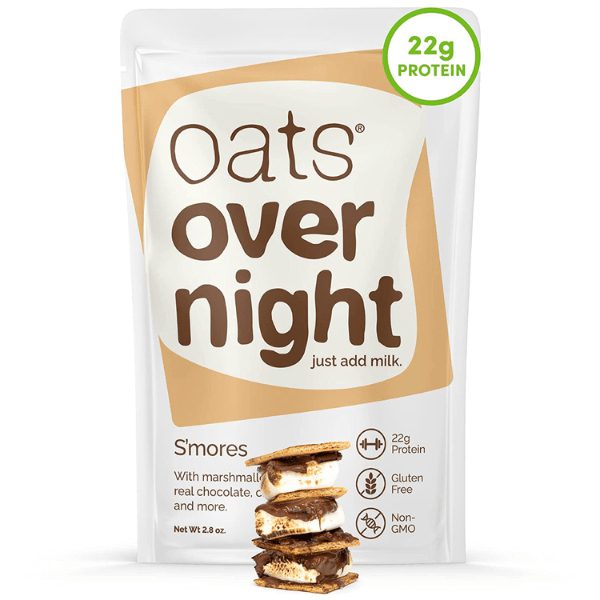 Some of the benefits I loved about Oats Overnight were that the oats come in so many different flavors. I often get bored eating the same thing over and over again, but with dozens of options and rotating flavors, I feel like I will not get bored of this breakfast.
I also loved that the oats are filling, yet low in calories. Ranging between 240-290 calories, these oats do not weigh you down, but still fuel your body. The oats offer a plentiful amount of protein and keep you full over time.
The best benefit about Oats Overnight is the ease it offers customers. Between being delivered right to your door and taking only seconds to prepare, this breakfast option simplifies your morning routine!
Where Can You Use Oats Overnight?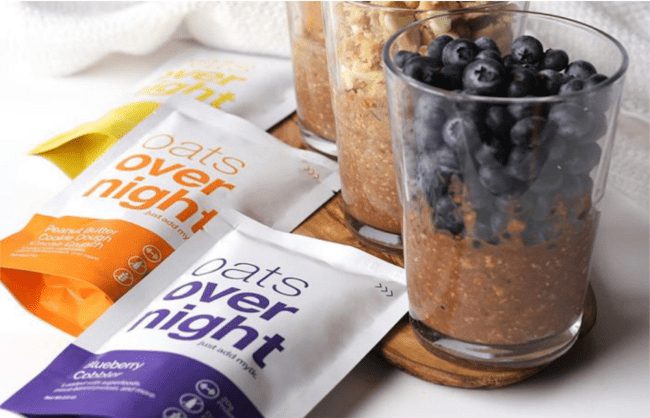 As long as you have a fridge and any type of milk you can use Oats Overnight! It makes the most sense to prepare the oats at home before bed. You simply pop the oats in the fridge and let them sit.
In the morning you can then take the oats anywhere! With the convenient blender bottle, you could drink the oats on the way to work, or sit down and eat them on your patio! Oats Overnight gives consumers the freedom to enjoy their product from anywhere!
Should You Buy Oats Overnight?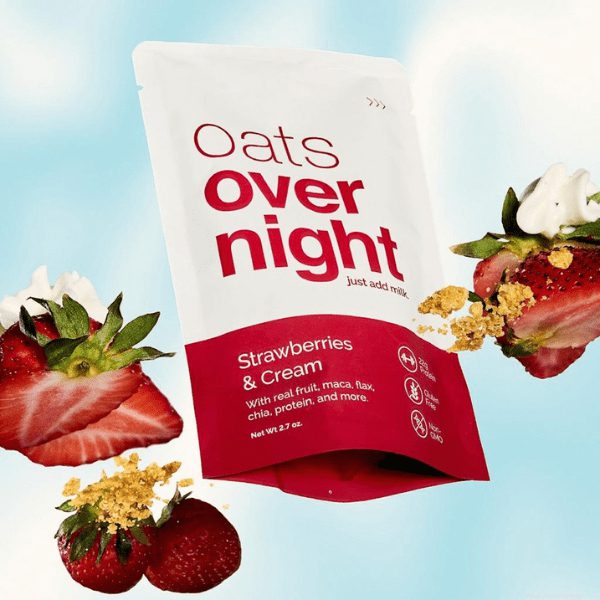 Before trying Oats Overnight, I was not a fan of store bought overnight oats at all. I rarely ate breakfast, was often tired or hungry at work, and did not think I liked oats. But with all the amazing flavors and the simplicity of making this product, I fell in love! I would suggest everyone tries Oats Overnight. There are so many different options from flavors to consistency that truly anyone who enjoys oats at all could find an option they love.
How to Buy Oats Overnight
The best place to purchase Oats Overnight is directly from their website. By choosing how many packets you want, then choosing your flavors, you are able to design your own box and get it shipped to your door. The process is incredibly simple and easy, which makes it a great option. If you are not ready to commit to the subscription service, Oats Overnight is also available as single packets through instacart delivery!
How Does Oats Overnight Compare to Alternatives?
ONO Overnight Oats
ONO Overnight Oats contain higher protein levels and a lower sugar intake than Overnight Oats and other alternatives. The oats also contain vitamins that are linked to lowering anxiety and increasing cognitive performance. Although the brand is relatively new and not available in storefronts, they are available on Amazon Prime. ONO also offers subscription bundles for $34.99 or large bulk sized bags of individual flavors.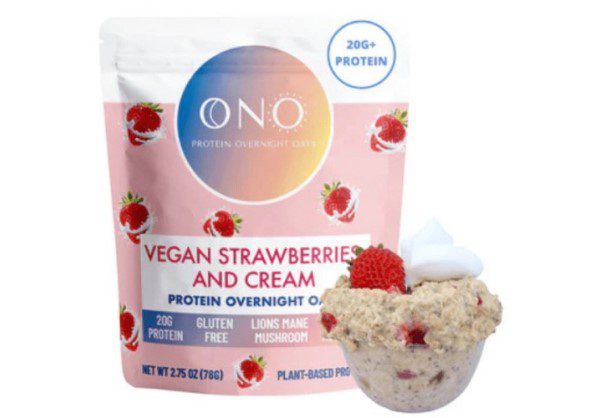 Brekki Overnight Oats
This non-subscription overnight oats option is perfect for those who prefer in-store shopping or are not ready to commit. Brekki offers single and small packages of already prepared overnight oats, available at Ralphs, Costco, or through Instacart delivery. The oats retail for just $2.49 a package and come in a variety of flavors. The oats focus on their use of ancient grains to promote health and wellness and are very popular amongst customers!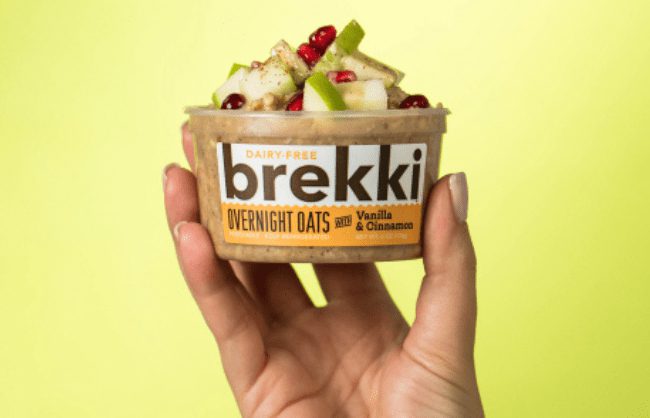 Daily Harvest
Daily Harvest is a health food delivery service that allows consumers to order 9,14, or 24 items at a time. From smoothies, to power bowls, to oats, the brand lets customers choose their items and have them shipped to their door. While Daily Harvest does not specifically focus on overnight oats, this brand does allow more options for those who want to switch up their breakfast options. While the brand can be rather expensive, they are always offering great sales and coupons.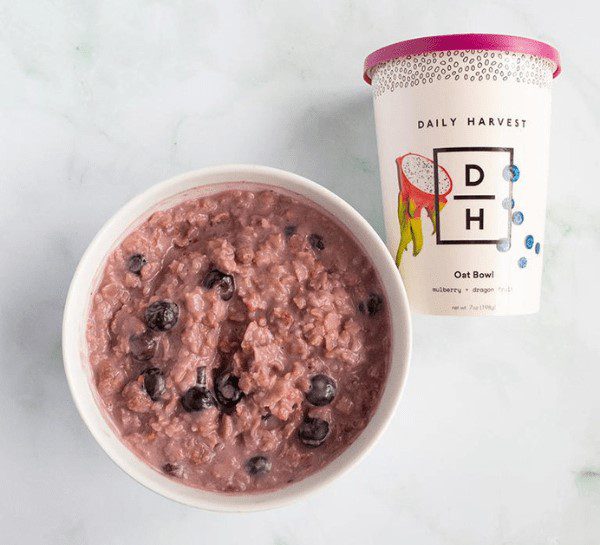 Final Verdict
I would recommend Oats Overnight to anyone looking for healthy breakfast options. I always look forward to getting subscriptions in the mail and I love that you can choose from a variety of flavors. I also enjoy that I can change the consistency of my oats and make this product in a matter of seconds, to enjoy it chilled the next morning! The flavors are all fantastic and differ enough that I do not get sick of eating oats often. I would certainly give this product a try.
Resources and Further Reading