Orgain Protein Powder Review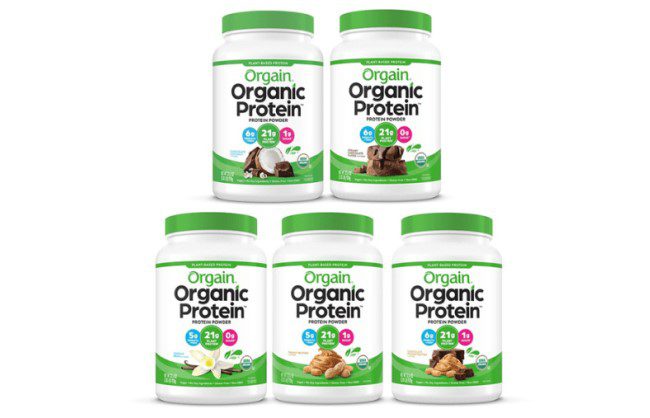 What is Orgain?
Orgain is dedicated to creating healthy protein options that work for nearly everybody. By dedicating their brand to creating vegan, GMO free, allergen free products, their brand is suitable for almost anyone looking to add protein to their diet. With an exciting array of flavors, Orgain has become popular, with many reviews highlighting the great taste of products.
With a rather low price tag, Orgain is now available online, or at various stores including GNC, Target, Rite Aid, Sam's Club, and more. With pre-packaged protein shakes, protein bars, and a powder format, any consumer can find a protein option that suits their needs.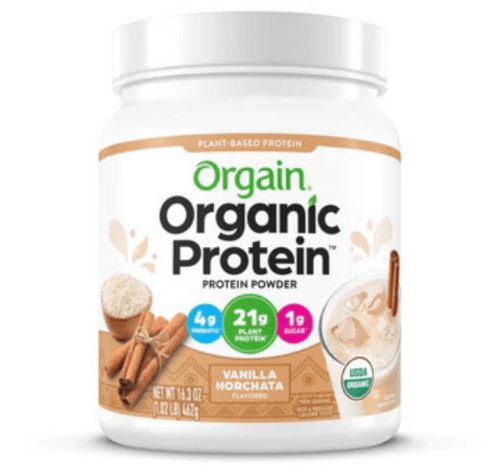 PROS
Plant based protein, without artificial ingredients
No major food allergens
High in fiber, low in sugar
Affordable
CONS
No third party testing on their products
Uses stevia sweetener
Grainy, sticky texture in many products
BOTTOMLINE
Orgain is a plant based protein line that makes popular protein powders, shakes, bars, and more. The high quality protein is incredibly popular due to its low price and vegan ingredients. With high protein and fiber content, and low sugar and calorie content, this fan favorite has created a huge buzz in the protein industry.
Orgain Unboxing & Trial
While unboxing my package from Orgain, I knew what to expect, being that I ordered through Amazon Prime. The delivery was fast, and the item came in a standard Amazon shipping box. The Orgain Protein Powder itself came in a standard, large protein container that was white and bright green. This looked exactly like many protein powders I have tried in the past or have seen at GNC. The powder came with a plastic scoop, clear instructions, and I was excited about the low calorie content that you do not often see in protein.
Upon trying the Orgain Protein powder, I simply added milk to a glass, put in two scoops of the vanilla powder, as instructed, and then mixed it together as well as I could. This protein works best with a blender bottle or blender, but I only had a fork to mix at the time. Nonetheless, the vanilla flavor was very fragrant and I was excited to try it! Although my fork was not capable of getting all the chunks out, the protein had a delicious flavor. I loved how sweet it was and thought that it tasted like a vanilla milkshake. I was definitely impressed. It was low calorie, yet very filling.
Orgain Features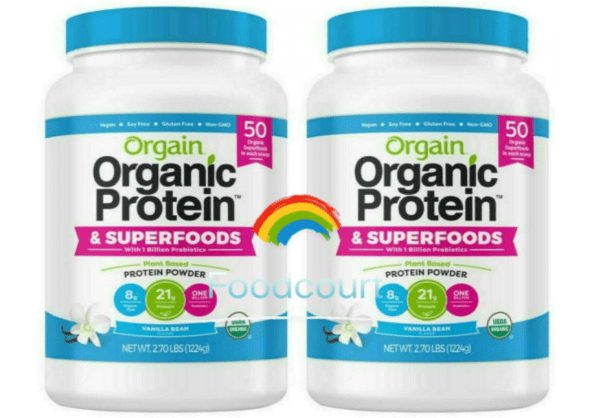 Some of the features that Orgain customers love most include:
Low calorie content
100% organic and plant based
Great nutrition profile
Great flavor options
Save 20% on your first order
No aftertaste or bad texture
Who Is Orgain For?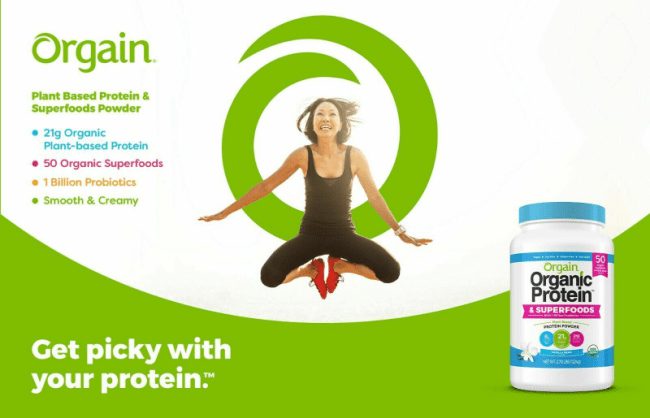 Orgain is a great option for anyone who loves working out and wants to increase their protein intake. Many protein powders have a foul taste, are chalky, and calorie dense. This powder is a great alternative because it is plant based, organic, low in calories, and rich in flavor. This protein can actually be enjoyed and will not mess up the macros of any weight lifters or gym goers.
What Are the Benefits of Orgain?
Some of the main benefits of Orgain include adding high protein content into the body without the use of GMOs, meat products, non-organic products, or a high calorie intake. The high nutritional value of Orgain Protein allows people to fuel their bodies, build muscle, and introduce protein into their body in a healthy way. Orgain's dedication to healthy ingredients and natural supplements ensures that customers get the most bang for their buck and can trust what they are putting in their body. Protein helps people stay full, build muscle, store energy, and perform better during workouts!
Where Can You Use Orgain?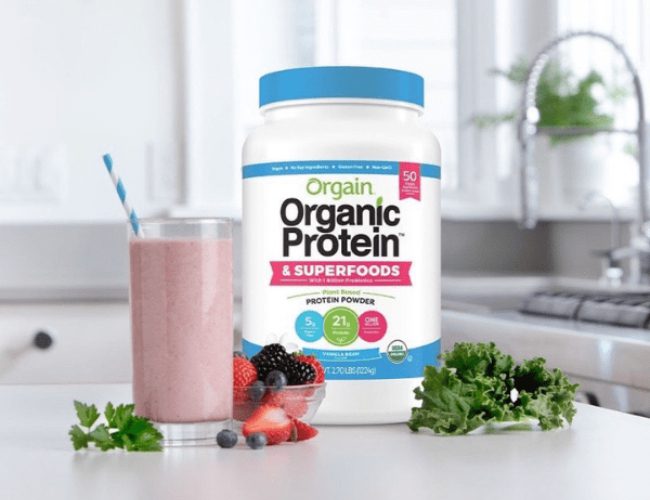 You can use Orgain Powder from the comfort of your home, right after a workout. Ideally, after an impactful workout, Orgain Protein powder is best used afterwards, mixed with milk in a shake form. If you are looking for a more on-the-go option, Orgain also offers protein bars, or premixed protein shakes that you can take with you if you are going from the gym to work!
Should You Buy Orgain?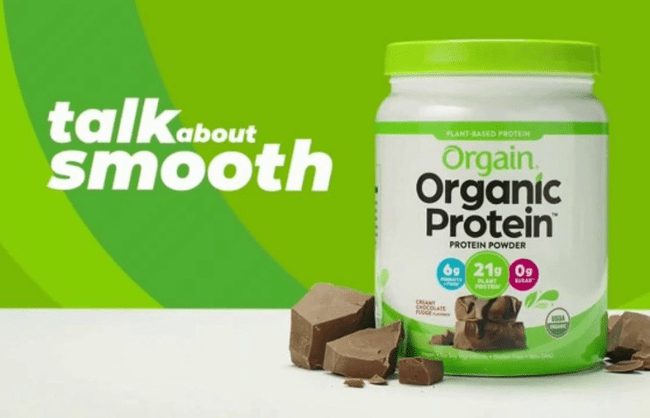 If you are looking to build muscle but have heard the horrors about what goes into different supplements and protein powders (such as deer antlers, animal proteins, and gelatins), Orgain is the perfect option for you. With improved flavor, texture, and plant based ingredients, Orgain seems to check all the boxes in the world of protein!
With its fair price and great flavor options, Orgain is a great option to try out. If you are not ready to commit to a giant container of protein powder, you could even just try a couple of the premixed workout shakes to see what you think of the flavors!
How to Buy Orgain
The best place to buy Orgain is directly from their website where you will have access to all of their flavors and products. But if fast shipping is crucial to you their products are also available via Amazon Prime. If you are more of an in-person shopper, Orgain products are available at Rite-Aid, Target, GNC, The Vitamin Shoppe, CVS, and Walmart.
How Does Orgain Compare to Alternatives?
Garden of Life – $38.99
Garden of Life's plant-based protein powder is a fan favorite in the protein community. This third party tested, BCAA formula is protein packed, non GMO, and gluten free. The only downfall to this product is that it can be rather expensive and lacks brand aesthetic.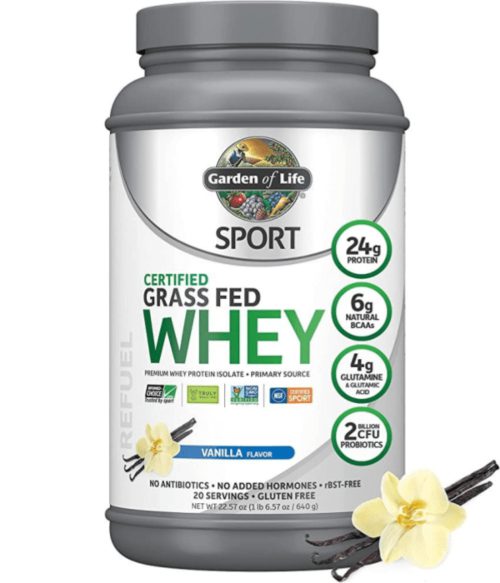 Ora – So Lean So Clean – $39.99
Ora's So Lean So Clean protein powder is unique because it is packed with vitamins and vegetables. Although it is also on the expensive side, with a smaller container, this vegan product is known to have great flavor. Available on Amazon Prime, this protein is not third party tested, similar to Orgain, but does have great reviews.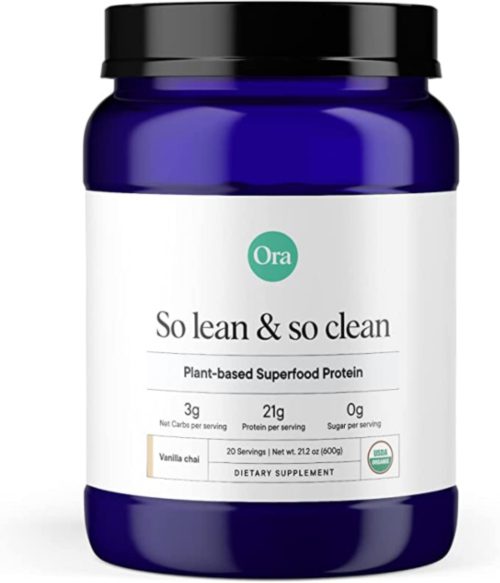 Kos – $29.99
On the more affordable end of the spectrum, Kos protein powder comes in a wide variety of sizes and flavors. From blueberry muffin, to mint chocolate chip, this protein powder takes the cake for flavor options. This mix contains both veggies and five different plant proteins. The powder is also vegan and contains a wide variety of vitamins and minerals.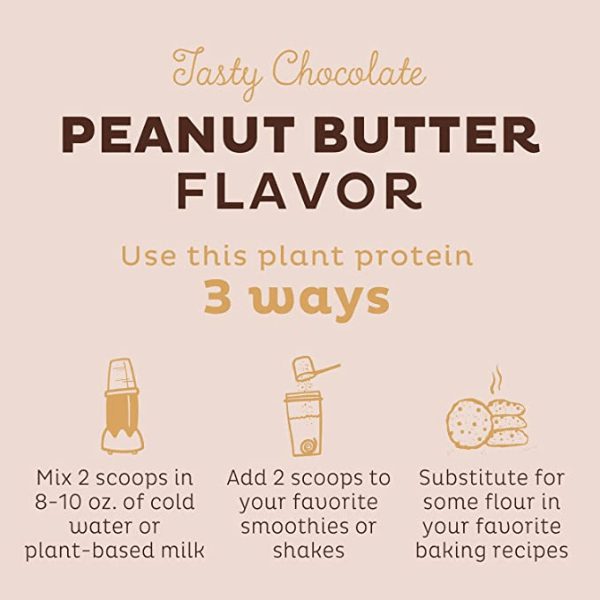 Final Verdict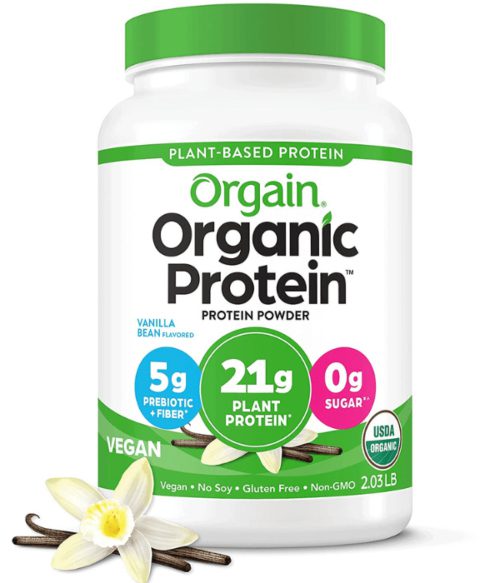 Orgain Protein is a great option for anyone who is looking for a plant based protein that tastes good and is low calorie. The mix tastes very good and is not at all chalky. With allergen avoidance, no GMOs, and plant based ingredients, you can trust that this protein is a safe option. On the other hand, as the market for plant based protein options is expanding, it is worth exploring other options such as Kos, for affordable, healthy protein.
Resources and Further Reading