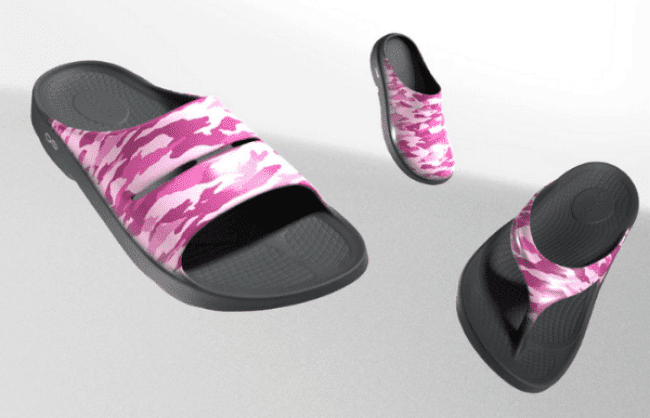 What are Oofos Sandals?
Is there anything better than coming home at the end of a long day and sliding your feet into a pair of slippers? Oofos is a sandal brand that wants to give you that same sensation every hour of the day. Self-proclaimed recovery brand, Oofos, makes products for people who spend a lot of time on their feet.
When you buy from this brand, a portion of each order goes directly towards breast cancer research. Another bonus is the brand's rewards program gives you money back when you shop online. Lou Panaccione founded Oofos in 2011 and worked with Duncan Finigan to make the company a success. In our Oofos sandals review, we'll look at some of the popular designs, along with the pros and cons of the sandals to help you make an informed decision.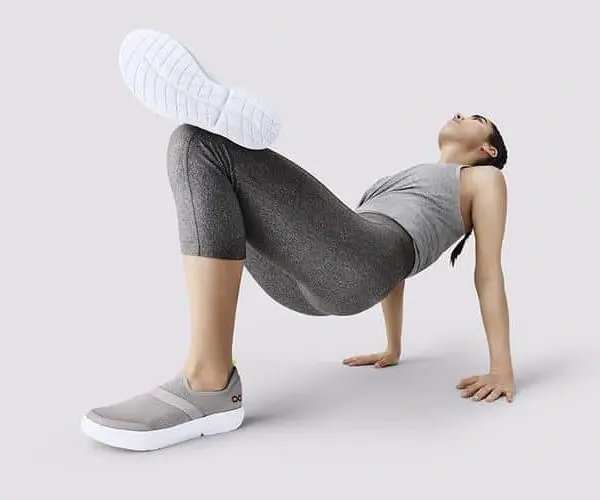 Oofos sandals and shoes are comfortable enough for any activity.
PROS
Resistant to odor and bacteria
Available in designs and sizes for men and women
Allows you to earn bonus offers through a rewards program
U.S. shoppers receive free shipping
Donate a portion of profits to breast cancer research
CONS
The sandals may break from normal wear and tear
Can cause back and knee pain
More expensive than other sandals
BOTTOMLINE
Oofos sandals reduce stress and pain in your feet while spending lots of time on your feet. Thanks to various designs for both men and women, the brand makes it easy to find a pair you'll love.
Women's Sandals from Oofos
Oofos makes women's sandals in different colors and designs. As they are resistant to moisture, you never need to worry about them breaking down due to water at the pool. You can even wear the sandals in the shower after an intense workout without worry, due to the bacteria resistant materials. Oofos also created these sandals to propel odors and wipe off dirt with ease.
OOlala Sandals
One of the more popular designs for women is the OOlala. These sandals range in sizes from 5 to 11. They resemble your favorite flip-flops, yet offer much more support. The sandals use a special type of foam from the brand Oofoam, which allows you to feel as though you're walking on a cloud. Oofos offers this pair for $59.95.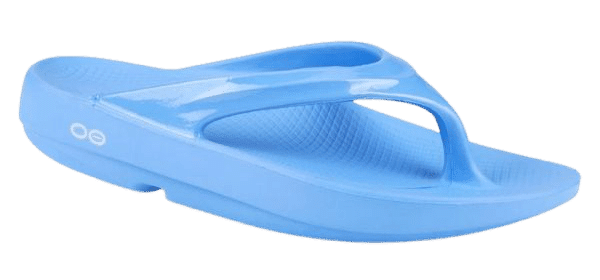 OOahh Sandal
Do you love sports slides and wish you could wear a pair every day? The OOahh sandal gives an upgrade to this classic look. These sandals sell for $79.95 and have foam technology that absorbs more than 35% more of the impacts that your feet take on. The unique footbed also reduces pressure on your feet and legs. This creates a curved step that matches your natural stride.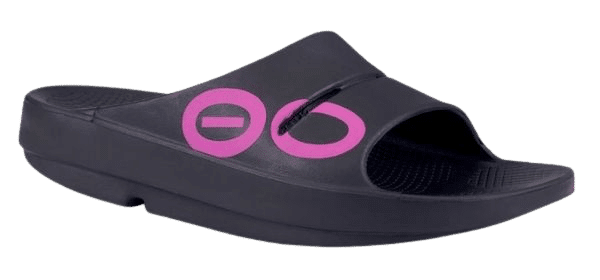 OOriginial Sport Sandal
Another good option for women on the go is the OOriginal Sport Sandal. You may choose to wear this pair for a quick errand or just relaxing at home, they're also great for wearing outside. Though they resemble standard flip-flops, these sandals have a soft thong piece that runs between your toes, along with multiple comfortable features such as a footbed that reduces pressure and hugs your arch. These sandals retail for $69.95.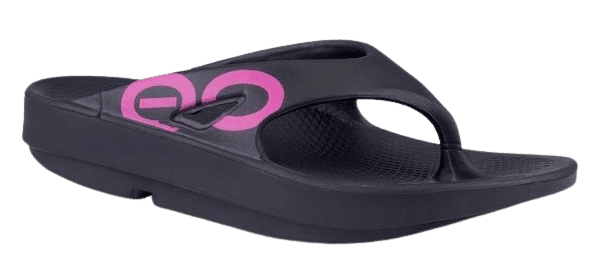 OOahh Luxe Slide Sandal
Do you love slides but wish you had unique options? Perfect for staying comfortable and looking stylish, they have a metallic pattern on the top. When you purchase this pair for $79.95, you can choose from multiple styles such as kaleidoscope, which uses purple and silver colors and Black Bandanna that has a black and white bandanna print.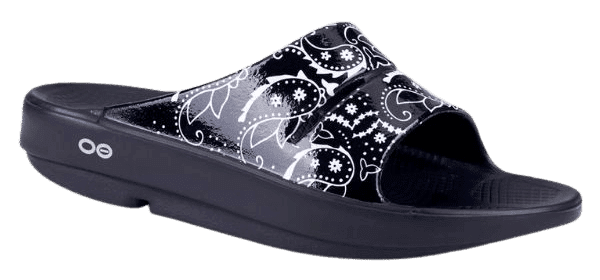 OOahh Sport Flex Sandal
Some women aren't fond of sport sandals because their feet slide in and out of them as they walk. That is why Oofos now makes the OOahh Sport Flex Sandal, which replaces the simple band across the top with two pieces that connect with a Velcro strip. They sell for $84.95 and come in both Woodland Camo, which is a traditional print that uses green and brown shades and Desert Camo that uses lighter shades.
How Can You Use Oofos Sandals?
We recommend that you check the Oofos size guide to ensure you find the perfect size. This guide helps you pick a size based on what you wear in an American size as well as a UK or EU size. You can also use your foot length to find a size that fits you.
You'll also want to check out the rewards program to see how you can get $5 off when you sign up. Through this club, you also earn points that can be redeemed for discounts. Another way to save money on Oofos sandals is with a referral. By telling a friend about the site and them making a purchase, you will earn extra points. They'll even get $15 off through your referral, too.

Men's Oofos Sandals
If you assumed Oofos only makes sandals for women, think again. These sandals come in different designs and have all of the features you could imagine, including a unique footbed that takes the pressure off your joints and foam that absorbs more of the impact that your feet usually take. Oofos uses closed cell technology that allows you to toss a pair in your washing machine without worrying that they might fall apart. Check out all of the men's sandals from Oofos below.
OOahh Sport Flex Sandal
Most sport sandals have only one strap that fits over the top of your feet. If you wear them without socks, you might feel your feet slipping around and even step out of your sandals. These sandals have the classic top strap and a separate strap on the side that attaches with Velcro. They are available in men's sizes from 4 to 16 and cost $84.95.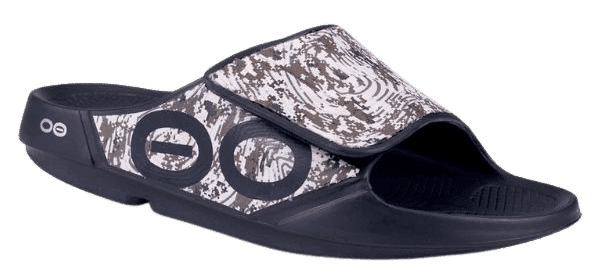 OOriginal Sandal
Looking for a simple sandal that matches anything? Oofos makes the OOrginial Sandal for this exact reason. This sandal mimics classic flip-flops with straps on the top that cover your feet and run between your toes. Thanks to the curved design, you can walk comfortably without changing your natural stride. Available in both blue and black, these $59.95 sandals match almost everything in your wardrobe.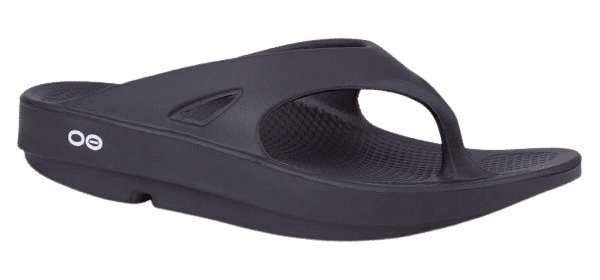 OOriginal Sport Sandal
If you love the OOriginial Sandal but want sandals that can handle more adventure, try the OOriginal Sport Sandal. Oofos designed this sandal for men who need a wider footbed. These sport sandals come in several colors and patterns, including:
Woodland Camo
Azul
Graphite
White
Matte Black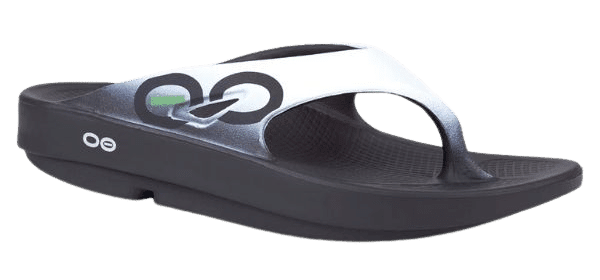 OOahh Slide Sandal
Similar to some of the other slides that Oofos makes, the OOahh Slide Sandal is comfortable enough to wear in place of slippers at the end of the day. Oofos charges $59.95 per pair for these sandals, which are available in men's sizes 4 to 14.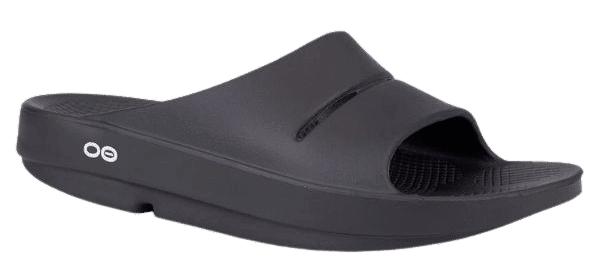 OOahh Sport Slide
Another sandal that can handle everything on your plate is the OOahh Sport Slide. This slide has a simple strap that covers the top of your foot as well as an open back and front to let your toes and heel move. You can choose between deep navy and matte black or slate, which is a softer gray color. Available in men's sizes from 3 to 14, the sandals sell for $69.95 per pair.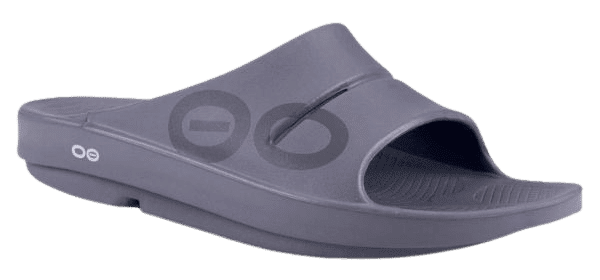 OOriginal Sport Sandal
Feel cool and comfortable when you're on a tropical beach or fishing with the guys in the OOriginal Sport Sandal from Oofos. These sandals have a classic thong look with a strap that runs between your toes and lots of open space for your feet. The brand offers this pair for $69.95 and sells them in men's sizes 4 through 14.
Where Can You Use Oofos Sandals?
Oofos sandals are perfect for almost anything you can imagine. As previously stated, the sandals are so comfortable that you may even want a pair to replace your old worn-out slippers. The technology designed by Oofos both absorbs more of the impacts that affect your feet and reduces the overall stress on your lower body.
Some of our favorite places to wear Oofos sandals include:
When playing basketball and other games with your friends when you need more stability and support.
At the beach when you don't want to get sand all over your feet.
If you need to work outside while at home and want to stay comfortable.
On vacations and sightseeing trips where you plan on spending a lot of time on your feet.
When you need to walk your dog but don't want to struggle with the laces on your running shoes.
For running to the store and tackling other errands.
Anywhere you want the comfort of a good pair of sandals.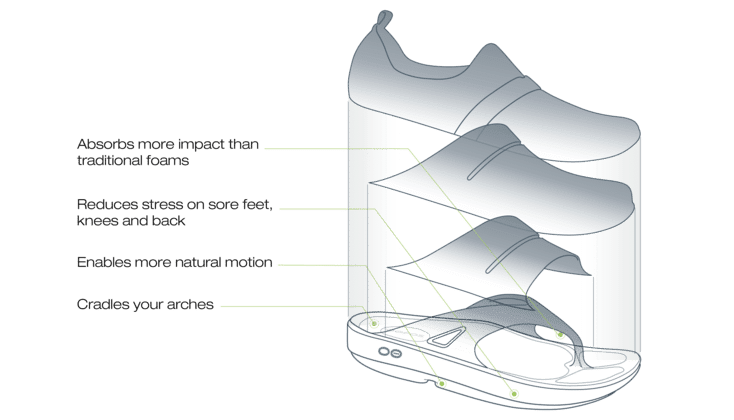 Who's This For?
Joint pain can affect people of all ages. Oofos makes sandals for people who want to relieve their joint pain. The design of the sandals can reduce pain in your entire lower body and also help you feel comfortable when you spend long hours on your feet. After a 12+ hour shift, you'll love that you can come home to these sandals.
Oofos sandals are also suitable for travelers who spend a lot of time on the road. You can wear a pair from your home to the airport and easily slip them off to go through security before slipping them back on before getting on the plane.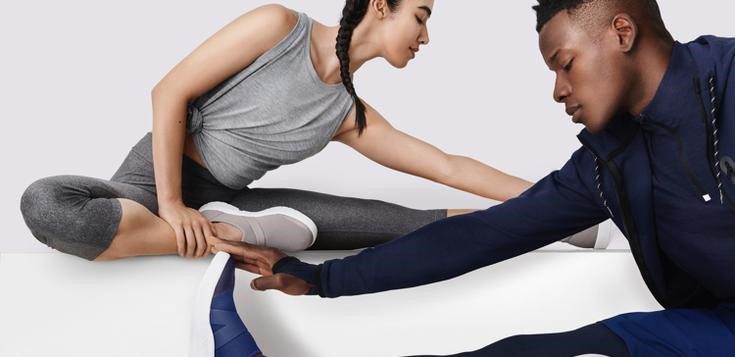 Oofos makes sandals that are suitable for men and women of all types.
Should You Buy It?
In our opinion, Oofos sandals are worth the price. While you may not want to spend close to $90 on a simple pair of sandals, these are unlike any sandals you've tried before. They use a unique type of foam technology that absorbs impact to reduce both stress and pressure on your feet. All of the sandals have a cushioned footbed that absorbs over 37% more impact compared to other sandals.
Thanks to the closed-cell technology, you can toss any of these sandals into the washing machine and clean them in less than an hour. If you prefer hand washing, use any type of soft cloth with your favorite dish soap to clean your sandals. Other things that we like about Oofos and its sandals include:
Signing up for the rewards program helps you qualify for big discounts on Oofos sandals and shoes. It's free to join and offers simple ways that you can earn rewards and points.
If you live in the US, you qualify for both free shipping and free returns on every order.
The Oofos Promise gives you 30 days to return your sandals if you sren't completely satisfied.
Most sandals are available in a range of sizes.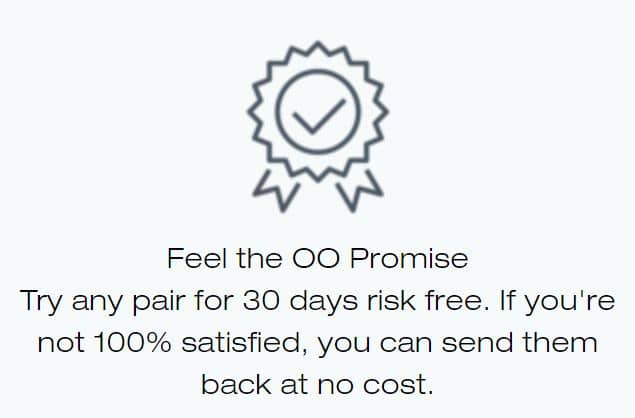 Cons to Consider
We wanted to address all of the brand's cons in our Oofos review because various customers had complaints about their experience with the company. There were many customers who said that they had back pain after wearing the sandals for 10-12 hours or longer. Others had pain in their ankles and knees.
We also found one shopper who decided to take advantage of the Oofos Promise and send their sandals back for a full refund within the first 30 days. Though the shopper printed a return shipping label online with help from the brand, Oofos claimed that it never received the sandals and refused to issue a refund.
A few other issues to keep in mind include:
Oofos sandals sell for as much as $90 per pair, which is much higher than what other sandals cost.
There were multiple complaints about the durability of the sandals with many customers saying that they fell apart within a few months.
Most of the sandals have a narrow footbed that may not fit your feet.
Though the sandals are comfortable, they do not offer much traction.
A handful of customers complained that the sandals had a chemical smell that wouldn't go away.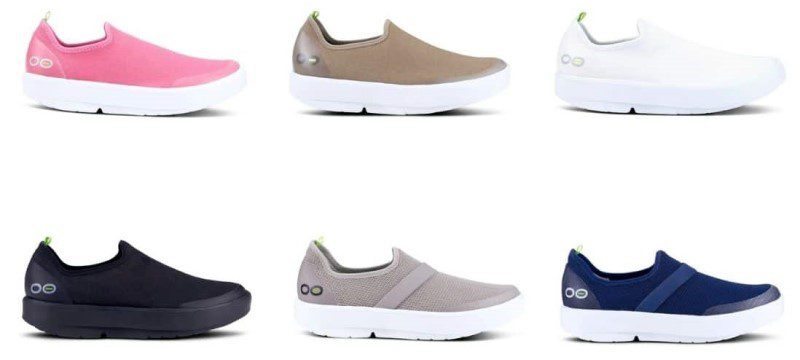 In addition to sandals, Oofus makes many other shoes for men and women.
Where to Buy
Click here once you finish our Oofos sandals review to check out all of the hot designs along with the sneakers and other footwear from this brand. Oofos gives you a coupon for $5 off as soon as you sign up and lets you earn other discounts when you refer friends.
Some of the ways that you can earn points include:
Get 15 points when you share a link to the brand's breast cancer research program on Facebook.
Earn 20 points each time that you buy footwear and write a review on the official site.
Add 300 points to your online account if you refer a friend who then buys from the site.
Receive 100 points when you spend $250 in a single order.
Get 30 points when you like Oofos on Facebook or Instagram.
The more points you earn, the more you can save at Oofos. It takes only 100 points to get $5 off and 200 points to get $10 off. If you reach 1,000 points, Oofos will let you redeem them for a $250 discount.

You'll earn even more points and discounts once you become an Oofos VIP.
Competition
Though Oofos has lots of fans, it's not the only company that makes comfortable footwear for professionals. We'll go over some of the competitors we found to help you see if Oofos is worth your money.
Dr. Liza
Dr. Liza is a footwear brand started by a doctor. If you need a pair of dressy sandals for a summer wedding or another special occasion, you'll find many with a heel height of two to nearly four inches. They come in both traditional and neutral colors that match everything. Dr. Liza also makes sneakers and running shoes that feel just as comfortable, along with pumps and flats that you can wear to work.
KURU
If you're tired of all the pain that you usually feel, take a look at some of the shoes from KURU. KURU lists different categories to help you find shoes to cope with knee or back pain along with other types of pain. Men have just as many options, including the Tread that comes in multiple colors and is perfect for hiking or camping and the Kala that has a flip-flop design.
REEF
You might know the name REEF because of the online ads the brand runs, which shows some of the unique sandals they produce. REEF has many pairs that give you more arch support such as the Reef Mulligan II for men and the Star Cushion Sassy for women. Most of these sandals retail for around $60 or less, and some cost under $50.
Giesswein
The Giesswein family shared their name with the footwear brand they started. These shoes use real Merino wool that feels incredibly soft against your skin. Though the company does not make sandals, it has ballet flats that are just as easy to wear. You can choose flats with a round or pointed toe and select bright colors such as red and yellow.
Final Verdict
When you look for Oofos sandals reviews online, you'll find many positive reviews. On one site, more than 90% of customers rate the sandals with four or five stars. They loved that these sandals came in so many different colors and styles as well as sizes. Some styles are available in sizes up to 16 for men or women.
Most of the complaints we found concerned the durability of the sandals or the pain that customers felt after wearing them for long hours. Though some customers had poor experiences with Oofos, most loved this brand so much that they bought more than one pair. For comfortable sandals that you can wear anywhere, go with Oofos sandals.