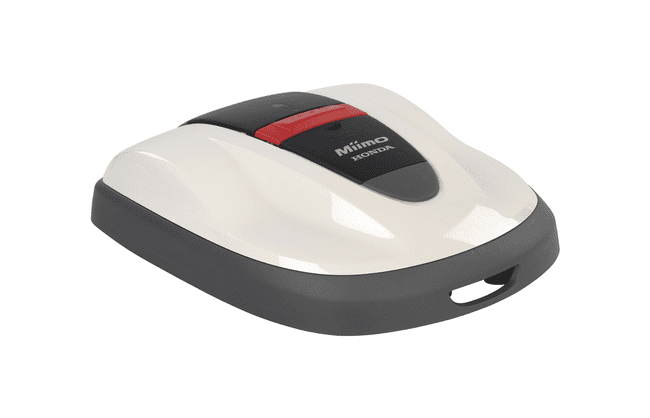 3
If you are a homeowner and the bane of your existence happens to be cutting grass, Honda Power Equipment's robotic lawnmower named Miimo is your perfect solution. With two available models (HRM 310 and HRM 520) and five programmable cutting modes, Honda wants to leave the grass cutting responsibilities to the autonomous lawnmower. With this self charging robot, all you need to do is select the appropriate cutting program and continue on with your day.
Honda's first robotic lawnmower has a built-in programmable timer that cuts within a preset boundary wire. When you purchase a Miimo, employees will head to your house and install the boundary wire either above ground or below it – whichever you prefer. This keeps Miimo within a specified cutting area while avoiding backyard obstacles like fences, shrubs, trees, ponds, etc.
Equipped with an arsenal of highly intuitive sensors, controls, and timers, Miimo can seamlessly detect the boundary wire's electric field. If there was any concern around maneuverability or cutting accuracy, rest assured – Miimo is armed with a quick turning mechanism and state-of-the-art obstacle avoidance technology. Whether you want to time cuts alongside your grasses seasonal growth rates or program a combination of day/night cuts, Miimo owners get to choose from five different cutting modes:
Random mode is the most effective for mowing large, open areas of grass. When Miimo detects the boundary wire, Miimo will make a turn at a wide angle.
Directional mode is the recommended setting for narrow areas. When Miimo detects the boundary wire, it will turn at a narrow-angle.
Mixed mode is a combination of the Random and Directional pattern. Miimo alternates between Random and Directional mowing patterns at regular intervals.
Spiral mode enables Miimo to concentrate on mowing areas where the growth of the grass is different from the rest of the lawn.
Edge mode sends Miimo to mow along the edge of the boundary wire first, before moving to the rest of the lawn.
If you are someone who has decided to transition to the smart home lifestyle, purchasing Honda's robotic lawnmower is the right choice. Both the HRM 310 and the HRM 520 models feature 360-degree sensors and a floating cover that detect obstacles. If activated, the sensor can detect things such as the family cat, then telling the motor to stop – turn – and move in a different direction. If the anti-theft sensor is activated, the mower is immediately turned off once Miimo is lifted from the ground, sounding a piercing alarm, followed by disengaging its operations completely. Simply restart Miimo by entering your unique anti-theft PIN code.
So what separates a robotic lawnmower from the traditional mover? For one, Miimo cuts less grass, more frequently. In addition, robotic lawn mowers keep the cutting route consistent, which translates to a healthier lawn. Miimo, in particular, yields miniature clippings and disperses them evenly into the lawn's root system – a natural fertilizing system. Finally, Miimo is self-charging and if it falls below 30% battery life it returns to its docking stage to replenish voltage.
Engineered to tackle all types of lawns (even one's on a 25-degree slope), the Miimo HRM 310 is capable of cutting a half acre and can mow up to 30 minutes on a single charge. The more advanced HRM 520 model can wrap up 0.75 acres of lawn mowing working up to 60 minutes straight on a single charge.
PROS
Five Programmable Cutting Modes
Two Models (HRM 310 & HRM 520)
Self-Charging
Quick Turn Mechanism
360-Degree Obstacle Avoidance Sensors
Anti-Theft Protection
Can Tackle Lawns with Steep Slopes
High-Traction Wheels
2-Year Warranty
CONS
30/60 Minute Battery Life