Parrot Bebop 2 Power FPV Drone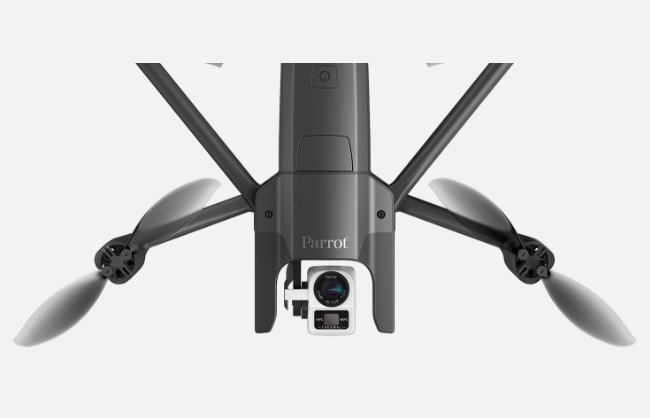 2
The French company, Parrot, continues to launch new and improved FPV (First Person View) camera drones. This time around, Parrot has unveiled its upgraded version of its Bebop 2 Drone. Introducing the Bebop 2 Power Drone FPV by Parrot. As the name indicates, it's a more powerful version than its predecessor, giving pilots a full hour of flight time. With the option of four different pre-programmed flight movements and four selfie modes, this is an enthusiast's dream drone.
Improved Battery Capacity
Equipped with two 3,350 mAh batteries – each offering 30 minutes of flight time – the Bebop 2 Power Drone gives operators the benefits of extra minutes in the air without compromising performance. Compared to other Parrot drone models, like the Parrot Disco FPV drone, this translates into an extra 15 minutes of flight power. The only catch: operators need to stop and "hot-swap" the battery for each 30 minutes of power.
Intelligent Design Features
Accompanying the Bebop 2 is a wireless Parrot Skycontroller 2, with a 1.2-mile range (2 km). Users are able to take off and land with a single click, go on pre-planned adventures using the autopilot, access four different flight modes, and have fun with varying altitudes and speeds. From customizable control settings to its anti-stall system, Parrot's Bebop 2 Power drone guarantees stability while gliding and peak performance during barrel roll maneuvers. The four-rotor drone comes with a pair of Parrot FPV goggles and a Wi-Fi controller – giving operators a front row seat to experience all of the aerial action. The Bebop 2 works with a dual joystick controller or the Cockpitglasses 2 goggles.
The Flight Technology
By integrating all the available technology (Parrot Bebop 2 Power, Skycontroller 2 and the Cockpitglasses), you're guaranteeing one of the coolest flying experiences on the market. All of the magic is housed in Parrot's FreeFlight PRO iOS/Android compatible app. The Bebop 2 Power FPV comes with a 1080p Full HD front camera stabilized nicely on three axes – all designed to capture real-time footage via your smartphone or iPad. By connecting to Parrot's Cockpitglasses, the pilot now has a bird's eye view watching all the 96-degree field-of-view action whether it's hovering over your town a mile away or darting in and out of trees at 40 mph. If you plan on racing your drone, simply switch it to Sport Pilot Mode and test out Bebop's cutting-edge aerial maneuverability.
Parrot's Companion App
Capturing flight footage is made easy by connecting your smartphone to Parrot's FreeFlight Pro app. With 8 GB of internal storage, you're able to film long flight patterns while choosing from four pre-programmed flight movements and four selfie modes. Parrot's companion app keeps all of your routes, photos, films, and data organized. To optimize your experience even further, Parrot's site recommends uploading FlightPlan – a free solution for creating highly precise autonomous plans (altitude, speed, camera angle, etc.)
Powered by virtual recognition technology and GPS positioning, drone pilots can choose their preferred flight method. Whether it's the Sport Pilot Mode, Aerial Mode, Follow Me Mode, or the Touch & Fly feature, users can capture Full HD quality video at 30 frames per second taking advantage of Bebop's 14 MP CMOS image sensor. Any of the pre-programmed selfie modes ensures that objects stay right in the center of the frame – guaranteeing the perfect "dronie" shot.
The Parrot Bebop 2 Power Flight Modes
Here is a quick snapshot of Bebop's different flight modes:
Sport Pilot Mode – designed for power-play drone racing at speeds up to 40 mph (65 km/hr)
Aerial Mode – calmer, more controlled flight patterns for leisurely drone recreation
Follow Me Mode – Artificial Intelligence (AI) – like smarts to identify subjects captures by its camera for tracking
Touch & Fly Feature – allows Bebop 2 Power to autonomously fly to a position on a map selected by the operator, which includes a geofencing function keeping the drone within a specified zone.
The Parrot Bebop 2 Power FPV is scheduled for release this month (September 2017) and comes in a matte black finish.
PROS
Parrot Skycontroller 2
Parrot Cockpitglasses
FreeFlight Pro App
1080p Full HD Front Camera
Speed: 40 mph
1 Year Warranty
60 Minutes of Flight Time