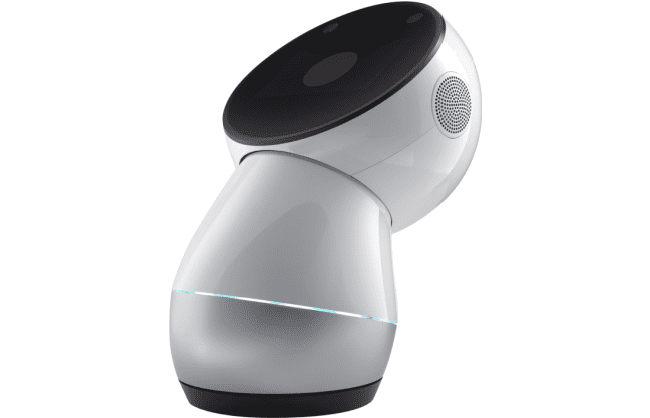 7
Pioneer of Social Robots and MIT Professor, Cynthia Braezeal, describes JIBO as, "the world's first social robot." Designed to help everyone in your family throughout the day, JIBO is a three-dimension socially communicative device. This friendly, helpful, intelligent robot snaps family photos, acts as a digital concierge, reminds grandma to take her meds, reads a bedtime story to the kids, and much more. Since JIBO is a platform, there's no limit to the skills a third-party developer can create. In other words, JIBO is a customizable robot with many features.
Hoping to raise 200K in their initial crowdfunding campaign, JIBO, Inc. ended up with $2.3 million in backing. JIBO is very different from other robots due to its humanized, yet distinct appearance. With a large blinking eyeball at the center of its HD screen and the ability to reposition itself, JIBO can recognize and track faces. It is also armed with two high-resolution cameras that can capture photos and stream emersion video calls.
So what makes JIBO so special? For one, the creators wanted to create a social robot that is not only intelligent and hands-free; but also a collaborative partner that fits seamlessly into your home. JIBO is used for very specific things, whether that is teaching you how to cook, making sure you stay on a strict diet, or teaching your kids a second language. This is not a robot that does everything you command, which is a common misconception. Braezeal said, "It's a profoundly engaging medium for human interaction. Jibo is a technology that brings content to life in an entirely different way."
JIBO's timing could not be more perfect, according to Braezeal. She feels as if the mobile computing revolution had to happen first before the world could accept a social robot in their homes. "It's now possible to build a sophisticated social robot at a mass consumer price point." Adding to the world's acceptance of an in-home robot companion is its ability to connect to all smart home devices. Whether it's checking e-mail messages or placing an order for takeout, JIBO recognizes personal preferences for each user. That means he quickly becomes integrated into the family. JIBO communicates using natural social and emotional cues so you understand each other better. With a 360 degree microphone and natural language processing, you're able to chat with JIBO from anywhere in the room.
As mentioned previously, knowing JIBO's capabilities is critical to creating seamless interactions. Designed to bring content to life in the most collaborative way, the user needs to break down the barriers of using JIBO as a physical laborer and consider him a collaborative partner. Once he learns your unique communication style, exchanges become easier. Once JIBO's skills (applications) become more and more advanced through its ecosystem, it will be able to grow as your in-home digital buddy.
Jibo is a piece of cake to set up:
Step 1: Connect him to your WiFi network
Step 2: Teach JIBO to recognize your face and voice
Step 3: Learn what you can ask JIBO to do (with the applications you have)
Step 4: Download the JIBO mobile App (Android & iOS) and connect to your mobile devices.
One thing is for certain: JIBO's ecosystem is an ideal setting for content creation. Does it have what it takes to make social robots an in-home staple? We shall see.
PROS
Groundbreaking Technology (Early Stages)
Cloud Services Platform
Hi-Res Cameras
Jibo SDK Platform (Open-Source Development)
iOS and Android Compatible
CONS
Additional "Skills" Cost More (Jibo Store)