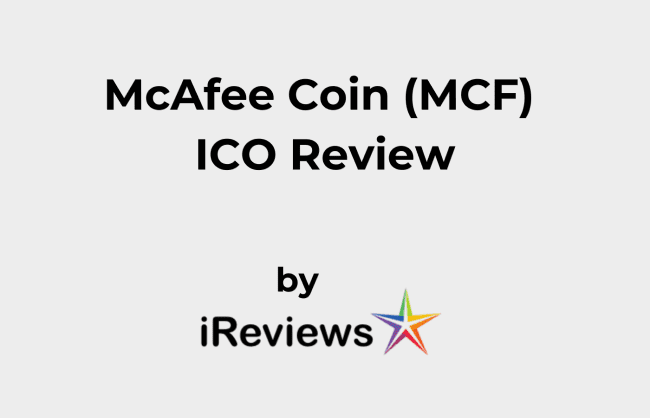 14
Cryptocurrency is taking the world by storm. Bitcoin recently surged to its highest value ever, sending the global cryptocurrency market to record-breaking highs. A few weeks ago, John McAfee, the founder of McAfee antivirus software announced that he is launching a digital token as well.  McAfee Coin will involve the McAfee Crowd Chain Accelerator, Inc, also known as McAfeeXL.
McAfeeXL is a startup accelerator with an ecosystem that revolves around McAfee Coins (MCF). The token's goal is to crowdsource wisdom for investment decisions. McAfee Coin is basically a digital token for investment firms. McAfee, VC fund manager Yale ReiSoleil, and financial tech specialist John Zhu lead the firm.
MCF's website mentions that "the venture capital system is ready to evolve," which is where the developers see an opportunity to make big bucks.
Technology / Theory (the Whitepaper)
The team behind the coin believes there are crucial problems in the modern VC world. When VC funding is a large international opportunity to raise funds for your startup, changes like this can shake up the whole industry in a major way. Some of the problems MCF identified are resonating with miners and cryptocurrency investors already.
For example, the team brings up the "overall increasing failure of the system to deliver on promises." They don't refrain from mentioning that "these failures are being swept under the rug." The company also mentions that most venture-backed startups fail, even with the financial and business support they're given. VC firms drop the ball on this one – they don't give the appropriate attention, guidance, or support that they should. In fact, unless the startup is among the top 10% of ongoing performers in the fund, they will probably never receive adequate support.
Another problem that MCF aims to fix is that VC funds don't provide returns; on average the stock market has performed better than VC funds since 1999.
McAfee Coin aims to provide hands-on mentorship through the accelerator program by creating a worldwide network. Depending on the startup's needs, additional rounds of funding may not be necessary. With AI-based investment systems, McAfeeXL emphasizes its technology-focused portfolio. MCF owners and community contributors help build proprietary, blockchain-based AI investment decision engines.
The company also emphasizes its investment social network aspect. The crowd benefits from the attention and gets MCF for their contributions.
Check out the whitepaper deck for MCF.
Supply
The total hard cap for MCF is set at $1 billion. Phase 1's hard cap is $48,000,000, at a price of 1 MCF per $1. In Phase 2, the token price will be announced two months prior to the start of the sale. The company expects the token price in Phase 2 to be 20 to 40% higher than the first phase. Phase II's hard cap is set at $168,000,000. Phase III's hard cap will sit at $300,000,000.
Token distribution – When and How
McAfee Coin plans to launch two ICOs: one for MCF tokens, another for IOB tokens. McAfeeXL will focus on blockchain and cryptocurrency-related startups.
When you own a token, you have a say in the investment firm's crowd-based investment decisions. McAfee Coins represent a stake in a crowd decision-based investment platform. IOB tokens, on the other hand, are Internet of Bi Crypto Capital Fund tokens. IOB tokens represent a stake in the company's digital asset investment fund. They're described as "the crypto capital (CC) arm of RMZ, a Swiss-based CC fund that is the first China-focused fund raised via an ICO.
The full token distribution is detailed in the whitepaper.
Team
McAfee is known for his pioneering work in anti-virus software, which he launched in 1989. He ran for the office of the President of the United States in 2016 as a Libertarian Party candidate.
ReiSoleil is a private equity fund manager and quantitative trader. He co-manages Sichuan Hongjian Medical Fund, a 20 billion Chinese Yen acquisition fund. Zhu is a financial expert specializing in banking and insurance technology.
The three co-founders established ReiSoleil McAfee Zhu Ventures, LLC (RMZ) in July. RMZ's headquarters are in Hangzhou, Zhejiang, China.
The company uses Crowd Wisdom Bots (CWB) to increase profitability across the fund. The CWBs help ensure that startups have the right amount of investment at every stage of growth. The startups do not have to worry about raising the maximum amount of money at every stage. The startup can operate with less stress. With other ICOs, like Filecoin, TenX, and doc.ai, raising millions of dollars in a very short time, the coin can fall as quickly as it rose. The crowd gets rewards for making investment decisions, and everyone benefits when the fund earns money.
McAfee and ReiSoleil are confident that they can solve the problems we've mentioned before. They want to revolutionize the world of venture capital. The company describes the MCF and IOB technologies as "more than just crypto-assets". They believe these two tokens "represent the next generation of venture capital funding."
Closing Thoughts
This company has very innovative concepts with room to evolve into something much larger. Dozens of cryptocurrencies have ICOs every week these days, with many propping up lofty and vague visions for their missions. Whether you strongly believe in the vision behind McAfee coin or not, having one of the most famous figures in the tech industry behind this ICO adds some legitimacy to the cause. If you're able to get an MCF token, we say why not hold onto it?
Sources: Bitcoin Exchange Guide
PROS
Innovative Idea
Team Easily Reachable On Slack
Smart, Well-Backed Team
CONS
Lack of Information Regarding ICO