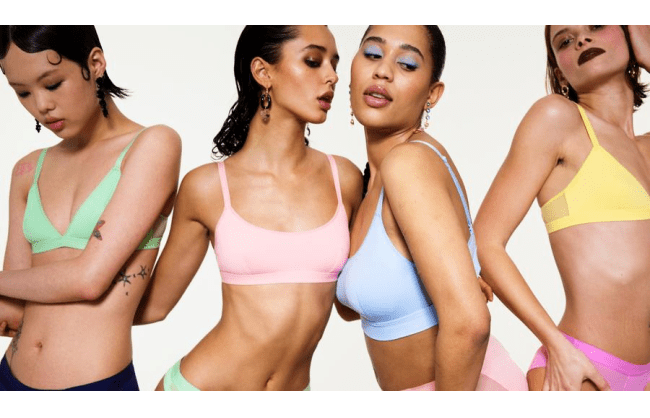 What is Parade Underwear?
Underwear has the ability to make you feel sexy, boost your self-esteem, and keep you comfortable. From the second you start your day, choosing a new bra and panty set can make all the difference. Parade Underwear is the perfect excuse to finally toss your old sets and replace them with something new. The underwear from Parade can add a little confidence boost to any day of the week!
Though some brands cater only to smaller women, Parade offers panties and bras in a variety of styles and sizes ranging from XS-3XL. Parade's advertisements feature diverse body types who represent real women.
Cami Tellez launched the brand with the goal in mind of showing that women of all ages and sizes are beautiful and sexy.
All of the intimate apparel on Parade's website is produced using recycled materials in a range of colors. When you purchase from the site, 1% of the profits directly support Planned Parenthood. In our Parade Underwear review, you can learn more about the range of products available, as well as where to buy them.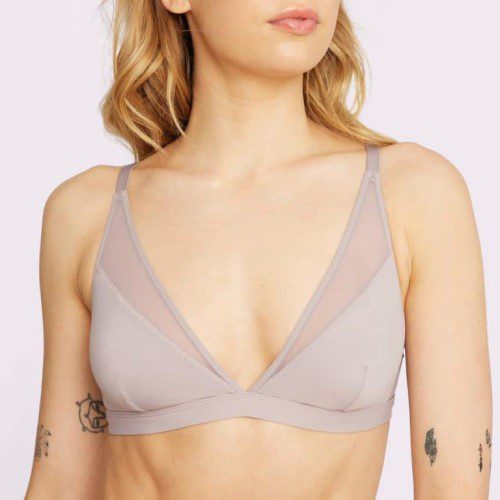 PROS
Bras and panties in sizes up to 3XL
Sales allow for buying basic pieces at only $8 per item
All products use recycled materials and come in biodegradable packages
Free shipping
Student discount
CONS
Not available outside of the US
Customer service needs improvements
May not fit women of larger sizes
BOTTOMLINE
With a wide range of sizes, Parade makes bras and panties from recycled materials that fit most women. There is no minimum amount required for free shipping.

iReviews Shopping Assistant
Find the best prices for this and many other products with our chrome extension
Product Features
Shipping: Free on all orders
Returns: Always free
Cost: $8+
Materials: Spandex, nylon, recycled materials
Sizes: XS-3XL
Styles: Triangle, thong, g-strip, boyshorts, high rise, scoop, brief
Thongs for Women
Though Parade produces a variety of underwear styles, a customer favorite is the company's thongs. The Re:Play Thong even won Top Mars in Teen Vogue for its comfort. The thong is available in a traditional style that sits below the natural curve of the waist ($9), as well as a high-rise version that sells for $10. Both thongs use recycled yarn that is intended to be softer on the body compared to alternative materials. As the thong uses both spandex and nylon, it stretches to naturally fit your body and bounce back after washing, in order to ensure that the material doesn't stretch over time.
Fans of thongs will find even more options from Parade, including:
Universal Thong: Retails for $8 and eliminates panty lines under your clothes.
Sport+ Thong: Designed for athletes, this $10 thong dries quickly and wicks away moisture.
Silky Mesh G-String: For only $11, this thong gives you a barely-there look and sexy feel.
Silky Mesh Thong: Get more coverage with a barely-there feel, which sells for $10.
Silky Mesh G-String Thong: Parade combined the benefits of mesh thongs and g-strings in this pair, costing $13.
Silky Lace Thong: This g-string sells for $13 and has lace details, offering a little more coverage.
Silky Lace G-String: Selling for $13, this g-string boosts your sex appeal and has a comfortable fit.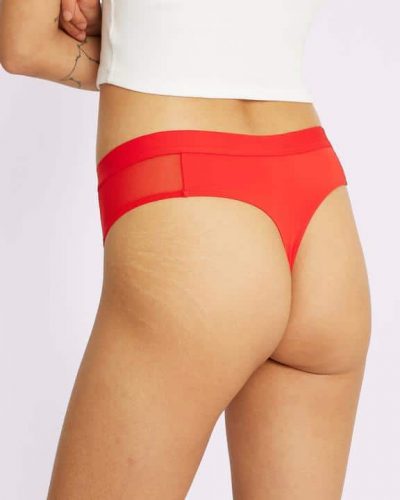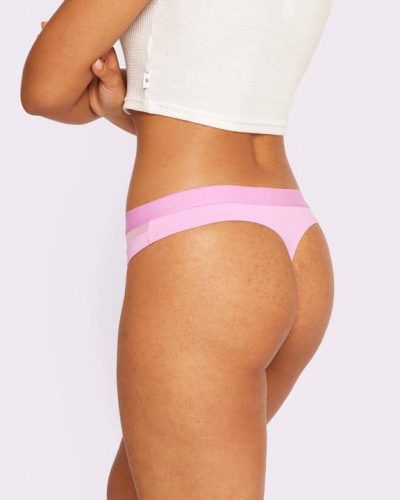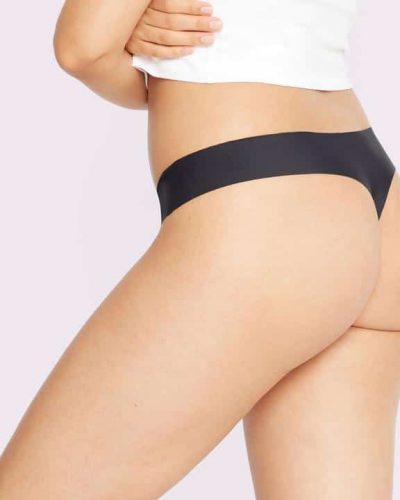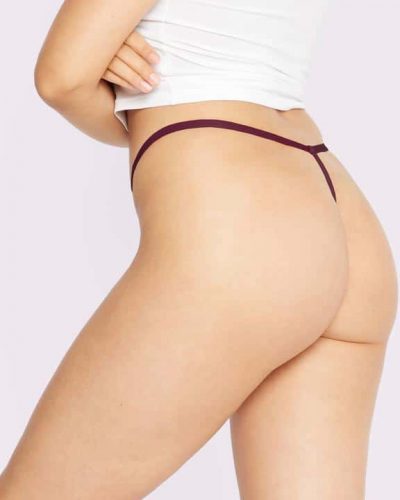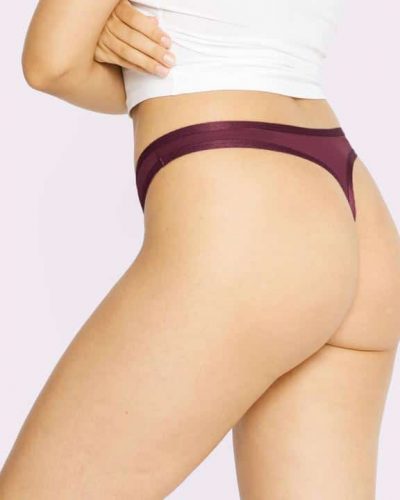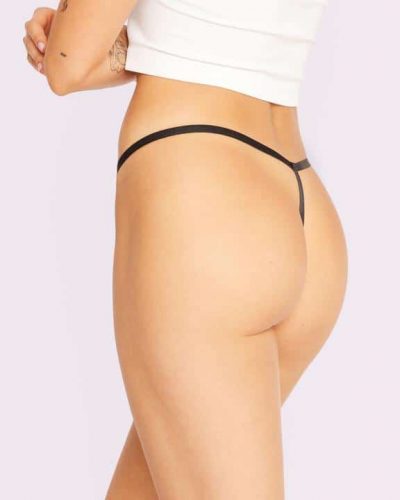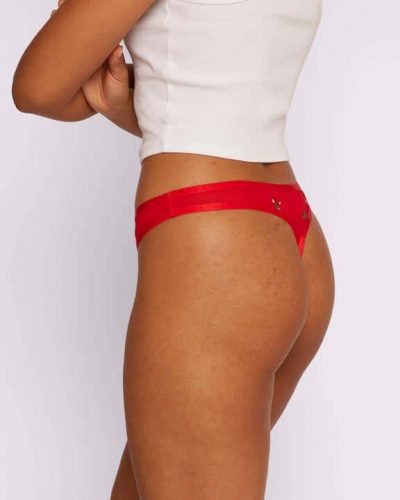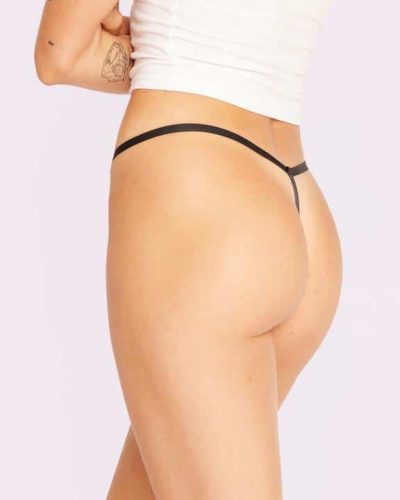 Our Experience (Thong)
After ordering from Parade, my product arrived in a fun and vibrant red package with a cute peach sticker on the front stating that it was recyclable. The package had the word "PARADE" printed in a large, fun font. When opening the package, there was a cute pack of stickers that came with the order (pictured below) and the mesh thong I ordered, inside of a recycled plastic bag.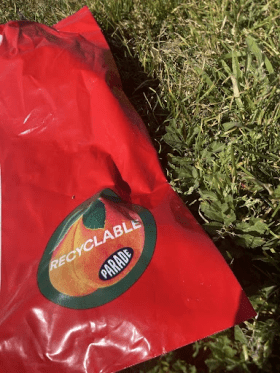 After opening the product, I instantly noticed how large the mesh thong seemed to be. As a woman who has worn a medium her entire life, I have gotten pretty good at eyeing products to see the size, and I was a bit worried that the product ran big. Upon later trying on the mesh thong, my hypothesis was confirmed. The product ran a bit bigger than I was expecting. If I was to order from this brand again, I would certainly order a size small (For reference: I am 5'8, 27 inch waist, and 135 pounds).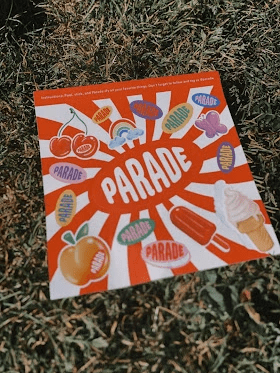 Parade Unboxing
The quality of the Parade underwear was certainly high. The mesh was much higher quality than that used at Victoria's Secret. After a trip through the washer and dryer, the mesh showed no signs of damage and did not have any snags.
When wearing this product throughout the day, I had mixed opinions. First and foremost, the quality was very high, but that also meant that the seams were on the thicker side and did cause a little bit of discomfort where they rubbed with the waistband of my jeans. This product seems to be a great quality option that will hold up over time and keep looking new, but they were not the most comfortable product I have tried.
Parade Product Review
Parade's mesh thong would be great for a day at work while wearing office pants, but likely would not be a great fit for the gym or under jeans. The seams and mesh easily create friction with other materials and likely would not work well with sweat. Furthermore, if the mesh gets caught on pants buttons or zippers, it may not rip due to the high quality, but can still be an inconvenience.
How Can You Use Parade Underwear?
The biggest problem with women's clothing is that sizes are inconsistent across brands. You may wear a size small in panties from one brand and need a medium or large from another. Parade underwear runs true to size. Parade's sizing chart makes it even easier to find your size. You'll find this chart listed on each page when you click on the "sizing" link. Not only can you use your hip measurement to find the perfect size, but you can compare it with the clothing size you typically wear.
Thanks to Parade's sets, you no longer need to worry about buying bras and panties from different brands that may not work together. The Build-A-Pack option allows you to pick up to six products and save 20% on your entire order. This deal is always available and includes all of the products on the site.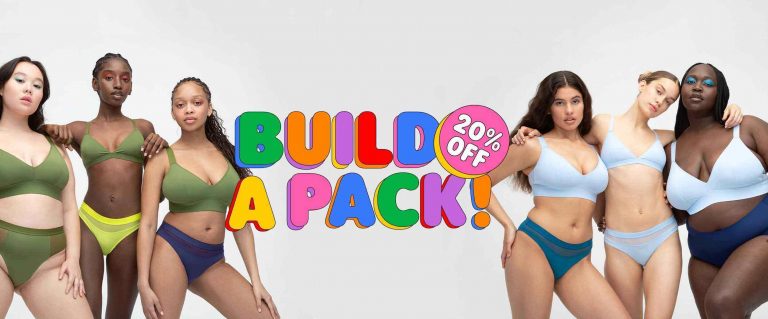 Save big when you build a custom Parade pack.
Higher Parade Underwear
Though you may want to whip out a g-string before a big date, the odds are good that you don't want to wear one every day. Parade recognizes that many women prefer varying fits on different days, which is why the brand makes options with more coverage.
One favorite is the Re:Play Brief, in fun colors options such as Area 51 and Bite. Designed to follow your natural waistline, the briefs have high legs and mesh panels on the sides. With the Silky Mesh High Rise Boyshort, you get the classic boyshort look that you love, partnered with fun colors and patterns such as Starry Sky and Blossom. The boyshorts are sheer to keep you cool and can truly make your booty pop.
We recommend checking the Parade website and looking at all of the available underwear. Most designs have a high-rise option that offers more coverage. Customers love that they can get the support and coverage that they desire, as well as fun colors and patterns. All of the high-rise underwear from Parade sell for between $10 and $13 per pair.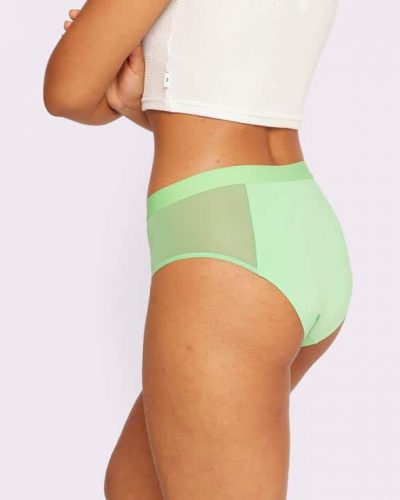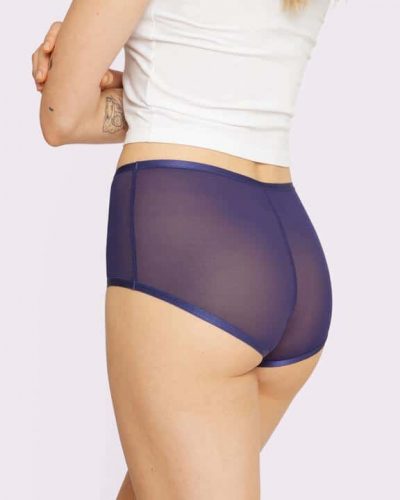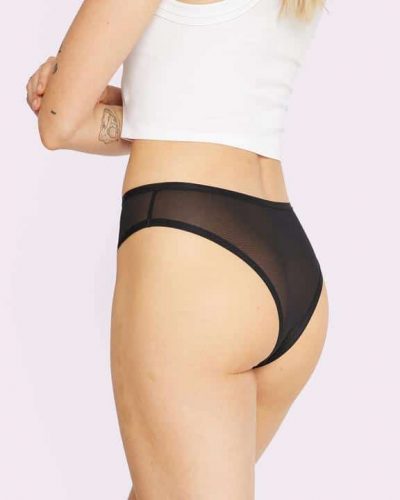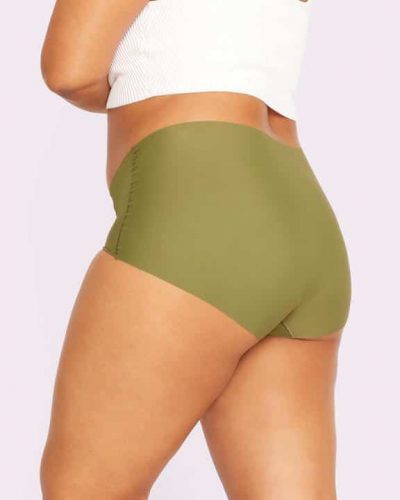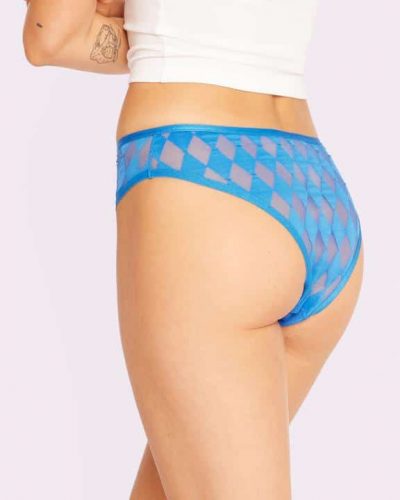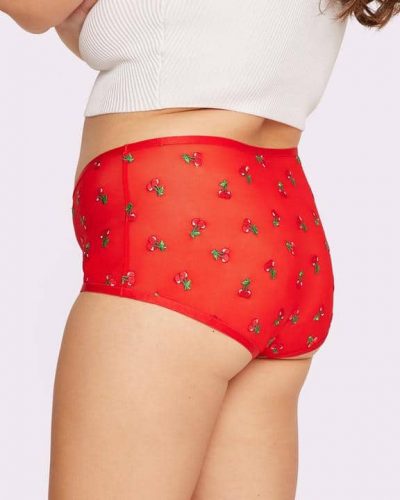 Where Can You Use Parade Underwear?
Parade makes underwear that are suitable for any occasion or situation. Want to feel comfortable at work without feeling your underwear sliding down your hips or riding up your stomach? Briefs and high-rise designs are perfect for you. If you want to feel more confident in the bedroom and surprise your partner, why not go with a new g-string or thong? You don't need to worry about the thin strip of fabric rubbing uncomfortably against your skin because it stays in place as soon as you slip into a pair.
Some of our favorite reasons to wear Parade underwear include:
When you're working out and don't want to feel uncomfortable chafing.
When you want to save money, products start at $8 per pair and are often on sale.
If you want a set that includes bras and panties that is durable and lasts.
On vacation when you want to look and feel confident under your clothes.
To feel comfortable running errands, taking the kids to school, and all of the other things you need to do during the day.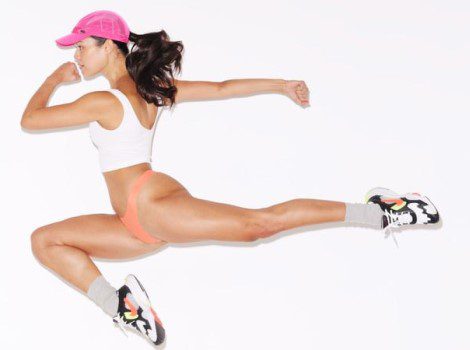 Parade's Sport+ line is perfect for wearing to the gym and when you work out.
Briefs from Parade
Not everyone feels as comfortable in g-strings and thongs as others. If you prefer underwear with a little more fabric, we recommend that you check out the Parade briefs. A popular choice is the Re:Play Brief, which uses spandex to give you stretch and nylon to help you stay cool. Even after a 12-hour shift, you can rest assured that these briefs will feel as comfortable as they did in the morning. They sell for $9 and come in colors such as Dayglow and Eightball.
The Silky Mesh Brief is a style that allows you to feel youthful and comfortable. It takes a classic design and shrinks it down. The panties sit low on your hips and may feel as though you have nothing under your clothes. Parade sells this pair for $13 and offers unique patterns and colors like Hula Hoop and Red Velvet Tightrope.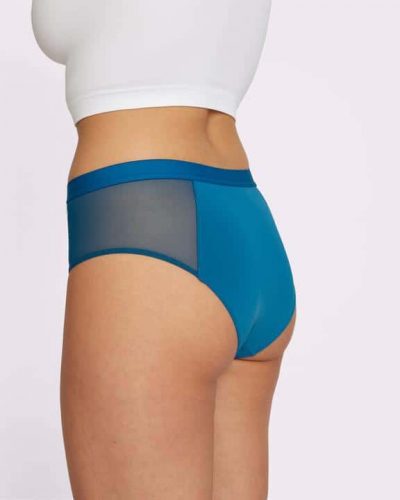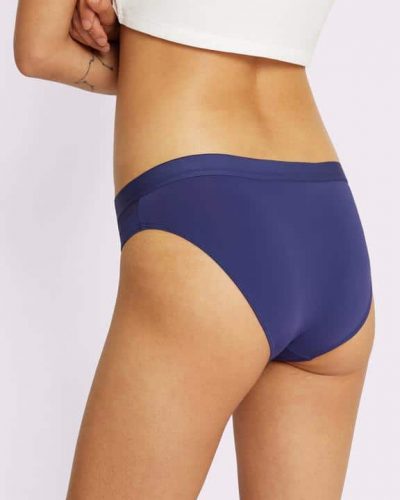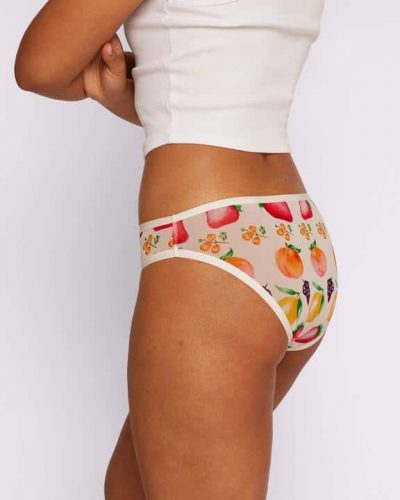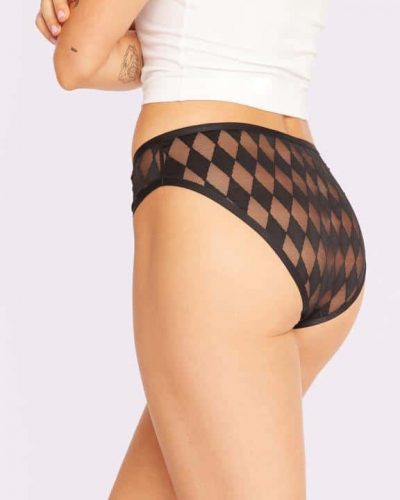 Who's This For?
All of the underwear from Parade are suitable for those who:
Want affordable underwear that often go on sale; such as five items for $8.
Prefer less coverage; from g-strings and thongs that fit comfortably.
Need matching bras and panties that they can wear at work and on special occasions.
Aren't sure what size they need but know what size they usually wear.
Want to feel comfortable for hours without their underwear shifting and moving.
Need underwear that provides more help when they're at the gym or working out.
Prefer underwear in specific colors.
Want to try different types of underwear without spending a fortune.
Have a fabric they prefer.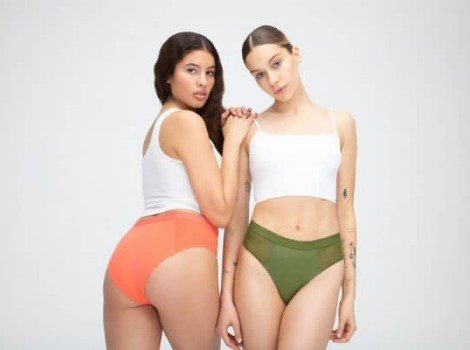 The Re:Play line uses recycled yarn for a softer design and features a stretchy waistband.
Other Underwear from Parade
While we covered briefs and thongs from Parade, the brand makes other types of underwear that may meet your needs as well. Many women love the Cheeky line, which feature vibrant designs that help you make the most of your lower half. With the Silky Mesh String Cheeky, you pay $11 for a pair with a thin waistband and tiny triangles on the front and back that offer coverage. If you want a standard brief that uses a similar design, we recommend the High Rise Cheeky for $15.
Parade also makes fun boyshorts that are similar to the boxer briefs that men wear. Boyshorts have a thin and stretchy waistband with a longer design that covers your cheeks and stay in place. While you may not always want to leave the house in a pair, they're perfect for lazy weekend days when paired with a hoodie or baggy tee.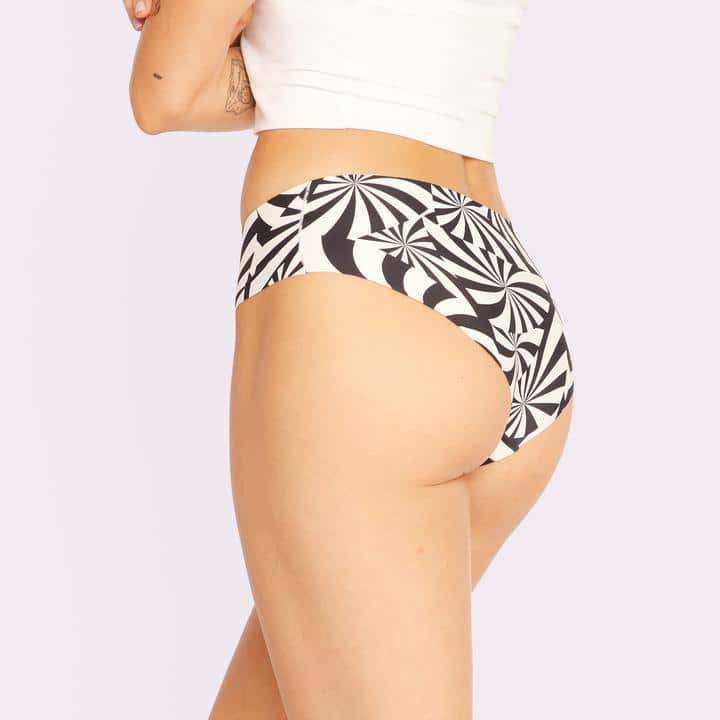 The Universal Hip Huggers fit most women and have more coverage with a lower profile.
Parade Bras
We spent a lot of time talking about the underwear from Parade, but you'll also find plenty of bras. The brand lets you pick a size based on both your band and cup size. Most of the bras can fit up to a 32DDD/F size, but you may find that larger sizes often sell out fast. We love the brand's scoop bralettes that fit more like a sports bra than a traditional bra. The Re:Play Scoop Bralette has eight colors and patterns. They sell for $28 and offer loads of support without weighing you down.
If you want to show off more skin or make a dramatic impression, try one of the brand's plunging bras. The Silky Lace Plunge Bralette for $38 has a deep v-neck and separate cups that let you keep your girls as close or far apart as you want.
Parade triangle bras fit like a bikini top and have two separate cuts attached to a band and thin straps. The Re:Play Triangle Bralette uses a soft fabric that matches your favorite panties and sells for only $32.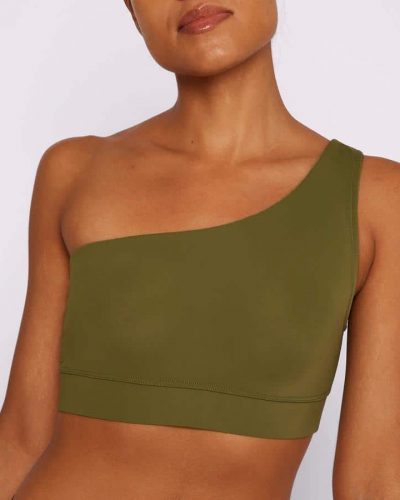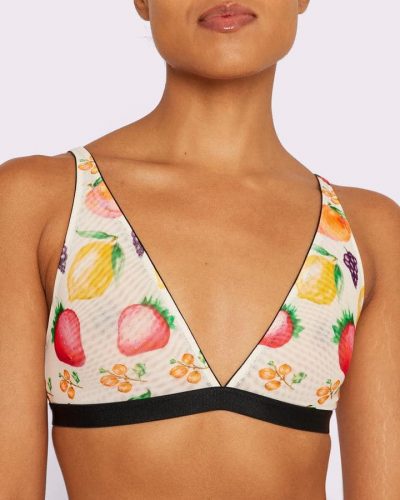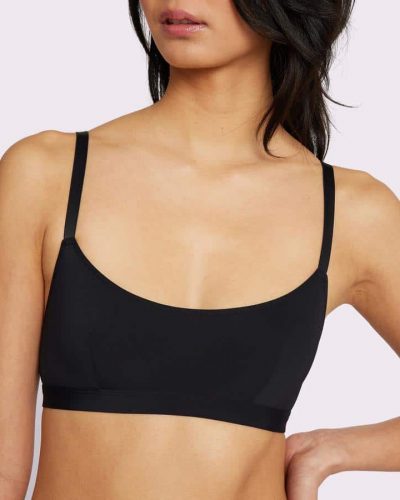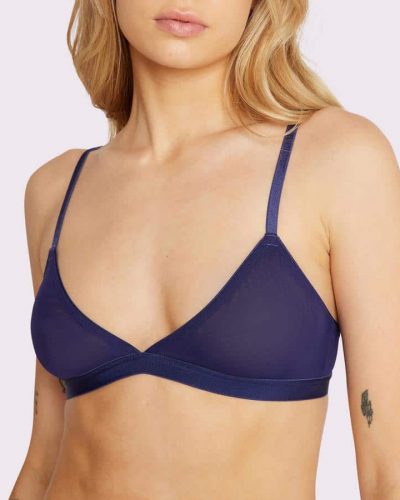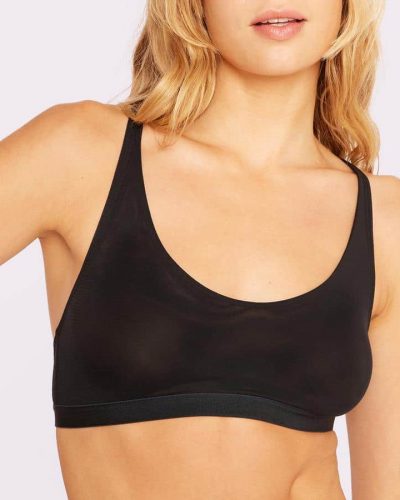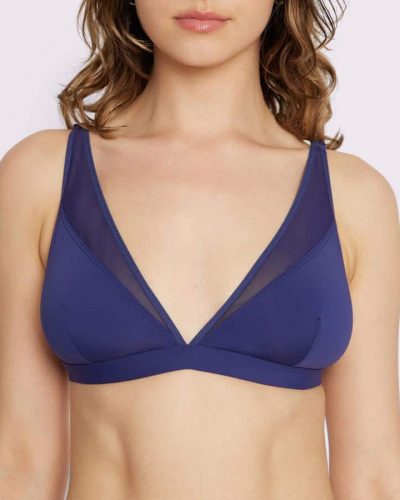 Should You Buy It?
We give two thumbs up to Parade because of its emphasis on body positivity. No matter when you visit the site, you'll find models who look like the women you see every day. We encourage you to take a look at all the things we like about this underwear brand:
There is no minimum amount you need to spend to qualify for free shipping.
You can snag a hoodie with the Parade logo embroidered on the front that keeps you warm on a cold day, even if it's just to wear with your favorite panties.
If you aren't happy with a purchase for any reason, you get a fast and free return along with your money back.
All of the underwear use soft fabrics made from recycled materials that feel natural on your skin.
Both the fabrics and the bands use elastic materials to ensure that the bras and panties move with you.
You can choose from products in XS-3XL sizes that fit customers who wear women's sizes 0-22.
Most of the bras fit a variety of women, from those with flatter chests through those who wear up to 32DDD/F.
The support size option lets you pick a bra based on the amount of support you need.
All of the bras and panties come in a minimum of three colors or patterns.
Parade occasionally offers limited edition prints around the beginning of new season
Parade also makes hoodies and other apparel that goes with its bras and panties.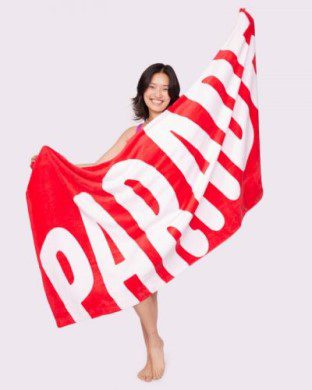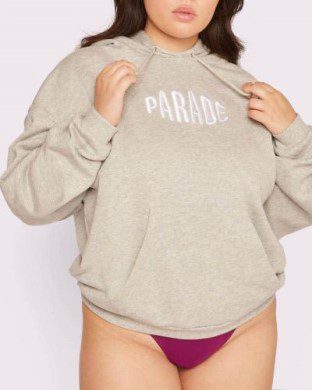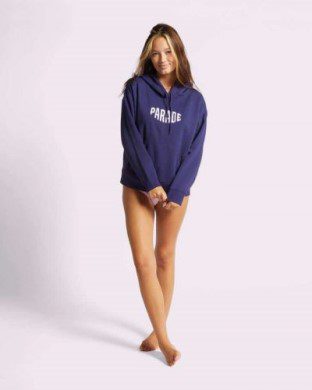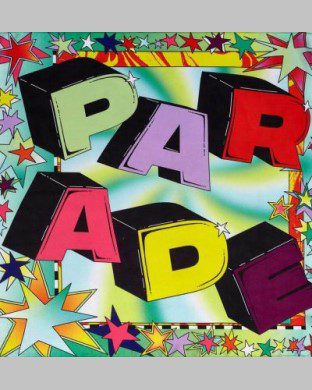 Cons to Consider
The main reason why we gave Parade a high review is that we had a hard time finding any negative customer reviews. Most customers love the brand and bought from the site multiple times after their first order. One possible issue you may have is with the color options as most underwear lack neutral tones. A few other things to keep in mind before buying from this underwear brand include:
If you do not live in the United States, you cannot buy from Parade.
The customer service reps aren't as helpful as you might expect.
Though Parade promotes body positivity, you may not fit into their products. Even the 3XL size only fits women who wear 20-22 sizes.
Some products are more popular than others and sell out quickly. You may find that specific colors and patterns are not available in your size.
If you choose the panties with mesh panels, the panels may create visible panty lines.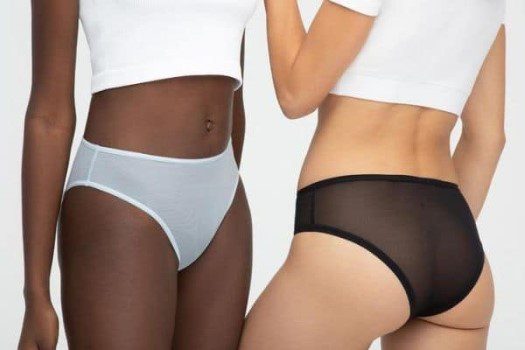 The mesh underwear can create visible and noticeable lines beneath your clothing.
Where to Buy
Getting the bras and panties that you love is as easy as visiting the Parade website. The brand chose the "Your Parade" domain to show that you get to choose the products that work best for you. Parade offers free shipping every day no matter how much you spend (and offers free returns as well).
During five for $40 sales, you choose five of your favorite products and get them all for $40. If you want to build a custom pack, Parade lets you add up to six bras, panties, hoodies and other items. When you check out, you'll save 20% off your entire order. We also like that the brand lets you view all products and search for those you want based on how much support you need or the size you wear.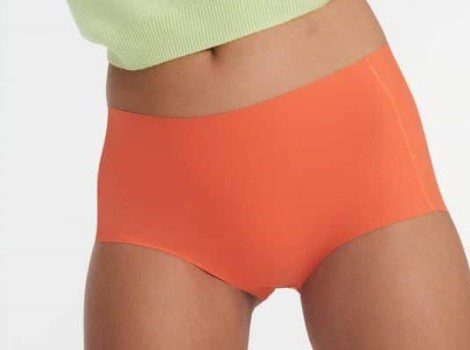 With the Universal fabric, seams will never again rub uncomfortably against your skin.
Competition
Parade hopes to start a revolution and change the way women think about underwear, but it's not the only company hoping to compete against Victoria's Secret and other popular brands. You may even want to look at some other brands to see why Parade comes out on top.
Bombas
You might remember seeing Bombas on Shark Tank when it was simply a sock company. The brand entered the underwear market in the hopes of helping women find the best underwear for them. You can now find tons of hipsters with high-cut legs and a low waistband that use a single color or two colors. The Cotton Gold Medal Bikini is another popular design that looks and fits just like your favorite bikini. Keep in mind that Bombas underwear sells for more than $20 per pair and that you only save 10% when you buy one of the bundles that come with five or more pairs.
MeUndies
Many customers love MeUndies because the site helps them save money on comfortable underwear. You can even become a subscriber and get new designs sent to you every month. MeUndies also has matching sets that let you buy panties and bras that match the boxers or briefs your partner has. The site offers nine different types of undies, including hipsters and briefs. With underwear packs, you get multiple pairs in the colors and designs that you like. New customers get 10% off their first order through MeUndies, which is helpful because the prices are high.
Negative Underwear
You won't feel negative when you slip into Negative Underwear bras and panties. Bras include demi designs and those with full cups. They fit women of most sizes and are available in sheer and sexy options, as well as bras that offer more support and coverage. If you're in the market for underwear, the site can help you find g-strings and boyshorts along with briefs and thongs. Negative Underwear only comes in classic and neutral shades that match your skin tone. The underwear is also expensive and sell for $30 or more per pair.
CUUP
Another alternative to Parade underwear is CUUP underwear. They have options such as bikinis for daily use and high-waisted pairs that have a vintage look and lots of coverage. The brand makes thongs that don't show panty lines and the unique Tap, which has large leg openings and a higher waistband. With multiple bras available, CUUP helps you find one for a special occasion or a day at work. You can even find bathing suits that match their other designs. CUUP often has sales that let you buy three products for $60, which is double what Parade charges.
Final Verdict
Between the positive customer reviews and our experience with this brand, we think that Parade underwear is a must-buy. This brand has underwear that come in every color of the rainbow. These bright and vibrant colors add a fun touch to your wardrobe and may make you wish that someone could see them under your clothes. Though the brand has fewer neutral options available, there are still some bras and panties that come in neutral shades.
With the support option, Parade lets you shop for bras based on how much support you need. The bras can fit women up to a size 32DDD/F and won't leave you worrying that your cup may spill over. Thanks to free shipping and return, you never need to pay for shipping and won't face any fees if you need to return any portion of your order. For some of the most comfortable and affordable underwear in the world, turn to Parade.