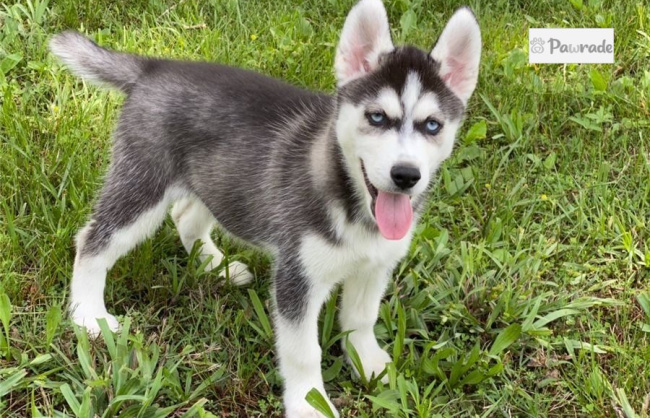 What Is Pawrade?
Pawrade is an online site that lists hundreds of puppies available for adoption. They do not sell any other pets or adult/senior dogs. The Charleston, SC based company was founded in 2020 and claims to only use selected breeders. After browsing puppies and selecting a pet you would like, you can then complete a buyer questionnaire and pay using PetPay.
Upon further investigation, we found that Pawrade does not provide breeder information and often uses unethical, large scale breeders. Pawrade is a sort of middle man between breeders and those looking to adopt a puppy. Although the website claims to make sure puppies are in good health and are up to date with their vets, they do not often provide this information to customers.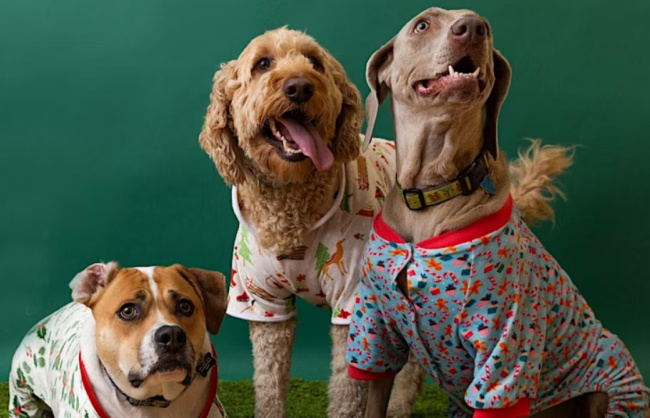 PROS
Wide selection of dogs to choose from
Can search by criteria such as emotional support or hypoallergenic
Many puppies
Many breeds
Easy to browse
CONS
Primarily sell puppies
Breeder information not available
Not a rescue
Does not exclude puppy mills despite their claims
Excludes breeds
BOTTOMLINE
Pawrade is an online puppy finder website that allows customers to view hundreds of available puppies available for adoption. Although the site claims to not support puppy mills, they do not provide breeder information and have been found to support unethical breeding practices.
Pawrade Features
Cost: Prices range from $800-$4,000
Arrangements: Find adoption applications easily
Selection: Hundreds of available puppies are listed on their site
Information: See gender, age, price, location, and description of each pet
Pawrade Puppies
Pawrade's website allows you to search by gender, age, breed, or more specific qualifications. Customers can find emotional support puppies, apartment dogs, family dogs, small dogs, or hypoallergenic dogs. The site lists hundreds, sometimes thousands of puppies available for purchase all over the country, they even provide pet shipping.
Some of the most popular puppies on the site include more expensive breeds such as Golden Doodles, Yorkies, Australian Shepards, and Chow Chows. Pawrade includes dozens of breeds, based on availability. Unfortunately, Pawrade excludes some breeds that can be deemed more aggressive, that often do not get adopted, such as pitbulls.
How Can You Use Pawrade?
You can use Pawrade by going to their website (listed above) and deciding what you are looking for in a new puppy. Whether you have specific qualifications that you are looking for such as hypoallergenic, small dogs, or a specific breed, you can quickly narrow down search results. On the other hand, if you are just looking to browse, you can look through featured puppies or the entire selection.
The only way to securely use Pawrade is directly through their website. They act as a middleman between breeders and customers, using secure questionnaires and payment methods to decrease the chances of pet purchase fraud.
Where Can You Use Pawrade?
While Pawrade does not have an app, you can still view their website on your desktop, laptop, or mobile browser. They also have many social media pages across different platforms such as Instagram and Facebook where you can find information and photos. Using Pawrade is an entirely digital experience where you purchase a puppy directly from the internet. They do not have storefronts or in-person experiences.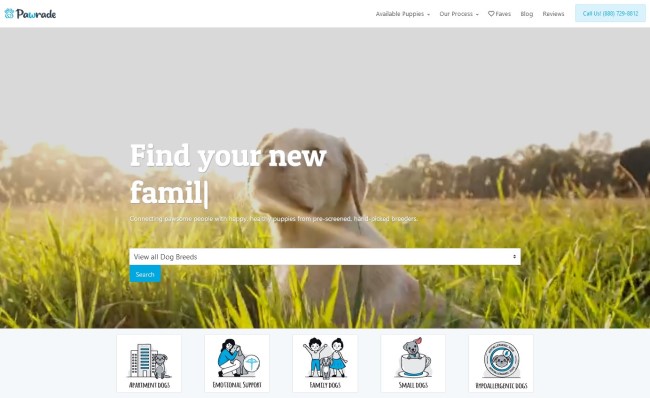 Who Is Pawrade For?
While adopting a puppy or dog from a rescue or shelter is always the most ethical method to prevent puppy mill breeding, some people still prefer to adopt puppies online. Pawrade may be a viable option for those who are looking for a very specific puppy and do not want to browse on other high scam websites such as Facebook Marketplace or Craigslist.
Pawrade markets themselves as a company that provides joy to families by helping them choose a new addition to their family that is perfect for their needs. If you are looking to browse different puppy options, Pawrade may be a good, secure place to begin your search. Some people who may be interested in Pawrade puppies include:
Families looking for a hypoallergenic puppy
People who would like to browse puppies but have no specific breed in mind
Individuals who are looking for a very specific breed, age, and gender
People who can not find a puppy they want in their area and are interested in pet shipping
Should You Buy It?
My honest opinion of Pawrade is that you should not purchase from them unless it is the absolute last resort. Although they claim to make sure puppies are up-to-date on their vet visits and come from reputable breeders, this has been refuted. Many customers have asked for vet records and been denied or ignored completely. Other customers stated that their pets were in bad health and clearly had not been seen recently by a vet.
Lastly, upon thorough investigation, anti-puppy mill activists have found that many puppies come from breeders with over 250 dogs being bred at one time. This is extremely unethical as it is cruel to the dogs, unsafe, and creates a surplus of puppies who will never get a home. There are plenty of dog rescues, puppy rescues, small breeders, and shelters who have dogs of all ages for adoption.
Cons to Consider
When purchasing from Pawrade, you may have a perfect, positive experience. The payment is very secure and you can guarantee it is not a scam. On the other hand, there are many ethical concerns when adopting puppies online. Some of the main cons to purchasing from Pawrade include:
Not being able to access up-to-date vet records for your puppy
Not being able to purchase older/senior dogs who are in desperate need of a home
Not being able to purchase dogs who are at a high risk for euthanization
There's a possibility your puppy will come from a large-scale, unethical breeder
You lose the opportunity to rescue a dog and save their life
Where to Buy
If you decide Pawrade is the best option for you, the only place to purchase the puppies they list securely is directly from the Pawrade website. You can browse this website from your mobile device or computer. If you decide to purchase a puppy from another vendor, be sure not to use websites such as Facebook Marketplace or Craigslist.
There are many other online puppy websites that are easy to find and secure. The best option is always to adopt, not shop. You can browse local shelters, the ASPCA, online rescues, or puppy adoption events to find a new member of your family.
The Competition
ASPCA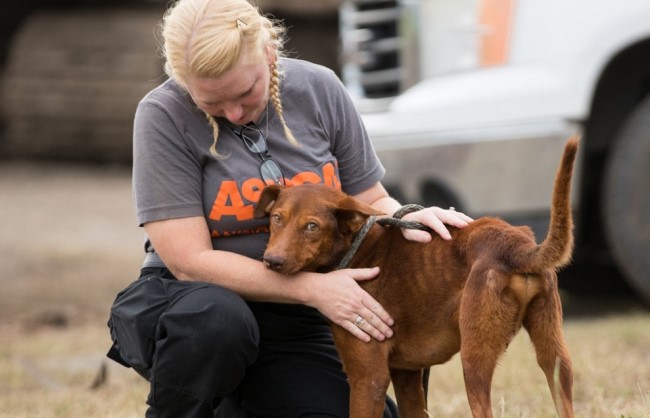 The ASPCA is the oldest animal welfare organization in the United States. They dedicate their time to rescuing animals who are homeless, injured, abused, and in need of assistance. They care for thousands of animals across the country and have a website and locations in most locations around the U.S. The ASPCA rescues tens of thousands of animals a year. You can find puppies, adult dogs, senior dogs, cats, and other animals.
American Kennel Club
The AKC Rescue Network is the largest network of dog rescue organizations in the U.S. They work with dog rescues across the country to create a comprehensive database of pets that are available to rescue. The average adoption fee for these pets is only $100-$300 and they run tests to make sure the customers are a good fit to rescue an animal.
Local No-Kill Shelters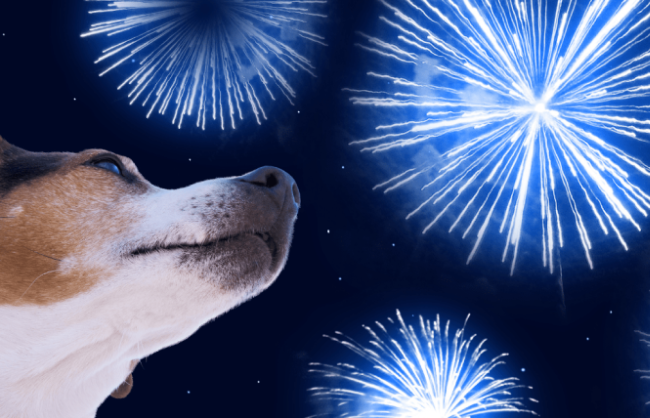 While adopting from any rescue organization is a great choice, it is very beneficial to spend your money supporting no-kill shelters who do not euthanize pets. Many pets, especially older, larger dogs never get adopted and are put down. Supporting organizations who work against this is extremely important. You can look up local rescues in your area and go meet your future family member in person to see if it is a good fit. They can give information about whether the pet is good with other animals, children, and any health issues they may have.
Final Verdict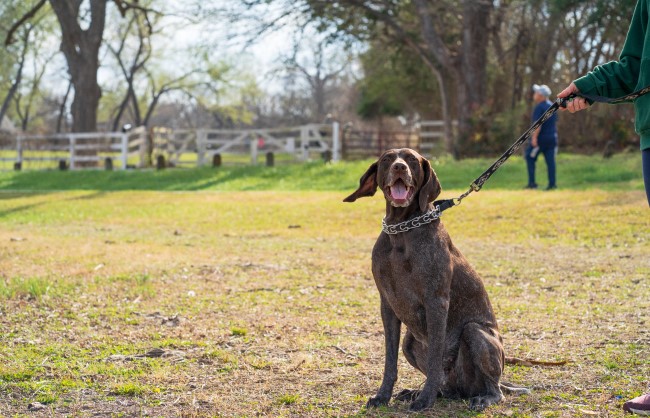 In my personal opinion, I do not suggest purchasing from Pawrade. While their website does make browsing easy and they offer a lot of great information, they can not back up their statements on ethical breeders and vet records. There have been a lot of negative reviews regarding over breeding and health issues. It is always more ethical to adopt and not shop. While you may believe that rescues only have older, common breeds, there are specific rescues just for puppies or certain breeds. Always check these out before sites like Pawrade.
Resources and Further Reading