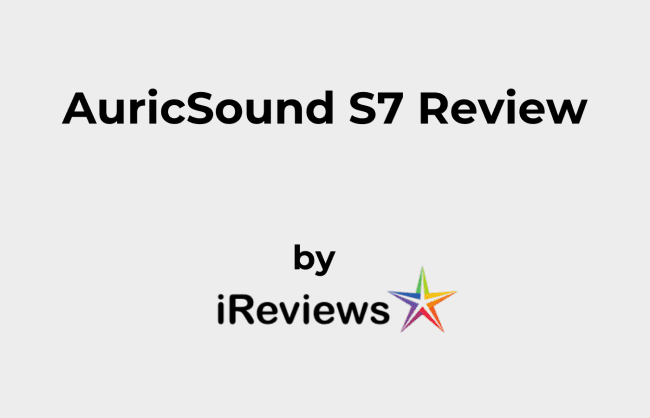 1
Getting the right kind of audio systems for music can be difficult when you constantly need to balance cost and size. There are products on the market that try to find a sweet spot or lean heavily into one end without sacrificing much on the other. The Auric Sound S7 is one such product that comes with numerous features and technology that I want to take a deeper look at today.
For those who want to experience the potential of their headphones, the compact Auric Sound S7 produces high-resolution audio that records at a higher frequency than CDs. Catering to anyone who loves music, the Auric Sound S7 supports numerous formats that include MPS, DSD, DSD-IFF, FLAC, ALAC, WAV, AIFF, MQA, and AAC.
There is a lot more to this device than just what formats it supports though. From the technology to the design there is a lot to dig into with it.
Technology
I want to look at quite a bit of newer technology with the Auric Sound S7 and its systems. Whether it's improving instrument separation, propelling the rhythm, or simply playing music at higher sampling rates, the Auric Sound claims to let you enjoy the music the artist intended.
The Auric Sound Captures music at a higher rate than CDs. This difference is up to 768 kHz or 32-bit instead of 44.1 kHz or 16-bit. the Auric Sound Twin ESS SABRE also comes equipped with a dedicated UBS DAC amp and is MAC, PC, and iPhone compatible.
With support from both DSD (Direct Stream Digital) and 768 kHz or 32-bit PCM (Pulse Code Modulation) encoding formats, the Auric Sound yields an impressive stream of high-resolution audio. The system's frequency reaches between 10Hz to 100kHz which gives it a lot of sounds to play around with. On top of this, a lot of the system is designed to help deliver recording layers with precision.
All of this shows that the technology is there to make a good product, but do I think it's enough on its own? It all sounds wonderful so far, but the connectivity and overall design of the product can still make or break it no matter how good the tech is.
Connectivity
I'm happy to say that there is a large range of devices that the Auric Sound S7 can connect to. It's able to work with headphones, Macs, PCs, and even smartphones.
The Auric Sound S7 comes in two different formats with both digitizing the analog source. According to Auric Sound, DSD captures sound data as a sequence of single-bit values with a high sampling rate of 22.5792 MHz. For reference, this is 1024 times the sampling rate of a CD.
Design
The last important part of the Auric Sound S7 to look over is the design of the product. Looks aren't everything, but how a product is built can have a lasting impact on its quality no matter how high quality the parts are.
Starting with one of the highlights of this product, it's one of the smallest and most lightweight Hi-Resolution DSD DAC on the market. This makes it easy to move around and use wherever it's needed without near as much of a hassle as other sound systems.
the Auric Sound S7 is armed with two USB and USB-C ports and is fully chargeable via one port. Ideal for connecting with an AV receiver, the Auric Sound system is powered by a Twin SABRE Reference 32-bit DAC. The ES9028Q2M DAC propels digital music to the high-frequency level and supports various formats.
This all further aids the sound in coming out in a higher quality than the size of the product would lead you to believe. It's got a surprising kick to it for a system of its stature.
Maxing out at 11.2 MHz DSD and supporting up to 768kHz DSD512 audio, the Auric Sound S7 was one of the first in the industry to support the MQA format. Separated from the CPU main circuit board, the 32-bit DAC/AMP minimizes ambient noise and ensures a high-res audio experience second-to-none.
Other Features
With everything else I've gone over, there are still some features I haven't touched upon yet. I would like to take a chance here to go over the remaining highlights of the Auric Sound S7.
Firstly, the Auric comes with two types of balanced drives. The balanced outputs via the four-pole headphone socket support both the esoteric ACG drive system as well as the more common BTL system.
The Auric supports real-time DSD Conversion. This means it can upconvert all high-res audio content to compressed content to DSD512 quality in real-time.
It also comes with ultra high-res upsampling. This built-in support for upsampling is capable of going up to 768 kHz/32-bit DSD512.
The system is also capable of referencing digital filters. The three digital features it comes with are labeled as sharp, slow, and short. All delta-sigma converters include a digital interpolation filter, to convert the incoming PCM data to the delta-sigma bitstream.
Lastly, the Auric Sound S7 comes with a wireless connection. This is achieved with Hi-End CSR aptX HD which uses Bluetooth wireless audio technology.
Pros And Cons
With everything I've talked about so far, I think it's a good idea to line up the pros and the cons that the Auric Sound S7 offers. I want to allow the most informed choices possible to be made, so I'll be giving what I think are the biggest things for and against it.
Pros
Compact Design
Records at Higher Frequency than CDs
Twin SABRE Reference 32-Bit DAC
Dedicated USB DAC amp
Full Support for DSD and PCM encoding
Cons
Expensive for Planned Release Time
Hard to Get This Model
Final Thoughts
There is a lot to take into account with a product like the Auric Sound S7, which isn't always the easiest device to come across. There is a good chance it still isn't being widely sold, if the time comes I feel it will have a lot of expectations on its head.
I can't fully recommend diving headfirst into this product at this time though. The future for it may not be the most certain at this time, but the second it is fully out and available the technology at play would make it worth the cost all on its own.
PROS
Compact Design
Records at Higher Frequency than CDs
Twin SABRE Reference 32-Bit DAC's
Dedicated USB DAC amp
Full Support for DSD and PCM encoding
CONS
Expensive for Planned Release Time
Hard to Get This Model