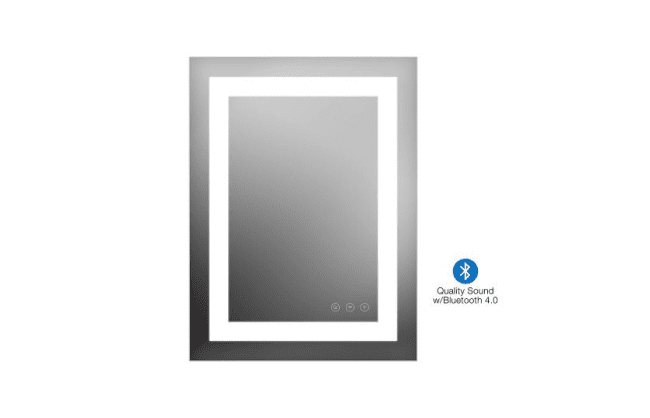 3
Imagine being able to listen to your favorite playlist in your mirror. Or with a touch of a button, connect to an anti-fog feature that leaves your mirror steam-free. The Vezzo Bluetooth 24" x 32" Mirror by GTR Technologies is one of the smartest mirrors on the market today.
Armed with high-quality dual speakers, LED surround lighting and a hands-free calling feature, Vezzo will certainly make your time in the bathroom a full-on experience. Whether you want to chat it up with a family member or prepare for the gym with a Pandora playlist, Vezzo is the perfect mirror for someone who loves a connected house.
With six hours of battery life and a plug-in option, you can easily mount the Vezzo smart mirror in any location in your house. It comes with a solid wood backing, plenty of connecting ports, and the option to hang it as a landscape or portrait. The Vezzo is the perfect balance between modern and elegant and is designed to fit seamlessly into a living room, kitchen, dining room and of course – a bathroom.
The mirror is also super easy to set up and is pretty much ready to use right out of the box. All you have to do is mount it to your wall, plug it in, and you're set!
Three buttons sit on the bottom right allowing the user to select LED Surround Lighting, Bluetooth Pairing, and Anti-fog. Compatible with both iOS/Android devices, the Vezzo mirror is a sophisticated mirror that refuses to fog up so you can consistently have a moisture free surface.
Here is a quick rundown of the features that come with Vezzo Bluetooth Mirror:
Quality dual speaker sound
Anti-Fog for a moisture-free surface
LED surround lighting
Hands-free calling
6-hour battery life or plug-in option
The Vezzo mirror is one of three smart mirrors from the Viio collection. There's a round-framed Vero 30″ x 30″ LED mirror ($445) that has all the same Bluetooth bells and whistles as Vezzo except that it's round. Then there's the 24" x 64" full-length Vetta mirror ($695), which represents their wireless version – also a fully connected smart mirror.
More information is available on the Viio official website. The Vezzo Bluetooth Mirror retails for $650.
PROS
Bluetooth Connectivity 4.0
Quality Dual Speaker Sound
Landscape or Portrait Hanging
LED Lighting
Hands-Free Calling
Anti-Fog for a Moisture Free Surface