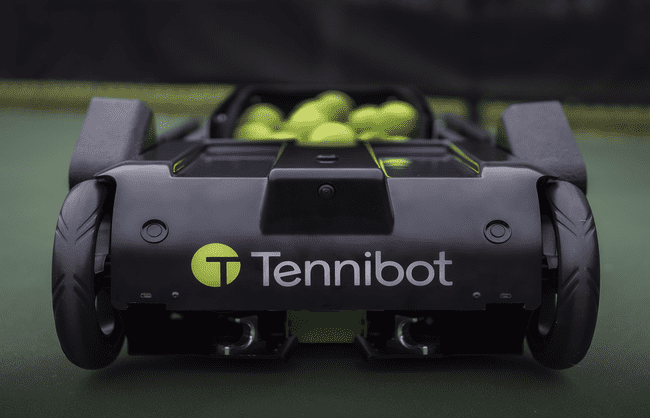 1
If you're an avid tennis player or a seasoned coach, you understand the frustrations of picking up tennis balls. It shortens rallies, breaks up momentum, reduces practice time, and is downright dangerous – bending over in awkward positions between rallies just to pick up balls.
It's not good for your back or your tennis game, for that matter. To address this problem tech startup Tennibot created a smart robotic ball collector that sweeps the tennis courts – retrieving your practice shots.
"Tennibot is an automated personal ball boy that never gets tired."
Designed with complex algorithms, machine learning, and durable materials, Tennibot comes with an intuitive companion app that controls its pickup location. Whether you want to pinpoint the net or behind the baseline, Tennibot can be programmed to start collecting in designated court locations. Once the ball is found, a collecting mechanism gathers the balls and stores them into the machine's basket, which can hold up to 70 balls.
"Tennibot is committed to creating the best player experience for tennis players around the world through innovative technology and beautiful designs that will improve their game level and eliminate frustration on the court," said CEO Haitham Eletrabi in the company's most recent press release.
Imagine after an epic rally with your tennis partner, you can simply enjoy the exchange versus having to retrieve a passing shot. To sit there and marvel at your crosscourt backhand winner instead of watching your opponent track the three tennis balls against the back fence behind the baseline.
There is something lost in tennis when all you're doing is picking up tennis balls. Tennibot eliminates the frustrations associated with collecting balls so you can work on perfecting Roger Federer's one-handed backhand or Serena Williams' powerful down-the-line serve.
Armed with an iOS/Android compatible smart app, Tennibot hopes to change the way we play tennis – making it a more personalized experience. Whether it's reminding you to hit the courts after a long absence or counting the number of balls you hit in a session, Tennibot's companion app keeps you motivated to play tennis without having the worry of picking up your tennis balls.
How Tennibot Works to Help You:
After hitting with a partner or tennis ball machine, Tennibot starts picking up balls. The user can specify a specific location (ex. at the net or fence) or can ask the Tennibot to autonomously pick up every ball on the court (watching the thing go always reminds me of Pacman).
A fisheye camera allows the device to panoramically scan the court for balls. The onboard computer analyzes the information, prompting the robot to move to the abandoned ball. Getting better with usage, Tennibot becomes more familiar with the player's hitting pattern over time.
Once the player finishes practice, Tennibot's elegant and lightweight design is ready to be easily wheeled off of the court.
The Tennibot app tracks the number of tennis balls collected and allows the user to share the practice data on social media.
While the Tennibot is a very interesting device, I do see why even the most seasoned tennis players may choose to skip out on this product. For one, as of the writing of this piece, the Tennibot is only available for pre-order. The Tennibot also retails for $950, which is pretty steep in my opinion.
In doing my research I was able to find this device on Amazon that more easily picks up tennis balls and sells currently for $69.95. While I imagine it's not as efficient as Tennibot, that price makes it a much easier sell.
Overall, while the Tennibot is very cool, I don't think I'd recommend the average, or even experienced tennis player purchase one. I would however recommend Tennibot for owners of tennis courts or country clubs that can be offered to patrons to make their use of the facility easier.
PROS
Two Versions: Personal ($399) and Club ($1,699)
iOS/Android Compatible App
Can run for up to five hours
Elegant and Practical Design
Different Speed/Position Modes
Personalized Software
Social Media Sharing of Performance
CONS
Availability (Sometime in 2017)