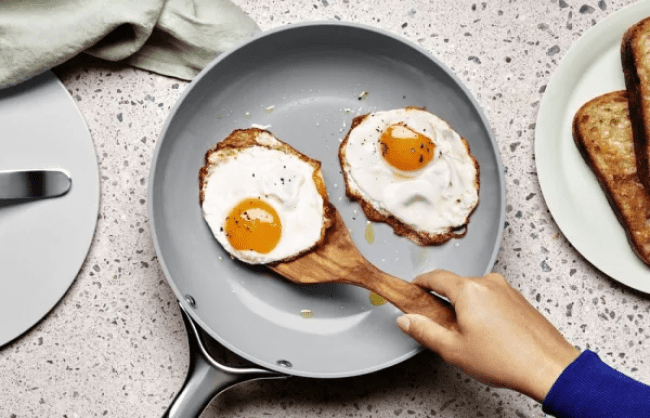 What Is Caraway Cookware?
There are many brands that claim to have the best non-stick cookware. But which brands are the real standout ones when it comes to quality cooking ware?
With praises from the Food Network, Caraway is one brand known for its beautiful cookware that doesn't contain any harsh chemicals that can be found in other cookware.
What sets Caraway apart from the competition is that their cookware features a non-toxic ceramic coating. This provides users with the non-stick finish people have grown to love without the potentially dangerous gasses that can be released from regular non-stick pans.
With "cookware made to complement any home, designed with the home cook in mind", Caraway has earned the reputation of having some of the most aesthetically pleasing cookware on the market. But does the quality of the cookware hold up to the hype? I tried out their frying pan to see for myself!
PROS
Beautiful, aesthetically pleasing pans
They are non-toxic nonstick pans
Oven-safe for up to 550°F
CONS
Products are pricey
The ceramic coating stains easily
The pans burn easily
Product Features
6 colors
Weight: 2.8 lbs
Price: $95 USD
Colors: Cream, Gray, Navy, Sage, Perracotta, Marigold
Using Caraway's Frying Pan
I tried out the Caraway Fry Pan – which can be found in the full set of cookware that is currently retailing at $545. Or, you can purchase the frying pan by itself for $95.
I have used the Caraway Fry Pan several times at the time of writing this review, and I must say I am 50/50 on it.
I've been through many frying pans and tend to cook at a higher temperature than I should (which can lead to burning things onto your pan). However, when using Caraway's pan any burnt pieces that would typically stick to the pan slide right off without an issue! It has become my favorite nonstick frying pan to use.
As shown in the video, some sauce from the chicken I was preparing stuck a bit but was easy to remove. The only thing I noticed was that heating the pan wasn't even as some areas were cooking faster than others. This is honestly normal in a pan, but again just something to note for a frying pan at this pricepoint.
General Care Tips
Although these pans are durable, they are not dishwasher safe, so be sure to handwash them. The finish can wear off relatively easily, so be sure to be gentle with them to ensure they last as long as possible.
When using your Caraway while cooking, Caraway advises that the pans only be used on low-medium heat and if you choose to use oil or butter, only use a little. I did as suggested and noticed the pan took a bit long to heat up.
With proper care, Caraway cookware will last for years. I've actively used mine for a few months and still haven't noticed any scratches on the inner pan and the non-stick is just as effective as it was on day one. However, the outside of the pan is a different story. I made sure to be extra mindful of how the bottom held up, as that was the problem area I saw in many reviews.
As the reviews stated, there was considerably noticeable wear on the bottom of the pan. Here is what my frying pan looked like after 5 uses: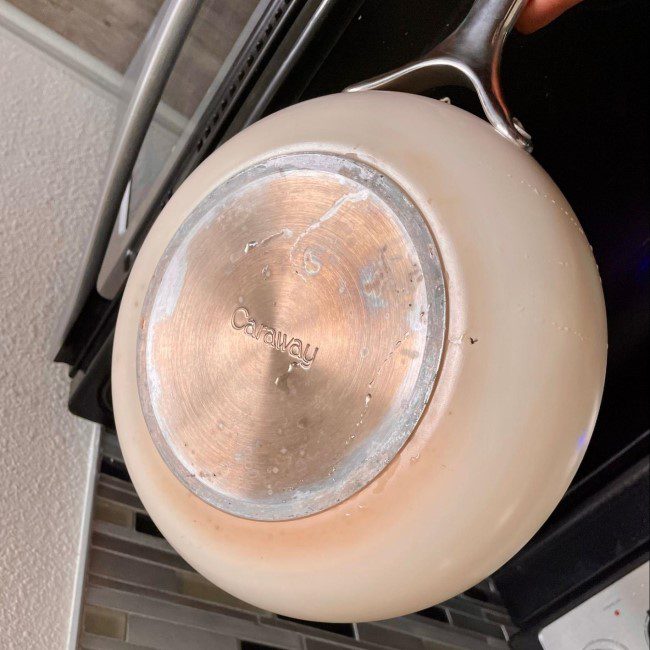 Although the wear on the bottom of the pan is pretty bad compared to the other pans I use, the inside is still holding up well with no scratches or stains. The coating is still holding up very well though, with no complications so far.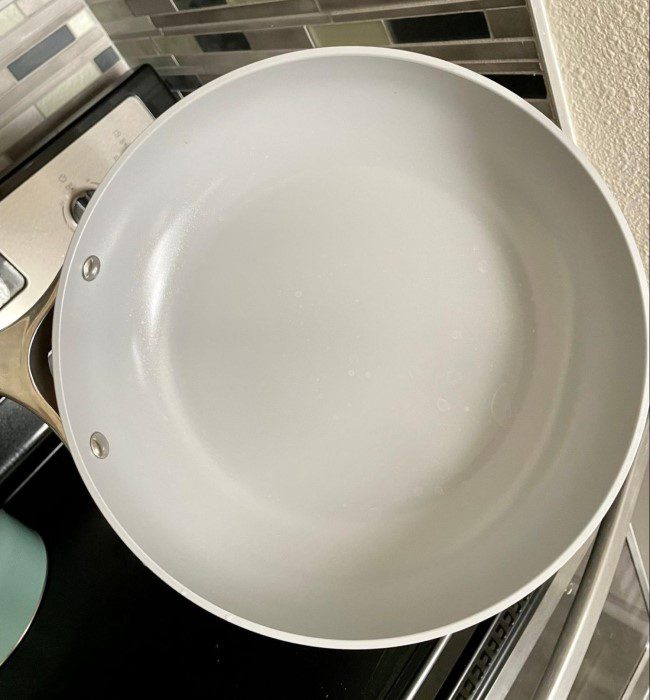 Who's Caraway Cookware for?
One thing I have emphasized in this review is that nonstick cookware is typically not the best finish you can be using when preparing most foods. Not only are the chemicals found in most a reason to use them limitedly, but in most cases, you want your food to stick. Food that sticks more firmly to a pan is often cooked more even and thoroughly.
As for other things, there is no risk of sticking to the pan like there is in frying pans. For example, in the Caraway full set, it includes nonstick sauce pans, dutch ovens, and even sauce pans. Most of the pieces in the set don't necessarily need a nonstick coating as food sticking to the pots won't be much of an issue. Although the set will look great, functionality-wise there are better options.
So, with that being said, I would advise pretty much anybody to only invest in the frying pan if they are interested in trying Caraway.
Here is how Caraway's non-stick pans hold up to other pans: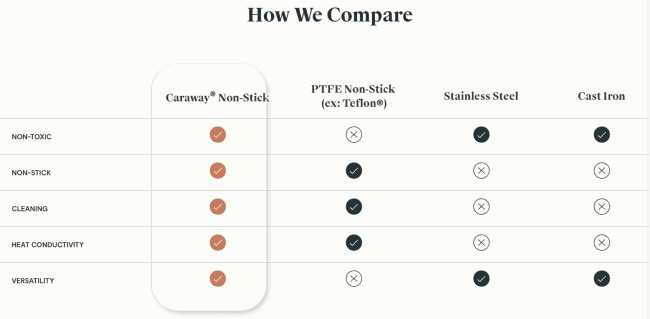 Cons to Consider
Although Caraway sets itself apart by providing a nonstick coating that is non-toxic, most nonstick cookware comes with the caveat of the Teflon coating.
Even though with Caraway, you avoid the toxins, every non-stick pan's coating wears down eventually. Regardless of quality and price, you will typically need to replace nonstick cookware every 2 years on average. With this in mind, it makes sense for most people to opt for a cheaper option of purchasing their cookware separately, or opting for a more expensive lifetime set.
Most professionals in the culinary industry will recommend that your kitchen contains a variety of cookware finishes and materials, and only one or two nonstick pans.
Another sizeable con is that non-stick coatings do not hold up well to higher temperatures. For some dishes, it's best to use higher heats that may end up damaging the finish on any non-stick pan.
Some users have found that the finish on some colors chips away easily.
Other uses also claim that their Caraway was stained.
Many people complain that they don't last as long as they should for the price point.
However, since everyone has individual needs, it's important to know exactly what you are looking for in cookware and how you typically prepare your food to determine if nonstick cookware makes sense in your home.
More Caraway Products
Caraway offers all the products you could want to have a fully coordinated kitchen, in all six colorways they have for each of their product lines. Here, I will briefly go over the other products they sell and how they can be an addition to their cookware sets.
Caraway also has food containers in all the same colorways to store any leftovers you have. The containers are dishwasher and microwave safe (however, the lids are not microwave-safe so be mindful of that).
Much like their cookware set, their bakeware features 11 pieces and comes in the same beautiful color finishes as well as the hefty price ($545). The bakeware also has the same composition, making them also not safe for dishwasher use, so these will have to be hand-washed.
Caraway is known for its aesthetically pleasing cookware, and its tea kettle is another great addition to its full set. The tea kettle is available in all of the colors that their cookware set comes in. However, it's extremely pricey for a tea kettle, and reviews complain that the handle gets hot.
Caraway even has a linen set to finish off your entire kitchen colorway. The set includes Tea Towels, Linen Apron, Oven Mitts, & Pot Holders.
Where is Caraway available to purchase?
You can purchase Caraway cookware on their website, and even in person at other retailers such as:
Comparisons
The main complaints about Caraway ultimately come down to what you get for the price. Many people point out that you can get a lifetime cookware set at a similar price point. So, here are some brands that are a bit pricier, but last for a very long time!
HexClad
HexClad is a favorite of celebrity chef Gordon Ramsay, setting the bar exceptionally high. However, HexClad can be pretty pricey, luckily, they offer a 30% off discount as soon as you go on the website and sign up for their email newsletter.
The 13-piece retails at the highest price on this list at $999.00, but the 30% discount brings it down to $699.99. Another pro of getting a HexClad set is it comes with a great lifetime warranty. Only available on HexClad's website.
All-Clad
All-Clad is a highly-praised and well-known brand. All-Clad is even the recommended brand for the best superior quality cookware by the New York Times.
You can find the essential nonstick cookware set that features 17 pieces here. Although it originally retails at $700, you can sometimes catch them on sale for as low as $299.99!
Final Verdict
If you're looking for a good non-strick fry pan that doesn't have the chemicals from a Teflon coating, then Caraway is a great option. The nontoxic properties as well as the beautiful colorways and finishes are Caraway's main selling points. So, if aesthics are a big thing for your and you want your kitchen to have a coordinated color-scheme, this is a great option for that.

However, oftentimes non-stick pans are not the best option when it comes to cooking most things. There are also too many bad reviews to just overlook the sharp decline in quality after just months with most users. I also don't see the point in having all of your cookware be nonstick, and these sets can get pretty pricey!

Another thing I must mention is I don't see any negative reviews on their products on their actual website, which always raises a flag for me. Caraway has a limited review period so most of the reviews you will see on their website are from relatively new users who have probably only used the cookware once or twice.

The full set can be a bit pricey for pans with a life expectancy of a couple of years. So, if you're still interested in trying Caraway, I highly recommend holding out until you catch Caraway Cookware while it's on sale, where you can save up to $150! To keep up with any sales and promotions, you can sign up for their email list.

It's also worth noting that their warranty is a bit strict, with it being a limited one-year warranty "covering any major damage to the body, handles, lids, or anything else that functionally impairs the cookware, other than discoloration or damage through wear & tear.". Most cookware in this price range has a longer warranty, and I've seen complaints about Caraway being reluctant to replace cookware and accept claims.