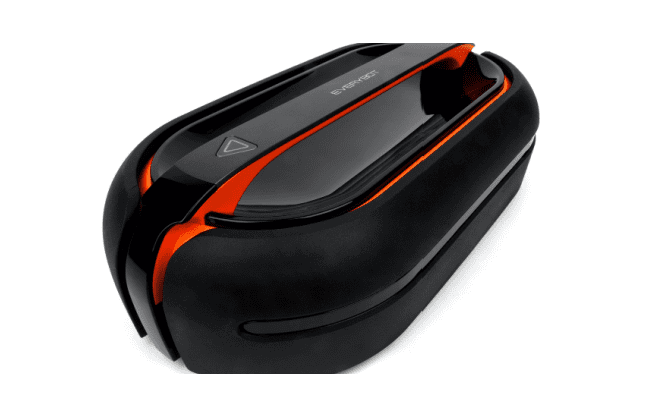 15
Technology is here to make our lives easier. Instead of wasting countless hours on mundane tasks, like household chores, we're able to spend our time doing more important things. From the Dyson 360 Eye vacuum to the Winbot 950, cleaning robots have the job of keeping our houses tidy while we're continuing on with our day-to-day lives.
Equipped with sophisticated obstacle avoidance sensors and powerful cleaning systems, cleaning robots have come a long way. The RS700 is no exception. The revolutionary cleaning robot by Everybot is designed to tackle the most stubborn dust, dirt, and stains in areas tough-to-reach and hard-to-see.
Everybot's RoboSpin Technology
Coined "the ultimate robot mop cleaner," the Everybot RS700 comes with dual spinning mops backed by two powerful 5700 RPM motors and the company's patented RoboSpin Technology. The end result: a thorough cleaning process that integrates the RS700's microfiber mop pad with a variety of optimized modes that adjusts depending on the cleaning project.
With the added bonus of built-in directional and multi-axis sensors, you won't come home to find your cleaning robot pinned in a corner with the rest of your floors dirty, making it a huge upgrade compared to previous models. The RS700 knows to avoid walls, kitchen islands, stairs, pets, etc. and complete the task at hand.
The recipient of an Honoree award for Design and Engineering Innovation at the 2014 International CES, the Everett RS700 differentiates itself with its cutting-edge RoboSpin Technology. In other words, the speed and direction of each cleaning pad is controlled independently – combining both Diving Yarn and Microfiber mop action to tackle the crevices in your home.
The patented MopPad, according to Everybot's Kickstarter campaign, is a "strong absorption and cleaning force with patented mop construction." The Diving Yarn strategically wipes dirt and polluted particles while the Microfiber absorbs fine dust and difficult stains.
Intelligent Design Features
The RS700 comes with a full suite of optimized cleaning modes. Backed by a state-of-the-art Auto WaterSupply system, users will reap the benefits of continuous wet mop cleaning. This has the dual benefits of not having to repeatedly fill your water supply source and at the same time, ensures the right amount of water being used during the cleaning process. In addition, the robot doesn't require any special fluids or chemicals to operate as tap water from your sink will work just fine.
Designed to be user-friendly, the RS700 comes with a OneTouch remote that wirelessly activates any of the eight optimized cleaning modes. Here is a detailed description of each cleaning modes:
Auto Cleaning – basic cleaning mode for everyday upkeep
Y Curve Cleaning – optimizes your Everybot for more thorough cleaning
Focus Cleaning – pays extra attention to one specific area
Corner Cleaning – sweeps the floor through carefully rotating by 180-degrees along the wall and corners
Manual Cleaning – enables you to steer your robot using special arrow key on the remote
Turbo Option – supercharged cleaning for difficult spills
Hand Cleaning Mode – clean anything anywhere with Everybot's handle (desks, tables, glass windows, cars).
Dry Mop Cleaning Mode – absorbs fine dust in a dry mop pattern using electrostatic cleaning method (removes pet hair, clothes lint, etc.)
Incredible Cleaning Performance
So what is one of the major concerns when buying a robot for cleaning? For one, you want to make sure it does a good job cleaning. With eight action-packed cleaning modes, a patented microfiber mop pad, and the added bonus of patented RoboSpin Technology, the buyer should feel pretty confident in the RS700.
You shouldn't have to worry about whether or not your cleaning robot will hit up every section of your house. Thankfully, the Everybot comes with ESA (Exit Shadow Area) technology – a sophisticated sensor that moves the RS700 back into a well-lit location after it's done cleaning – ensuring every spot in your home is clean. The Everybot drives itself back from under the sofa when the job is done.
"The reality of the robot cleaners was that they could not properly clean because there were obstacles in the way and the consumers were dissatisfied about the high price," Everybot CEO Woochil Chung said on Kickstarter, "Our product cleans while rotating but also is made to move and work only with the rotating panel and the mop so that we could reduce the unit cost. Therefore, we produced a product, "Everybot," that meets the practical needs".
The Everbot RS700 and other products are available for purchase on the official website.
Source: Kickstarter
PROS
Dual Spin Mop Cleaners
Water Supply System
Obstacle Detection Sensors
ESA Technology
Patented Microfiber Mop Pad
One Touch Operation
Cliff Detection Sensors
Optimized Cleaning Modes