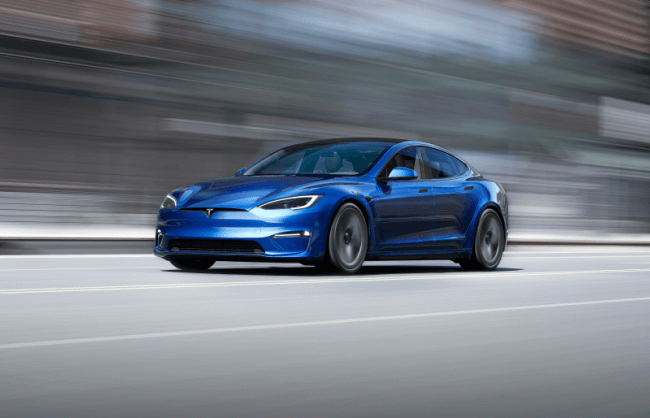 When superior performance and safety comes standard in one of the most technologically-advanced electric cars imaginable you've got yourself a Tesla. Capable of 0-60 mph in an impressive 2.5-seconds and depending upon the package, the Model S ranges anywhere between 490 to 500 miles on a fully charged battery. On the conservative side of things, that means your Model S can travel from Boston to New York without needing to recharge.
Armed with 14 three-positioned LED turning lights circling the parameter of the car and an optimal autopilot hardware system, you can sit back and enjoy your road trip in one of the safest high-performance sedans on the road. The Model S comes with eight strategically-placed surround cameras providing "360-degrees of visibility around the car at up to 250 meters of range," Tesla claims that its panoramic vision makes using its Enhanced Autopilot features 2x's safer than a human driver.
Whether it's the rear view camera (50-meter max distance), ultrasonics (8 m), forward looking side mirrors (80m), or radar (160m), you are fully covered from lane creepers to random objects rolling into the street.
With 40 times more powerful onboard sonar/radar processing unit, drivers are able to see through heavy rain, fog, dust, and even the car ahead. The new vision processing tools, according to Tesla, lets you see in every direction simultaneously.
From choosing the best possible route to managing highly complex intersections, Tesla's intuitive Autopilot hardware is backed by some of the most sophisticated advanced safety features, including collision avoidance, automatic emergency braking, side and front collision warnings, and auto high beams.
If you have the Supercharger feature, you don't even have to worry about charging your Tesla's battery – it does so automatically.
If you've ever been concerned about the air quality inside the cabin of your car, Tesla wants you to worry no more. The Model S features a medical-grade HEPA filtration system that according to Tesla, "removes 99.97% of particle exhaust pollution, all allergens, bacteria, and contaminants from the air."
As one can imagine, Tesla's mission for an eco-friendly lifestyle also extends to the welfare of its passengers.
As you breathe clean, fresh air you'll probably notice Tesla's signature 17″ oversized tablet-like touch screen that controls almost all of your car's functions. Honestly, this thing has more features than my own tablet.
From opening your all-glass panoramic roof to customizing the automatic climate control, you have complete control of your Model S with a simple press of a button. Designed to be as quiet as a "sound studio," the interior of the Model S is an ideal environment to activate the hands-free phone system or listen to your favorite playlist.
Outside of the cool gadgets like the high-def backup camera or the intuitive steering wheel control system, the Model S is considered the most powerful all-wheel drive electric sedan ever built.
Equipped with dual motors – one in the front and one in the back – the Model S digitally and independently controls the torque to the front and rear wheels. The end result: precision control in all types of conditions, improved range, and super-fast acceleration. You'll never have to worry about performance while merging on the freeway during a rainstorm.
The mind-blowing 0-60 mph in 2.5 seconds is a result of "pairing the high-performance rear motor with a high-efficiency front motor to achieve super acceleration." Tesla, when engineering its Model S, struck a nice balance between high-performance and innovative safety features.
Resting beneath the car its own subframe is the electric drivetrain. In the case of an accident, the high-voltage power source is automatically disconnected and eight strategically placed airbags deploy to protect occupants.
Overall, the Model S by Tesla is one of the best electric cars you can get today. It' stylish design and its wealth of features makes this the ideal choice for the car of the future.
PROS
0-60 mph in 2.5 seconds
Autopilot Capabilities
Adaptive Lighting
Bio-Weapon Defense Mode
Electric All-Wheel Drive
17-inch Touch Screen
Eight Airbags