Considered to be the perfect hybrid between an electric bike and a JetSki, Manta5's all-new Hydrofoiler XE-1 is a 400-watt pedal-powered water vehicle designed for the outdoor enthusiast. Equipped with two carbon fiber hydrofoils giving the rider surface lift, the XE-1 is the brainchild of New Zealand adventure sports entrepreneur Guy Howard-Willis.
Manta5's Hydrofoiler Technology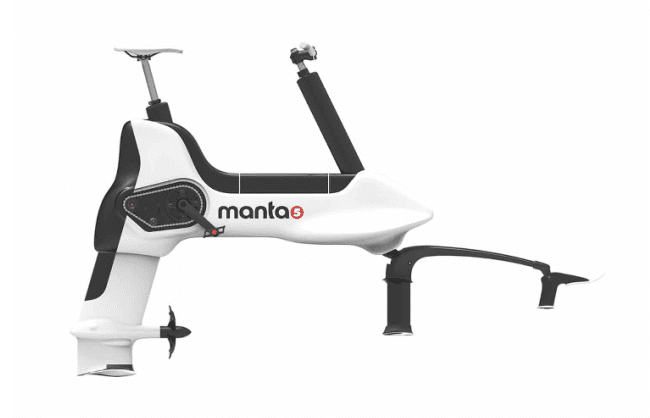 Unveiled as a concept back in 2010, Manta5's Hydrofoiler has been brought to life as a working prototype courtesy of bicycle designer Roland Alonzo. Supported by an aluminum frame and powered by an electric motor that strategically augments the rider's pedaling power to turn the propeller, the XE-1 has a pretty steep learning curve, but the company says novice riders can be upright in minutes and have full mastery in a few hours.
"The world's most advanced hydrofoil bike that allows you to plane across the water's surface like never before."
The Hydrofoiler's cutting-edge design features a set of buoyancy modules that keep the aqua bike afloat while at a stop. This allows riders to get back upright if ever separated from the XE-1.
Engineered without a hull, the XE-1 relies on its modular design features to keep the bike stable. Weighing only 44 lbs (20 kg), about the same as a typical eBike, and designed for riders weighing between 154 and 220 lbs (70 and 100 kg), Manta5's water bike is perfect for both fresh and saltwater sporting activity.
Intelligent Design Features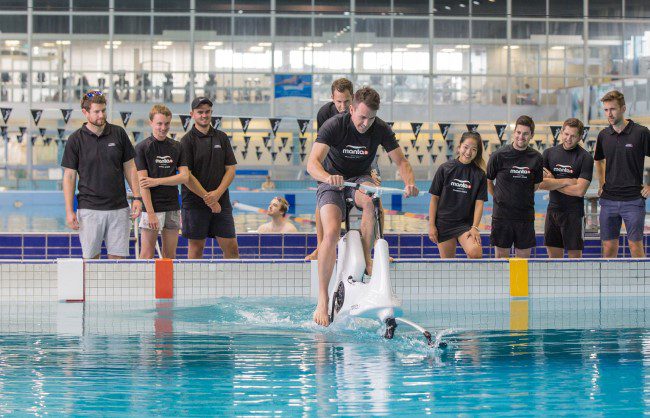 Outside of the aerodynamic modular design features and silent electric motor, the Hydrofoiler XE-1 allows riders to control the amount of torque while gliding across water surfaces. By adjusting the amount of electric assistance, riders can alter the level of assistance – switching between a leisurely outdoor activity and a challenging watersport.
"Hydrofoiling drastically reduces drag, allowing you to easily cut through the fast-moving water."
Capable of speeds that reach anywhere between 9 and 12 mph (15 to 20 km/h), the XE-1 watercraft certainly has no problem ripping through some of the toughest ocean and river currents. Manta5 claims that its limited edition model will easily surpass the top speeds of its standard model – making it a super fun, high-performance water bike.
Whether it's the 400W silent electric motor, the carbon fiber reinforced nylon propeller, the variable pedal assist, or the aerodynamic front tiller, the Hydrofoiler XE-1 is easily one of the coolest pieces of technology hitting lakes across the globe.
Availability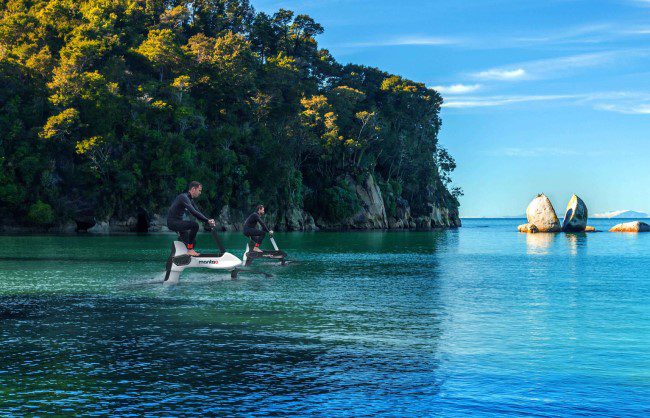 "I want these bikes to go well beyond just being a leisure product – I want it to be a sports product so it's competitive," Howard-Willis said in an interview with New Atlas. "If it's competitive, it's a whole different market it fits into, and who knows, one day it might be in the Olympic games. I can see that, it may take a while to get there, maybe I'm too ambitious, but like I say, I've always been a dreamer."
The "new frontier of cycling" is available from local dealers and the official website for $8,990. Other products for the bike are also available.
PROS
Modular Design Features
Carbon Fiber Hydrofoils
E-Bike Battery & 400W Motor
Variable Pedal Assist
Carbon Fiber Reinforced Nylon Propellar