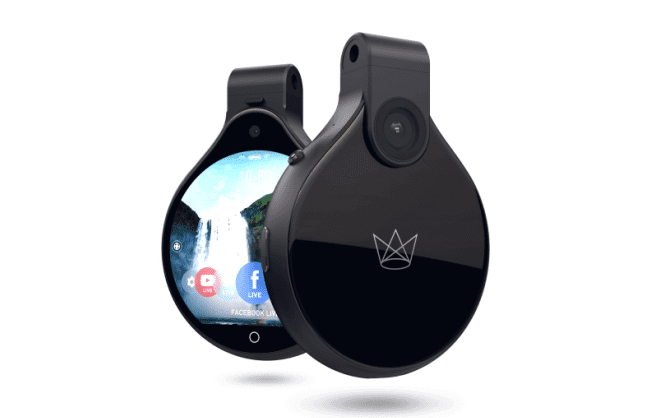 Ubiquiti Labs has introduced FrontRow – a dual camera, live-streaming, wearable, that is aesthetically-pleasing, lightweight, and specifically designed for everyday use.
Intelligent Design Features
Capable of live streaming on Facebook, Twitter, and YouTube, FrontRow captures your day-to-day life using a front 8 MP camera and a rear 5 MP camera. Roughly the size of a large pendant (slightly bigger than a necklace or chain), Ubiquiti Labs' FrontRow measures 59.8 mm (2.4 in) tall and 70.3 mm (2.8 in) wide. The 1.94-ounce pendant comes with a 1.96-inch display that strategically sits above the rear camera unit – hidden from onlookers yet giving easy access to FrontRow's user-friendly interface.
The FrontRow Technology
Poised to compete with Snapchat's Spectacles, FrontRow shoots video at a 1920 x 1080p resolution and comes with multiple modes based on activity. Ubiquiti's rear facing display touts a 640 x 572 (327 ppi) resolution and is powered by the company's in-house proprietary Android interface. Whether you want to stream live concert footage directly to YouTube or capture the moments at you best friend's wedding, FrontRow's application is the perfect solution.
Battery Power
Armed with an Android OS and a Quad Core processor, FrontRow is a powerful device housed in a pendant-sized wearable. Capable of 50 hours of battery life on standby mode, two hours of straight recording power, and between 1 hour 45 minutes and 1 hour 55 minutes of live streaming, users have the time they need to capture the highlights of their event – they can then charge FrontRow through a USB-C port.
Downloading Data/Storage Info
When not streaming, FrontRow allows users to download data to its 32GB of internal storage. Transferring data is as seamless as utilizing the device's Bluetooth connectivity and built-in Wi-Fi. Even without a Wi-Fi connection, FrontRow still lets you record all your special moments in its offline mode – sending your video to its internal memory. Once you jump online again, you'll be able to share the day's footage on your favorite social media networks.
Bottom Line
With the wearables industry struggling to make a practical camera, FrontRow is an incredibly user-friendly yet unobtrusive pendant that empowers its users to capture all the greatness that life has to offer. From the intuitive touchscreen that allows seamless switching between modes (stills/live streaming/offline) to the LED light indicator to lets you know you're recording, Ubiquiti Labs has developed a user-friendly wearable equipped with impressive 1080p camera technology.

Source: Ubiquiti Labs, New Atlas
PROS
Shoots Video @ 1080p
32GB of Storage
Fast Charging via USB
Bluetooth LTE Connectivity
Up to 2 Hrs of Recording Time