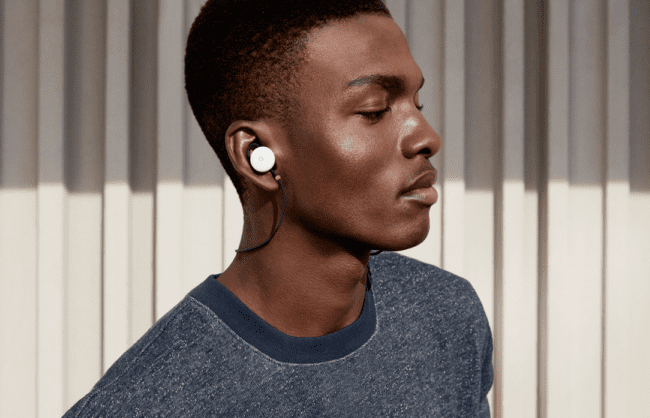 3
Capable of translating 40 languages courtesy of Google Translate paired with a Pixel/Android-compatible smartphone, the all-new Pixel Buds are breaking down the language barrier whether you're a frequent world traveler, a multinational businessperson, or an ESL educator. Google set out to make a pair of earbuds more helpful and they have certainly accomplished their mission. Introducing the ultimate earbud translator.
Intelligent Translator Features
Powered by Google Assistant and Google Translate software, wearers have the perfect combination of digital assistant and personal translator without ever having to take our their smartphone. Whether it's eliminating distractions while cycling to work, accessing your playlist while hitting the gym, or conversing with a French waiter at a local cafe in Paris, the revolutionary Pixel Buds is a hands-free way of connecting with the digital world.
With all the audio controls housed in a touchpad on the right earbud, users are able to swipe forward/backward to control volume, tap to play/pause music, and simply speak to activate Google Assistant. Equipped with a pocket-sized charging case which gives up to 24 hours of listening time, Pixel Bud users can seamlessly pair up their Pixel/Android-compatible devices. If there are any limitations to Google's Pixel Buds, it's the fact that you have to be running Android 6.0 Marshmallow or higher in order to take advantage of both Google Assistant and the Google Translator features. iOS users will be limited to the functionality of basic earbuds – just really not worth the challenge unless you plan on eventually switching to a Pixel/Android device.
User-Friendly Design
Available in three different colors (Just Black, Clearly White, and Kinda Blue), the Pixel Buds "bring Google smarts to your ears" in a cool style. If you want to look like the secret service while answering an incoming phone call, the Pixel Buds are for you. By touching and holding the right earbud you have instant access to a Google Assistant. There's absolutely no need to pull out your phone. If you prefer to have your incoming message read to you while on-the-go, just simply ask Google Assist to make it happen.
"Seamlessly interact with somebody in a different language through nothing but a discreet earpiece."
Whether it's the Pilot, the ili, or the Haiyu, there's been a sudden uptick in smart translators hitting the market over the past year. With that being said, what differentiates the Google Pixel Buds from the competition? For one, the Pixel Buds come with two intuitive software programs (Google Assistant and Google Translator) that transform your earbuds into powerful digital assistant no matter your location across the globe. By simply holding down on the right earbud and saying, "Help me speak Spanish," you're activating a state-of-the-art translator program that eliminates the need to take out your phone in order to speak to someone in Chile. As you talk, your Pixel phone speaker will play the translation in Spanish out loud. When the Chilean waiter responds in Spanish, you'll hear the translation through your Pixel Buds. It keeps the flow of the conversation without needing to incorporate another device.
Google Pixel Buds Availability
Unveiled at the Google Pixel even on October 4th, the all-new Buds connect to one another via a cable around the back of the neck – so they aren't truly wireless earbuds per se. They do, however, connect to mobile devices via Bluetooth technology – allowing you to put away your smartphone for once and for all. The Google Pixel Buds are available for pre-order right now with an estimated ship date scheduled for November 2017.
Google Pixel Requirements
Use of Pixel Buds as an audio headset requires a Bluetooth enabled companion device. For minimum OS and hardware requirements, go to g.co/pixelbuds/help. Additionally, the Google Assistant on Google Pixel Buds is only available on Android and requires an Assistant-enabled Android device and data connection. For available Google Assistant languages and minimum requirements, go to g.co/pixelbuds/help.
PROS
Bluetooth Technology
Hands-Free Listening
Up to 24 Hours of Listening Time
Google Assistant & Google Translate Software
Translates 40 Languages