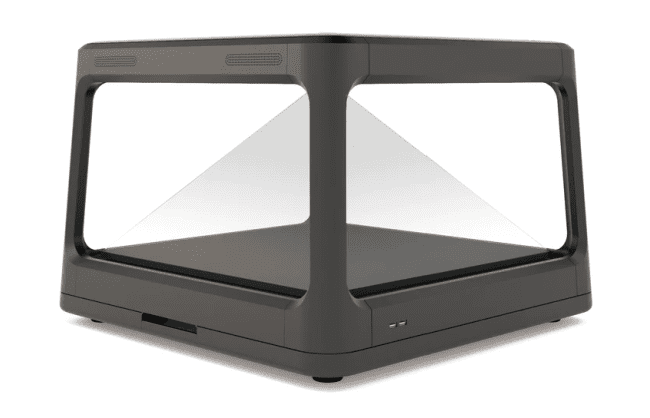 11
Designed to bring back family game night, Vancouver-based H+ Technologies have created a hologram tabletop device that turns 2D games into highly interactive 3D content. Holus is a triangular holographic chamber that projects media content from computers, tablets, and smartphones. With two versions (Pro and Home), Holus is available to users and developers interested in an entirely new way to interact with digital content.
Whether you want to download a digital game from your iPhone or create holographic apps from scratch, Holus is an open platform that brings digital content to life. With a 360-degree view from four different angles, developers can seamlessly visualize their creations and families can interact with digital board games like never before.
Designed for both developers and consumers, the purpose of Holus is simple: to provide a "social campfire" experience where people can overcome isolation in favor of collaborative gaming. H+ Technologies' mission is to "humanize technology by bridging the gap between the digital and the physical world, and between humans and technology." Armed with motion tracking and dynamic stitching technology, Holus allows users to engage with content through tablets, gestures, and even brain control.
Poised to be the next generation in gaming, Holus' 3D system is ideal for educational curriculums and business meetings. Users are introduced to digital content in the most engaging way possible. Imagine students being able to view the entire solar system from all angles or classroom teachers presenting DNA structures that encourage students to interact with holograms in the most unique way possible. This would attract all types of learning styles and at the same time, bring the department's curriculum to the forefront of instructional design and technology.
Whether it's holographic teleconferencing or realistic 3D scans of groundbreaking consumer technology products, the business world is positioned to reap the benefits of Holus' innovation. The possibilities are endless and with an open platform, developers will be at the forefront of integrating holographic technology into the workplace. Different from Augmented Reality (AR) and Virtual Reality (VR) where headsets are required to engage with digital content, Holus is a tabletop device.
Appealing to developers, businesspeople, parents and children, Holus' 3D pyramid has widespread appeal especially when integrated with leading applications. Whether it's the home edition bringing back family game night or the ProVersion tapping into developers' creativity, Holus is poised to change the way we experience digital content.
PROS
SDK
Motion Tracking
Middleware Support
USB Charging Port
Integrated Speakers
Tempered Glass
Wireless Connection
Docking Station
Eco-Friendly