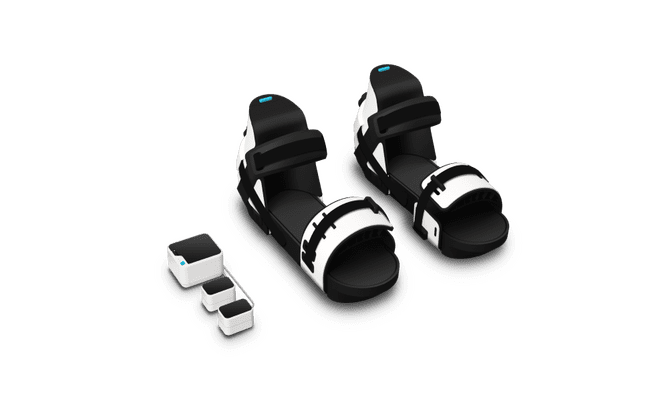 1
Taclim are "the world's first VR shoes and gloves with built-in tactile devices". With two prototype versions on display at CES 2017, the full-immersion VR gaming experience just received a major upgrade. Designed by Tokyo-based Cerevo (Consumer Electronic REVOlution), Taclim is capable of "detecting user movements as input and translating in-VR action to real world haptic output." In other words, Cerevo's VR technology is groundbreaking.
"Imagine walking in a VR game and when you kick an enemy's body, it naturally feels soft, and when you hit the enemy's shield, it feels hard. By using your own hands and feet, your whole body is completely immersed in another world."
Powered by eight state-of-the-art tactile devices strategically positioned inside the shoes and gloves, Taclim "generates the sense of stepping on the ground in virtual spaces (desert, grassland, water, etc)," according to a recent Cerevo press release. "It gives users a sense of wearing shoes worn by the virtual character and brings a sense of touch."
By joining forces with Nidec Seimitsu Corporation – a world-renowned haptic component firm – Cerevo was able to integrate eight tactile devices inside the shoes and gloves. The components are considered oversized at 1.4 inches wide (3.5 cm) which plays a critical role in providing the ultimate VR experience. With three devices in each shoe and one device in each glove, the end result is "increased immersion above and beyond what is currently experienced visually and aurally in the VR world."
Turning heads at CES 2017, Cerevo demonstrated the Taclim wearables by showcasing a new PlayStation VR game called, "Headbutt Factory." Developed by Gemdrop, Inc., Headbutt Factory will be offered free with the purchase of Taclim. Taclim will be available in two different versions – one designed exclusively for crowded wireless environments. The Sub-GHz will allow users to connect to Taclim's VR platform regardless of competing Wi-Fi and Bluetooth devices.
With an SDK platform welcoming developers, the sky's the limit. Cerevo's haptic device reaches entirely new levels of VR immersion.
Sources: Cerevo, CES 2017 Press Release
PROS
8 Built-In Haptic Devices
9-Axis Sensors
Free Playstation VR Game with Purchase
Two Different Versions (Sub-GHz version ensures stable Wi-Fi/Bluetooth connectivity)
Unity Plug-in SDK Developer Platform
Price: estimated between $1,000 – $1,500
CONS
Availability (Estimated Fall 2017)