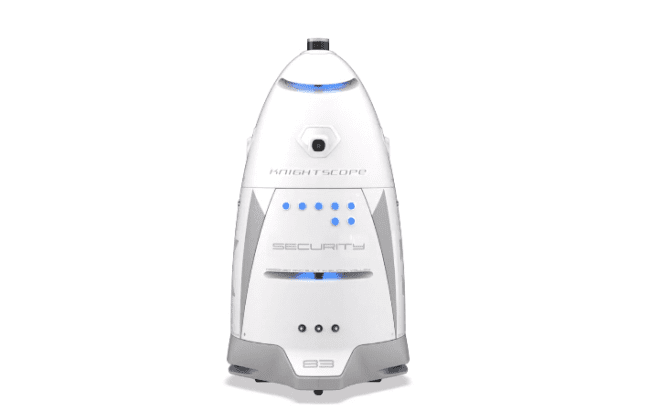 4
Knightscope, a California startup, has developed a fleet of crime-fighting robots called K5. Resembling a taller (5 feet) and more robust (300 lbs) contemporary version of R2D2, the K5 is armed with highly sophisticated predictive analytics technology capable of detecting suspicious activity.
Designed to assist security officers in corporate environments, malls, hospitals, etc., K5 uses an arsenal of sensors to not only capture criminal activity in real-time but report it to authorities instantaneously.
Confined to a predetermined geo-fenced area, the K5 security robot has automatic license plate recognition (ALPR), directional microphone proximity sensors, thermal imaging capabilities, and is equipped with light detection and ranging (LIDAR) devices. In other words, this is one intuitive Robocop. With its thermal camera capable of seeing temperatures ranging from -30 degree to +500 centigrade, there's no hiding behind a vault door or trespassing on private property if K5 is on patrol.
For the hourly rate of $7 per hour, you can rent K5 from Knightscope and easily integrate its technology into a corporate campus' security platform. Already being used in software companies throughout Silicon Valley, K5 is best suited in situations where employee safety is a concern, corporate espionage is a possibility, rogue networks exist, and asset protection is needed.
Co-founder and former law enforcement agent Stacey Dean Stephens and his partner co-founder William Li designed K5 "in response to the tragic events at Sandy Hook and the Boston Marathon," according to the company's website. "The founders believed that with a unique combination of hardware and software, they could greatly reduce crime by as much as 50%." With the human attention span limited to five minutes during monotonous hours and the turnover rate at 400%, according to Stephens, the security industry is in desperate need of a sophisticated watchdog.
Whether it's a shopping mall parking lot or the garage beneath a high-tech data center, K5 can scan up to 1,500 license plates per minute and according to the Knightscope's website, "notifies the authorities if it scans a license plate registered to a suspected criminal." With live 360-degree video streaming and advanced anomaly detection, K5 uses its intuitive sensors to capture the activity within its environment. From there, if its anomaly detection software determines there's an actual threat, the system immediately notifies the proper authorities using the Knightscope Security Operations Center (KSOC).
Whether you're responsible for protecting employees at a corporate party or safeguarding sensitive information housed in a data center, Knightscope's K5 security robot is by far one of the most affordable, yet effective solutions. Designed to assist security guards and not replace them, K5 drastically reduces human error and at the same time, alerts authorities beyond the in-house security office. This has the dual function of safeguarding assets and protecting the security guards at the same time.
From gun detection to forensic capabilities, the future is bright for Knightscope's K5 security robots. According to Stephens in TechCrunch, Knightscope's robot, in the future, could "be used to predict and act quickly in tense and violent situations (possibly even mass shootings)." Imagine if a robot could detect the presence of a gun inside a school building or suspicious activity from onlookers prior to the start of a marathon? Peace of mind in the form of a highly-intuitive Robocop is definitely worth $6.25 an hour – that is for sure.
PROS
Live 360-degree video streaming
Real-time notifications
Advanced Anomaly Detection
Gun detection (future feature)
Autonomous Presence
Forensic Capabilities
CONS
Prone to falling over
May not be accessible to everyone