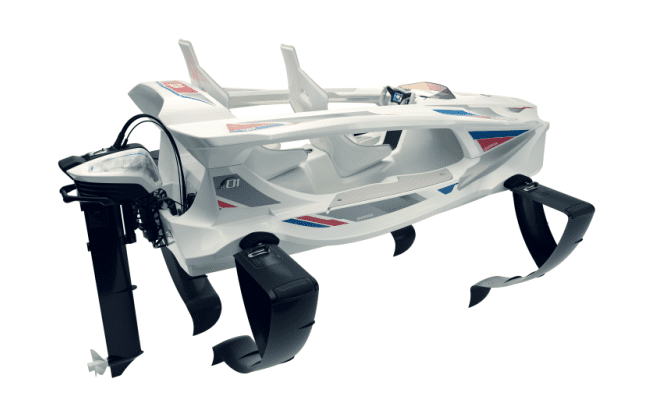 I can tell after looking over a lot of reviews and claims about the Quadrofoil Q2 that it is at least an interesting product out on the market. It aims to be a futuristic-looking electric watercraft that lands somewhere between a Jet Ski and a catamaran, but how do people feel about this product and how it handles?
Priced right around $33K, the Q2 has been described fondly by some but has been critiqued by others. My goal with this small review is to list out some details about the Quadrofoil Q2 and the general consensus I've found on it to tell you what I've found to be a collection of thoughts people have had about it.
Quadrofoil's Advanced Technology
Equipped with advanced hydrofoil technology, the Q2 has a turning radius of 23 feet, or7 meters, and can reach speeds up to 24.85 mph, or 40 km/h. The main feature of the Q2 watercraft is its C-shaped hydrofoils. This addition allows users to enjoy an above-the-water flying experience at just over 6.5 knots.
Several have claimed this all leads to the Q2 seamlessly cutting through the waves. The product itself is fitted for lakes, rivers, the ocean, eco-zones, nature reserves, and water canals.
Available in two models, theQ2A Electric and the Q2S Electric, consumers have the option of a 3.7Kw outboard motor or the 5.5Kw motor. The Quadrofoil Q2 is made out of lightweight, corrosive-resistant aluminum alloy and is engineered for optimal performance on any water surface.
All of these features are put together to create a machine that sounds like a wonder on the waters. It's not without its complaints in regards to these features though. While there are few complaints about how it handles, there are some who think that the top speed can feel tough in rougher waters. While there are few who complain about the slower speeds or how it functions in smooth water it is worth keeping in mind that there is only so much any advancement can do to keep a bad case of motion sickness at bay.
Intelligent Design Features
The Q2 comes with a Formula 1 inspired detachable steering wheel that aims to make carving through the water as seamless an experience as possible. With the maneuverability of trimaran speed boats, the Q2 has a turning radius of 23 feet, or7 meters, while holding the line perfectly.
On the face of the steering wheel is a color touchscreen display that is the center for both Q2's real-time trip information and diagnostic data. The steering wheel acts as the Quadrofoil's locking mechanism.
Some other reviews describe the Q2 as one of the "most agile and responsive watercraft available today." The electric motor is also regarded as a big plus with the low amount of sound it makes. Capable of fully recharging itself in three to four hours, the Q2A electric motors are managed by an intuitive Battery Management System (BMS) that monitors each cell's performance.
This is a lot of tech that goes into this, and that is clearly where you can see most of the price coming from. Buying a vehicle is never a cheaper affair, but the larger than normal price tag comes about from all these extra modern advancements that go into the Q2
Easy-to-Use, Easy-to-Store
Bringing your Quadrofoil Q2 to shore means lifting and lowering the hydrofoils using the interactive steering wheel display. With all four hydrofoils, the electric motor, and the hull easily detachable, you have the option of storing the key parts of the Q2 during the offseason without a huge undertaking.
Several owners also have the option of Quadrofoil trailers made specifically for the Q2. There's also an inflatable dock designed specifically for the Q2.
This once again shows the Q2's nature as a high-end piece of equipment that your everyday person won't be too focused on getting. It's all about the cost with vehicles such as this.
Bottom Line
If you're looking for an eco-friendly, dead silent, electric watercraft that performs well above the water's surface, then the Quadrofoil Q2 might be for you. The outlook from people who have purchased it is positive, but this is from people who can afford such an expense. Water hobbyists who have money to spare may love this, but others who aren't interested in the water or like things more old-fashioned may want to look elsewhere.
There is plenty more to think about when it comes to a purchase this big, but for the time being, I want to leave you off with some positives and negatives gathered to help you start making an informed decision.
PROS
Unique C-Shape Hydrofoils
Ergonomic Cockpit
Detachable Steering Wheel
Color Touchscreen Display
Advanced Hydrofoil Technology
Impressive Steering Radius
Silent Electric Motor
Next-Gen Battery Management System
CONS
High Cost Even For a Luxury Item
Difficult to Purchase Sometimes