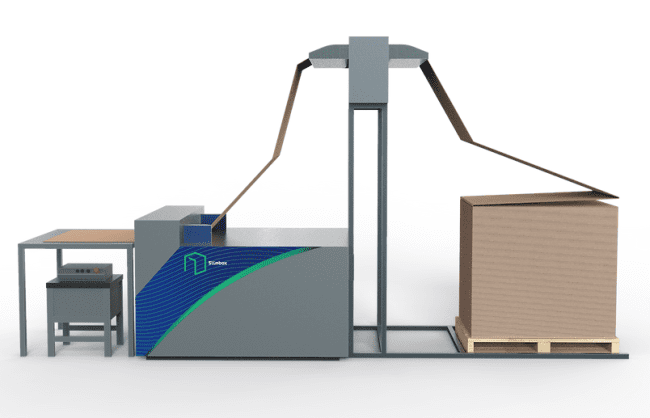 1
Slimbox is a fully customizable small business solution that is poised to revolutionize the packaging industry. Slimbox allows you to create the perfect sized box to ship products and reduce the amount of cardboard waste accumulating from your company. With an estimated 40% reduction in carbon emissions, Slimbox is the most cost effective, eco-friendly solution to shipping waste.
"It will pay itself back in a short period of time, reduce costs as of that moment and make the customer more environmentally conscious," stated CEO Filip Roose. "An overall win-win solution that will change how people look at the packaging industry as a whole."
Whether you need to ship a small bicycle part or an entire dining room table, you can you're your package in three simple steps:
Measure the dimensions of your product and enter them into the Slimbox app.
Insert your cardboard of choice into the machine and hit the start button. Slimbox will automatically start laser-cutting your custom box.
Finally, send your box. Fold and ship your products with Slimbox. This will save you money, time, and space.
Slimbox's intuitive app allows users to control their packaging needs, whether they have a box on hand or not. If you have the dimensions of the item you'd like to ship and a smartphone, you are able to control your shipping process. Whether you'd like to experiment with packaging design by uploading spec drawings or are looking to create your own box by entering the dimensions, this machine is able to laser cut the perfect sized box for your product.
Slimbox, bound by Fefco-standards, laser cuts only corrugated cardboard. According to the company's site, "The unique structure of corrugated cardboard makes for incredible strength and long durability." Consisting of three or more recycled paper and cardboard materials, Slimbox uses only what is necessary to ship your package – making the process more eco-friendly.
"By reusing leftover material, we reduce your carbon emissions by at least 40%."
If you're shipping fragile goods, heavy items, or merchandise notorious for being damaged during transit, Slimbox has the solution. Simply push one button in your app and the machine will cut a new box that fits around your own. You can repeat this process to ensure safe shipping of your fragile, heavy, or prone to damage products.
If you want to speak to Slimbox via your smartphone device, you can do so by either connecting via Wi-Fi or by plugging into a USB portal. The intuitive machine is controlled by its app and is designed to seamlessly integrate into any space, whether it's a warehouse location or a modern office.
Slimbox reuses leftover pieces of cardboard which helps lower packaging costs. By using leftover materials and cutting perfectly sized boxes for your outgoing packages, you can instantly transform your business into a socially responsible enterprise.
PROS
LED indication on the machine: the LED strip on the machine indicates its status (sleep, idle, insert material, in progress…) through different colors and movements.
USB connector to charge and connect any iOS or Android device and a tablet/ smartphone stand.
RJ45 network: when there's no WiFi available, the RJ45 network connection can take over. Having an internet connection is not indispensable.
No extra appliances needed.