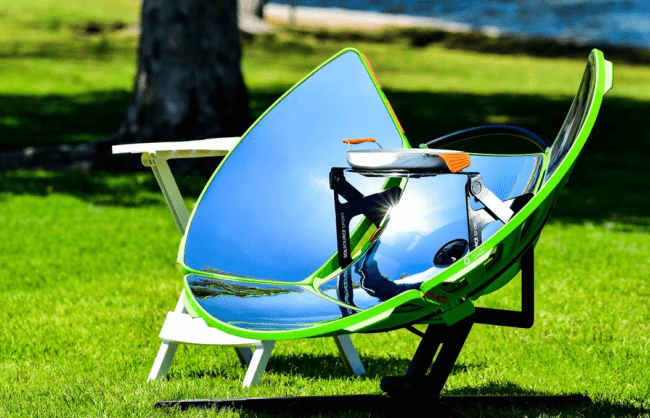 5
One Earth Designs wants us all to join the clean energy revolution and believes that it starts with pollution-free cooking. Introducing SolSource Sport – the compact parabolic solar stove that works by "focusing sunlight onto your pan – delivering intense heat with its efficient reflectors." Designed for quick assembly (less than five minutes), the 100% solar powered stove is super easy to use and perfect for any outdoor activity.
SolSource's Technology
Imagine not having to worry about refilling a propane tank, cleaning up charcoal briquettes, or the smell of lighter fluid on your food. Just simply set up your SolSource Sport and let the sun work its magic. No fuel. No waste.
Whether you want to grill, boil, pan fry, reheat or stir fry, SolSource is a highly-versatile outdoor stove leaving your food tasting delicious and not like lighter fluid. With no special cookware needed and no flame to extinguish, this is one of the most resourceful pieces of equipment on the market.
Intelligent Design
With its compact lightweight design (only 10 lbs), the SolSource Sport fits into a 2-foot camping bag and is assembled/disassembled in under five minutes. Since there's no flame, One Earth Designs' parabolic solar stove is State and National Park compliant and is 100% eco-friendly.
Without the restrictions that come with fuel, the SolSource Sport is the perfect stove for backyard festivities, a weekend camping trip, concert tailgating, a day at the beach, or a cross-country RV trip. It even works in winds up to 30 mph – making it an ideal boat accessory.
Durability
Engineered to produce 1,000W of cooking power, designed to heat up in minutes, and capable of reaching a max temperature of 400-degrees F, the SolSource is an all-season stove that works in the dead of winter or the dog days of summer. Fully operational in outdoor temps that range from 30 to 100-degrees, the solar powered stove works in direct sunlight, cloud cover, or partly sunny days – as long as you can see your shadow, you're good to go.
Backed by $177,000 in funding as of June 1st (2017), One Earth Designs is sticking to its mission to "create and design solutions that integrate social, environmental, and financial sustainability." The legal and certified B-Corp has created a revolutionary solar stove designed specifically for "The Age of Sunlight."
User-Friendly
Armed with polymer reflective panels to absorb the sun's powerful rays, the SolSource Sport lets you cook in the great outdoors with peace of mind. By simply pointing the SolSource at the sun, you instantly have a user-friendly parabolic stove designed for pollution-free cooking.
PROS
Lightweight, Compact Design
Quick & Easy Assembly
No Fuel Required
100% Solar Powered
Eco-Friendly Stove
Works in Winds up to 30mph
Cooks in 30-100 F degree Temperatures
400-degree Max Temp
CONS
Can be used indoors or on rainy days
Heats food slowly
Needs sunlight to work at all