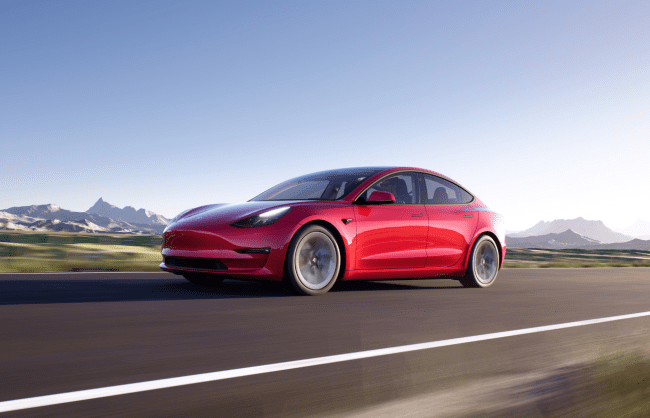 1
Within the first 36 hours of its March 31st 2017 unveiling event, Tesla secured $10 Billion in pre-orders for its much anticipated Model 3 premium sedan. In preparation for its 2017 end of year delivery date, Tesla's Fremont, California factory was able to to make 500,000 Model 3 units.
To better understand the scale of Tesla's operations, Giga, the company's lithium-ion battery factory, will have the largest footprint of any building of its kind, according to CEO Elon Musk. "Volumetrically, it will only be second to the Boeing factory in Washington."
Tesla's Model 3 is a premium sedan that can only be described as stunning. Similar to its high-performance electric predecessors, the Model 3 is the perfect combination of performance, technology, safety, and spaciousness. To name just a few of its countless features: the Model 3 goes from 0 to 60 mph in under six seconds, travels 267 miles on one single charge, and was designed to achieve the highest five-star safety rating in every category imaginable.
If the Model 3's sporty, yet elegant exterior isn't eye-catching enough, the sedan's interior is fully decked out with "next generation" technology. There are even rumors of a high-tech heads-up display that provides drivers with real-time speed, battery life, and navigational information – reducing any distractions from the display screen.
As one would expect from Tesla, advances in battery technology translate into opportunities for the next creation. Updates to the cooling system in Tesla's ultra-quick P100D battery now mean a longer lasting battery. Hence the 215-mile range on a single charge.
As far as Tesla's charging network, there are currently over 30,000 superchargers and over 4,000 destination chargers worldwide. According to Musk, this will allow Tesla owners the ability to get their Model 3 charged and serviced in any mid-sized metropolitan area around the world. "The onboard charger is able to adapt to any country's voltage wherever you go in the world," Musk said. "If there's electricity, you can charge."
Able to comfortably seat five adults, Tesla made sure space was a key element in the Model 3's design features. Owners are able to fold the rear seats flat in order to clear up 66 inches of extra space behind the front seats.
This is called "camper" mode and with the one-continuous-pane-of-glass rear roof, there's a feeling of being connected to the outdoors. With front and rear trunks, the cargo capacity in the Model 3 is incredible.
When asked if a 7' long surfboard could easily fit into the Model 3, Musk replied, "Yes it can." Rather impressive for a sedan that has similar dimensions of an Audi A4.
If you got the dough and you want a high-performance, aesthetically pleasing electric car, there really is no better premium sedan out there. As much as the Tesla brand represents the latest in breakthrough energy innovation, they are also visionaries in the field of mechanical engineering.
As Musk so eloquently put it during the March 31st Model 3 unveiling, "even if you buy this car without any of the available options, it'll still be one of the best cars out there." In other words, greatness comes standard with Tesla's Model 3.
PROS
215 Mile Range (One Charge)
Designed to Achieve 5-Star Safety Rating
Under 6 Seconds (0 to 60 mph)
Seating for 5 Adults
Autopilot Hardware
Front and Rear Trunks
Upgraded Battery Technology