Tropic The Ultimate Travel Shoe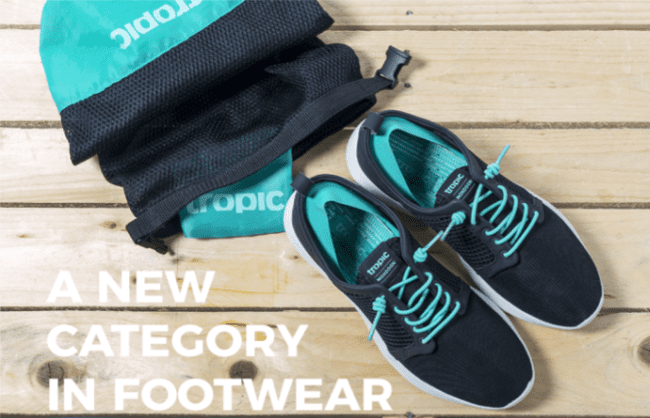 92
When it comes to innovation in shoe manufacturing, it often seems that everything there is to see has been done. Some shoe companies try to strike it big with bold claims of a unique design that is unlike anything else. Tropic's Ultimate Travel Shoe claims it is among the interesting choices when it comes to true versatility.
Combining the versatility of a casual shoe with the freedom of a sports shoe, it tries to be the only pair of shoes you need to take with you while traveling. How well does this work in practice though? There are a few details about this shoe I want to share with you.
Tropic Shoe Design
There are several design features that go into the Tropic Ultimate Travel Shoe that I want to go over. These different components all come together to make the shoe what it is, but is it the sum of its parts?
Outsole
The shoe aims to offer traction on all types of surfaces. The durability of the outsole is thus a topic that is often debated.
With durable rubber, Tropic handles the terrains in the city with its slippery and flat surfaces and the trails out in nature. Its durability is thus one of the main strengths of the shoe and it represents
Midsole
The midsole of the shoes is thin and it is made for proper comfort but with the much-needed flexibility and torsion. With a footbed that is removable, you can even fit your own orthotics if you have low arches.
For most people, the shoes offer a comfortable design with a lightweight supportive feel. With the help of the Agion treatment, they are also made for proper anti-odor control, which is important when wearing them for the entire day while traveling.
Upper
The upper portion of the shoes looks modern. Apart from its aesthetic design, the upper is made with 3D mesh for added breathability.
Even more, it comes with a choice of lacing which includes elastic lacing. This gives you more lockdown freedom. With an added back heel pull tab, they are quick to fit as well.
Unique characteristics
Up to this moment, the shoes are actually similar to other designs on the market. But there are a few unique characteristics that are worth noting. Water resistance is among them.
You can take them swimming or you can wear them while crossing rivers without having to worry that you are going to slip on the rocks in the water. This means that you can also wash them in the washing machine. The durable materials can be used with washing programs of up to 30 degrees Celsius.
Another important aspect of the shoes comes with quick-drying abilities. If you are a frequent traveler, you probably were in a situation where you got your shoes wet and when you had to wait for them to dry.
The Tropic shoes come with 3D mesh technology which means they will dry quickly when out of the water. It also gives them certain freedom which is hard to match with other shoes as you can wear them with or without socks.
When your outdoor adventure is over, you can go for a walk in the city wearing Tropic shoes. With good flexibility, they can be used for other activities such as dancing or cycling through the street of the cities you are visiting.
Luggage space is another problem while traveling. Since you have to pay more to get extra luggage on the plane, the space is often limited to the clothing and shoes you can bring with you.
This is where the Tropic shoes can replace all the shoes you would normally take with you as they can be used both on formal and active occasions. Since they are lightweight, they can also go in your luggage if you plan to use them once you get to your destination only.
Final Thoughts
The shoes were designed and funded on Indiegogo and they quickly became a popular choice for travelers. Startup funds like this are usually risky, but whenever the product does manage to get into the hands of the consumer it is fair to judge them like any other product.
Some complaints got fixed early on by the manufacturers, which is a good sign. One of the areas which saw an immediate response from the manufacturer was the color options of the shoes which are now available for both men and women.
At a weight of just 7oz, the shoes replace your sneakers, aqua shoes, sports shoes, and hiking shoes offering a comfortable 4-in-1 design. Though, I don't think these are better at any one job than specialized shoes. It's just a matter of how much do you really plan on using these shoes, and where are you going to be using them.
PROS
4-in-1 design made for travel
Durable rubber outsole for all surfaces
Made with a removable footbed
Treated against odors
CONS
Not made for cold weather
Some complaints about water retention
Availability