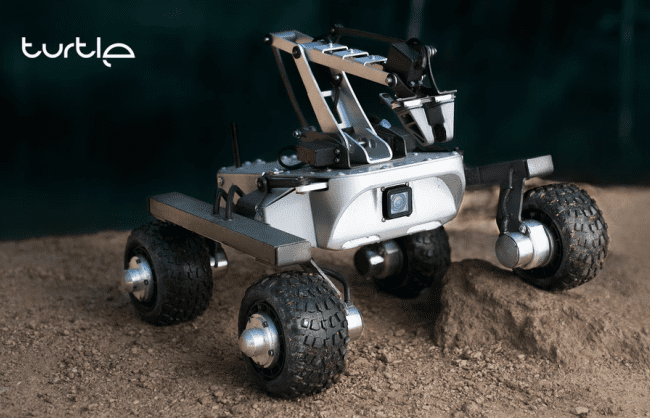 3
Robot exploration of tight areas you can't safely send a human through is an interesting concept. Using the technology we have available today, I think it's more feasible than ever for a regular person to get their hands on a fully functioning machine.
With up to four hours of continuous driving capability and a Wi-Fi range of up to 220 yards (200 meters), the Turtle Rover is a highly versatile open-platform mobile robot designed to explore caves, water reservoirs, and ruins. Equipped with a remote-controlled robotic arm, the land drone is rugged enough to tackle harsh conditions here on Earth. I find the design interesting, but what all goes into it?
Turtle Rover Design
With an open-source platform, the Turtle Rover is a robot I believe is built for developers. Whether you want to add custom electronics, enhance the robotic arm's functionality, or interact with other devices, Turtle's development platform allows users to modify the software to satisfy their imagination.
The creators of the revolutionary Turtle Rover ensured its skills were open to a community of developers interested in seeing the potential of a groundbreaking land drone. The open electronics are based on Raspberry Pi open-source code.
Turtle Rover Uses
For those who just want to have fun exploring different caves with a powerful Rover, you can instantly transform Turtle into a land drone by adding a GoPro/DSLR camera. Controlled by a wireless remote, you can send live streaming HD video of your next underwater cave by simply connecting and opening up a web browser on any device (smartphone or PC). The watertight sturdy design allows the Turtle Rover to explore bunkers and tunnels with small passageways.
By adding any 360-degree camera alongside an external light source, you have yourself an incredibly powerful land and water navigator mapping environments not reachable by humans. Strong enough to transport equipment and intuitive enough to recognize objects around it, Turtle uses Kinect technology to carry items to their final designation.
No matter how challenging the terrain, the Turtle Rover is better suited than most standard robots. The mounting surface of the Rover allows for the seamless carrying of equipment as well. Overall, the machine is well suited for difficult terrain if you are confident you can figure out how to navigate it.
The Turtle Rover App
The Turtle App is capable of providing Rover status updates, recording live HD streaming video, is touch screen ready, has an emergency stop button, and works with pretty much any device with a web browser. It gives users the ability to handle much of the system as long as they have a wi-fi connection.
From RECON missions that carry minerals from the depth of caves to recording live HD video of underwater wrecks, the adventure is entirely up to the Turtle owner. To watch the exploration, just simply open up the app and stay within 220 yards of the Turtle Rover.
Final Thoughts
The Turtle Rover is an interesting product that has a small but dedicated group of people who would get an immense amount of use out of it. The Turtle Rover brings the machine operating experience to developers and consumers interested in capturing HD-quality videos of hidden caves, hard-to-reach water reservoirs, and harsh environments not reachable by humans.
Getting your hands on one might cost a pretty penny, but if you think you would enjoy using a device like this then it's a good recommendation. The open-source nature of the product means that there is a lot of tinkering an experienced engineer can do with it. The sky is the limit for someone already well experienced in creating and messing around with machines and code.
PROS
4 Hrs of Continuous Driving
Full HD Camera/Live Streaming
Open Source Hardware/Software
Watertight Sturdy Design
CONS
Availability
Low Stock
Price