If I know anything about zip ties, it's that they're designed to be easy to snap into place and difficult to break. They're a simple product that either does what it needs to do or doesn't work at all. So, that's where talking about any particular product brand gets interesting.
The Z-Lok is one lock that tries to stand out among the crowd of zip ties. It's a product I see trying to place its quality over its quantity, but the real question is do I think it succeeds at this?
For a zip tie, there is plenty to talk about with the Z-Lok. From its special functions to its strong design, there are plenty of features I want to look at in my review today.
Z-Lok Functionality
I see the main feature of the Z-Lok being its balance between safety and ease of use. From everything I have seen it's designed to be a bike lock first and foremost, so I'll look at how it works with that in mind.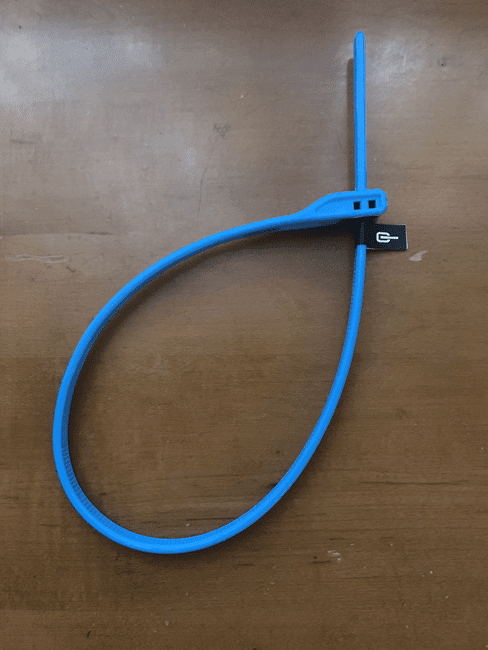 Whether you want to lock up your bike outside a cafe while grabbing a morning Latte or simply secure camping gear to your car rack, Z-Lok security ties keep your stuff safe and are super easy to carry around. Just simply shove one of these ties in your pocket and lock up your valuables during any stop along the way.
The design comes with a stainless steel core and is equipped with a double-sided locking mechanism. Anyone wanting to steal your belongings would have to cut through Lok's stainless steel core or have the universal key. Since your security tie isn't likely to be cut with a knife and only Z-Lok users have the universal key, the chances of seeing your bike lifted are rather slim.
This universal key design is a small problem. While it's not likely most people will have one on hand, it does mean that anyone that has access to the key will be able to unlock your lock. Again, there isn't a high chance of this happening, but I feel it is important to know that your key will not be unique.
Z-Lok Features
In my experience with it and reading up on what others have to say about it I've found it's fair to say that the Z-Lok is more like a lock than a regular zip tie. Though it snaps into place in a similar manner to a zip tie the lock functionality and how hard it is to break make it more of an easy-to-carry-around lock that doesn't have much heft weighing it down.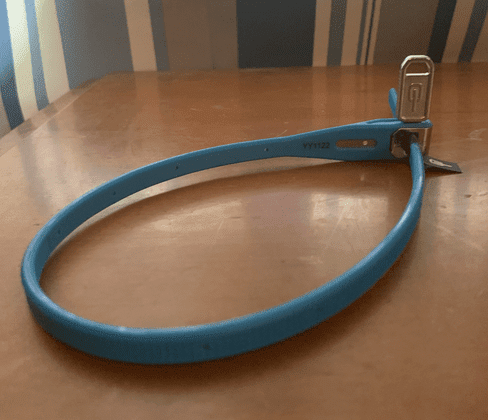 If you ever wanted that added security of pinning down your equipment because of a long road trip, the Z-Lok security ties are a possible answer. Equipped with a double locking mechanism and a highly-durable security cover, I've found it easy to rest knowing that whatever I have tied and locked up is safe and tightly bound to whatever I see fit.
When you're ready to unclip whatever has been tied up the process is as easy as any zip tie or lock. All you need to do is release the Z-Lok using the two-pronged universal key. After that, it should slide off easily and be put away without taking up much space.
There are a lot of little things features that I've come to like with the Z-Lok tie. It's highly portable, tough for an easy to move lock, and is easy to snap in and out of place.
All of this I found incredible for a small tie, but there is a caveat to keep in mind. For the price tag, the Z-Lok comes in pairs of two, which I do find to be a fair price for a decent lock.
However, if you're just in need of basic ties then you can go to the store and buy a whole pack for the same price. I think it's best to think of the Z-Lok less as a zip tie and more like a more bendable lock with the way it's built and how it comes with an actual locking system.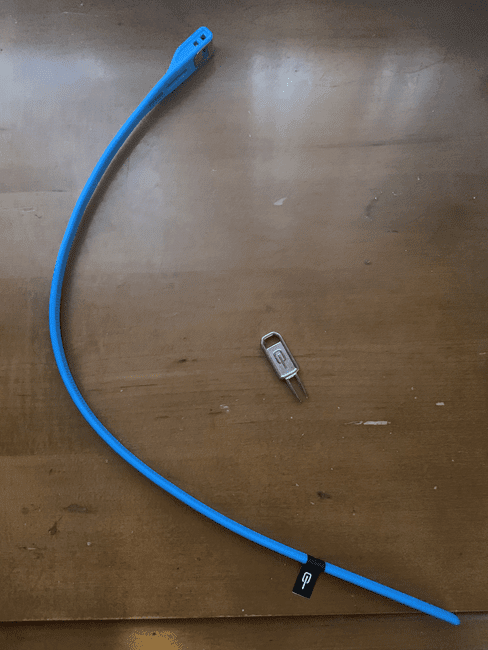 If you only want to keep one item locked at a time and feel like you don't need the second one I would still say it's a benefit. Using two locks adds an extra layer of protection in case you want to zip tie your bike to a park bench. It keeps all your belongings safe with the extra Z-Lok tie.
Smaller additions include a selection of different solid colors such as black. This means there is a little room to pick one that you like and that won't clash hard with whatever you decide to lock it with.
Z-Lok's Universal Key
As much as Z-Lok sounds like the best alternative to carrying around a bulky bike lock wherever you go, there is one major drawback that I've touched a little upon so fat. Z-Lok owners can unlock each other's bikes using the universal key.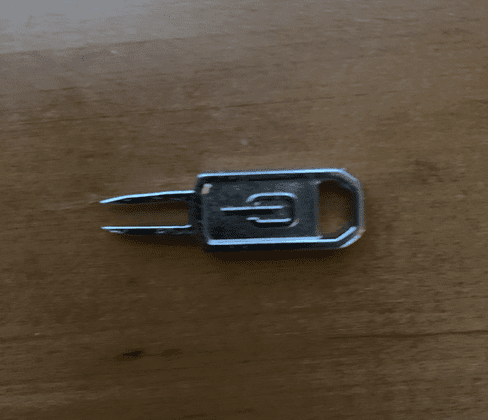 While the tie itself is hard to break, the fact that every owner has access to the same key is a security risk I can't overlook. This means that the risk of a potential thief being able to unlock your Z-Lok with their key is in line with how popular the Z-Lok is in your area and its general population.
If you live off in a small town then this means that it's probably of little issue. If you live in a bigger city the risk may still be minimal as well, as it would still be unlikely for someone to be carrying around this specific key at all times, but it's still something I'm not a fan of.
The universal key does however mean that it should be easy to get a new key if you lose yours. There is at least that positive to go along with it.
Pros And Cons
As with every product on the market, I feel some pros and cons need to be taken into account. I've already gone in-depth about what I feel is the biggest con with the Z-Lok, and I've spent plenty of time lining up plenty of small pluses. Still, I feel it's important to have them all lined up together to best make an informed decision about your purchases.
Pros
Two Per Set
Multi-Functional
Reusable Zip Style
Variety of Colors
Double Locking Mechanism
Stainless Steel Core
Security Cover
Cons
Universal Key
Some Might Not Like the Cost
Hard to Get Odd-Numbered Amounts
Final Thoughts
There isn't much left I feel I need to say about the Z-Lok. It's a simple product with a simple goal in mind, keeping a tight zip tie-like lock on your belongings and minimizing the risk of them being stolen.
I feel like as a protective product it succeeds, and the price point is decently fair. It's reusable, you get two in a set, and they're easy to pop on and off. The universal key does spook me a bit, but in reality, that doesn't add too much extra risk.
If you're in need of a simple zip tie-like lock and don't want to constantly go to the store over and over to buy less than reusable ones, then this may be the product for you. I know I like how they work, and I would highly recommend them to anyone that is looking for that little extra bit of peace of mind.
PROS
Two Per Set
Multi-Functional
Reusable Zip Style
Variety of Colors
Double Locking Mechanism
Stainless Steel Core
Security Cover
CONS
Universal Key
Some Might Not Like the Cost
Hard to Get Odd-Numbered Amounts