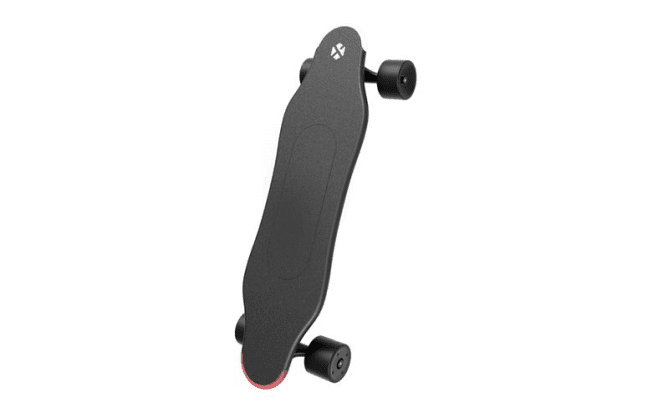 9
Equipped with state-of-the-art artificial intelligence and machine learning software, the XTND electric board is poised to "redefine urban transportation." With a max speed of 28 mph (45 km/hr) and a battery range of 12.5 miles (20 km), the XTND is designed for performance yet comes with a full suite of safety features. From its performance optimization software that teaches you how to safely ride to its stop recognition sensors, the XTND is a truly revolutionary electric vehicle engineered with the rider in mind.
At first glance at the XTND electric board, you would think to yourself, "I have to get past the qualifying round of the X Games in order to step foot on this thing." Thankfully, XTND designed its board for everyone – including those who have never ridden any type of skateboard, surfboard, paddleboard – or any other 'board you can think of. Looking out for the rider's safety at all times, the XTND teaches you how to control the board by evaluating your proficiency. Because it's an AI machine, it's capable of learning your riding style and making speed adjustments accordingly. The XTND is smart enough to not move from its starting position until you've positioned your feet correctly on the board.
This is the beauty of the XTND: it's equipped with AI technology that's constantly learning while you master the board. Your board will belong to a network of other XTND boards and they all get smarter together – thus the magic of machine learning. From tracking your daily routes for the sake of understanding your morning commute to suggest battery-saving alternatives, the XTND board always has your best interest. Armed with built-in pressure sensors, your board only moves when you want it to. If you're whipping down the street and jump off while it's moving, the board stops automatically – knowing that you're no longer in control.
Weighing only 6.6 lbs (3 kg) and powered by a 1,800-watt in-wheel brushless motor system, this is an impressive electric vehicle. Designed to tackle roads at a 20% hill grade, there's really no worries about making it to your final destination whether you live in Boston or San Francisco. The highly intelligent XTND electric board comes with an anti-collision system that prevents high-speed wobbles and makes mid-ride adjustments if it senses any instability. The overall goal is to have you never fall off the XTND while in motion.
You can rest easy knowing that the XTND has one of the most intuitive smart security systems on the market. Controlled by the XTND companion app, owners can digitally lock their board – rendering it inoperable in case any tries to swipe your ride. You not only get real-time notification alerts if anyone moves your board while in the locked mode but since there's a GPS sensor, it'll tell you exactly where to retrieve it once it has been taken. The only thing really up to you is the manner in which you do get it back.
From regenerative braking technology to magnetic wireless charging dock, the XTND is one of – if not THE – smartest electric board in production. Controlled by a smart remote that you simply hold, riders can adjust speed and get real-time information on battery capacity. With a full charge taking only 60 minutes (75% in 30 minutes), you have a quick turnaround time getting your XTND board back on the road.
PROS
AI & Machine Learning Software
Route Optimization
Automatic Lights
Step Recognition Sensors
Smart Security System
Anti-Collision System
Regenerative Braking
Anti-Slipping Cover
CONS
Availability (March 2018)