With 45% of Americans stating insufficient sleep affects their daily activities at least once a week, It's safe to say that we have a sleep deprivation epidemic on our hands. Yet another shocking fact: 30% of adults age 30 or above snore at night. As you're probably aware, snoring not only has a direct impact on the snorer but it also compromises the sleep of the snorer's partner. Thankfully, REM-Fit, a division of Protect-A-Bed, has created ZEEQ – a revolutionary smart pillow to "actively participate in your sleep."
ZEEQ Smart Pillow Unboxing
The world's most sophisticated pillow is more than just a comfortable memory foam pillow: it's a music playing, motion sensing, data gathering smart pillow that collects data on your sleep patterns. Whether you want ZEEQ to lull you to sleep with a soothing Spotify track or gently vibrate you when you snore, REM-Fit's goal is to restore your sleep pattern.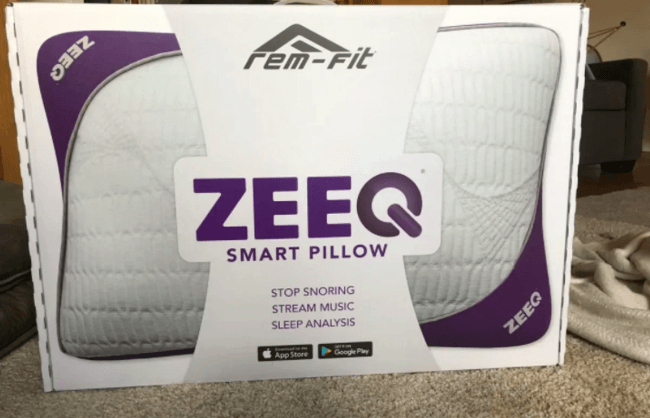 Armed with built-in Bluetooth speakers and backed by the intuitive REM-Fit app, users have the option of connecting to iOS music, Android music, Spotify, or play ZEEQ's customized sleep tracks with Binaural beats. The music is soft enough so that it won't wake your partner and you can seamlessly program the exact moment the music will fade out – leaving you with a peaceful night's rest.
Almost like your own personal sleep lab, the ZEEQ smart pillow tracks your movements at night with its strategically placed nano-sensors. After monitoring your sleep behavior and collecting data, you can track REM cycles, sleep patterns, and your personalized Snore Score.
Capable of detecting the ideal point in your sleep cycle to wake up, ZEEQ's smart alarm is a light vibration that eloquently nudges you awake – making the rise and shine experience a bit more peaceful compared to the fire alarm noise typically coming out of your alarm clock.
As for the pillow itself, ZEEQ is a product with 30 years in the bedding industry. REM-Fit, an expert in pillows and bedding, designed a soft yet durable memory foam shell encased in a removable Tencel pillowcase. Even though ZEEQ is fully-equipped with sensors, speakers, and the latest Bluetooth technology, the flexible tiny components do not interfere with comfort in the least.
With 40% of Americans pressing snooze at least once every morning and 20% saying they didn't wake up refreshed in any of the past seven days, it's time we actually did something about it. From aggressive snoring to simply tossing and turning, the ZEEQ Smart Pillow is the most sophisticated way to get a restful night's sleep. Whether it's changing the vibration strength, listening to Spotify before falling asleep, or activating the Smart Wake feature, REM-Fit wants you to wake up feeling refreshed after the best night of sleep in your life.
PROS
Wireless Music
Sleep Analysis App
ZEEQ Motions Sensors
Snore Score
Premium Comfort
Tencel Fabric Pillowcase
REM-Fit Audio