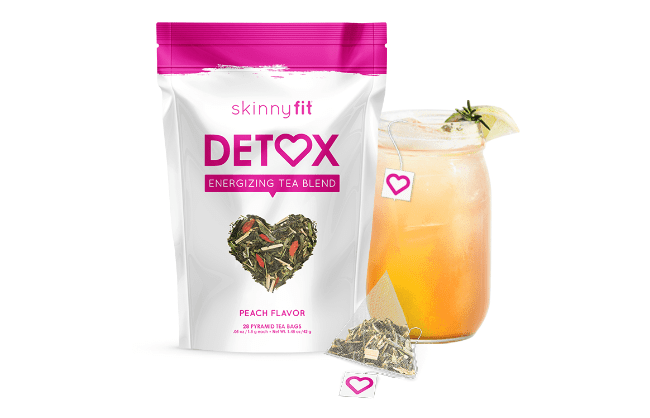 What is SkinnyFit?
No matter how many hours you spend in the gym or how many calories you cut, you may still have some extra pounds that drive you crazy. Even if you hit your goal weight, you may find that you don't feel as healthy as you expected. This is especially true if you followed a crash diet or made changes to your lifestyle that you cannot continue such as spending long hours every day in the gym. Whether you want to get rid of some of the toxins in your body or simply want to feel better, turn to SkinnyFit.
SkinnyFit is a brand that makes powders and other products for health and wellness shoppers. You'll find dozens of teas that detox your body of impurities and supplements you can use before and after workouts. Omar Imani and his brother Anwar Husain launched Smashtech in 2015 in California.
They wanted to build a company that would help shoppers of all ages live a healthy life. This led to them creating SkinnyFit as a way to get their shoppers the products they needed. In our SkinnyFit review, you'll get the lowdown on some of the brand's top products and where you can buy them along with how much they cost and what the competition looks like.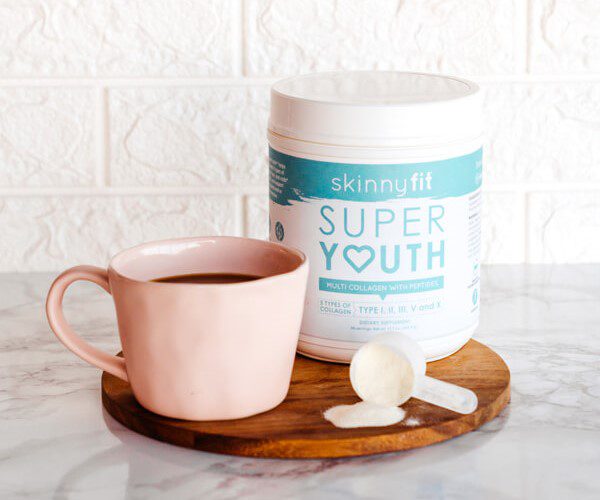 PROS
Offers online advice and recipes for shoppers who need it
You can return any product for free
Subscription plans take 20% off the retail prices
Wide range of products for all types of women
Upfront about product ingredients
CONS
Products can sell out quickly
Many products are expensive
You may not get the results you wanted
BOTTOMLINE
With peptides and dozens of other products, SkinnyFit offers solutions to your health and wellness problems. All orders come with a money-back guarantee that lasts for 90 days with options to save money on subscriptions and bundles.

iReviews Shopping Assistant
Find the best prices for this and many other products with our chrome extension
Product Features
Cost: $50+
Returns: Within 90 days, money back
Shipping: Free
Subscription Plans: Monthly, take 20% off
Product Types: Drink mixes, powdered supplements
Flavors: Tropical, Chocolate, Unflavored, etc.
Collagen Peptides from SkinnyFit
Collagen is a substance that your body produces to help your skin and bones. As you age though, you'll find that you have less collagen than you did before. They can result in easy injuries to your bones and joints as well as skin that isn't as elastic as it once was. SkinnyFit makes a few collagen peptides that help.
Super Youth
Super Youth is one of the more popular products from SkinnyFit. It is a combo of peptides that uses four natural ingredient sources and five different types of collagen.
Unlike other products that have flavors, this peptide is unflavored. You can mix it with almost any liquid that you can name and even mix it with water without worrying about it affecting the taste you love.
This peptide can help you develop the healthy skin and teeth that you want but also give you stronger nails and joints. It sells for $79.95 on its own or $59.96 with a subscription.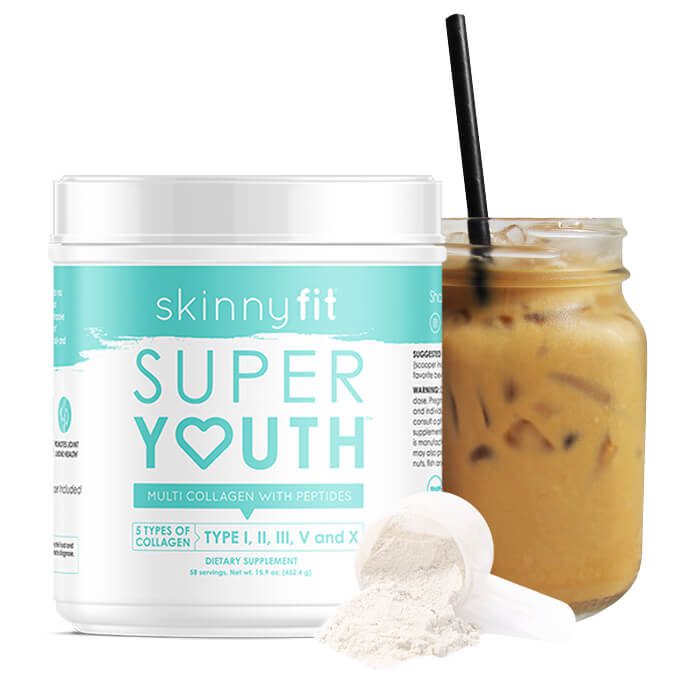 Super Youth Chocolate Cake
Do you love how you look when following a healthy diet but hate that you have to give up your favorite desserts? If the thought of sticking to a diet makes you want to dive into a vat of ice cream, try Super Youth in the Chocolate Cake flavor.
Customers claim that it has a rich and sweet flavor that indulges their sweet tooth without adding a lot of calories. One canister contains 58 servings that you can use to replace a meal or when you need to recover after a workout. SkinnyFit charges $89.95 for a canister and offers a discounted rate of $67.47 for subscribers.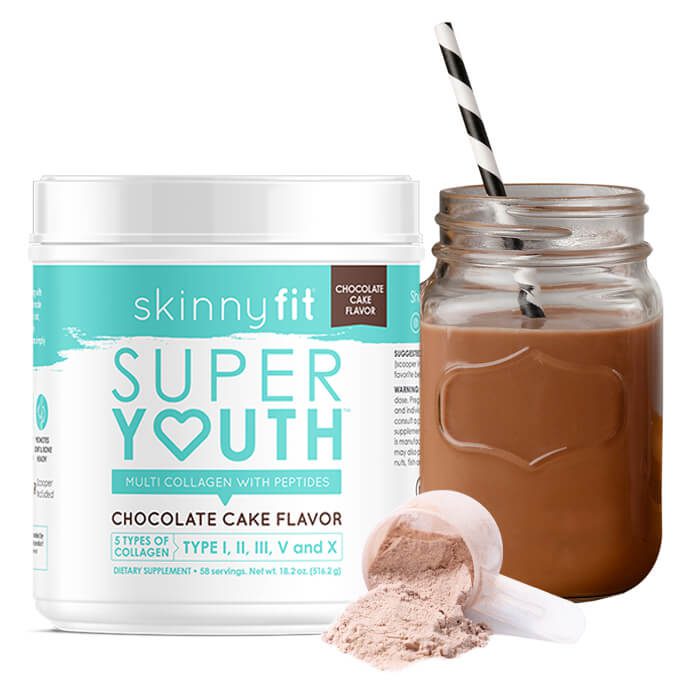 Super Youth Peach Mango
Though some people love sweet chocolate treats, others prefer exotic and tropical flavors, which is why SkinnyFit offers Super Youth in a Peace Mango flavor. When you sip this peptide mixed with water, you can close your eyes and imagine that you're on a beach in paradise.
This fruity flavor also includes a healthy dose of apple cider vinegar that lets you take advantage of that ingredient along with the Vitamin C that your body needs. Available for the same price as the Chocolate Cake flavor, the Peach Mango flavor promotes healthy digestion.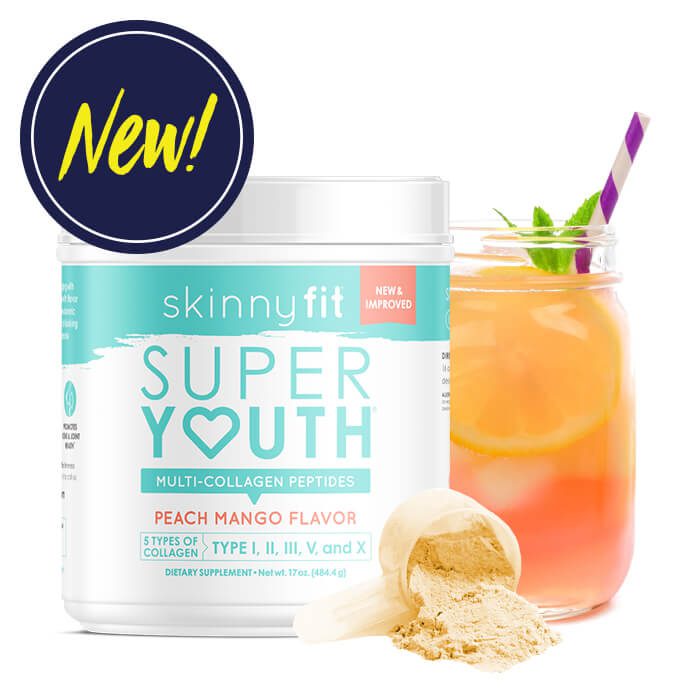 Super Youth Tropical Punch
Many customers love the way the Tropical Punch flavor Super Youth looks when mixed with water. This powder dissolves and turns your water bright pink.
This flavor has hints of pineapple and kiwi along with other tropical fruits to make you feel like you're on vacation with each sip. Not only does this drink mix help you get down to a healthy weight, but it can help you keep the weight off.
This flavor is not always available though. As it's so popular, it often sells out online.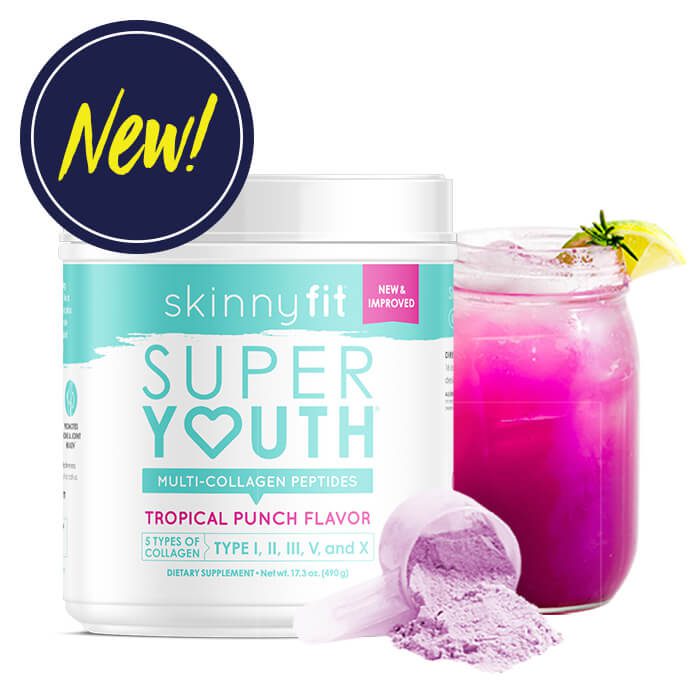 How Can You Use SkinnyFit?
Have you tried other health products in the past and found that they had tons of steps you needed to follow? SkinnyFit makes it easy for customers to use its products.
Let's start with Super Youth, which is a combo of peptides that comes in a plastic canister. To use this product, simply measure two scoops with the included scoop. Add the powder to water and mix until combined.
SkinnyFit Detox is just as easy to use because it comes in measured teabags. Place one of the teabags in a cup and pour eight ounces of hot or boiling water in the cup. Let the bag steep for up to seven minutes before you drink the tea. If you prefer ice tea, follow the same steps and then chill.
Skinny Greens and similar products contain loads of nutrients and vitamins. It comes in an airtight container with a scoop tucked inside. Mix one scoop of the powder with 14 ounces of water and drink it.
The Superfoods line is also perfect for adding to your favorite smoothies. You may find it helpful to add a smaller amount and taste it as some of these products are quite sweet and might be a little too sweet for you.

SkinnyFit Detox Teas
It's almost impossible to spend time on Instagram without coming across at least one member of the Kardashian family. You may notice that they tout the benefits of detox teas and that some even worked with SkinnyFit. The brand now makes two different teas that help you rid your body of impurities. The first is Detox, which retails for $69.96 and drops to $55.96 when you subscribe.
This tea uses 13 different ingredients designed to boost your metabolism and help you at any step on your weight loss journey. Those ingredients include hibiscus, milk thistle and nettle leaf. Each bag comes with 28 individual tea bags that you can use hot or cold.
One of the newest products from SkinnyFit is ZzzTox, which is a tea that you drink at night. Not only does it help you detox, but the tea can help you relax and fall asleep. Lavender and peppermint leaf are just some of the ingredients in the tea.
Many people found that drinking a cup an hour before bed helped them fall asleep and stay asleep. ZzzTox retails for the same amount as the Detox tea does and is also available as a subscription product. Both teas lack the laxative effect that similar detox teas have.
Another thing when it comes to detox teas is it's important to make sure you stay properly hydrated, as these teas will make you pee a lot more than normal. It's not uncommon that people are left a bit dehydrated and may not even realize it!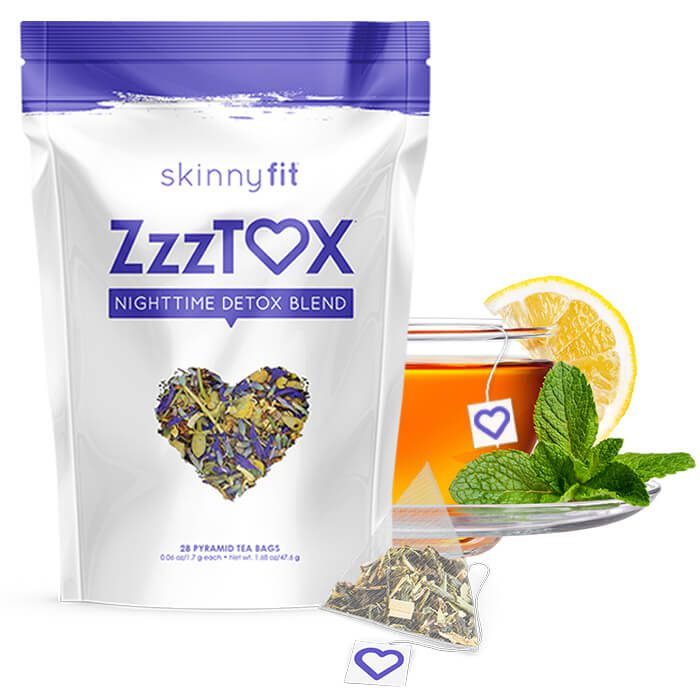 Where Can You Use SkinnyFit?
SkinnyFit makes products that go anywhere you go, especially when you invest in the right accessories. Do you need a pick-me-up in the middle of the day or when you finish an intense gym session? SkinnyFit makes bottles that hold the perfect amount of powder and water that you can take with you.
Whether you love Superfoods or Super Youth, simply whip up a drink in the morning and take it with you. You can do the same thing with the teas. Many users find that the teas become even more delicious when they have time to chill in the fridge.
Not only can you make tea in the morning, but you can even make it the night before and let it steep overnight. Some of the top places where you can use SkinnyFit products include:
When you're on vacation and want to make sure that you stick to your diet and don't consume too many calories.
At the gym when you need more energy for a workout or to recover after a long session.
In the office to replace some of the fatty meals that you usually eat in the middle of the day or to replace the sugary snacks you often grab.
When you're running errands and have a long day ahead of you but want to make sure you maintain your health goals.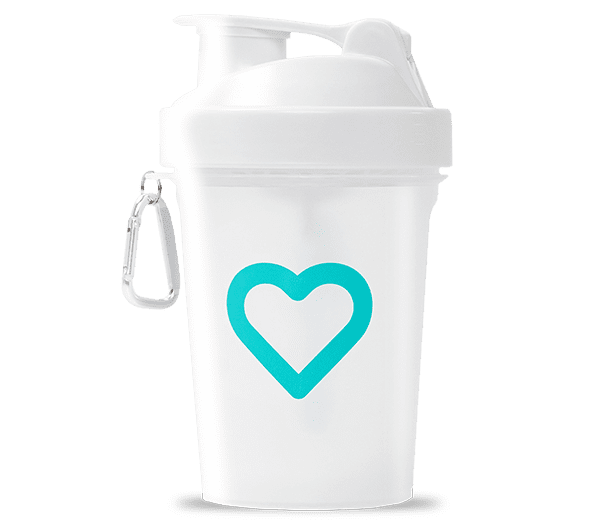 The Super Shaker makes it easy for you to take SkinnyFit drinks with you on the go.
Superfoods from SkinnyFit
You likely heard people talk about the benefits of superfoods, especially during cold and flu season. Superfoods are foods found in the world today that provide health benefits. SkinnyFit knows that you may not have time to cook full meals or make snacks that use superfoods, which is why the brand now offers two products that include those foods.
The first is Skinny Greens. Available for $79.95 on its own or $59.96 with a subscription, it comes in a handy jar that holds 30 servings. Each serving provides you with more than 30 different superfoods, including matcha leaves, turmeric root extract, apple cider vinegar and green tea leaf extract.
Known as its green drink mix, it is perfect for mixing with water or adding to a smoothie. The Skinny Greens mix can help you maintain a healthy weight and get more energy as well as give you clearer skin and boost your mental clarity.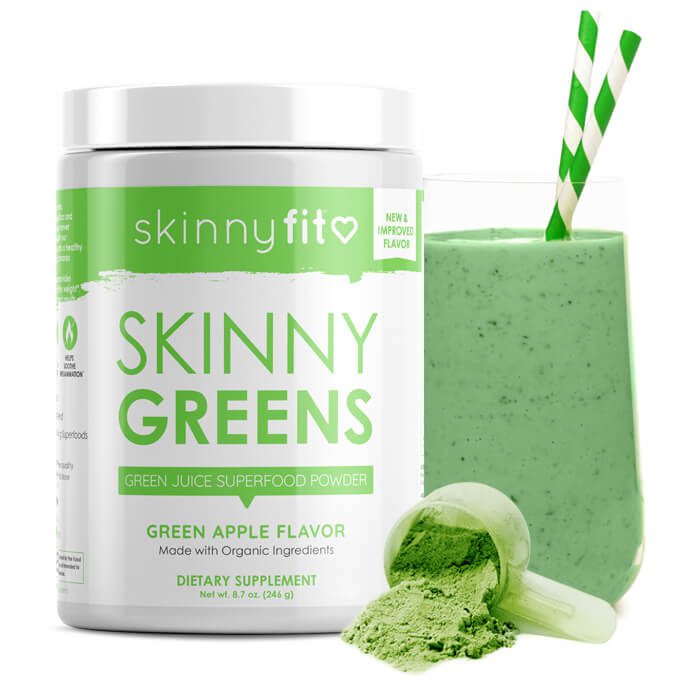 If you want to improve your body and beauty, try Beauty Juice. This is a drink powder that uses red foods and comes in an acai berry flavor. You'll pay $59.96 per jar with a subscription or $79.95 when you order it on its own. Blueberry fruit juice extract, beetroot juice extract and Vitamin C are some of the top ingredients in the mix. Beauty Juice can help your digestion and gut health and increase your energy and focus as it also gives you younger skin.
Who's This For?
The founders of SkinnyFit found an opening in the market and wanted to fill it. They noticed that many health brands focused on men and that other brands ignored the needs of women.
Not only does the brand now make dozens of products for women, but it also gives them an easy and convenient way to find what they need. As the brand become more popular, men started becoming customers, too.
SkinnyFit primarily makes products for people who have health and wellness goals in mind and need help achieving their goals.
You'll find drink powders that help you enjoy all of the benefits of superfoods along with supplements that help you with any issues you have. People who would benefit from SkinnyFit products include:
Those looking for healthy drink mixes that they can easily use at home and at work or when they're on the go.
Customers tired of looking for ways to incorporate superfoods into their diets and want an easier way to use those ingredients.
Men and women who both want to look younger and improve their mental clarity and skin.
Shoppers on the hunt for healthy recipes that they can try at home.
Anyone who needs a little extra help reaching their health and fitness goals.
Check the SkinnyFit blog to find healthy and yummy recipes such as Mini Caprese Skewers.
SkinnyFit Workout Supplements
Do you find that you need extra help when it comes to gym sessions or when you work out at home? SkinnyFit has you covered with workout supplements such as Jump Start.
Designed for those who need more energy, this supplement comes in a powdered form that you mix with a glass or bottle of water. It has a yummy Pink Lemonade flavor that can also curb your sweet tooth.
Each tub comes with 30 servings and sells for $35.95 when you subscribe or $44.95 without a subscription. Some of the benefits of this supplement include giving you more endurance and boosting your mood.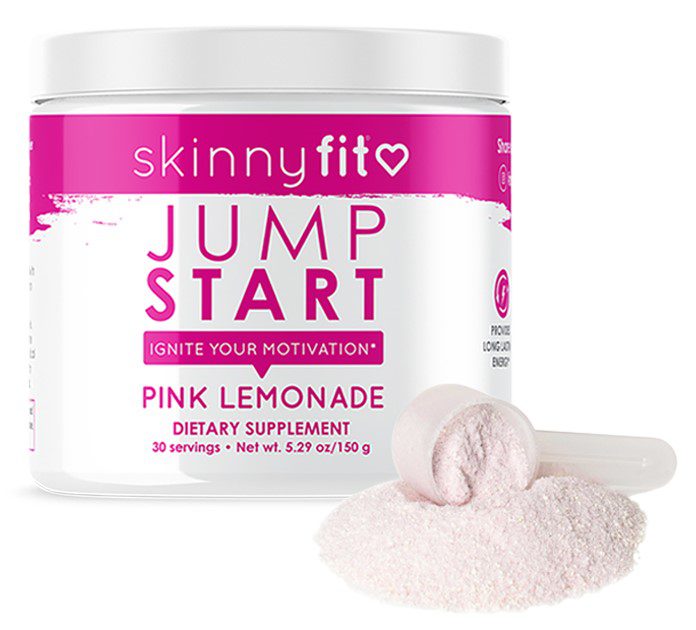 With Repair & Recover from SkinnyFit, you get the support that you need to recover from minor injuries. The brand recommends that you use this powder with water and drink it before a workout. Available for $34.36 with a subscription, it costs $42.95 if you don't subscribe.
This powder comes in a Tropical flavor that many customers love. You only need one scoop of the powder and get 30 servings in a single tub. Not only does the supplement help you build lean muscles and lose weight, but it can reduce unwanted fat and help you recover from some injuries.
Should You Buy It?
Before we look at the cons of SkinnyFit, let's take a look at some of the pros and the top reasons why customers keep coming back.
Thanks to the referral program, you can send 25% off coupon codes and get a matching 25% off coupon each time someone uses the one you sent.
You can choose from other products such as Daily Glow to help your skin and Snack Attack that boosts your metabolism and helps you stay full for longer.
SkinnyFit has a customer service hotline that you can call toll free to get answers to your questions.
There are tons of flavors that add a unique touch to normal water such as Chocolate Cake along with an unflavored option.
You have a full 90 days to try the products that you want and return them for a refund if you're not happy.
All products contain a full listing of the ingredients they use along with some of their health benefits and what they do.
The SkinnyFit blog features new articles posted every week that offer health and wellness advice along with some healthy recipes.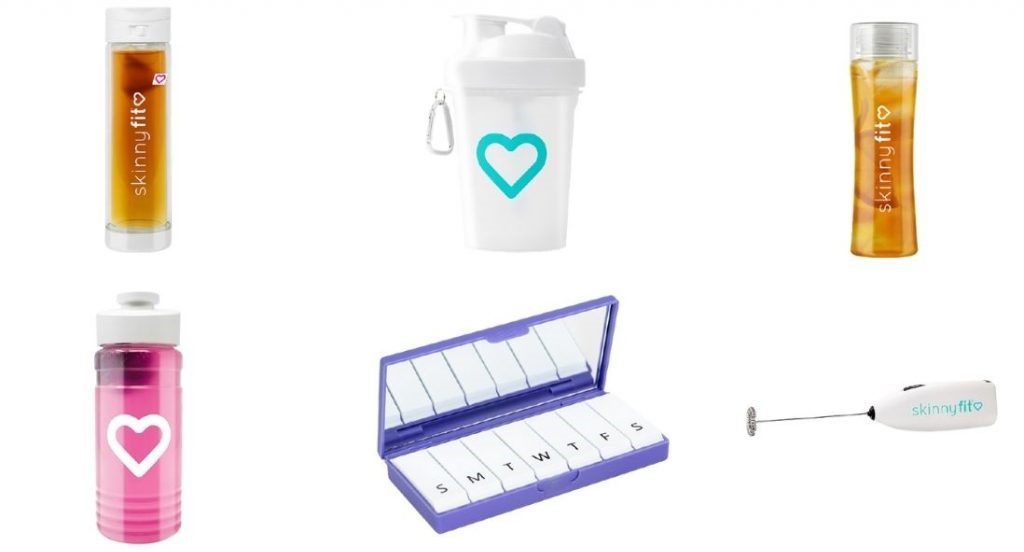 Some of the most popular accessories from SkinnyFit include the brand's Glass Detox Bottle for $34.95 and Mini Mixer for $24.95.
Cons to Consider
While SkinnyFit has many fans and tons of customers, some shoppers had poor experiences with the brand.
The brand has an "F" rating with the Better Business Bureau due to the many complaints it received from customers and the responses from SkinnyFit. One customer claimed that she took the products for three months and experienced no results.
When she reached out to get her money back, the SkinnyFit rep claimed she didn't have an account with them and refused her refund.
Another customer stated that she placed an order and never got an update. Despite SkinnyFit charging her card, the brand claimed that she never placed an order and would not issue a refund.
Some of the other complaints we found include:
The supplements are very expensive, especially when you compare them to the prices charged by other brands.
Not all customers had the same results when using the products as directed.
The brand does not send its products to third-party labs for testing the same way that other brands do.
SkinnyFit lists the ingredients found in each product but does not tell you how much of those ingredients the products use.
A few customers had problems canceling their subscriptions through the site and had to call for help.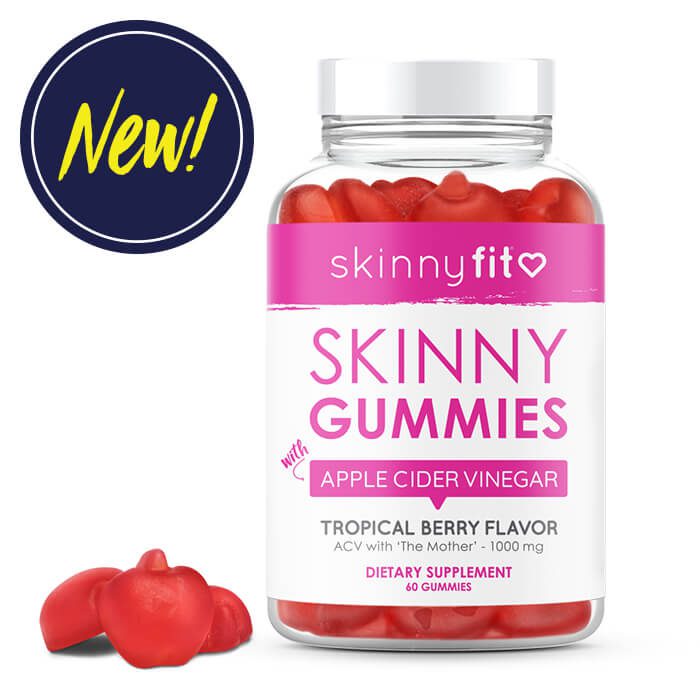 SkinnyFit makes products other than just supplements such as Skinny Gummies that contain Vitamins B9 and B12 along with other ingredients.
Where to Buy
You can purchase SkinnyFit on their official website or on Amazon. We recommend that you take advantage of the subscribe and save option. It's available for all products and allows you to sign up for a plan that sends your favorite products to you once a month and you save 20% on those products.
Another way to save is through the SkinnyFit referral program. You need to sign up to receive emails from the brand, which will often include discount codes. Once you sign up, SkinnyFit will send you a unique link that you can share online or through email.
When anyone uses your link to buy, the brand will take 25% off their order. After they buy, you get a matching 25% off code that you can use on any product except for a subscription. SkinnyFit has no limit on how many discount codes you can earn.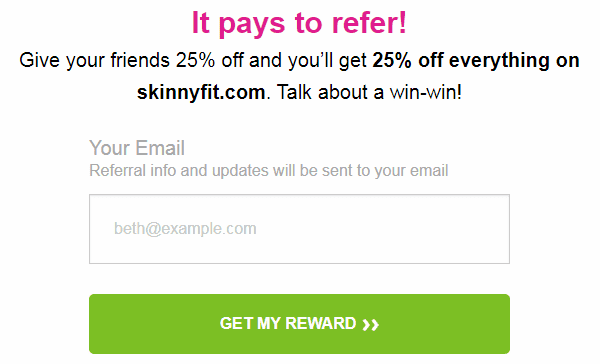 Competition
SkinnyFit has a strong reputation online and tons of fans. Other brands offer similar products, including some that charge more or less.
Care/Of
Care/Of is a new subscription brand that claims it knows your body and what you need. This brand asks you to take a quiz, which usually only takes a few minutes to complete. Your results will show you what you need based on your responses and which products will help.
While you can sign up for a plan that includes all of those products, you also have the option of choosing just one or a few. Care/Of will send you a new supply of supplements every month to make sure that you stay on top of your health and never run out.
Thrive by Level
The chances are good that you know someone who uses Thrive by Level or sells for the brand. Though Thrive is a multi-level marketing company that rewards sellers when they sign up other people and make sales, it has quite a few customers who use the brand's products every month.
You can choose capsules to take with water to lose weight and improve your mood and health or go with one of the drink mixes. Thrive also makes patches that you wear on your skin. The brand claims that wearing a patch every day can help you lose weight.
Nurish by Nature Made
Nurish by Nature Made is a subscription box company that sends supplements to your home. This brand works with others to bring down the prices it charges to subscribers. The Curated Packs are perfect for shoppers who want to try supplement packs that other customers loved.
Everyday Active is suitable for those who spend a lot of time on their feet, while Everyday Relax features supplements that help you battle stress and relax. Nurish by Nature Made also has custom packs that the brand designs when you complete a short quiz. You can pick and choose the supplements that you want to try.
Plexus
Many people compare SkinnyFit to Plexus, which is another multi-level marketing health and wellness brand. When you sign up, you get the chance to try some of the brand's top supplements for less than $10.
Plexus offers so many different types of supplements, including those that assist with gut health and others that help you lose weight and keep the weight off. There are also packs designed for your whole family. For $9.95 a month, you become a VIP customer and qualify for discounted rates on all products you buy. You can also buy from the website and pay the full price.
Final Verdict
One of the biggest issues is that this tea is pricey, with the most affordable option starting at $70. Even if you get discounts through referrals or sign up as a subscriber, you'll still pay $56 or more for a single canister.
Another thing to keep in mind is that there is no guarantee the products will work for you. You may find that you don't like the taste or that you don't get any of the listed benefits. Thanks to the brand's guarantee, you have 90 days to get your money back.
Although there are a lot of great reviews, I'm extremely reluctant to recommend SkinnyFit as being worth it. The concept of detox teas and other products is typically a gimmick, and there are other more affordable options.