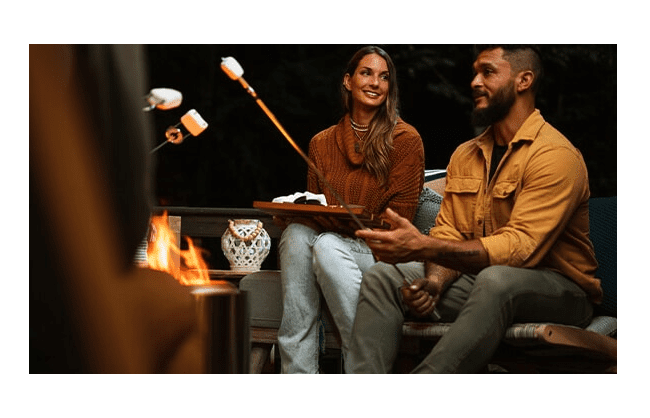 What is Solo Stove?
Solo Stove is a brand that wants to change the way you feel about the great outdoors. This brand makes several portable camp stoves that are easy to take with you as well as grills and barbecue pits. You'll even find some accessories that work with those products.
You don't need to worry about carrying heavy and bulky propane tanks or cylinders nor do you need to worry about finding a place to throw them away. These grills and stoves use ordinary wood and are easy to use for those with little experience.
Find out everything you need to know about this brand and products in our Solo Stove review.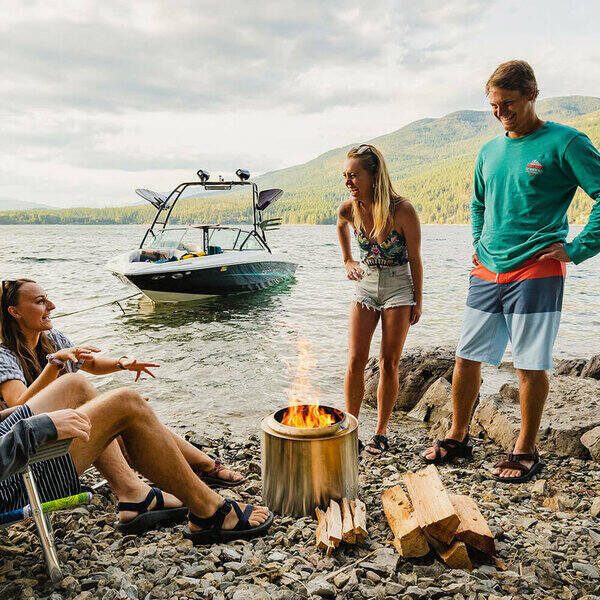 Solo Stove makes fire pits that let you hold bonfires in your backyard.
PROS
Offers lots of grills and fire pits
All products use durable stainless steel
Suitable for use at home and in the wild
Comes with a lifetime warranty
Payment plans are available
CONS
Some products are prone to rust
You may have issues cleaning out the ash
The products are expensive
BOTTOMLINE
Solo Stove offers multiple fire pits and camp stoves along with grills that are great for taking on camping trips and using at home. They use stainless steel to show their durability and come with a lifetime warranty.

iReviews Shopping Assistant
Find the best prices for this and many other products with our chrome extension
Product Features
Returns: Within 30 days
Warranty: Lifetime warranty
Hero Discount: For first responders, military workers, teachers, veterans, medical professionals
Reward Program: Free to join and easy to earn points
Construction: Stainless steel
Materials Accepted: Dry woods, pinecones, twigs, leaves
Fire Pits from Solo Stove
Some of the top-selling products from Solo Stove are the brand's fire pits. As there are a few different models available, we wanted to take some time to talk about each one.
Ranger
Available for $270, The Ranger uses the brand's patented 360 Degree Airflow design that allows air to reach all areas of the fire pit to keep it burning. Made from 304 stainless steel, the fire pit can hold logs of up to 12 inches. The ranger weighs just 15 pounds, which makes it easy to carry.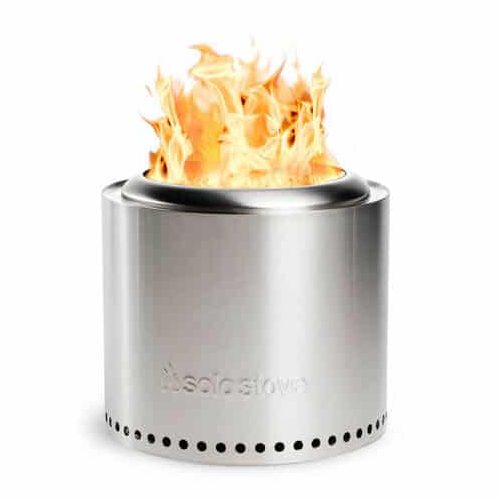 Bonfire
For those who want a larger Solo Stove, the Bonfire is also available. This stove is larger and can run a fire for up to 10 hours. With a diameter of 19.5 inches and standing 14 inches tall, it's larger than the last fire pit but weighs only 20 pounds to help you take it with you.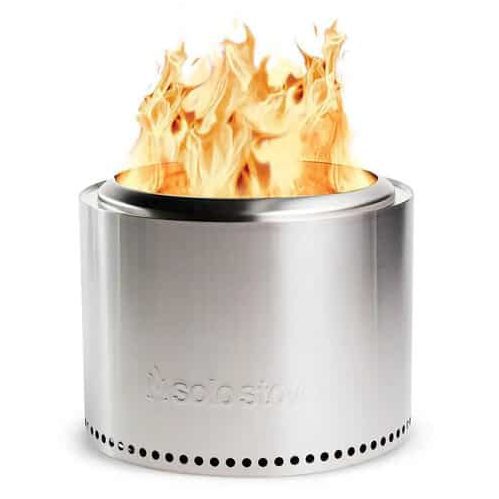 Yukon
This is the largest fire pit from Solo Stove and retails for $600. It weighs 38 pounds, which allows you to carry it on your own or with help from another person. The larger size allows you to burn logs of up to 22 inches inside, to provide a fire to a larger crowd.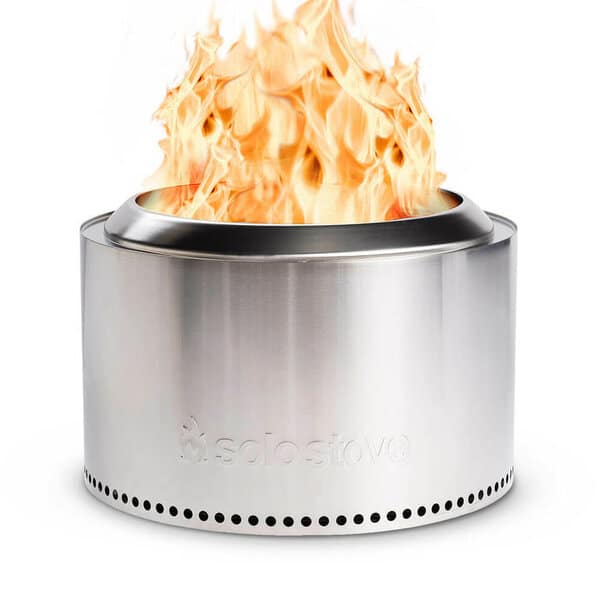 College Fire Pits
Thanks to the college fire pits from Solo Stove, you can now show your love of a specific team. The price you pay depends on whether you want a basic fire pit or one that includes a stand as well as the size you need. Prices start at $300 for just a fire pit and climb to $650 for the largest fire pit.
These fire pits are perfect for use in your yard or a parking lot when tailgating. Keep in mind that it takes up to four weeks to get one of these fire pits because Solo Stove only makes one when you order. The available teams include:
University of Texas
University of Alabama
Ole Miss
Louisiana State University
Brigham Young University
Florida State University
University of Missouri
University of Washington
Texas A&M
Oklahoma State University
Clemson University
University of Nebraska
University of Arkansas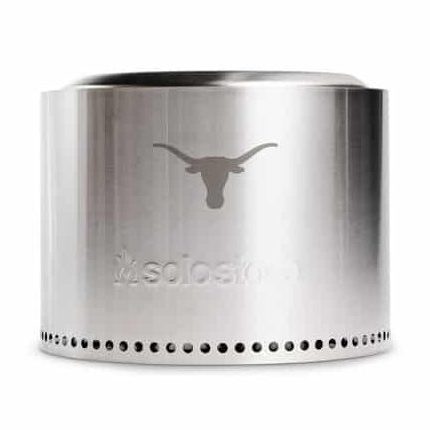 How Can You Use Solo Stoves?
Using products from Solo Stove is simple. As long as you have access to some type of wood or other fuel, you can get a fire going quickly.
When setting up your stove, make sure that you clear the space around it. You'll also want to make sure that you place the stove on a flat surface. After you find the right place for it, add your wood or other materials to the inside. The airflow design ensures that enough air reaches the interior to provide the flames that you need. It usually only takes a few minutes to get a fire going.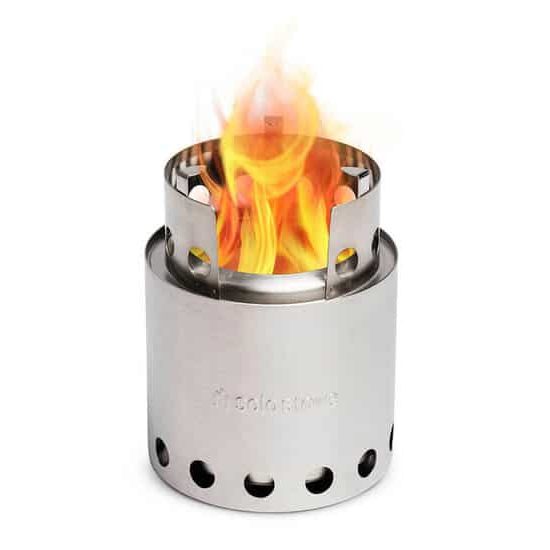 Camp Stoves from Solo Stove
Do you love camping but wish there was an easier way to cook? Solo Stove has you covered with camp stoves that are easy to use. You can check out all of the top stove models below.
Lite
Designed for those who want to cook in a hurry, the Lite model sells for $90. I found that this particular stove is small enough that you can light a fire with just leaves and twigs and get a decent fire going in around 10 minutes. The stove is lightweight and even comes with a drawstring bag for storage. I would recommend purchasing one of the Solo Stove Pots available to accompany this product.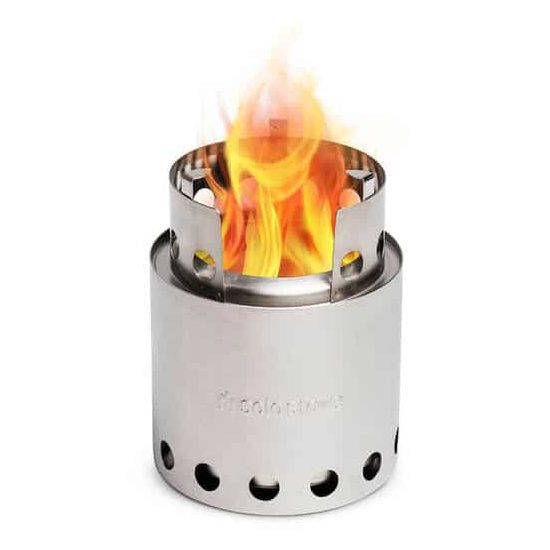 Titan
Solo Stove makes the Titan for those who need to cook for more people. It's perfect for use during an emergency when you don't have gas or power but also works well when camping.
This stove sells for $110 and can cook enough food for up to four people. Weighing 16.5 ounces, the Titan is much lighter than similar camp stoves. It has a diameter of 5.1 inches to give you more cooking space and stands 7.9 inches tall.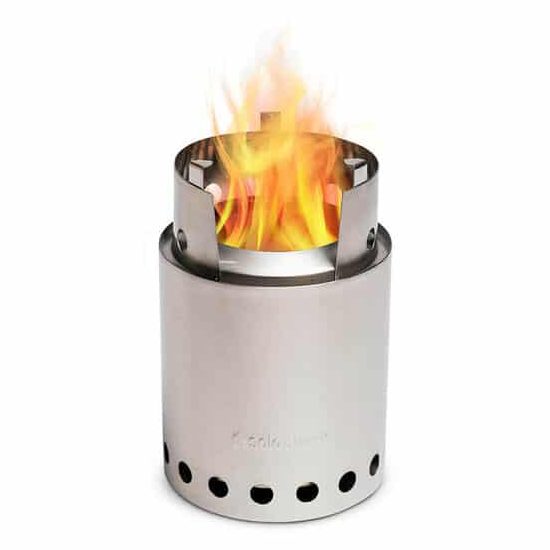 Campfire
Another option you may want to try is the Campfire stove. At $150, the Campfire serves as both a fire pit and a stove for cooking outside. This is the only model that can make enough food for four or more people because of its seven-inch diameter. Without fuel, this stove weighs only 2.2 pounds and can fit in most packs.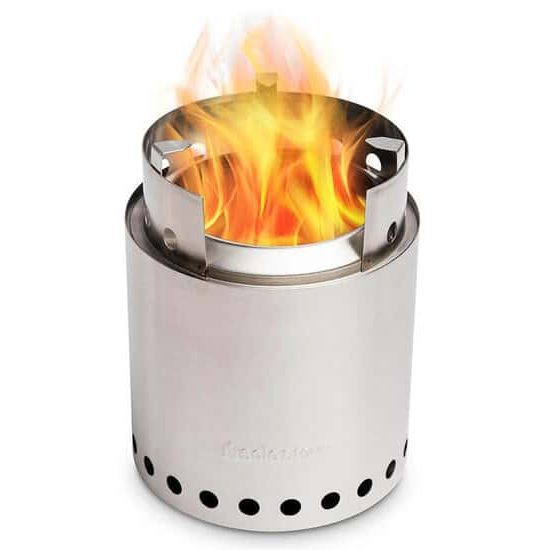 Where Can You Use Solo Stoves?
Many of the shoppers buy these stoves for camping. Most campgrounds have small stores where you can buy firewood for a low price to use with your stove. If you're deep in the wild, you can easily find small twigs and other materials to burn in your stove without needing to bring cords of wood with you.
Solo Stoves are also great for tailgating when you don't want to bring a grill with you. You can even buy a stove with the logo of your favorite college team on the front. We also recommend these stoves for emergency preppers. As long as you have firewood handy, you can cook and stay warm with one of these stoves. They're also great for backyard parties.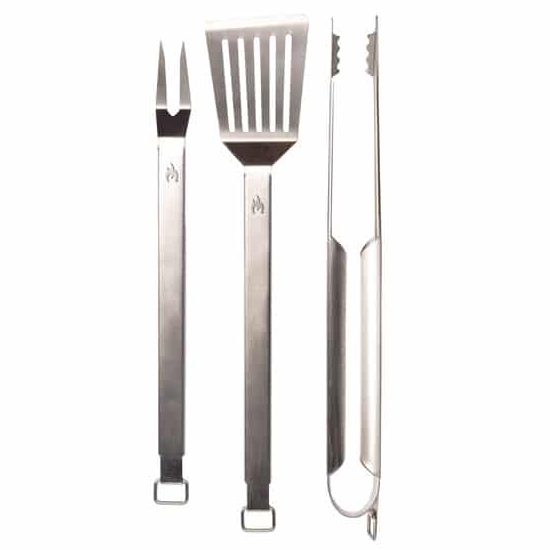 Solo Stoves work with grilling tools from the brand and others.
Solo Stove Grill Ultimate Bundle
In addition to its stoves and fire pits, Solo Stove also offers a Grill Ultimate Bundle that includes everything you need to grill outside except for the food. This bundle helps you set up the grill and get food out in as little as 30 minutes.
Included in the bundle is a 13-inch stand that lifts the grill off the ground. You can use this stand on any flat surface such as a picnic table, too.
You also get the grill itself, which runs on dry wood and similar materials to let you use it away from your yard. Other products that come in this bundle include:
Grill tools
Grill shelter
Carry case
Four pounds of natural charcoal
Four fire starters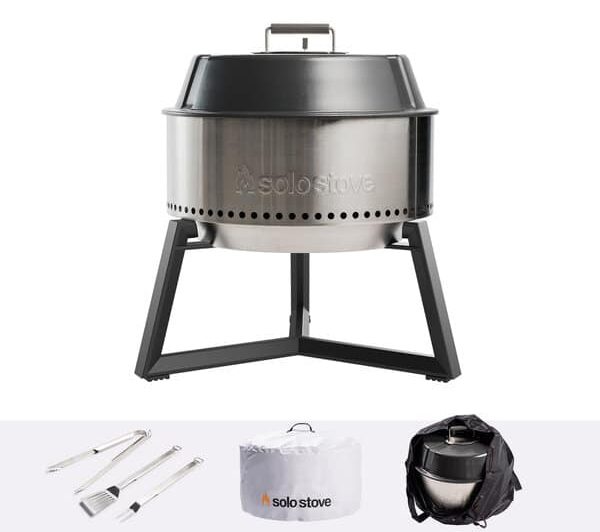 Who's This For?
Solo Stove makes products for people who love spending time outside. When it comes to camping stoves, you usually have two options: propane or charcoal. With a Solo Stove, you don't need to carry charcoal or propane. These stoves run on any type of wood, so as long as you use dry wood, you can get a fire going.
You can also mix and match other materials when you don't have access to wood such as leaves and twigs. Some of the stoves are lightweight and small enough that you can fit one in your pack on a long camping trip. Others are big enough to cook for a crowd in your backyard.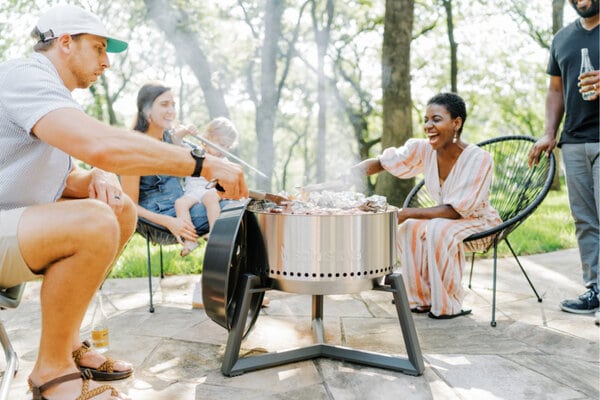 All stoves from this company are perfect to use during a backyard party or in an emergency.
Should You Buy It?
We think that Solo Stove is worth the high prices that the brand charges for a few different reasons. We love the rewards program, which gives you 100 points when you join and 500 points when you join the brand's Facebook page. Though we spent a lot of time talking about the brand in our Solo Stove review, we also wanted to mention some of the other products that you can buy, including:
Tall Grill Stand – For just $70, you can bring home this grill stand to get your grill off the ground. It stands 20 inches tall and uses durable metal.
Roasting Sticks – Solo Stove makes this pack, which sells for $70 and comes with four roasting sticks and a durable carrying bag.
Two Pot Set – For $80, you can invest in this pot set that comes with both a three-liter pot and a 2.5-liter pot. Both fit on the top of the stove and are easy to use.
Stove Windscreen – Make sure that wind never gets in your way with this aluminum windscreen that sells for $25.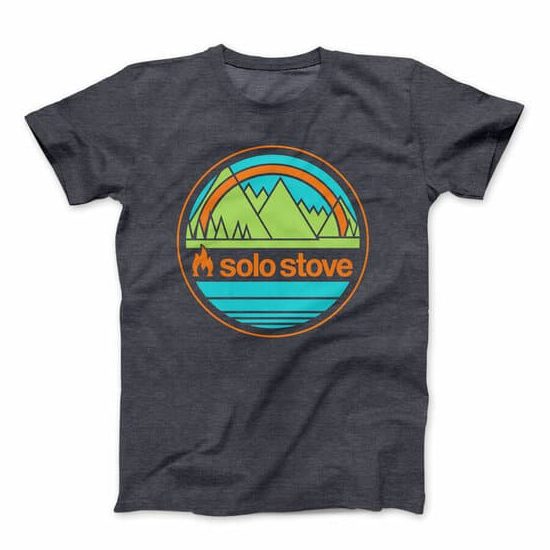 Solo Stove also sells apparel such as tees that let you show off your brand love.
Cons to Consider
We wanted to go over all of the cons of Solo Stove in our Solo Stove review to make sure you have all of the available information before you buy. Though the brand gets few negative reviews, there were complaints about how well it works. One customer claimed that the stove burned well but did not produce much heat and was hard to clean.
Another customer said that he used it with only one log and that the stove produced so much smoke that they had a hard time using it. Other complaints we found include:
Despite what Solo Stove says, some of the stoves are prone to rust, especially when used outside.
If you do not buy from the official site, your stove may arrive dented and damaged.
A few customers had problems keeping the fire lit and running when using the stove.
There is no way to keep rain from getting inside, which can result in mud forming along the bottom.
It's often hard to file a warranty claim once the original 30-day return window passes.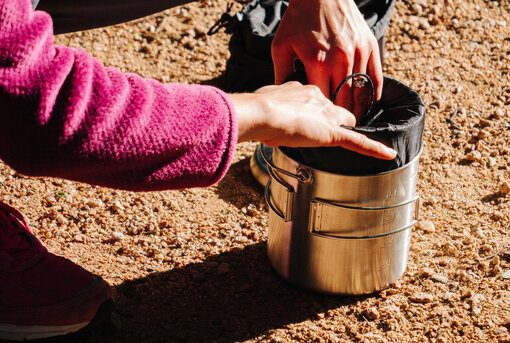 Where to Buy
Click here to view the grills and fire pits from Solo Stove along with all of the stoves. The website provides information on how you can qualify for the Hero Discount, too. Medical professionals and first responders along with teachers and those in the military and veterans get a discount when they buy from the official site.
Other reasons we recommend you buy from our link include:
The Help Center lets you ask questions and get answers before you place your order.
Solo Stove often runs sales that drop the prices by 10% or more to bring the cost down to less than you would pay on other sites.
You can use the How To page to find out how to use the stove you buy.
It's easy to file a warranty claim if you have any problems with your stove.
Solo Stove lets you submit photos of your stove as you use it to win big prizes.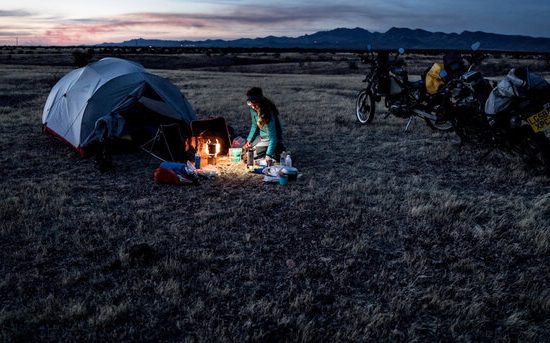 Share photos when you get back from your trip for a chance to win gift cards and free merchandise from Solo Stove.
Competition
We recommend that you check out the competition and view other camping stoves from brands such as Coleman before you buy. You'll find reviews of other stoves below.
REDCAMP Wood Burning Camp Stove
One alternative to Solo Stoves is the REDCAMP Wood Burning Camp Stove. Designed for groups, this stove weighs 5.5 pounds and uses stainless steel both in the case and the grate inside. That grate makes it easy for you to cook foods right over the heat. Though it is larger than other stoves, it folds down and creates a compact shape that you can tuck in your pack after it cools down.
Camp Chef Everest 2 Burner Stove
If you're a fan of cooking with propane, consider this Camp Chef Everest 2 Burner Stove. Thanks to the two separate burners, you can cook two different dishes at the same time and at different temperatures. This stove comes in a fun color and has a small holder on the side that keeps a small propane tank in place.
Jetboil Flash Camping Stove Cooking System
With the Jetboil Flash Camping Stove Cooking System, you can whip up meals in a flash. Designed to fit right on top of a small propane can, the stove comes with tiny feet that attach to that can and keep it from moving. Available in multiple colors, this stove weighs only 0.82 pounds and can reach a full boil in just 100 seconds.
Coleman Triton Propane Stove
When it comes to camping supplies, you can't go wrong with Coleman, which makes the Triton Propane Stove that is compatible with most propane tanks. Thanks to two burners, you can cook multiple dishes at the same time and use up to 22,000 BTUs for faster and more efficient cooking.
Final Verdict
People who love camping often spend a lot of money on their supplies and equipment. They know that cheaping out can result in serious problems as well as disasters. Though you might think that Solo Stove products are expensive, we found that the products are well worth the cost. Not only can you choose between stoves, grills, and fire pits, but you can rest assured that all of these items use durable stainless steel.
Solo Stoves also save you the freedom of dealing with heavy cords of wood. While you can use ordinary firewood, you'll have no problem using these stoves with leaves and twigs as well as dry pinecones and similar materials. Use our Solo Stove review to find out why so many customers use these brands for tailgating, camping, and more.