Topicals SOFT TOUCH BODY DUO Review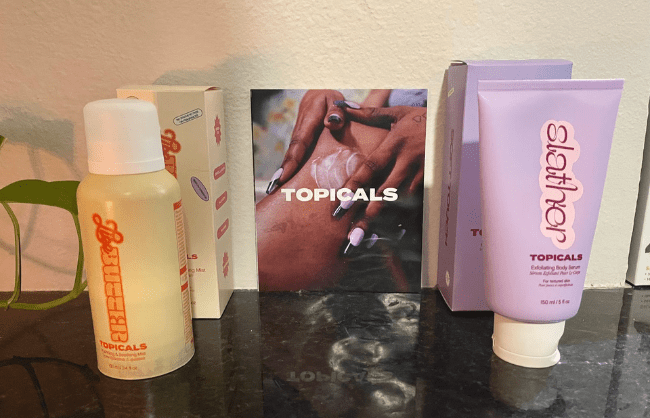 About Topicals
Topicals is a skincare brand that focuses on treating skin conditions. Topicals was founded by Claudia Teng in 2020, making this a fairly new brand. Despite Topicals being a fresh face in the skincare industry, it has become a well-known brand known for its accessibility, inclusion and actual results.
Topicals value scientifically proven ingredients, and their products are also free of dyes. They also are a cruelty-free brand!
I'd also like to mention that Topicals is a brand I was using even before I got the opportunity to review them!
Although the web pages for each product do a great job of covering any questions you may have, you can also text TOPICALS by texting "TOPICALS411" to +1 (833) 908-0674 or email them at [email protected].
PROS
Vegan-friendly product line
Scientifically based ingredients and formulas
Their products do provide results, with time
CONS
Price may not be worth the results for some
Products can irritate your skin (patch tests are recommended)
BOTTOMLINE
Both of the "Faded" and "Like Butter" lines from Topicals work great, in my opinion. They're an excellent option for people who are having issues with discoloration and dry skin, as both products do a great job of working together to address problems over time.
Product Features
Price: $60
Warranty: Returns within 14 days
Topicals "Like Butter" Overview
The "Like Butter" line from Topicals is a moisturizing product that claims to restore and soothe dry, flaky skin. It also has the additional benefit of fortifying your skin's moisture barrier.
Topicals offers the "Like Butter" formula in a hydrating mist and a hydrating mask. Both of these are really well known for doing exactly what they claim they will do – moisturize extremely well! The hydrating mask is even marked as one of their best-selling products.
Topicals "Like Butter" Hydrating Mist Review
Since I got the "Soft Touch Body Duo," I received the "Like Butter" hydrating mist. My expectations for this product were to really seal in moisture so I was applying it on top of whatever moisturizer I was using before. However, it also worked really well as a moisturizer on it's own, I just preferred to layer it!
Application: To ensure proper layering of the products, I applied the "Like Butter" hydrating mist to clean, dry skin to start. I spread the mist in by rubbing it in and letting it dry before applying the following product in my routine, as suggested.
It's also good to note that Topicals' mist products are considered non-aerosol sprays, which is better for the environment!
Smell: I didn't notice any notable smell from the "Like Butter" hydrating mist, which is a pro in my book. It's sensitive skin friendly and allows you to opt into adding whichever scented products you like on top of it.

Results: The results from the "Like Butter" hydrating mist were immediately noticeable to me. Although I don't have any of the target issues it treats, such as sunburn, heat rash, or chafing, it is an excellent foundation for moisturizing your skin and ensuring it stays soft and smooth all day.
Every time I use it before I go out, I get compliments on how my skin looks soft, smooth, and hydrating. I would recommend trying out the "Like Butter" hydrating mist.
Topicals "Slather" Exfoliating Body Serum Overview
"Slather" is an exfoliating body serum that targets textured skin. The product has active retinols that chemically exfoliate dead skin and clogged pores. It can treat KP, dry patches, bumps, and strawberry skin. It's gone viral on TikTok, making it one of their TikTok Favs, and a best seller as well!
Since there are active retinols in this, it's essential to ensure you use this product safely! Additionally, if you apply this in the daytime, be sure to use sunscreen.
Topicals "Slather" Exfoliating Body Serum Review
As the other part of the "Soft Touch Body Duo", I also received the "Slather" body serum. My main expectations for this product were to help my "strawberry legs", which are just pores on the legs that are clogged so they are a bit darker than the rest of your skin. Treating strawberry legs is actually one of the big reasons why the product went viral!
Application: This exfoliating body serum feels thinner than most lotion upon application. I did notice a mild stinging sensation if I've just shaven (but that's just the extra sensitive skin reacting to the actives). It doesn't leave any residue and leaves my skin extra soft – especially if I used the "Like Butter" mist beforehand.
Smell: The "Slather" serum doesn't have much of a scent, so I don't have any complaints. Also, as previously mentioned, it just makes it easier to layer the actual fragrances I apply.
Results: I've experienced some discoloration fading as well as noticeably smoother skin after about two weeks of consistent use (2-3 times a week). And again, using sunscreen is necessary if you use the "Slather" serum before exposing yourself to the sun! This product can cause some mild irritation.
Is The Topicals "Soft Touch Body DUO" Worth It?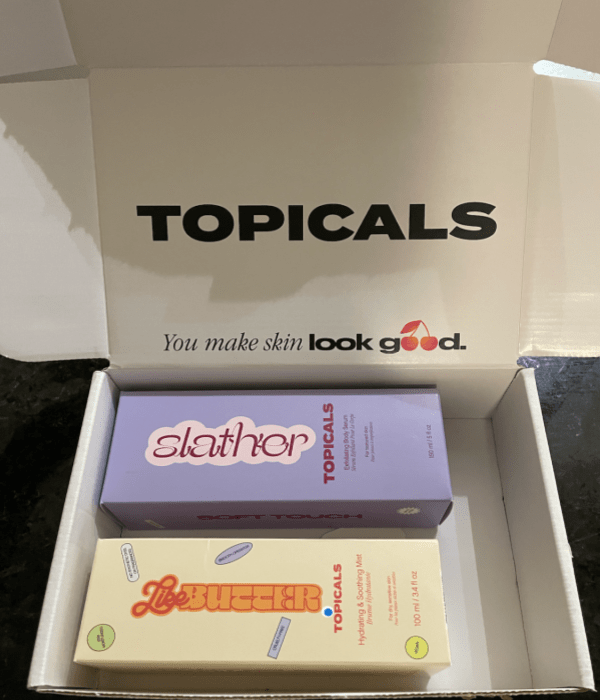 I personally love Topicals as a brand and its products! They're forthright about the ingredients they use and the products are super easy to use. I've tried most of their products and have been satisfied with their results every time. Not to mention, I've seen results in a matter of weeks.
Each product in the "Soft Touch Body DUO" is currently priced at USD 30 is reasonably priced for the actual product and active ingredients found in the formula. However, I will say I used it more quickly than I was hoping.
With that being said, I think the entire Topicals line is worth it if you're looking for a solution to dry or any skin discoloration. They offer a few products for several skin concerns that also bolster great results from many different people.
However, if you are a person with sensitive skin or looking for instant results, this likely isn't the product you're looking for.
It can also get a bit pricey to keep this in the regime, so be sure to note if it's working for your skin and worth the investment.
More Products From Topicals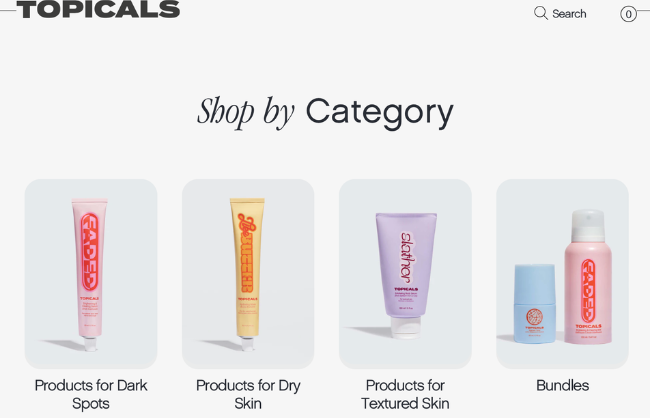 Topical's High Roller Ingrown Tonic comes in packaging that resembles roll-on deodorant. For results, this product is to be used 2-3 times per week. Like some of their other products, this product also can cause sun sensitivity. So, be sure to use sunscreen if you're going outside after applying this!
The High Roller exfoliates your skin and helps soothe present ingrown hair and prevents more ingrown hairs and razor bumps. This product actually won Allure's Best of Beauty Award for 2022 and has almost only 5-star reviews.
Just like the Like Butter Hydrating Mist, the hydrating mask variation of this aims to restore dry, flaky skin, help soothe skin, and repair moisture barriers. The product can be used as a face mask and even as a moisturizer.
If you choose to use it as a mask, you should apply it on clean skin before applying any other products. If you prefer to use it as a moisturizer, it is recommended that you apply the product after everything else in your routine (aside from sunscreen!).
The Faded line targets hyperpigmentation, sun-damaged, and scarred skin. This serum specifically targets more stubborn marks, and it really works! However, this product takes a little longer to see results than the other Topicals products.
Many people complain about the smell of this product, and the website even discloses it has a "sulfur-like smell". But in my experience, I've noticed that the smell fades away within seconds. It also says to not combine this product with any AHAs, BHAs, or retinols, to avoid irritating your skin and making things worse.
The Brightening and Clearing Mist is pretty much the same product in a spray form, making it easier to target larger areas to treat. Both products can be used in the same routine and have the same sensitivity warnings. People also claim this version smells better than its serum counterpart.
Ways to Save
It's pretty rare to find any coupons or promotions for Topicals products, but they still have a few ways to save!
Topicals have a rewards program called "The Spottie Hotties", which is a way you can redeem the points for discounts! You earn points every time you shop and even earn 25 points just for creating an account.
Topicals offer free shipping on orders over $30. Which is pretty easy to get since most of their products retail for just over $30 (excluding the mini versions of items).
Topicals also have a 10% discount when you subscribe and save! You can set your orders to deliver every 30 or every 90 days.
Alternatives
The beauty industry is one of the fastest-growing and largest markets in the world. So, naturally, there are plenty of other alternatives. Too many honestly. So, I've narrowed it down to three other skincare brands that offer the same quality at a similar price point so you can decide which brand may be best for you.
The Ordinary
The Ordinary has gone viral for so many of their products. This brand is known for giving people more straightforward solutions, and with this people began narrowing down exactly what they wanted to include in their skincare routines and what other products and actives would work well with them. Another big pro is that The Ordinary is also one of the most affordable well known brands out.
The Inkey List
The Inkey List is praised for similar reasons The Ordinary is. And that's for providing good and straightforward skincare solutions at a really good price. They even have a "Recipe Builder" that will help you formulate a routine to target your problem areas and treat your skin.
CeraVe
This brand is extremely well known and can be found in literally any drugstore and has been around for a while. But I would be remiss to leave this one out! It's constantly recommended by dermatologists and has many people who swear by it. CeraVe is the perfect addition to any skincare routine, as their products are effective, and affordable and do not irritate the skin with any harsh chemicals, dyes, and fragrances. Although it's considered a rather boring brand, you truly can't go wrong with it!