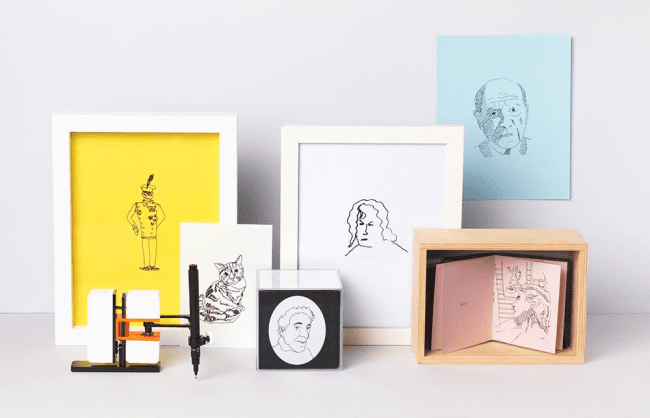 4
From the recreational doodler to the artistically-challenged, Line-us is a pocket-sized robotic arm that mimics your motion and recreates your masterpiece. By connecting your Line-us robot to the internet, users are able to draw with their finger, mouse, stylus, or Apple Pencil, and watch their creation come to life.
While you sketch on your connected device, the robotic drawing arm follows your drawing path in real time – copying each one of your movements. Described as an "extension of the human hand," Line-us follows the same order as the person who drew it – making it easy to see how other artist drawings came to life. This could be an invaluable learning tool for the doodler aspiring to be a sketch artist.
Line-us is equipped with an intuitive companion app allowing users to draw, sketch, share and publish their sketches. Since Line-us works on iPads, iPhones, Android, Mac or PC, all you need to do is draw with your finger (or stylus) and watch Line-us robotic arm work its magic.
For the artistically challenged, you can let Line-us access your smart device's camera – giving it access to your photo library. After uploading your selected photo, the app allows you to trace images right from your device. If you ever wanted to create a cartoon sketch of your family members, this is your chance. When they ask, "Did you draw this?" You can sort of say, yes.
Line-us comes with a small metal plate to hold it in place and is powered by the standard USB connection. Your drawing robot is pretty versatile and can be used on any writable surface including a sketchbook, diary, notebook or simply a piece of paper. You even have the ability to mount it on the fridge or hang it on a nearby wall.
So, what makes the Line-us robotic drawing arm so great? Like most smart gadget these days, it's all about the connectivity. With an ever-growing community of users – all connected by the same app – you can collect other people's drawings, share your own work, send/receive messages, and play drawing games with your fellow creatives. The app is organized by these sections: Draw – Sketchbook – Share – Published
If coding is your thing, the Line-us interface seamlessly connects to Scratch, Arduino, Raspberry Pi and Python. On the heels of a successful Kickstarter campaign, Line-us Founders Durrell Bishop and Robert Poll have the backing to fund the first 1,000 drawing robots. With an estimated ship date scheduled for October (2018), this is a must-have gadget. The only problem: they sold out of their first batch. Hopefully, another round will follow suit so we can all start drawing (I mean, tracing) our family portraits.
PROS
Write on any Surface: Sketchbook, Diary, Notebook, Piece of Paper
Intuitive App
Community of Line-us Users
Coding Potential
Compatible with iPads, iPhones, Android, Mac and PC
Trace over Photos Feature
CONS
1st Batch Sold Out (Kickstarter)