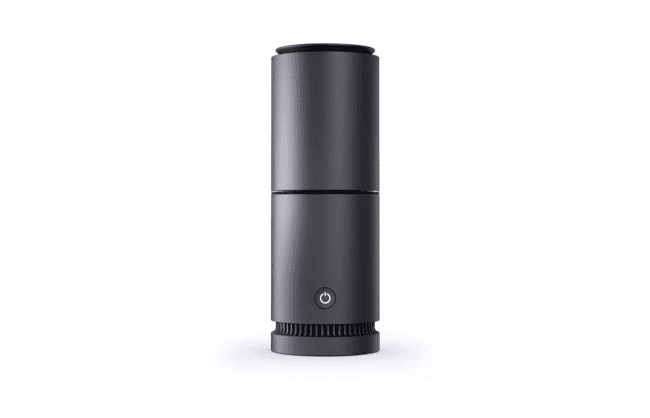 6
Just because we spend most of our time indoors does not mean we are impervious to harmful pollutants. Quite the contrary, there are even more toxic particles in the form of mold, dust, household products, carpet toxins – you name it. To keep you and your family free from respiratory problems, there's no better investment than a powerful organic air purifier. Introducing VBreathe – the most sophisticated mold and mosquito control system hitting the market this May (2017).

iReviews Shopping Assistant
Find the best prices for this and many other products with our chrome extension
"VBreathe removes 98% of airborne microbes from your indoor environment."
Why is the VBreathe purifier the best? It uses two powerful technologies to not only kill harmful indoor particles but spreads the good air into hard-to-reach nooks and crevices (where mold tends to hide). With the company's proprietary VActive Gel eliminating particles up to .1 micron and the medical-grade Hepa Filter attacking 99% of the particles up to 1 micron, you have a duo-pronged microbe killing machine that loves searching for its next pollutant.
Armed with a built-in particle/temperature sensor and equipped with an intuitive app, VBreathe will let you know the air quality of your home – then get to work. VBreathe's real magic is stored inside its VActive Gel capsules. The proprietary Gel technology is 100% organic and food safe and is the agent responsible for deterring mosquitoes and flies. From removing 98% of airborne mustiness to eliminating air conditioning contaminants, the VActive Gel is a powerful oil vapor lasting 3-4 months in moderately polluted environments.
"VActive gel is the heart of the VBreathe mold and mosquito control system and all the ingredients are 100% organize Australian essential oils."
VActive's partner in crime is the always-effective medical-grade 360-degree cylindrical Hepa filter. Capturing 99% of particles and backed by VBreathe's unique air flow pattern, the Hepa filter disperses and circulates purified air throughout the entire room not just around the device. The Hepa filter lasts up to 3-4 months in polluted areas and up to a year in lightly polluted environments. According to VBreathe's website, "the air filters are covered with a special organic microbial coating that increases its life by 25-50%."
What would a state-of-the-art air purifier be without an intuitive companion app? VBreathe is an iOS/Android compatible device powered by Bluetooth technology. With a full arsenal of particle sensors, high-tech fans, a medical-grade Hepa filter, and VActive gel cartridges, you have complete control over your smart purifier by accessing the VBreathe app.
Upon purchase of your purifier, you get a one-year supply of refills (three VActive gel cartridges and two filters). The VBreathe purifier has an estimated ship date scheduled for May 2017. The much-anticipated smart home device has already raised $120,000 from its Kickstarter campaign.
PROS
Organice VActive Gel
Hepa Filtration System
Built-in Particle and Temperature Sensor
VBreathe App
Air Monitoring System
AutoMode
Fan
Rechargeable Battery