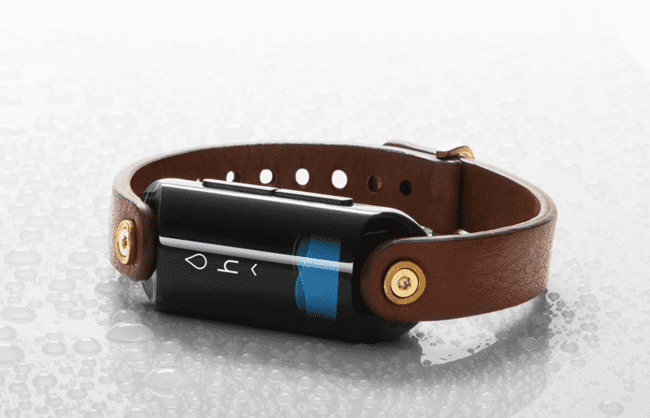 BSX Athletics has created the first wearable hydration monitor and with over 250 research subjects, the results are astounding. LVL is a groundbreaking wearable because it's the first stylish monitor that provides a complete picture of your health in real time.
Whether it's tracking activity while running a 5k or checking your heart rate during a morning swim, this smart wristband allows you to consistently monitor six key health indicators: hydration, sleep, activity, heart rate, mood, and calories.
With close to $1.2 million in backing from its Kickstarter campaign, LVL is getting some much-deserved attention. Just imagine while jogging your final lap and your wristband alerting you to "Drink 31 oz at this sweat rate to maintain optimal health." Or if when opening LVL's companion app, you're not only providing with up-to-date performance metrics but an alert prior to your workout says, "Drink 19 oz before today's workout for a 4.5% performance boost."
As we all know, hydration can have some adverse effects on our health. Dehydration affects exercise performance, sleep quality, cognition weight loss, fitness, mood, endurance, and happiness. We sometimes lose track of one of the most important ingredients to our overall health: water. According to BSX's website, "dehydration can worsen your cognitive performance by up to 51%." If you're someone who requires sleep in order to function at a high level the next day, the LVL is a no-brainer purchase. A simple alert prior to bed that says, "Drink 23 oz before bed tonight and you'll be 40% more likely to get a great night's sleep," may be the difference between a sluggish day and a productive one.
The LVL is the gift that keeps on giving all year long, whether you're a fitness fanatic or simply someone who wants an instant snapshot of their health in real-time. If you've ever wondered why there's a drop off in your workout performance, from one day to the next, it's most likely hydration levels. The LVL wristband helps you "optimize every workout, training set, and race." Information is power and if you're someone who wants a performance edge, the LVL will provide you with real-time hydration notifications, accurate sweat measurements, unit based heart rate info, and 24/7 calorie tracking data.
Whether it's customizable refueling recommendations or smart coaching during exercise, LVL is one smart wristband. With close to 4.5 years developing its red light technology that can measure real-time hydration, LVL can measure 10x's deeper into the body than a green light sensor. In other words, BSX's wrist monitor is extremely accurate (0.32% agreement precision) which pretty much blows away other fitness tracking wearables. According to BSX's site, LVL's accuracy exceeds military and first responder standards. In addition, the technology has been "validated against medical gold standard blood, urine and weight measurement." Results from its last clinical trial yielded an accuracy of +/- 2.7 bpm compared to an average of 14 bpm in other wearables.
Now you must be thinking, "Ok, this sounds great but what does this wristband look like?" As a matter of fact, the LVL wristband can only be described as aesthetically pleasing. BSX's partnership with Frog, one of the world's leading design and strategy firm's, has paid off tremendously. With a simple, clear interface and an elegant style (silicon, brown leather, black leather), LVL strikes the perfect balance between technology and fashion sense.
BSX's existing technology is rather impressive, to say the least – but that doesn't mean they're done. Since LVL uses an open interface platform for its iOS/Android compatible companion app, the sky is the limit for adding additional features. In other words, developers have a playground to improve LVL's performance by integrating it with other third-party applications.
PROS
Heart Rate Monitor
Calorie Tracker
Autosleep Function
Real-Time Hydration Notifications
Intuitive Mood Input
Accuracy +/- 2.7 bpm
IP67 Water Resistance Rating