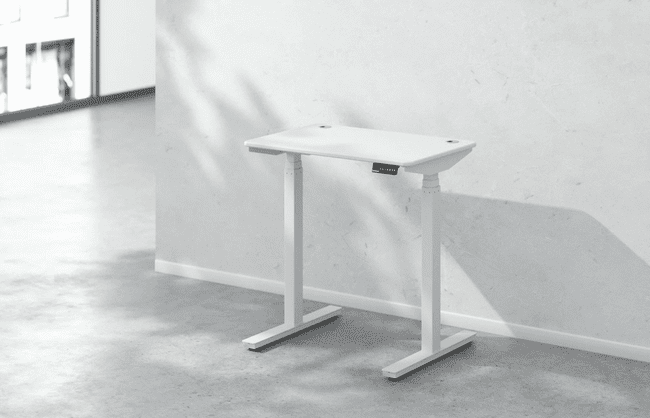 1
If you work from home – are considering working for home – or always planned on building a home office – you are in the right place. Introducing SmartDesk 2 – considered by most to be the world's most affordable, highest quality standing desk on the market today. Already filling the offices of Google, Quora, and HubSpot, this is the most ergonomically sound motorized desk that allows users to preset four ideal working settings – whether it's standing up or sitting down.
Available in both Home and Business editions, SmartDesk 2 wants to eliminate the sedentary lifestyle in exchange for a more active workday. Whether it's improving circulation or altering the effects of bad posture, Autonomous' standing desk is a complete game changer. This desk uses a smart keypad to adjust to perfect sitting or standing positions. From boosting your mood to rejuvenating energy levels during different chapters of the workday, this desk is known for increasing productivity.
Adjustable to four different height levels and capable of supporting 300-lb lifting capacity for the Business Edition (220 lbs Home Edition), the SmartDesk 2 gives you plenty of space for two monitors, keyboards, and connected gadgets. It's designed to be your all-in-one office space solution. The Home Edition is a single motor smart desk with a sit to stand range between 29" and 47". The Business Edition is a dual motor desk with a sit to stand range between 24" and 51" inches. If you have two heavy monitors, Autonomous recommends upgrading to the SmartDesk with Business Frame model.
Autonomous really thought of everything when designing their SmartDesk 2. Whether it's the "Silent in Motion" advanced noise cancellation motor or its energy-efficient standby power consumption, SmartDesk 2 is engineered to seamlessly integrate into a home or office. With a sound level reaching only 39 dB during movement and a 0.06-watt energy usage during standby, you can see why this is considered the most intuitive desk you can own.
You can match different desktops with frames, combine different ergonomic features with platform colors, varying surface materials with tabletop sizes – you name it. With a central box discretely hidden beneath the table top and fully compatible with 110-120 volt outlets, you can have your SmartDesk 2 assembled and operations in 15-30 minutes according to Autonomous' company website.
As someone who works from home and knows the adverse effects of a sedentary lifestyle, I just ordered the SmartDesk 2 and judging from the customer product reviews, this purchase will completely change my life. I can't wait to put this gem together.
PROS
Backed by 30-Day Free Trial and up to 5-Year Warranty
A sit-to-stand frame with single motor system or a dual motor system
Heavy-duty, industrial-grade steel structure
Unparalleled performance with an advanced Electric Motor System
Smart Keypad that remembers your perfect sitting and standing heights
Silent in motion with advanced Noise Cancellation Engineering – sound level at only 39 dB during movement
The most energy efficient sit-to-stand frame – only 0.06 watt standby power consumption