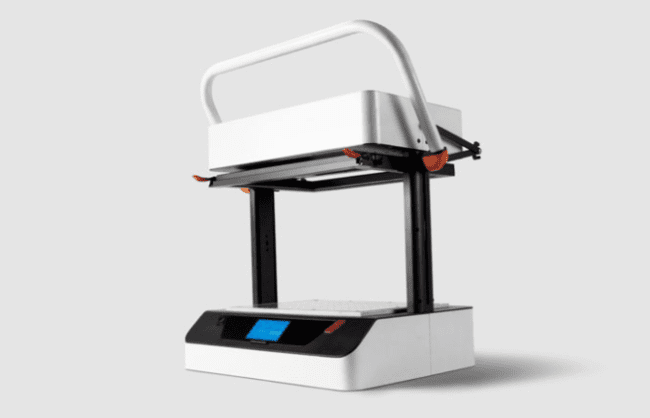 2
Designed for rapid prototyping or simply creating super-detailed masks, Vaquform is a revolutionary desktop vacuum thermoformer that works seamlessly with 3D printers and CNC routers. Vacuum Forming, if you're not familiar, is a time-tested manufacturing technique that takes a heated sheet of plastic and using a powerful vacuum seal, makes detailed molds out of objects.
Vaquform is touted as an industrial-level thermoformer with state-of-the-art, consumer-friendly technology. From the IR probe that strategically monitors the temp of the plastic to its intuitive LCD interface, Vaquform "brings high-end process control to desktop vacuum forming."
The 9 x 12″ forming area is larger than most 3D printing platforms and according to Vaquform's Kickstarter campaign, is perfectly suited for a modern engineering lab, design office, or artist studio.
Vaquform's powerful ceramic heaters are the same one's used in industrial thermoformers – a testament to the company's dedication to quality. As for its suction power, Vaquform uses the combination of both high air flow and high vacuuming speed with low air flow and high vacuuming speed. The two-staged hybrid system removes about 90% of the air from under the plastic sheet maxing out at around -3 PSI (same suction power as a household vacuum cleaner). Once the secondary vacuum takes over, the additional air sucked out even further at –12.8 PSI.
Stage 1: High airflow / Low vacuum
Stage 2: Low airflow / High vacuum
The end result: design molds with exquisite precision and highly-detailed corners.
Since this will be one of the first consumer-friendly thermoformers to hit the market, it's good to know what differentiates Vaquform from its industrial-quality competitors. First and foremost, the intuitive IR probe makes the monitoring process foolproof. In other words, Vaquform knows exactly how hot everything should get within 1-degree Celsius precision.
Armed with an internal database of heating profiles from a never-ending list of materials, the thermoformer alerts the user with the right temperature for precision molding. Your job is to simply select the correct profile highlighted on the LCD screen and press START.
Whether it's rapid prototyping, art projects, or custom props, users can make a wide variety of replica molds or shells from all types of materials. From duplicating coffee lids made from plastic to  highly detailed cosplay props, Vaquform brings prototyping in a consumer-friendly appliance.
For more the Vaquform, as well as replacement plastic and parts, is available on the official website.
PROS
Ergonomic Mechanism
Ceramic Heaters
9 x 12″ Forming Area
Infrared Probe
Intuitive User Interface
Hybrid Vacuum System
Rapid Prototyping
Works with 3D Printers and CNC Routers
CONS
Development Phase
Availability (October, 2017)