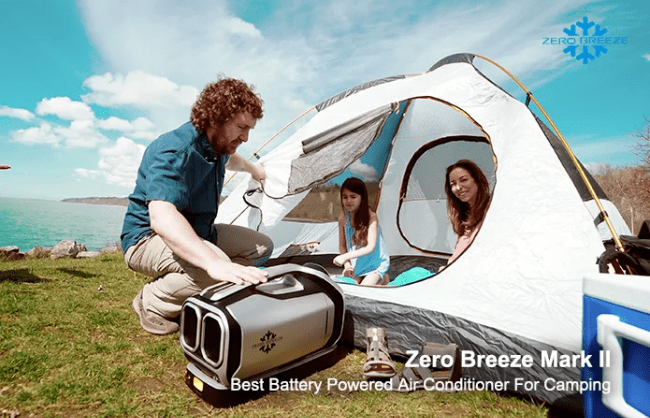 33
The world's first battery-powered AC, the Zero Breeze, just got an upgrade. The second generation of Zero Breeze, comes with increased efficiency, smarter looks and Zero breeze claim to have cooperated with one of the largest AC manufacturers in the world to help address previous quality control issues some purchasers had previously complained of.
The original Zero Breeze was not hard on the eye, the bold colours may not have been to everyone's taste. The the new sleek silver look and (surely) Mercedes E class style air vent bring the current model right up to date, and will fit in comfortably in most surroundings.
So how else has the Zero Breeze been updated? The idea of the Zero Breeze is to cool, so the news that the cooling power has been improved by over 100% from 1,100 BTU to 2,300 BTU is great news. These improvements were gained by adding a revolutionary dual hose system which allows the Zero Breeze Mark Ⅱ to reduce the outlet air temperature by 11°C in just 5 minutes. Coupled with the newly upgraded duct system which helps to increase airflow by 53%, this results in you getting cooler more quickly. Perfect.
Another improvement is the batteries. Zero Breeze claim each interchangeable battery can provide 5 hours of cooling, however, it gets better, as they found when testing that the battery lasted just one minute shy of 6 hours. The batteries also work as a power outlet for your phone or camping equipment, having 2 USB-A ports and 1 USB-C port.
So what was already a great product in our eyes, has been improved. To me this is the best solution to keeping cool in your tent or RV as temperatures soar, and it seems close to 500 backers on Indiegogo agree.
PROS
Lightweight
Easy-to-Use
3 Fan Speeds & Cooling Settings
Power Bank for Portable Use
LED Light
Coolest Temp: 30 Degrees F