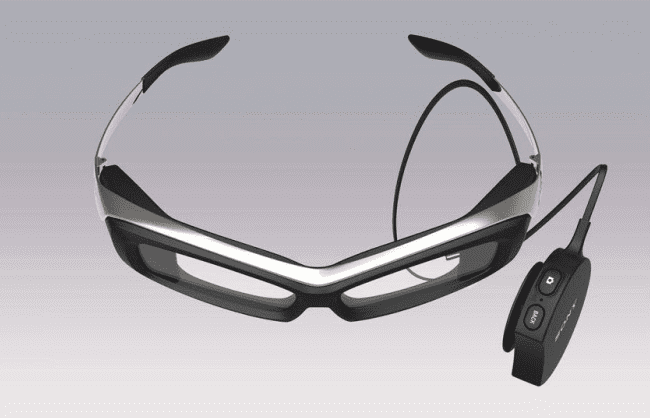 1
Initially designed for developers, Sony has created SmartEyeglass – augmented eyewear that is part of their action-packed SDK. The developer kit includes an accelerometer, gyroscope, electric compass, brightness sensor, microphone and noise suppression sub microphone.
Supporting devices running on Android 4.4 and above, SmartEyeglass uses a binocular, see-through monochrome e-bit display and allows for more than 150 minutes of continued use. SmartEyeglass comes with a separate controller designed to operate the on-screen display, voice control and handle incoming calls. With both lenses created for augmented reality, users can seamless take still images using its 3mp camera.
With the hope of someday moving out of the development world and into the enterprise arena, Sony is giving unlimited access to SmartEyeglass' camera, GPS and its sensors. By using its SmartEyeglass to overlay information and superimpose graphics in front of the user's eye, it enables a hands-free experience ideal for industrial settings.
As for the SmartEyeglass SDK, it comes with sample code and an emulator guiding developers with tutorials, design guidelines, API references, and in-depth developer support. According to Sony's website, "the emulator uses the display, touch screen and camera of your Android phone to mimic the behavior of an actual SmartEyeglass device." Connecting to a compatible smartphone where the apps are running, developers can import a suite of Sony projects into their own project. The projects, according to Sony, are provided as a source code, rather than compiled JAR libraries.
With the only drawbacks being the dedicated monochrome screen and the battery lasting only an hour when using the 3-magapixel camera (around 2.5 hrs without the camera), Sony's SmartEyeglass is perfect for as an SDK accessory but not so ideal for everyday consumer eyewear. Sony's best bet it to penetrate the business world as a hands-free enterprise solution versus pushing their technology as something to wear while walking to work. With built-in GPS capabilities, instant messaging and photo sharing features, it seems like Sony is dipping its toe into the consumer technology market without taking the full-throttle plunge.
PROS
Augmented reality eyewear with a wired controller.
Binocular, see-through monochrome 8-bit display with more than 85% transmittance.
3 MP camera for still images.
Wireless LAN and Bluetooth connection to the host Android device.
More than 150 minutes of continuous use.
Speaker and microphone included.
Weight approx. 77 g (2.7 oz) without controller.
Supports devices running Android 4.4 and above
CONS
Battery Life (lasts only 1 hour when using the 3-megapixel camera)
Monochrome screen likely to put off some customers