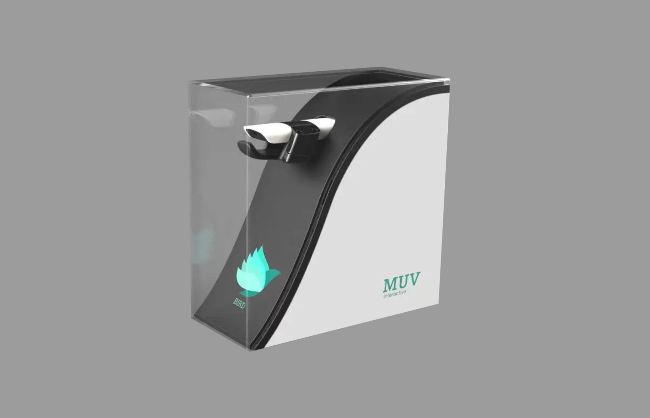 5
With so many connected smart gadgets in our homes, our pockets, and in our offices, it can get a bit overwhelming to keep track of them all. It reminds me of the coffee table with 900 remotes strategically lined up – one for tv, the cable, the receiver, the surround sound, etc. It's time for a piece of technology that pulls everything together. But this device must be capable of bringing together all of our electronics in a magical way. Introducing Bird by MUV interactive – a wearable device that replaces the usual pull-out-your-smartphone-and-connect-to-an-app in favor of point-and-immediately-interact.
Intelligent Design Features
After five years in development, Israeli-based start-up MUV Interactive created Bird for one reason: to make our lives easier. If you've accepted the connected lifestyle and want to sync all of your devices under one roof, Bird is a no-brainer purchase. Designed to "turn any space/technology into an interactive experience," MUV's revolutionary wearable detects user's movements, location, orientation, force, and proximity to your connected technology.
BIRD's User-Friendly Features
Equipped with state-of-the-art sensors, wearers can swipe, point, touch, or tap the Bird finger device and instantly gain immediate control over the chosen technology. Imagine being able to activate your Nest Protect home alarm by simply pointing, or starting a brew cycle of your iKettle by swiping your kitchen counter, or dimming the living room's LIFX lights by tapping your end tables.
Commercial Application
Bird is super office-friendly – allowing users to remotely control a computer cursor, operate a laser pointer, and double as a remote control for conference room presentations. In other words, this is the perfect technology for teachers, lecturers, and business presenters looking to make an immediate impression. Capable of controlling the latest project screens, you can pretty much create your own Ted Talk-level presentation using a series of pre-set gestures.
The Technology
Already able to fly a drone with its groundbreaking motion and direction sensors, MUV Interactive made Bird to be highly versatile. Bird comes with both voice recognition and capacitive touch technology – giving users complete control of their connected devices whether it's through voice commands or via thumb gestures. Capacitive touch allows users to register thumb gestures like taps/swipes on the surface of the device. Voice recognition allows user to control their family of devices by interacting with Siri, Google Home, or Alexa.
BIRD Compatibility
Designed for compatibility, Bird is Mac/Windows PC friendly and integrates with iOS/Android mobile devices. If you want to boost connectivity, multiple Birds can be used together – just wear one on each hand and make your devices come alive with a series of gestures. If you're a classroom teacher and want to empower your students, hand out up to 10 Bird devices and transform your classroom into an interactive playground.
Bottom Line
Simply stated, Bird "aims to make the automation of our connected lives simple and intuitive." With the first 10,000 devices priced at $149, this is a great investment if you're starting to build an arsenal of smart devices. You also have the convenience of gesture, voice and capacitive touch control – making this a highly intuitive wearable. Your Bird comes with a base unit, a cradle that works as a tethered/mobile charger, and a full suite of apps that allow you to seamlessly integrate your connected devices.
Source: MUV Interactive
PROS
Gesture-Controlled Wearable
Business/Educational Application
Seamless Connectivity with Smart Devices
Mac/Windows PC Compatibility
iOS/Android Compatible