Noise Cancelling Helmet Boosts Office Productivity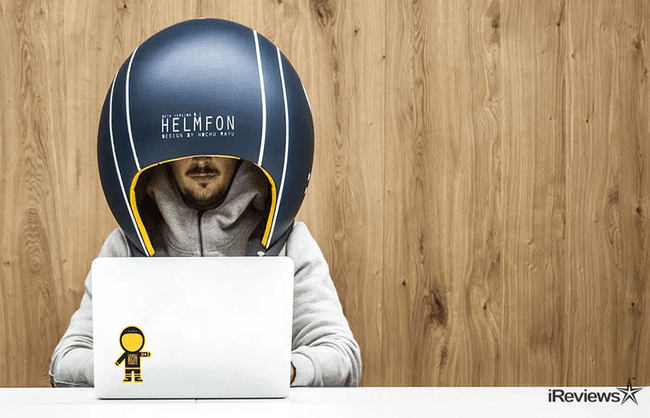 Even though you may look like the third member of Daft Punk, Hochu Rayus' futuristic noise-cancelling helmet is guaranteed to boost office work productivity. The 'Helmfon' device completely drowns out distracting background noise notorious for disrupting employee concentration. Still, in development, Ukrainian design company Hochu Rayu hopes its revolutionary prototype shakes up the entire smart office industry.
Helmfon's Noise Reduction Materials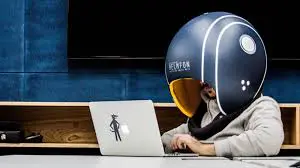 If you're a business owner and need an instant performance upgrade, the Helmfon may be the answer – even if clients look a bit perplexed at the oversized domes your employees are sporting. With the option of customizing the appearance with colorful design features, wearers can personalize the Helmfon making them feel all the more "superhuman-like" during their 9-to-5 shift.
Helmfon is equipped with the latest in noise reduction materials including an outside glass fiber casing sealed in nitro paint and a membrane cloth with foamed polyethylene on the inside. This creates an isolated world free from the distractions associated with office noise pollution. Armed with a built-in system board and a full suite of high-tech sensors (microphone, speakers, accumulator, magnifier), Hochu Rayu's state-of-the-art helmet is an employee's central command center for digital content.
"The Helmfon name is made by combing 2 words – helmet and phone. Helmet shape will visually provide a person with some personal space, while phone functions will allow communicating with the outside world."
Office Productivity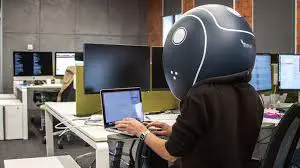 Capable of streaming videos, watching/editing photos, answering/making calls, and hosting Skype conferences, the Helmfon helmet gives the user access to all-things-multimedia while keeping distractions to a minimum. It even has a carved-out spot for your smartphone in case you need to make a private call inside your helmet. If there's any concern around wearing the bulky Helmfon for extended periods of time during the workday, wearers can wall mount, ceiling mount, or wear the helmet on their shoulders. The intelligent functionality keeps in line with contemporary office ergonomics.
If Hochu Rayu's noise-cancelling Helmfon becomes a mainstream phenomenon, it will certainly revolutionize the modern-day conference call. Companies can reduce their office footprints if their monthly board meeting can take place inside the Helmfon helmet – at an executive's desk – instead of connecting via Skype in a boardroom setting. Hochu Rayu's noise-cancelling technology is not just a cost-saving office device but an interactive tool designed to bring together all the stakeholders in a company, domestically or internationally. The best part: because of Helmfon's sound absorption technology, outside distractions will be eliminated – keeping the employee engaged until the end of the conference call.
The Noise-Cancelling Movement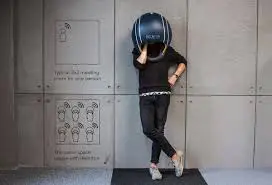 With so many tech gadgets, media devices, and interactive tools veering us off-track, it's really no surprise that our productivity in the workplace has been dwindling at a rapid pace. You add the element of social media platforms and general workplace noise pollution, you have yourself a pretty distracting environment. Whether it's the Zolo Liberty+ earphones, the Batband Wireless headphones, or the Helmfon Helmet, noise canceling prototypes are gaining some serious momentum in the consumer marketplace. If you can get beyond the oversized bobblehead-doll like aesthetics, Hochu Rayu's Helmfon helmet may have some staying power.
Source: Designbloom, Hochu Rayu