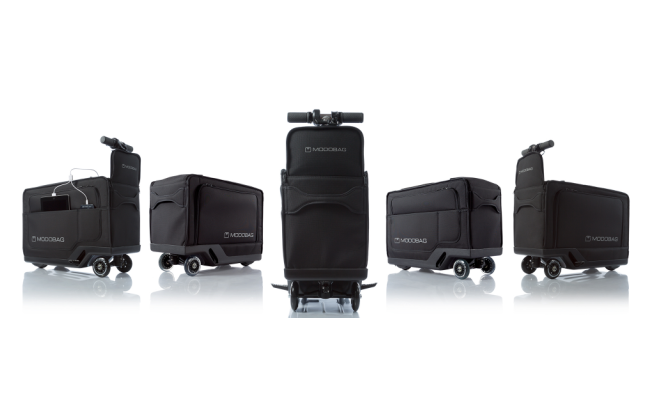 3
If you are a flight attendant, frequent flier, or just someone who wants to make travel a breeze, look no further than Modobag. A fascinating combination between luggage and an electric scooter, Modobag aims to change the way the world travels. With over six hundred percent funding on Indiegogo, Modobag is going to revolutionize the way people travel forever.
Modobag, The Future of Travel
The first of its kind, Modobag is an extraordinary hybrid of carry-on luggage and motorized technology. According to their website, Kevin O'Donnell had an opportunity to test drive the Modobag at a variety of high-traffic airports and had nothing but praise for the product.
"From the first-time traveler to the veteran flight attendant, there is widespread agreement that Modobag will help make travel more functional and fun. Where once travelers had to run through the airport with heavy gear to catch connections they can now get where they need to be on time, on their Modobag."
Aside from providing approximately 85% of the space of a traditional carry-on, the Modobag offers a host of additional features to make your next adventure the easiest one yet.
Modobag Features
The Modobag has a collapsible handlebar for towing when you aren't whizzing around the airport. It transforms from a typical towable carry-on to a rideable device in seconds; simply extend the telescoping handlebar, pop out the quick release foot pegs, hop on, and enjoy a smooth ride to your next destination.
Featuring state-of-the-art lightweight lithium ion batteries and an impressively quick charge time, it's unlikely you'll run out of juice going from place to place. The battery lasts for approximately 4,000 full charge cycles and comes with a UL approved smart charger, so don't worry about overheating.
Operating from a full charge, Modobag has an approximate range of about 8 miles based on an average 180-pound rider. It's unlikely that you will need to travel anywhere near 8 miles on Modobag before stopping to charge up, but in those special circumstances you can be sure it'll go the distance.
Achieving a top speed of 8mph, or about three times typical walking speed, you'll get where you need to go quickly and easily. It features an indoor and outdoor speed setting as well as a dual wheel braking system so you can safely navigate wherever you are.
The wheels are custom designed high-performance polyurethane with sealed ball bearings and just like the high torque electric motor, are maintenance-free.
Modobag doesn't skimp on comfort and accessibility. The seat is cushioned with memory foam, providing extended comfort for the occasional long rides. It also features external quick stow pouches for your electronic devices, as well as a 17" crush-proof zippable laptop sleeve. It even has dual 5V USB charging ports on the back, allowing you to keep your devices fully charged even on the go.
Analysis
Everything about the Modobag seems to be intelligently designed and easy to use for the everyday traveler. It's relatively small, can travel at respectable (but not reckless) speeds, and has storage comparable to your average carry-on bag.
I will admit that it looks a little awkward and maybe even uncomfortable to ride, especially for larger individuals, but I would have to give it a test drive to know for certain. Most people that have test-driven find it comfortable and fun to operate, but nobody knows if it will remain that way over extended periods of use.
Modobag is available from the official website here.
PROS
Ride or walk, it's your decision!
Quick stow pockets
Charge on the go!
Never lose track of your bag