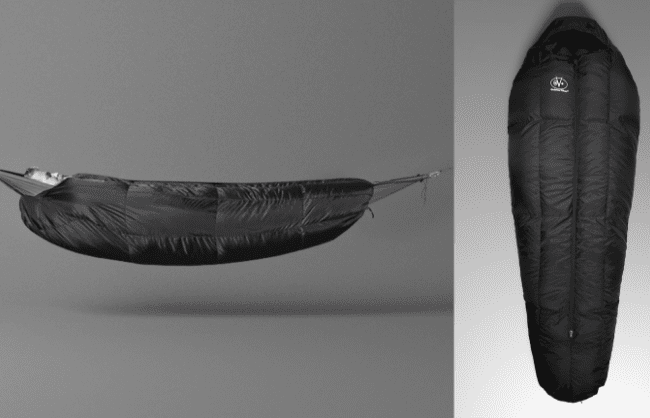 There is a lot of fun in going out camping. Getting to take a break from society, get a feel for nature, and just generally enjoy the outdoors. All are good reasons I like camping, but it is hard to get good rest out there with most of the sleeping options available.
Going camping does not have to mean sacrificing a good night's rest according to the makers of the Mummypod. No one enjoys sleeping on a hard damp ground only to have to hike the next morning. For some, that's a rather torturous excursion rather than a fun-filled outdoor adventure.
Hammock camping was born out of outdoor enthusiasts valuing a good night's rest. And with the evolution of lightweight weatherproof gear, there's now a practical yet affordable way to sleep comfortably outdoors.
MummyPod Outdoor Durability
MummyPod, by Outdoor Vitals, is a modular camping system that is part sleeping bag, part hammock, and rain tarp. With the option of purchasing each part separately, the idea the company gives is a comfortable sleeping bag that has a hint of versatility.
Depending upon where your next adventure takes you, Outdoor Vital offers two types of sleeping bags. The first one is rated for temperatures around 30 degrees F (-1 C) and is synthetically insulated. A good fit for the more temperate forests.
The second is hydrophobic and rated to 0 degrees F (-18 C). This makes it a good option compared to the other for forests that are expected to have wetter grounds.
Unless you plan on braving the elements on the side of Mount Washington in February, this gives you plenty of options to stay toasty during cold nights. Though, I will say that the price is a bit hefty for a sleeping bag if you're only ever going to use it once. If you're looking at this sleeping bag, I would suggest that camping at least be a hobby of yours.
MummyPod Design Features
Sleeping bags are rarely a complicated thing to set up. I think that one that takes a long time to put together probably isn't going to be worth it unless it offers something big.
Lucky for Mummypod, its set-up only takes five minutes. Along with this, the entire system weighs only around 4.4 lbs. (2 kg). The MummyPod is an ideal camping companion for people who want a more encompassing tool rather than just a bag to add to their camping supplies.
Everything fits in a backpack and takes up less space than a traditional tent and sleeping bag. According to the company it is capable of holding up to 300 lbs. (136 kg). The strong yet lightweight hammock also only weighs 13.4 ounces (378 g).
If you're concerned about comfort, the Outdoor Vital sleeping bags are made out of water-resistant RipSoft fabric and the zippers are all YKK units. They are also designed for minimal snagging.
I think that's a lot to take in with a single product. It's plenty of additive features, though it may still be best to try it out first before you go on a deep camping trip far in the woods.
User-Friendly Setup
So how does the MummyPod work? As mentioned previously, the modular sleep system comes in three parts.
The first step is to secure the hammock in-between two trees with the provided double-looped polyester straps. The hammock is then fed through the unzipped foot-box of the sleeping bag. After this, it passes through the head-hole.
The sleeping bag is then secured to the same tree as the hammock and cables are tightened to ensure that no loose materials are hanging over the edge. This process attaches the sleeping bag to the hammock. The last step that should need done is hanging the hexagonal tarpaulin above the hammock for protection from the elements.
Final Thoughts
Outdoor Vital designed MummyPod with the camper in mind. They have designed a hammock that weaves into a lightweight sleeping bag equipped with zippers that lock into place for added comfort. This highly portable sleep system keeps you suspended above the ground, protects you from a late-night rainstorm, and weighs only 4.4 lbs. – making the MummyPod the most versatile piece of camping equipment you can own.
I would recommend the MummyPod if you can get your hands on it for a decent price. The big hangup I have with this product is the price. It is not cheap at all.
You might be able to find a tent and a sleeping bag combo for cheaper, though the quality of them might be lower. This isn't a product you want to look into if you plan on going camping only once.
MummyPod's Availability & Pricing
There's a reason for the recent movement toward hammock camping: it's more comfortable than laying on the ground. With an estimated ship date scheduled for this September (perfect for a fall hike) and the complete set (hammock, sleeping bag, and rain tarp) priced at $240, Outdoor Vital's MummyPod certainly falls into the must-have category
Source: Outdoor Vital
PROS
Super Lightweight System (4.4 lbs)
300-lb Weight Limit
5-Minute Setup
Weatherproof/Climate Control
CONS
Availability
High cost
Small window of options